►
◄
latest
habitat tv
blog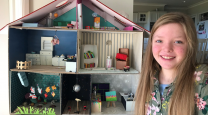 Your guide to pulling off a monochrome room
Sometimes 'matchy-matchy' is good thing. Monochromatic design is an incredibly effective and timeless way to bring elegance to your home. It's become increasingly popular in the interior design world. Skip the stress of selecting multiple coordinating colours and stick to a single colour palette. We explore the design trend's benefits and look at options when it comes to Resene paints and wallpapers – you'll have the sophisticated monochrome look mastered in no time.
Why monochrome?
Monochromatic design creates a sense of harmony, because it all centres on a base colour. Your unifying element is there right from the start, giving you clear direction and easing your decision-making process when it comes to furnishings/décor. Monochrome doesn't only encompass crisp black and white interiors, although they might come to mind first. Essentially you're playing with the various tones and shades that can be created from any original colour you've chosen. Monochrome interiors follow an ombré colour scheme, and drawing on various tints creates that cohesive, pleasing look. You can just as easily create a monochromatic look with pastel green tones, beiges, cobalt blues or reds.
The prospect of putting a whole room together or making over an existing room can be daunting, so going monochrome can make things simpler. Sticking to one colour palette actually helps create a soothing and restful environment.
Choose your palette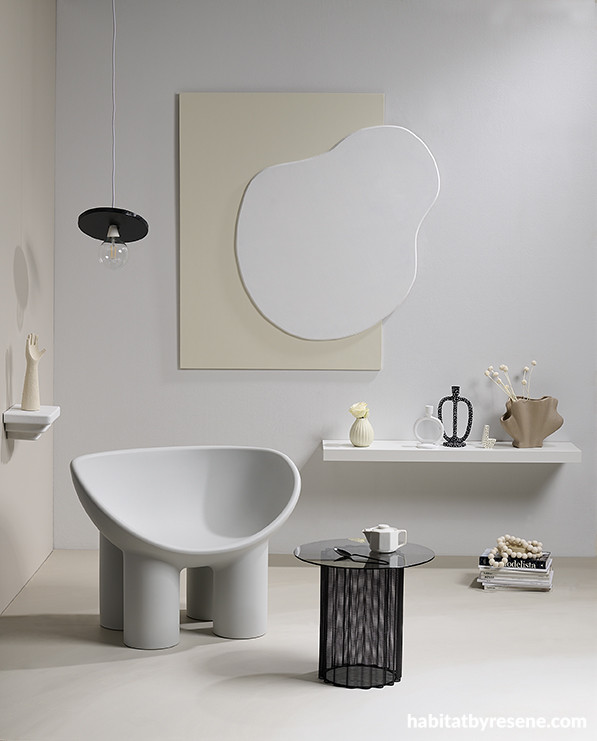 Monochrome isn't always about hard edges; creamy off-whites add softness to this monochrome look. The back wall is in Resene Snow Drift, left wall in Resene Half Cougar, ombre floor created using Resene FX Paint Effects medium and Resene Eighth Truffle, Resene Quarter Truffle,Resene Half Truffle, Resene Truffle,Resene Double Truffle and Resene Triple Truffle. Plywood artwork in Resene Travertine (square) and Resene Eighth Black White (curve – using Resene Enamacryl), ply circle lampshade in Resene Blackjack (using Resene Enamacryl), vase with rose and hand ornament in Resene Travertine, dark candlestick in Resene Blackjack with dots in Resene Eighth Black White, light candlestick in Resene Eighth Black White. Chair from David Shaw, step shelf from Urban Outfitters, candleholder from H&M Home. Project by Kate Alexander, image by Bryce Carleton.
Creating a monochromatic look starts with a base colour – this will be the dominant shade that features in your room. Try to pick a colour that suits your personal design style, as well as matches existing furniture and materials in the room if it's a room re-do. Once you've chosen that base colour, you can add a range of tones and hues of that same shade. Reinforce your colour palette with furniture – for example, you could reupholster a couch in a fabric similar to your base colour. You can make great use of whites and neutrals with a monochromatic colour scheme. The Resene Whites & Neutrals collection really comes into its own here. You could, for example, use Resene Half Drought for the main living area, Resene Double Drought for bedrooms or a second living room and Resene Eighth Drought for the ceiling and trims.
Start small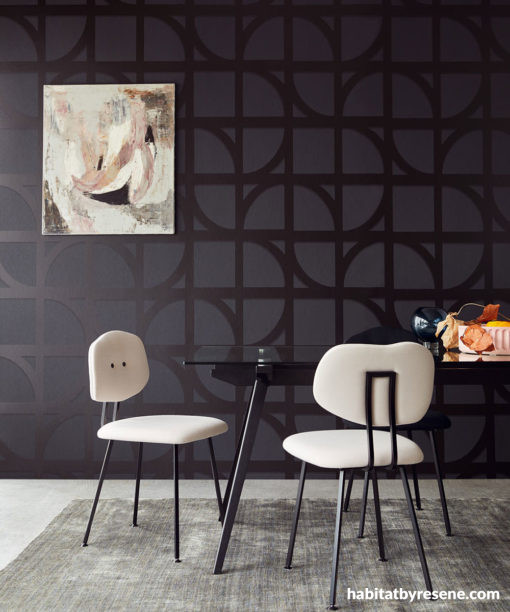 This dining room is sleek and simple and uses Resene Wallpaper Collection E395806. Matte and gloss bring a subtle shine to the room. Achieve a monochromatic look by painting furniture in a tone like Resene Element and paint flooring in Resene Cloud.
Starting small if you're a newcomer to monochromatic spaces is a great idea. A smaller room like a dining space or bathroom is less intimidating than a master bedroom, living room or kitchen. It's a good way to give you a taste of what a monochrome design process might look like for you, before extending the look to the whole house. Rooms with smaller dimensions can really be lifted with a monochrome look, too. Using one colour is calming, sleek, and can create a very zen vibe, particularly in dining areas and bathrooms. The simplicity of using varying shades of the same hue can create the illusion of more space. Too many colours in a space can tend to look busy and cramped if it's not curated carefully.
Add visual interest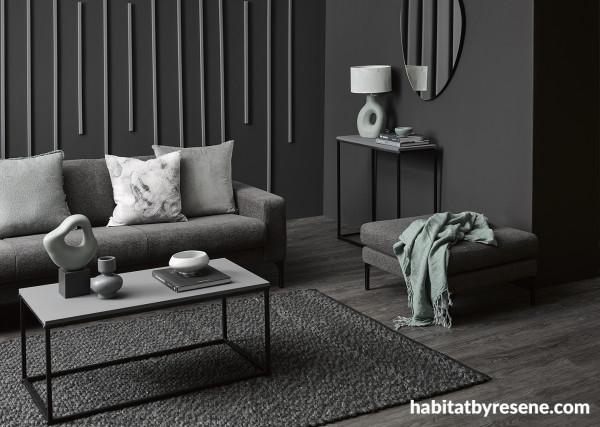 Batten wall designs add great texture to this living space, while sticking to a monochromatic theme. Battens and the top of the coffee table and side table are in Resene Half Tuna, lamp base in Resene Blue Smoke, lampshade in Resene Nebula, tealight holder in Resene Yucca, bowl in Resene Tiara, round vase in Resene Nocturnal, little dishes in Resene Nebula, Resene Blue Smoke and Resene Yucca. Sofa and ottoman from King Living, mirror from Freedom, cushions and throw from Adairs, lamp from Kmart, grey water colour cushion from Penney + Bennett. Project by Vanessa Nouwens, image by Wendy Fenwick.
You may be worried that a monochrome look might make a room appear flat or dull. Fear not, all you need is a little visual interest. Texture and pattern are your new best friends. They'll ensure your space is broken up visually, so everything in your room doesn't blend together and appear flat. Texture and pattern are also one of the cheapest ways to add a bit of visual flavour. While interior advice will often encourage you to err on the side of caution if you're mixing patterns together, with monochromatic design, you can go wild.
Keep in mind that the undertones of any furnishings you add should all match – when placed in the light, does the piece have a cool or warm undertone? Two design elements with entirely different undertones won't look cohesive in your space. Similar ones on the other hand look fantastic together, even if their patterns are wildly different. Complement your central colour, and when picking pieces, aim to create a place for the eyes to rest from the intensity of the main shade.
Add shape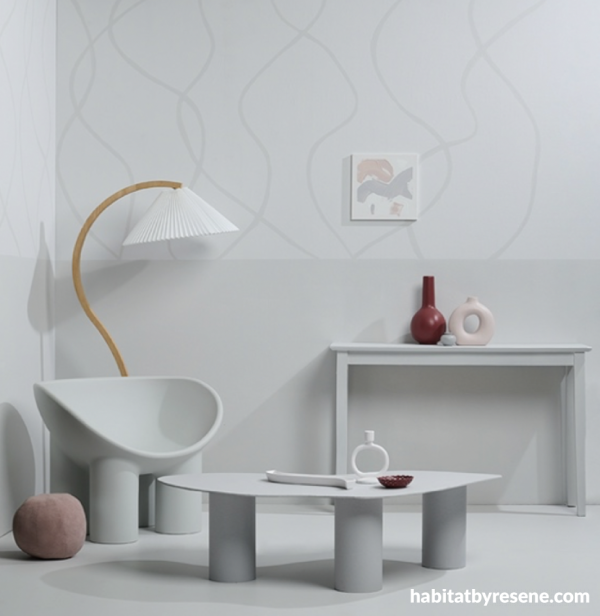 This subtle and chic monochrome look has been achieved by combining Resene Half Concrete on the upper wall, lower wall and squiggles in Resene Concrete and flooring in Resene Quarter Concrete. Hall table in Resene Concrete, DIY coffee table in Resene Triple Concrete, circle vase and tiny vase in Resene Soothe. Tiny bud vase in Resene Triple Concrete, circle candleholder and wiggle tray in Resene Half Sauvignon, large bulb vase, ribbed vase and lacy dish in Resene Merlot, DIY artwork in Resene Half Sauvignon, Resene Triple Concrete and Resene Soothe, turned wooden candleholders in Resene Element. Wood lamp and ball cushion from Bohzali, chairs from David Shore, circle candleholder from H&M Home and circle vase from Kmart. Project by Melle van Sambeek, image by Bryce Carleton.
If it's a more subtle palette you're going for, one that might centre on greys, beiges, browns or whites, for example, adding an interesting variety of shapes and materials is key. Muted and quiet colour palettes need interest and dimension to keep them fresh and modern-looking. For instance, you might want to add a side table in a funky or asymmetrical shape; a concrete table for texture; or a curved or oversize lampshade. Resene wallpaper and painted patterned walls are also a great way to add interest to subtle monochromatic palettes.
Details on walls and flooring keep the eye moving and stop a room feeling cold, flat or unfriendly. Complement shapes you're creating in a room, for example, if you have curved patterns on wallpaper, incorporate furnishings with curves for a cohesive look.
Top tip: If a softer monochromatic look does take your fancy, try Resene Black White as a base colour, then build on it and warm it up with warmer Resene whites and greys. Resene Westar, Resene Saltpan, Resene Double Sea Fog and Resene Quarter Chicago are all great shades to try.
Add colour pops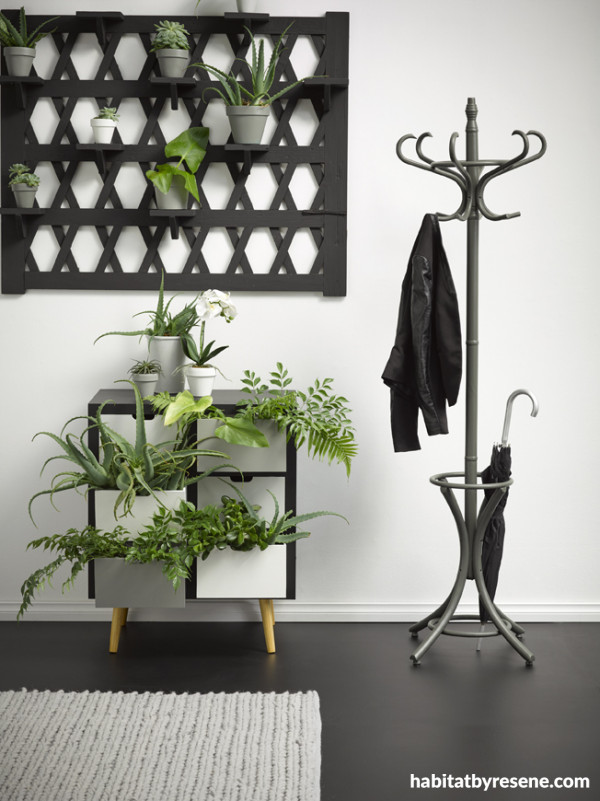 This monochromatic corner shines with a pop of green from the leaves of house plants and texture on the walls and floor. Walls are painted in Resene Black White, floor and trellis in Resene Nero, drawer frame in Resene Nero, drawer fronts and plant pots in Resene Double Merino, Resene Atmosphere and Resene Quarter Gravel. Project by Megan Harrison-Turner, image byMelanie Jenkins.
Though some monochrome enthusiasts might advise against adding colour pops that stray from your colour scheme, adding a small pop can give your space an added boost. This applies particularly if you're sticking to a neutral black, white or grey scheme. Adding a foreign colour in the form of furnishings is a way to break up the look and add interest. This could be as simple as adding a wooden coffee table to a white space, the occasional coloured chair (tan leather complements white/beige tones well), or even the green of house plants. Artwork is also a way to explore what a small colour pop might look like. Keep it subtle, think about what it complements in the space, and you can't go wrong.
Top tip: Did you know that in any scheme, monochrome or otherwise, we often feel more comfortable when the floor is a darker colour and the ceiling is lighter? It's because that combination is more common in nature – the ground is darker, and the sky is lighter.
If you have a colour palette in mind, be confident that you're now armed with the monochromatic knowledge you need to jump into decorating. If you need a little help to get started, remember you can pop into any Resene ColorShop for advice on creating a new look in your home. The friendly staff are always happy to help. Or for inspiration without leaving home, try the online ask a Resene Colour Expert service to get you started.
Published: 27 Apr 2022
Do you have a home full of wonderful Resene paint and colour? Send us some snaps by emailing [email protected].
the look
If you're stuck on what
colour to use or need colour
advice, try out the Resene
Ask a Colour Expert service.
the look
If you're stuck on what
colour to use or need colour
advice, try out the Resene
Ask a Colour Expert service.