►
◄
latest
habitat tv
blog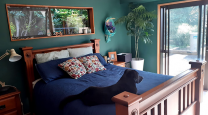 Top stories for 2021: From Resene Duck Egg blue to Peter Wolfkamp's cottage, these are some of our most-read stories this year
Top stories for 2021: From Resene Duck Egg blue to Peter Wolfkamp's cottage, these are some of our most-read stories this year
As the year ends, it's time to take stock, and revisit some of the stories that really resonated with habitat readers – everything from stunning makeovers to the most-searched-for colours. With some clever design tips and some of the most popular Resene colours, these stories are popular for good reason!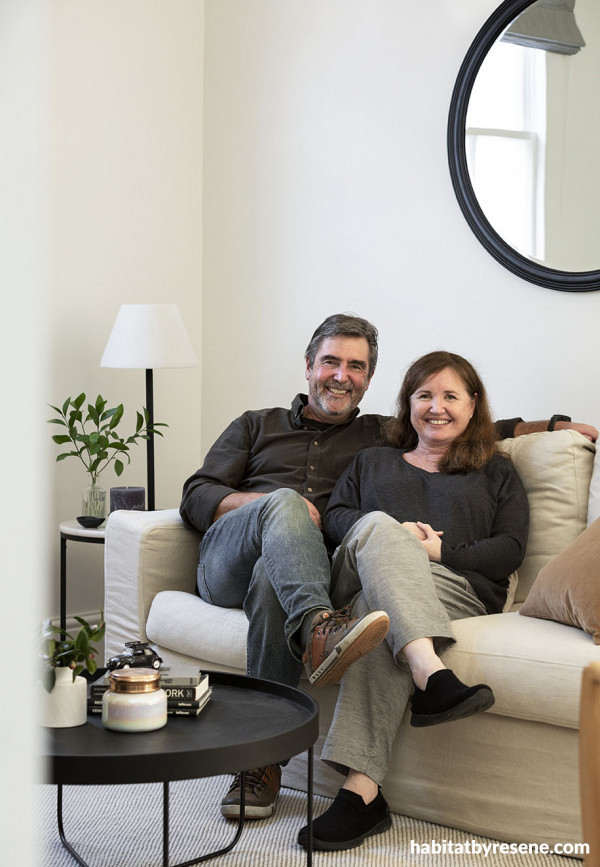 The Block NZ's Peter Wolfkamp creates a striking monochrome palette inside his Devonport cottage with Resene Half Merino
Peter and his partner Debbie renovated their 1910 cottage with elegant Resene Half Merino on the walls, ceiling and trim.
The Block NZ's site foreman Peter Wolfkamp traded the rule book for a paintbrush when he renovated his circa 1910 cottage. He and his wife gave their home a sophisticated makeover with a bold range of Resene neutrals including striking Resene Nero and Resene Double Stack. Peter says the renovation was not unlike what the teams on The Block NZ experienced.
Read more here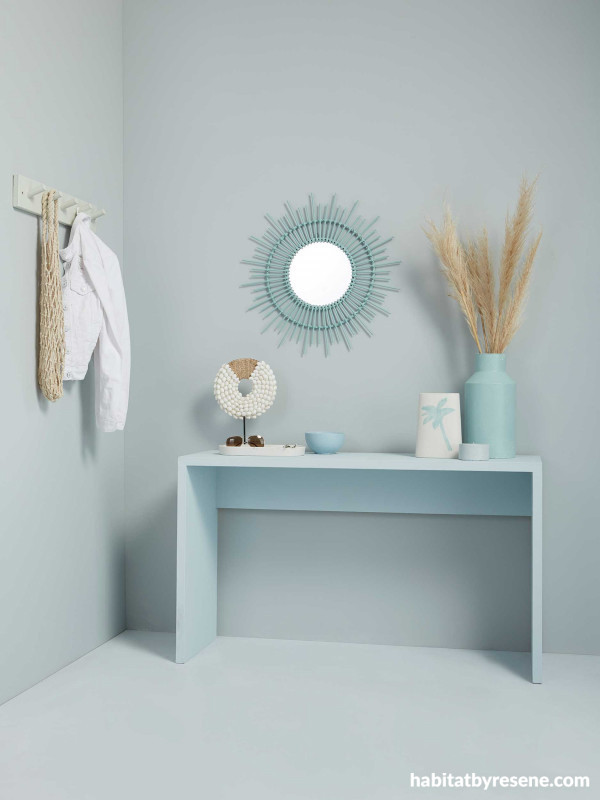 Keep calm and paint it Duck Egg Blue: Six chic updates
This beachy entranceway uses Resene Duck Egg Blue for the wall, with the floor in a lighter shade of Resene Quarter Duck Egg Blue. The hall table continues the blue theme and is painted in Resene Slipstream. The mirror and vase are painted in cool Resene Raindance and the hook rack is in neutral Resene Truffle.
There's no need to feel blue when it comes to repainting your home. Marie Antoinette didn't when she covered her private boudoir in Versailles with the colour duck egg blue. Nearly 300 years later, Resene Duck Egg Blue is flying off the shelves as homeowners deck out their nests in this peaceful colour.
Read more here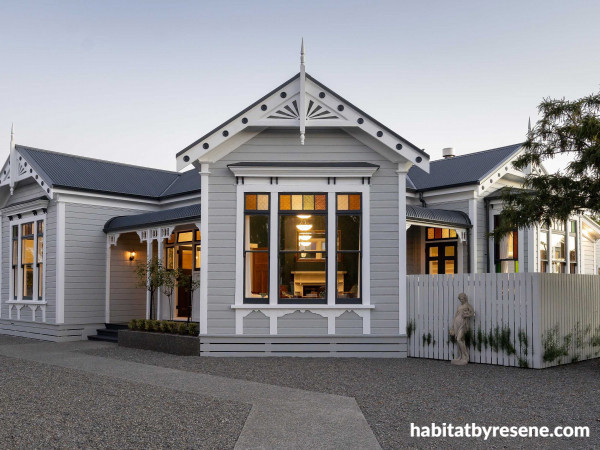 A derelict century-old Carterton villa is restored to its original glory (you won't believe what it used to look like)
The exterior of the villa glows with a polished finish in Resene Half Delta. The window trim, doors and details are in Resene Grey Friars, while Resene White makes a splash on the facings, fascias and corner boards.
Chessa Stevens realised her childhood dream when she restored this century-old villa. With a goal to restore the villa to its original glory, Chessa tackled the decades of deterioration armed with tins of Resene paint and a good dose of courage. The project was right up the couple's alley: Chessa is a conservation architect and she and Rob run Rare Buildings; a company that specialises in designing and restoring historic homes.
Read more here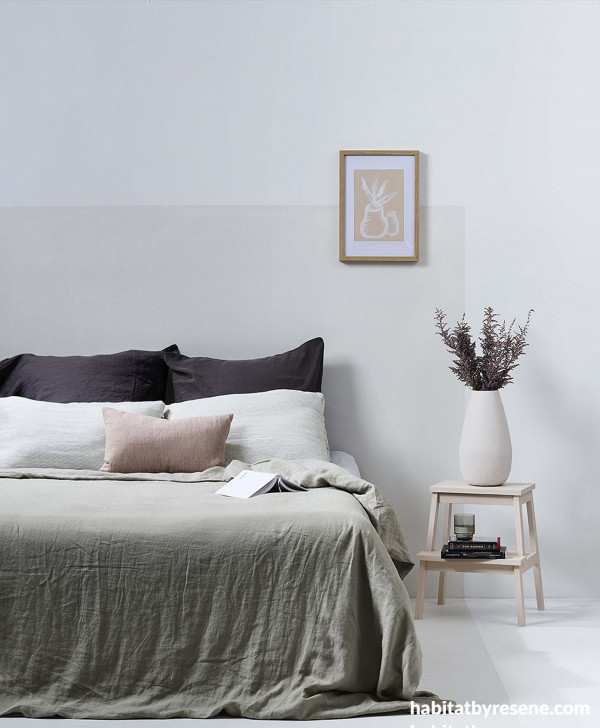 5 tried and tested whites and neutrals - that make your space come together
This bright bedroom was created with walls and floor in Resene Quarter Black White with rectangular painted wall effect in Resene Double Black White. Step stool in Resene Alpaca, large vase in Resene Pearl Bush, and DIY artwork in Resene Alpaca and Resene Quarter Black White.
While we're obsessed with Resene's bold range of vibrant colours and daring hues, it's often the carefully considered range of Resene whites and neutrals that inspire homeowners when it comes to renovating everyday spaces. We've collected five of the top Resene whites and neutrals that are tried, tested and perfect for any type of home.
Read more here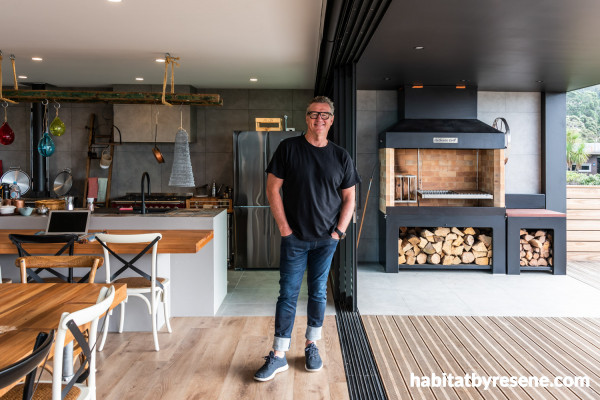 All Black Sir John Kirwan keeps it simple with black and white bach
Sir John Kirwan (JK) and his wife Fiorella's bach in Waihi Beach has a simple design and colour scheme, keeping the focus on relaxation, family and socialising. The walls, ceiling and trims of the entire interior of the house are painted in Resene Black White. Resene Element is used on the soffit over the deck.
All Black legend Sir John Kirwan and his wife Fiorella have a long connection with Waihi Beach so when they came to creating their dream bach they wanted to get it just right – so they called in the pros. They documented their experience building the bach on the TV show The Bach That JK Built which aired on Choice TV last year.
Read more here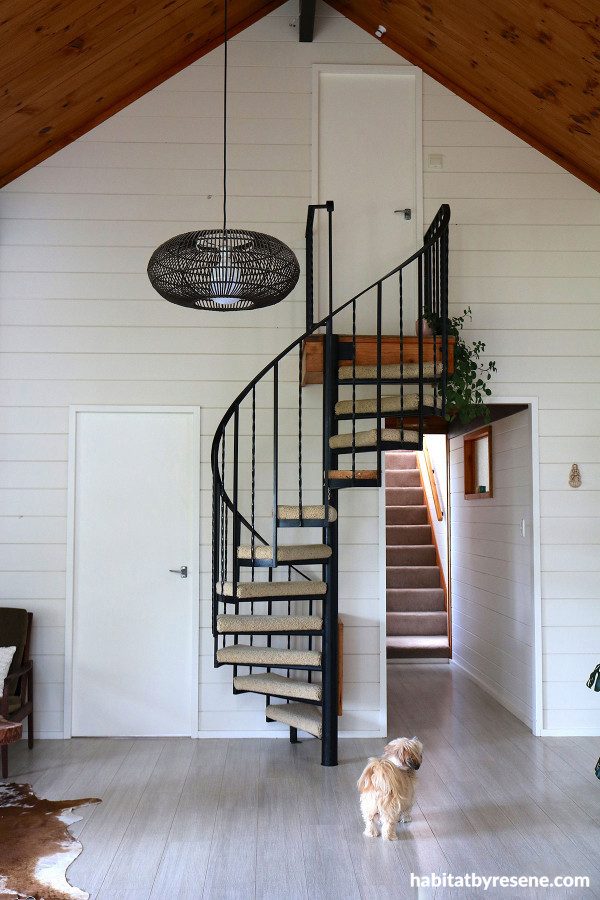 A 1970s Lockwood is transformed into a Scandi-inspired delight with Resene Spanish White
The walls of the living room are Resene Half Spanish White. Resene Quarter Spanish White on the doors keeps the south-facing room light and bright. The walls and trim in the hallway and stairwell are painted in Resene Eighth Spanish White to make the enclosed space seem brighter.
When Nathalie and Ross bought their 1970s era Lockwood home in 2019, they knew they had bought a quality home from a local Kiwi company. When they renovated their beautiful home, it's not surprising they chose another Kiwi icon, Resene, to paint the walls and give the interior timber a little TLC. .
Read more here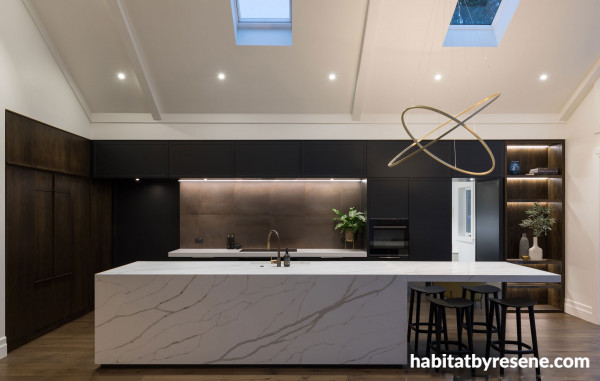 7 kitchen designers share their top kitchen design tips and Resene colour choices
Jordan was looking for a deep neutral kitchen colour palette and painted the cabinetry in Resene Noir. Resene Noir was everything Jordan hoped, a lovely moody black with blue and grey undertones.
We've rounded up some of the year's trending kitchens and their talented designers to bring you a smorgasbord of advice to spice up your kitchen with colour. With a sprinkle of clever design hacks and a dash of Resene paint, you'll be serving up a feast for the eyes in no time.
Read more here
10 paint colours we're obsessed with right now
Resene Nocturnal walls, skirting and shelf create a moody atmosphere in this bedroom. The floor is in light grey Resene Viktor and the timber side table is in Resene Organic. Bedlinen from Wallace Cotton and olive cushions and throw from Cotton On Home.
The hottest paint colours right now are both grounding and ground-breaking. The focus this season is on renewal and nurturing with colours that are going back to nature with interior designers and homeowners alike embracing the understated power of ochres, soft olives and chalky greys. Whether you're after your brown rusted, burnt or earthy, Resene has the perfect hue for you.
Read more here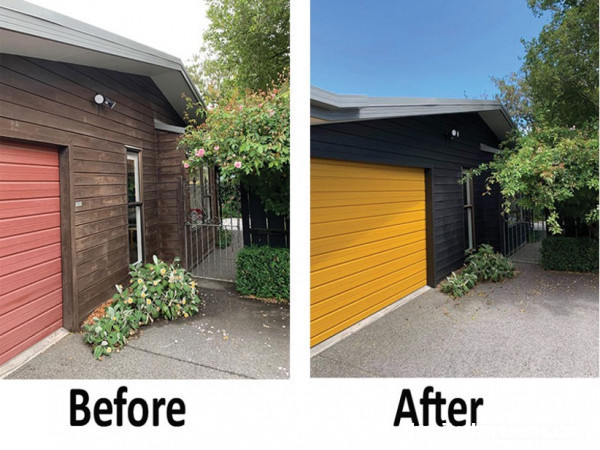 7 unbelievable reader house exterior makeovers – plus house exterior painting tips
The home, which was painted by David Robertson Painters and Decorators, is painted in the soft black Resene Element with invigorating Resene Hot Toddy on the garage door.
Painting a house exterior — it can be a daunting task but my goodness does it make a difference to the way you feel about your home. Painting the exterior will not only protect the cladding from the elements but will modernise your home and raise its street appeal.
Read more here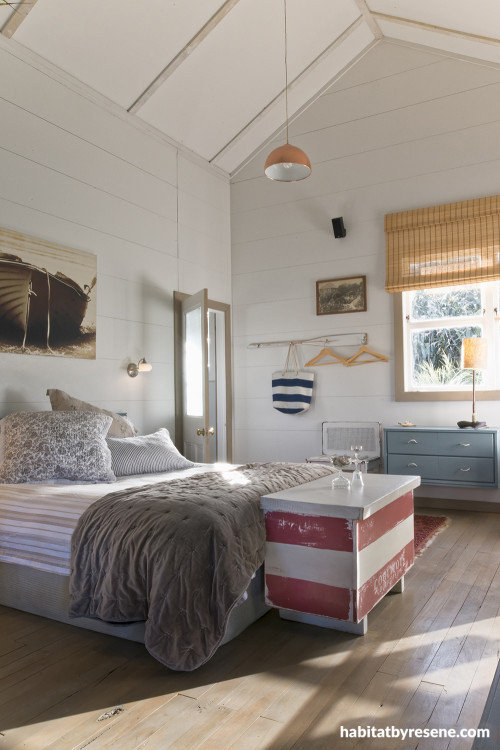 The style is perfectly suited to beachy looks. This bedroom is in a cottage at Driftwood Seaside Escapes where owner Vanessa Owens has used Resene Sea Fog for the walls with ceilings in Resene Wan White, and cabinetry painted in Resene Quarter Gravel.
The Hamptons style may be quintessentially American, but a few modern tweaks make it easily transferrable to Antipodean homes and baches – giving it a casual, relaxed vibe. Hamptons style or Cape Cod decor is, after all, based on the colours of the beach and the sea, which seems perfectly suited to our style down under.
Read more here
Need more inspiration? Use our handy colour and room filters to narrow down options. Simply choose the hue and the space and our tool will find you lots of inspiration from other decorators.
Published: 23 Dec 2021
Do you have a home full of wonderful Resene paint and colour? Send us some snaps by emailing [email protected].