►
◄
latest
habitat tv
blog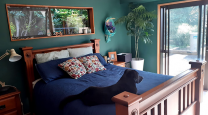 Friluftsliv: The Scandi interior trend taking the world by storm
Friluftsliv is a Norwegian philosophy making a big impact in interiors– even if most people don't know how to say it. Pronounced 'free-loofts-liv', the phrase loosely translates to 'free air life' or 'outdoors'. If you're aiming to change up your home décor, consider incorporating elements of friluftsliv-inspired design. It's a serene and earthy look you can easily embrace with a little help from Resene paints and wood stains.
What is friluftsliv?
You may have heard of the Danish term 'hygge' before, which refers to finding warmth, comfort and contentment in simple things. Like hygge, friluftsliv refers to a way of life and not just interior design. Decorators internationally are finding creative ways to integrate this Norwegian philosophy into their homes. There is a focus on bringing the outdoors in and living in harmony with nature. This could mean incorporating natural and organic materials/furnishings in your home, using plants or natural woods and creating a colour scheme that is serene and pulls from different elements of nature.
The trend has arisen largely from a desire to invite nature into our homes, particularly as we have spent so much time in them over the last few years. We want to create spaces we can truly feel relaxed, unplugged from the world around us and present. Elements of nature help create this feeling of calm immensely.
There are similarities to biophilic design – design that focuses on aspects of the natural world in order to contribute to our wellbeing. As we mentioned though, friluftsliv goes beyond interior design, it's a philosophy that should be applied to other elements of life too. It encourages us to embrace nature and spend time in it, as much as incorporating design elements that are rooted in nature.
Incorporate natural materials in your home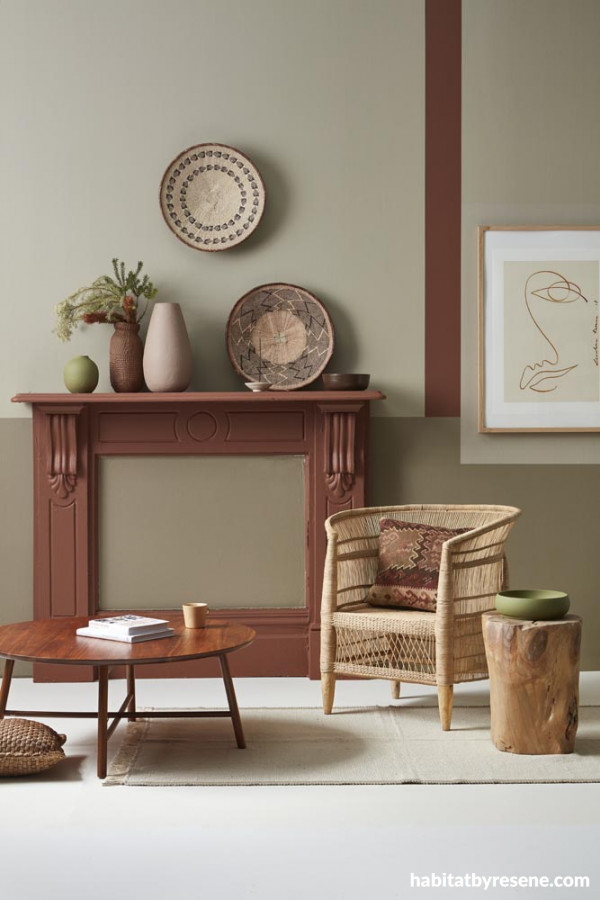 A soft green palette is the perfect backdrop for this living room's wooden features and rattan chair. The top left side of this colour-blocked wall is in Resene Grey Olive, the bottom half is Resene Earthen,Resene Napa is on the top right and Resene Route 66 is on the vertical stripe and fireplace. The floor is in Resene Quarter Spanish White and the vases and bowls are Resene Sambuca,Resene New Leaf,Resene Tablelands and Resene Barnstorm. Chair and coffee table from Città, cushions, side table from Indie Home. Project by Gem Adams, image by Wendy Fenwick.
Create an environment that sings with friluftsliv by incorporating plenty of natural materials. Raw woods, wools, cottons, bamboo, leather and leaves are great ways to highlight the beauty of nature and bring it indoors. Think not only in terms of sofas, rugs, tables and cushions, but of wall art and DIY features on walls using natural materials. These kinds of materials stimulate our senses and bring a sense of tranquillity into a room, as they are reminiscent of our natural environment.
If you are incorporating natural materials, consider what colours will make wood and bamboo tones pop. Try warm Resene Colins Wicket, soft neutral Resene Parchment,Resene Pale Oyster or Resene Soya Bean as room backdrops.
Create an earthy colour palette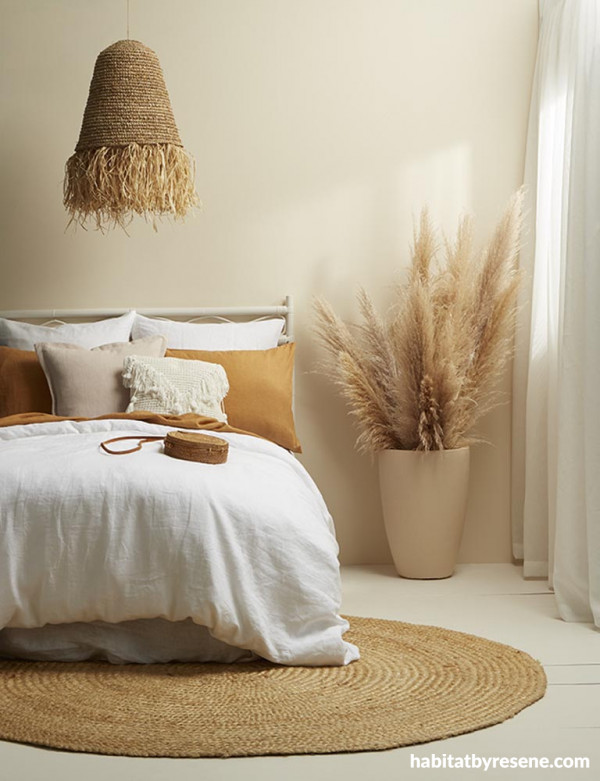 In this bedroom, Resene Eighth Canterbury – a warming neutral – dons the walls while Resene Eighth Joss covers the floor. These two hues offer the perfect base for other colours and textures to be layered on top to really dive into that friluftsliv-feel. Large pot in Resene Quarter Bison Hide and bedhead in Resene Eighth Joss. Bedlinen, lampshade, rug, cushions and purse from Mood Store. Project by Melle Van Sambeek, image by Bryce Carleton.
Keep your colour scheme true to the friluftsliv philosophy by incorporating earthy greens, browns, greys, beiges and rusts. Earth tones will complement any plants and straw/flax-coloured furnishings in a room like rugs, rattan furniture and aged timbers. Try warm clay browns like Resene Chelsea Gem and Resene Hot August to bring the heat. You can soften their spiciness with pinkier tones like Resene Coral Tree and Resene Tuft Bush and add mossy grey greens like Resene Jurassic and Resene Spanish Green as a counterpoint.
A stone tone like Resene Eagle, which very nearly reads visually as a green, is an ideal base for building a strong natural colour palette. Think about adding concrete pots and vases to complement a green palette. Paired together the look is grounding and soothing.
Embrace outdoor spaces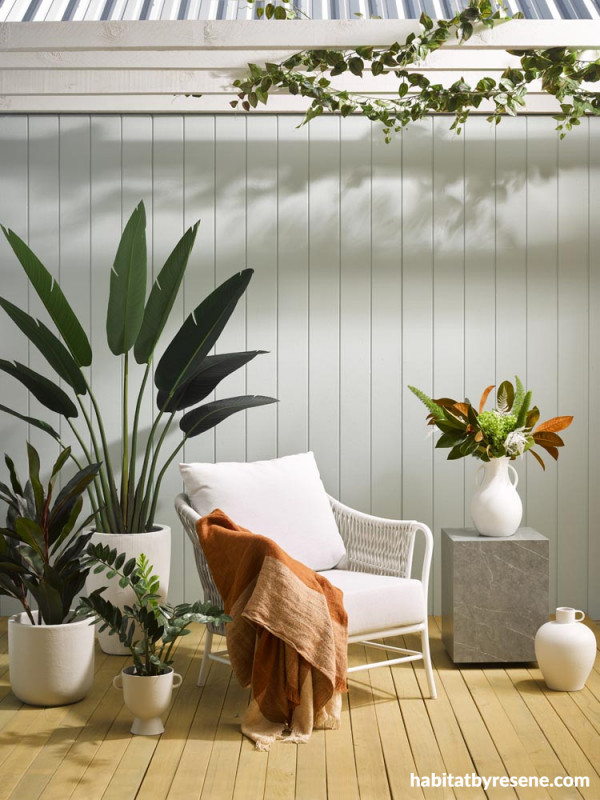 If you have an outdoor area that needs some loving, think about adding a few potted plants, simple furniture and fresh paint. It's the small things that make an outdoor space feel warm and welcoming. Grooved wall in Resene Nebula, deck in Resene Uluru, pergola in Resene Sea Fog, large amphora vase (with floral arrangement) in Resene Sea Fog, medium jug and large plant pot in Resene Eighth Tea, medium plant pots (with dracaena and zamioculcas) in Resene Cloud and smaller plant pot in Resene Yucca (snake plant). Chair from Poynters, side table from King, throw from Città, fan palm from Freedom. Project by Laura Lynn Johnston, image by Melanie Jenkins.
Living by a friluftsliv philosophy encourages us to spend time outdoors, as much as it encourages us to bring the outdoors in. Create a year-round experience in your outdoor areas by adding soft furnishings like cushions and outdoor couches, hanging lanterns/fairy light or even a cosy outdoor fire pit. Embrace nature and make an effort to create spaces outside that you want to spend time in. Reconnect with the natural world by looking to the outdoor spaces you have directly around you.
Top tip: Even the grungiest space can be transformed with a lick of paint and a few stylishly arranged items. Look to Resene Walk-on for refreshing paths, paint birdhouses with Resene Lumbersider and hang them from the garden trees, or paint the garden shed door an earth tone. Use timber crates painted or stained with colours for garden storage, and paint terracotta pots in soft hues and plant herbs (use Resene Aquapel & Terracotta Sealer as a basecoat then finish in Resene testpots).
Create wide open spaces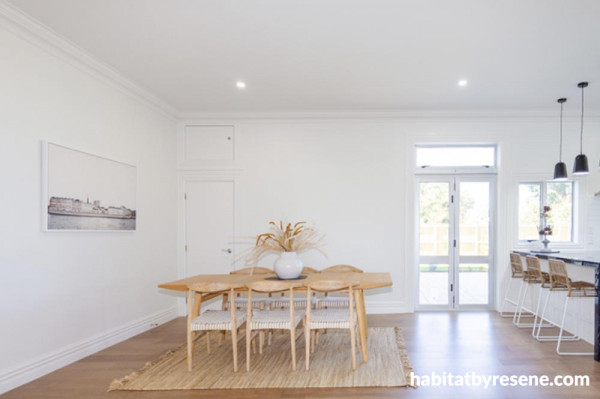 This airy and open kitchen is painted in Resene SpaceCote Kitchen & Bathroom, tinted to Resene Black White. This durable waterborne paint is ideal for wet areas. Pair it with blonde or whitewashed flooring such as Resene Colorwood Natural or Resene Colorwood Whitewash, protected with Resene Qristal ClearFloor.
The friluftsliv concept encourages creating a sense of openness and flow in your interiors. Wide open spaces help us connect with a sense of freedom and calmness, which can often be missing in our busy urban environments. You don't need a big house to create this. You can create a sense of space simply through your furniture placement, the number of objects you have in a room and on walls, and how much you take advantage of your natural light in your home. Avoid clutter and focus on creating good light and air flow.
Your natural light can be multiplied, for example, by placing large mirrors opposite windows, and ensuring no furniture is blocking windows. Consider a statement mirror in your hallway or dining room if they are darker spaces.
As a general rule, to make a smaller space feel more open, single-colour paint schemes let the eye move easily around the room. They also skew your ability to perceive dimension, making small rooms appear bigger than they actually are. Choosing furniture and furnishings that blend in with your wall colour will also help, with one or two accent colours to add flair. Check out the huge range of these types of colours in the Resene Whites & Neutrals range.
Bring in the house plants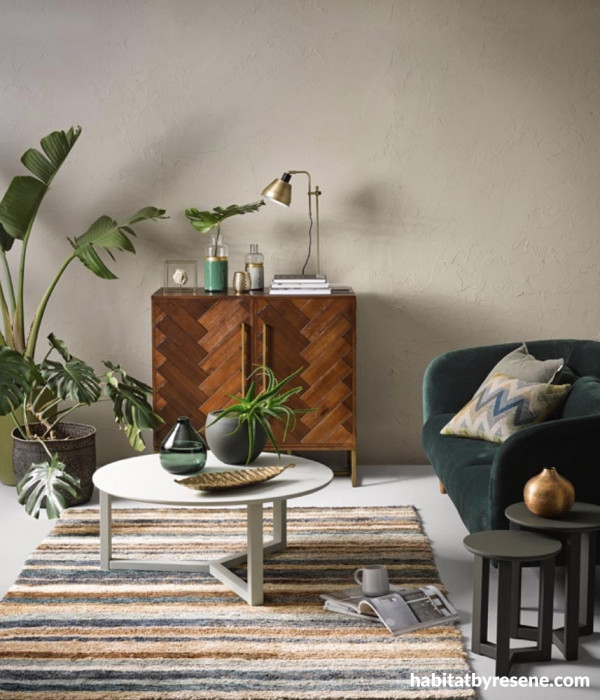 Nothing is more chic than the green of thriving house plants set against natural woods. This wall is finished in soft Resene Double Ash painted over Resene Resitex Plastercotewith the floor in Resene Silver Chalice. Coffee table in Resene Helix, nesting tables in Resene Karaka, large plant pot in Resene New Leaf, wider plant pot in Resene Karaka and brass ringed vases in Resene Permanent Green, Resene Helix and Resene Havoc. Sofa from Contempa, console, vases, table lamp, tray, candleholder from Freedom, rug and cushions from Furtex, basket from Indie Home Collective. Project by Claudia Kozub, image by Melanie Jenkins.
There is a slight house plant craze in the interior's world currently – monsteras, maidenhairs and cacti are dotting every available surface. But we aren't opposed, and neither is anyone following a friluftsliv design scheme. Nature boosts our wellbeing physically and mentally – having plants around us can help reduce our blood pressure, improve our creativity and our focus. Add a hint of greenery in your space, or go all out and create a green indoor jungle at home.
If you're looking for colours to make the greenery of plants pop, try classic white Resene Alabaster, or earthier tones like Resene Papier Mache, Resene Brown Sugar or Resene Twine. Or you could embrace a monochrome look and layer plants against walls in Resene Green Leaf, Resene Clover, Resene Seaweed or Resene Spanish Green.
Visit your nearest Resene ColorShop for friendly advice on bringing the best of nature indoors if you're feeling inspired to channel the friluftsliv look. Let nature in, breathe in the tranquillity you'll create with a friluftsliv way of life, and enjoy time unplugged.
Published: 26 May 2022
Do you have a home full of wonderful Resene paint and colour? Send us some snaps by emailing [email protected].