►
◄
latest
habitat tv
blog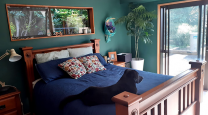 Bring the outside in with nature-inspired interiors
As humans, we're intrinsically drawn to natural environments. Mountains, rivers and wide open spaces fill our hearts with joy and our minds with a sense of calm. Who said we couldn't create this sense of calm nature ignites inside our homes? There are plenty of health benefits too to being surrounded by nature: the improvement of our mood, reduced feelings of stress and a boost in energy. Our interiors have become an integral part of creating health and happiness. We have tips and tricks to bring the outdoors in with Resene paints and wallpapers.
The biophilic design trend
Incorporating the outdoors in our homes has a name in the design and architecture world. Design that focuses on aspects of the natural world in order to contribute to our wellbeing is 'biophilic'. The term stems from the word 'biophilia' – humans' desire to belong to and feel a part of the natural world. As our current 'natural habitat' is mainly comprised of built environments, biophilic design aims to satisfy our innate need to affiliate with nature in our homes. Interior biophilic design can include incorporating pieces that echo nature's shapes and patterns, natural features like water, fauna and flora and overall, an experience in spaces that ignites our senses.
Airy and earthy
This dreamy bedroom uses an earthy colour palette which creates warming comfort, with the walls in Resene Half Gull Grey, floor in Resene Colorwood Natural and the headboard in Resene Calico with soft hand-painted stripes in Resene Big Bang. The desk is in Resene Colonial White, lamp shade in Resene Guggenheim, candleholder in Resene Big Bang.(base) and Resene Colonial White (top) and rattan chair in Resene Gold Dust metallic. Duvet and bedspread from Adairs, throw from Farmers, lamp from Freedom. Project by Kate Alexander, image by Bryce Carleton.
One of the simplest ways to draw on biophilic interiors is to include a nature-inspired colour palette. The colours you choose to decorate your home with have a huge impact on how restful the space feels when you're in it. Remember that a natural colour scheme isn't limited solely to lush forest greens and earthy tones. It helps to think of your favourite outdoor places in nature. Maybe it's a west coast beach, foaming and greyed like Resene Ironsand, or a warm and yellow northern beach in a hue like Resene Sand. Perhaps it's a particular tone of the sky, such as Resene Cut Glass for a clear sunny sky blue or Resene Forecast when storms are on the horizon. Nature's colour palette has no limits, so take inspiration in what brings you a sense of calm and joy.
Keep it natural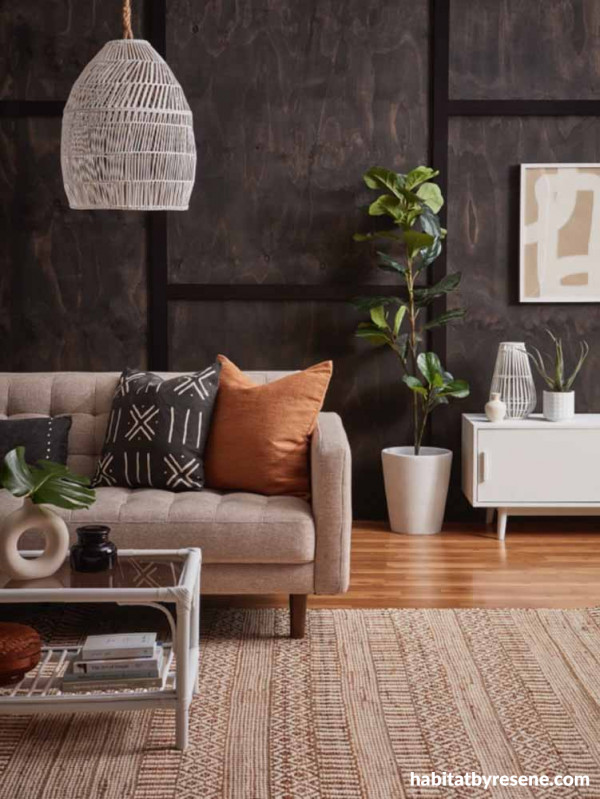 Feel nature's presence with a dark wood stain. This plywood wall is stained in Resene Colorwood Sheer Black with battens in Resene Lustacryl tinted to Resene All Black. The stain allows us to embrace the natural grain of the wood. The floor is in Resene Colorwood Natural, sideboard in Resene Snow Drift, coffee table in Resene Snow Drift, pillar in Resene Black White, pendant lamp in Resene Black White, plant pots in Resene Snow Drift, vase in Resene Half Black White, tall woven candle lantern in Testpot Half Black White 60ml (resene.co.nz), small fluted bud vase (on coffee table) in Resene Quarter Drought and artwork in Resene Okey Dokey (background) with strokes in Resene Half Blanc. Sofa and cushions from Nood, rug from Freedom, circle vase from H&M Home. Project by Laura Lynn Johnston, image by Wendy Fenwick.
Biophilic design in interiors wouldn't be complete without the incorporation of pieces and paints that echo nature's patterns. Invest in decor that imitates natural materials, or is made of natural materials, including your floor and walls. Wood and stone are ideal to bring you closer to nature. You can also think about picking irregular-shaped furniture, for example, handmade pieces from natural materials. There are physiological and psychological benefits of being in a space with wood specifically: lowered blood pressure and heart rate, a feeling of warmth and a connection to living things. Embrace imperfections and curves and avoid sharp corners and straight lines. Take inspiration from the curve of dunes, waves, vines and the rings of wood. Resene Colorwood stains will help you enhance the natural grains of timber. Use it on walls and furniture, protected with Resene Aquaclear and on flooring, protected with Resene Qristal ClearFloor.
Clear skies ahead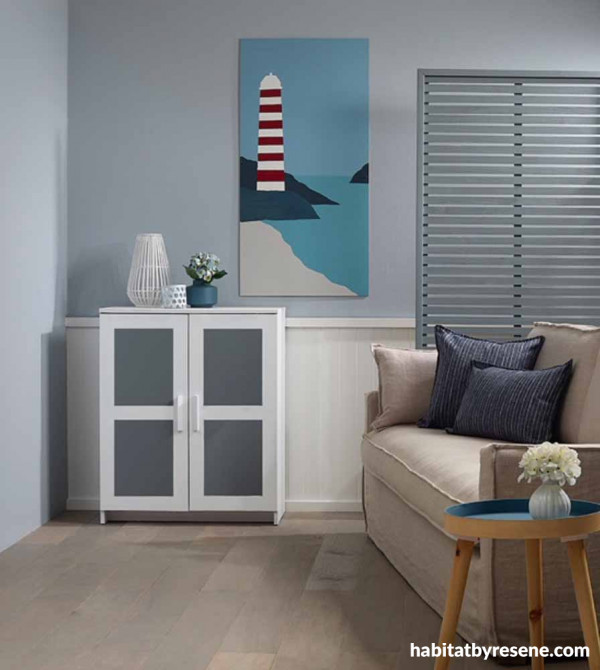 Create a classic Hamptons coastal look with walls in Resene Forecast, tongue-and-groove panelling in Resene Sea Fog, timber flooring in Resene Colorwood Mid Greywash and screen in Resene Regent Grey. Vases (on cabinet) in Resene Azure, Resene Juniper and Resene Sorrento and DIY lighthouse artwork in Resene Blue Moon (sky), Resene Horizon (sea), Resene Grey Seal (sand), Resene Coast (background land), Resene Explorer (foreground land, with lighthouse on it), and ResenePohutukawa and Resene Quarter Sea Fog (lighthouse). Side tray tabletop in Resene Bermuda Grey. Sofa from Johnston Imports, cushions from Nood. Project by Megan Harrison-Turner, image by Bryce Carleton
Pay homage to the outdoors and beautiful summers by bringing blue skies indoors. Blue is peaceful, gentle and calm, with a great power to lower stress. It's a soothing colour that can aid in your calming mind, slowing your heart rate, lowering your blood pressure and reducing anxiety. When choosing the right shade of blue, try a soft and neutral shade for a calming effect. Resene Forecast works beautifully in bedrooms. Blues also evoke images of the sea, and can be tied into an interior theme. Think shells and natural driftwood features – try the Resene We Speak Beach colour palette of wash hues. The benefit of blues is that it's a palette that won't go out of style. From Resene Blue Night for a deep evening sky, Resene Seachange for a calming oceanic blue and Resene Frozen for an crisp icy hue there is a blue to suit all moods.
When considering how to best bring nature indoors, also ensure your room has ample light in it. Windows should be as unobstructed as possible. To create an even lighter, airier space, replace heavy drapes with light, billowing ones.
Tropicana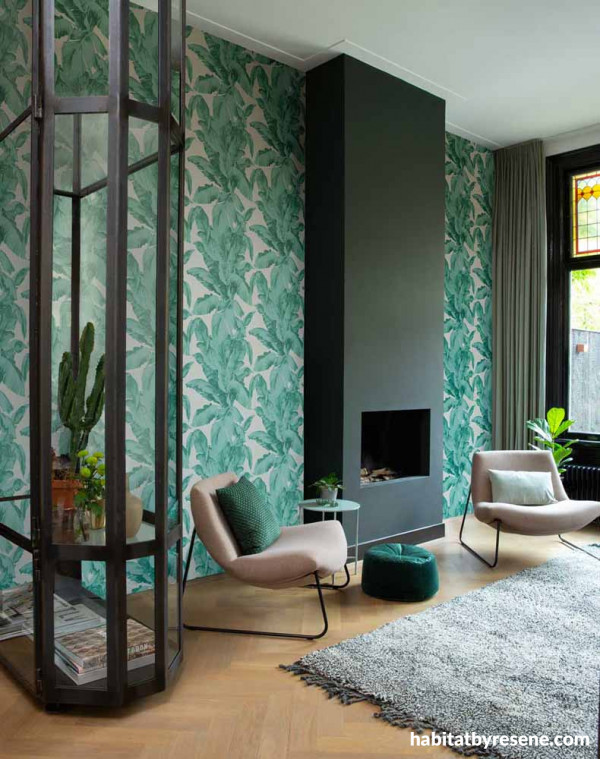 This biophilic banana leaf wallpaper is Resene Wallpaper Collection 2960 – a 1950s inspired design which works well in modern homes or with mid-century furniture. Pair it with walls and a ceiling in a crisp white such as Resene Black White, furniture or trims painted in a charcoal black like Resene Nero and warm stained flooring in Resene Colorwood Natural.
It's time to get pasting. Reduce stress in the brain and encourage a 'biophillic reaction' with an inclusion of natural motifs on your walls. The plant trend in interiors is one that keeps on growing, and that includes both physical plants in our homes and incorporating botanical designs on our walls. A freshen up of a room only takes a few metres of Resene wallpaper. Think colourful prints alive with vibrancy and expression if you're after a bold look, and softer coloured/patterned prints if you're hoping to create a zen zone. Palm leaves, foliage and banana tree-themed prints are right on trend. It's a simple way to introduce colour and fun to a living space without making a space feel overwhelming, especially if it's confined to one feature wall. Try wallpapers from the Resene Wallpaper Collection that include shades of green, soft yellows and duck egg blues to awaken feelings of being in nature.
Mural magic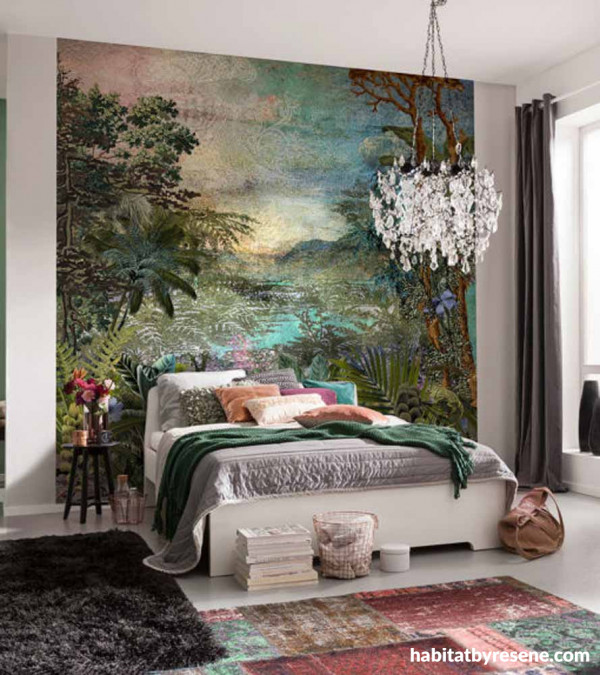 The lush landscape design of Resene Wallpaper Collection HX5-044 2 makes a statement in this bedroom, and will have you feel as though you're lying under a mountain in no time. Combine it with soft off whites such as Resene Rice Cake, which contains a hint of green.
Nothing can transport you and change the feeling of a room like scenic mural-style wallpapers. A room can go from a blank white canvas to a natural wonderland in a matter of hours. Landscape wallpapers in particular tell a story, and are completely atmospheric and evocative. They're the perfect addition to add dimension to a space, even in small spaces. Embrace escapism and create a natural look with your favourite Resene wallpaper mural.
Top tip: If you can't find what you want in the wide range of the Resene Wallpaper Collection or you're looking for something quite personal and one-of-a-kind, try out the Resene WallPrint service where you can create your own wallpaper from a photo or favourite print. You simply upload a photo, put in the dimensions of your wall and your order can be delivered to you as numbered wallpaper strips cut to size. Try it out at www.resene.com/wallprint.
If you're hoping to enhance your creativity, reduce stress and feel at peace indoors, embrace the biophilic interior trend. Your mind and body will thank you for it.
Published: 30 Mar 2022
Do you have a home full of wonderful Resene paint and colour? Send us some snaps by emailing [email protected].