►
◄
latest
habitat tv
blog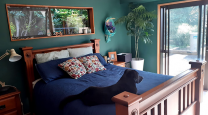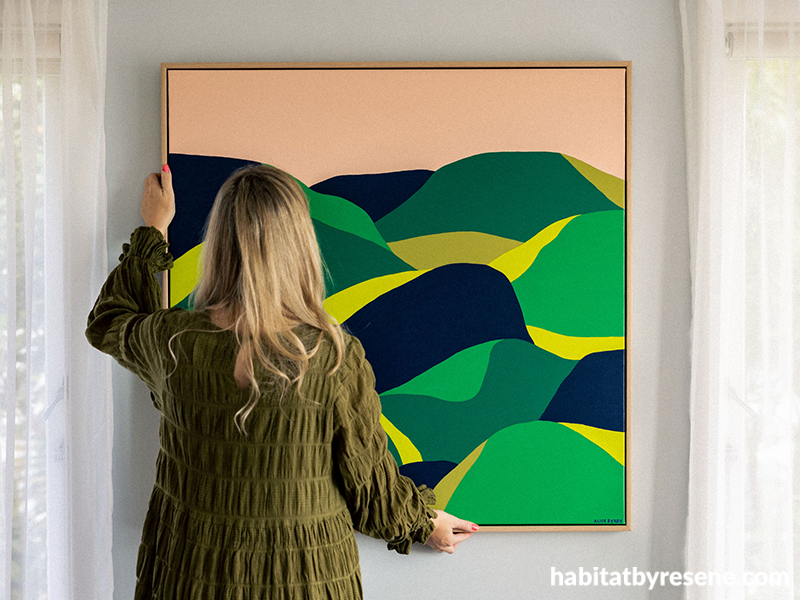 Artist Alice Berry doesn't believe in colouring in between the lines
02 Jun 2022
Alice Berry's paintings are rarely sketched out or pre-planned. Instead, when an idea floats into her head, curves and patterns merge with colour, and she'll reach for her Resene paints. In her abstracts, pastels dance alongside bold greens, warm yellows and navy.
"My style is colourful, fun and not the expected. Drawing on my experiences and intuition to inform my work, my love of nature can be seen in the organic shapes and textures in my artworks," Auckland-based Alice says. "I don't believe in colouring between the lines, which you'll see as you look closer and notice that often the paint spills out onto its frame."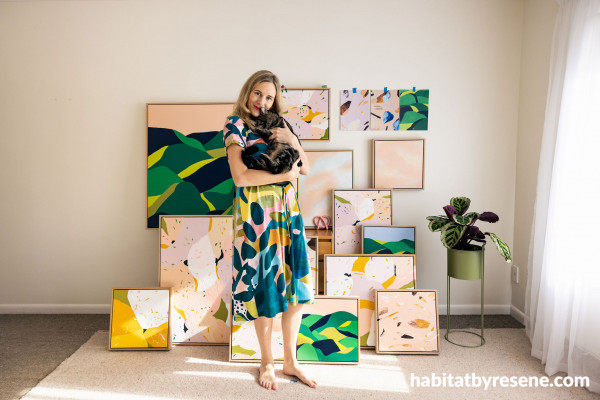 Alice with her colourful collection of works painted with Resene paints. "Paint and paint brushes are my main tools. Sometimes a spray bottle for water textures as well. There are so many different types of brushes and things you can do with them. As they get old and stiff, I find them really good for dry-brushing," says Alice.
Alice has worked as a graphic designer since 2010 – a fitting career as she'd always painted and drew as a hobby growing up. "Once I started freelancing more with my design work, I started painting again after a few years of doing none. In 2017 I created a collection of works that I loved, so hired a space on K Road and put on a two-day exhibition called 'Wonderland'."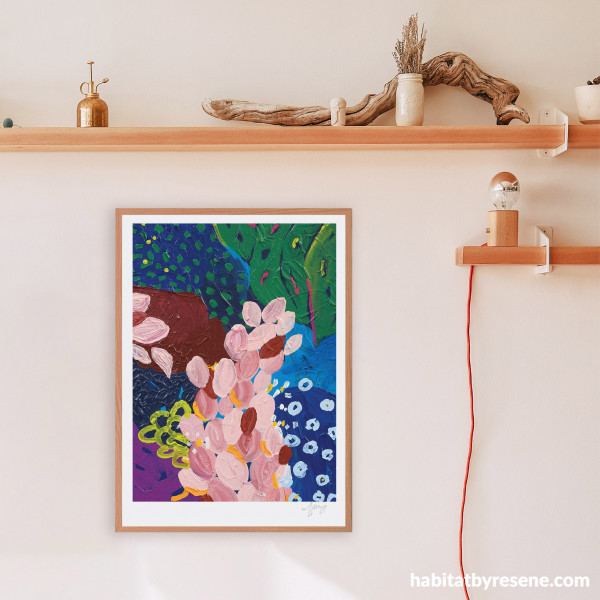 Alice's painting 'Midnight' was created with Resene Crusoe, Resene Blue Night, Resene Citrus, Resene Lochmara, Resene Wax Flower and Resene Aviator.
Her following solo exhibitions have been 'Outta Space' at Studio One Toi Tu in 2018, and 'A Midsummer Night's Dream' at Endemicworld in 2019. "And now I get to enjoy my life as an artist!" Her weeks now are quite varied between painting, ceramics, kids' art classes, and freelance design work, and Alice says she loves the variety.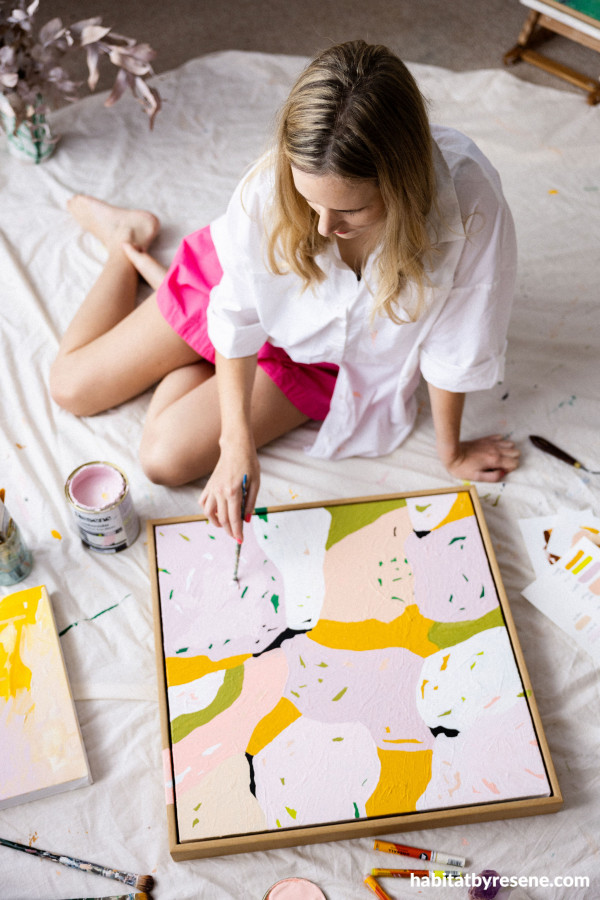 Alice with her piece titled 'Flora', in Resene Sauvignon, Resene Wax Flower, Resene Cornflower, Resene Fuel Yellow, Resene Gelato, Resene Quarter Rice Cake, Resene Crusoe and Resene Negroni.
"Nature is a big inspiration for my works. I love organic shapes and textures. I'm also inspired by experiences and my intuition. Recently I moved into an apartment in Mt Eden and I have an amazing view of the sky and sunsets so that has been a big inspiration of late."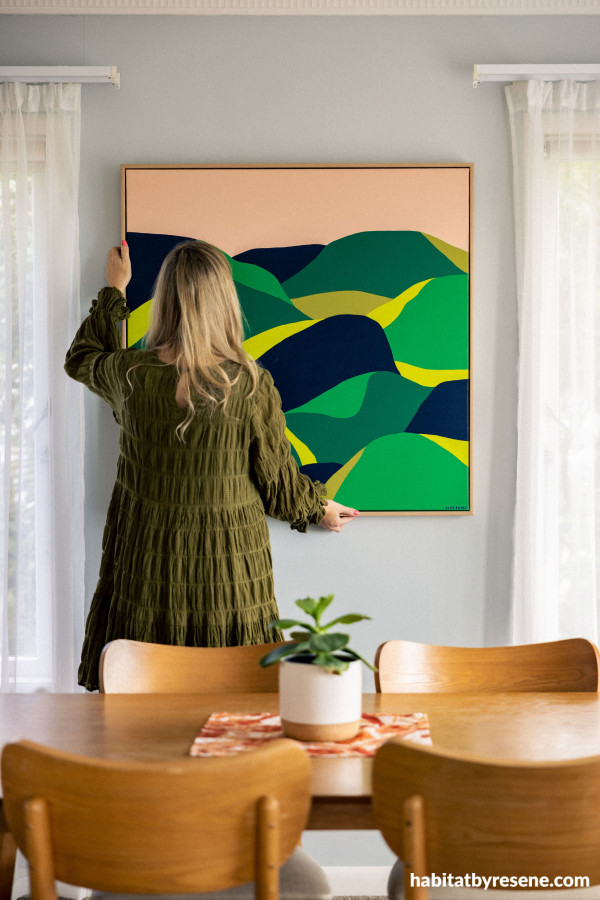 Alice hangs 'Exploration', bold and striking in Resene Crusoe, Resene Japanese Laurel, Resene Blue Night and Resene Citrus.
Alice says she loves Resene paints as they're vibrant with a great viscosity, which helps her build layers and textures. "There's also such a wide range of colours which I love. My colour palettes are inspired by a range of things. Sometimes they can be more on the literal side but usually they are more on the abstract side, to kind of show a feeling rather than literal colours."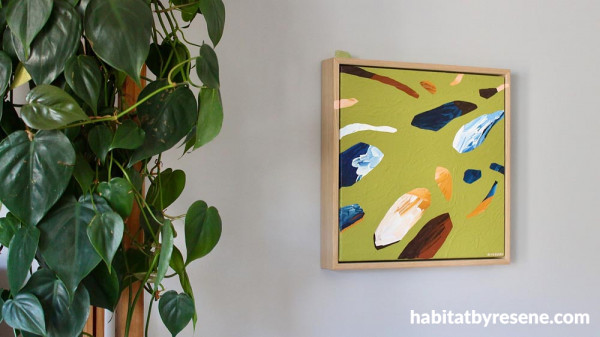 This piece is called 'Green Calcite'. It uses Resene Blue Night, Resene Aviator, Resene Mai Tai, Resene Hairy Heath, Resene Quarter Rice Cake and Resene Wax Flower.
Resene Wax Flower is her favourite shade. "It's my perfect colour, lovely and dusty pink, it matches my brand and my personal style. I can't really explain it but it's like my soul colour. I use it all the time, in the majority of my artworks."
Find Alice: www.aliceberrydesign.com
images Reuben Looi
Published: 02 Jun 2022