►
◄
latest
habitat tv
blog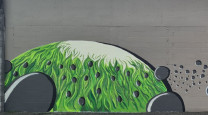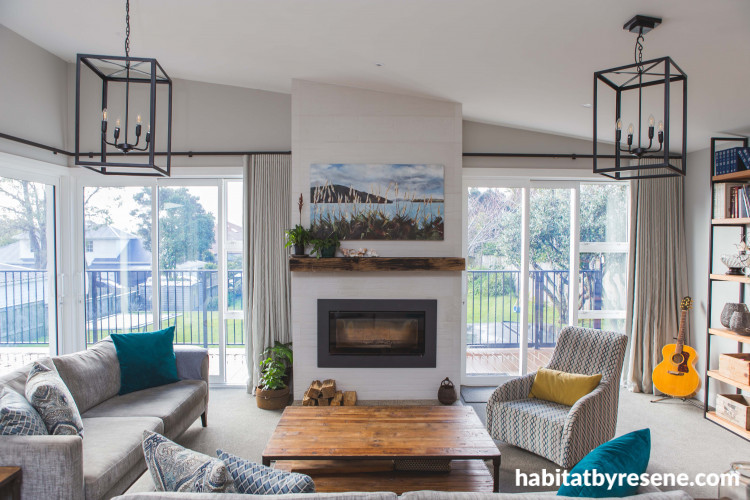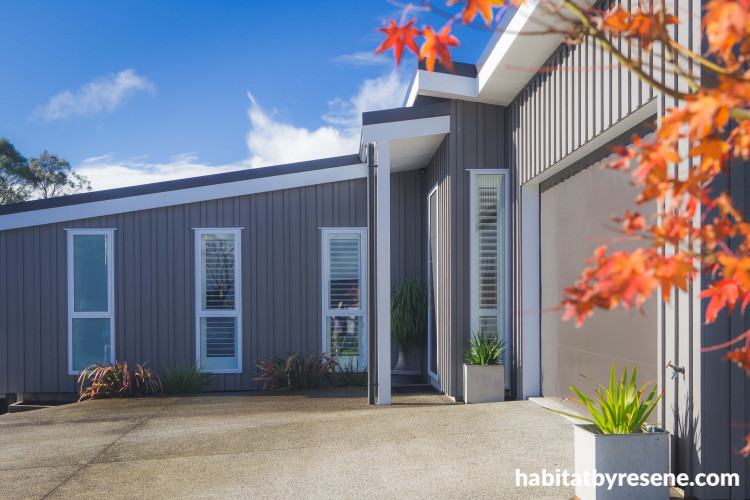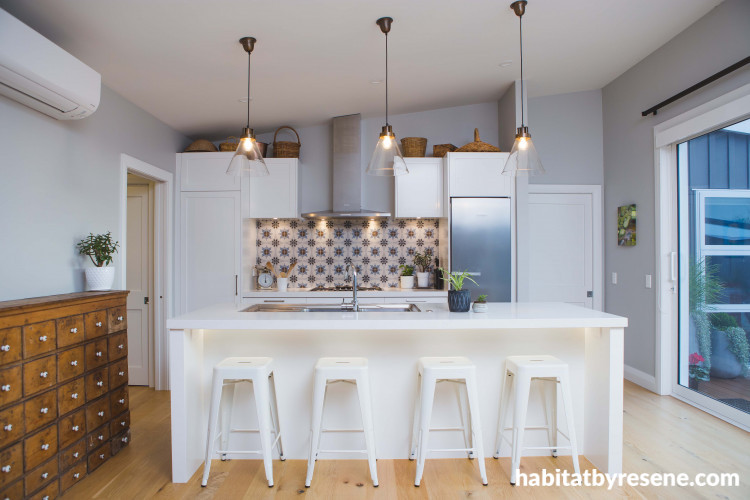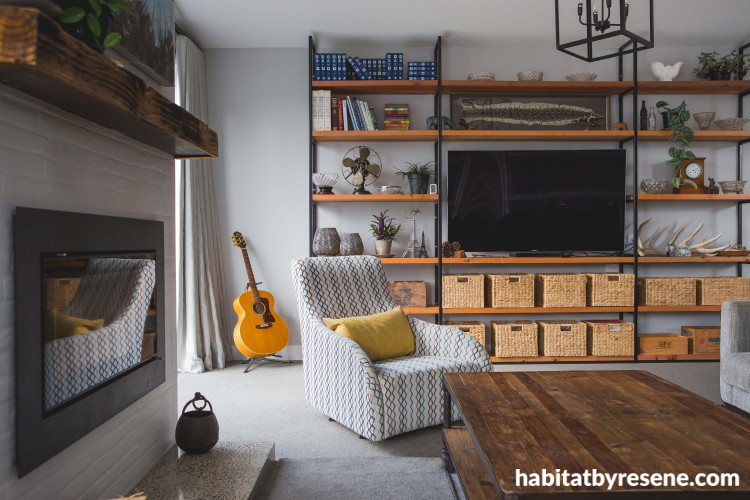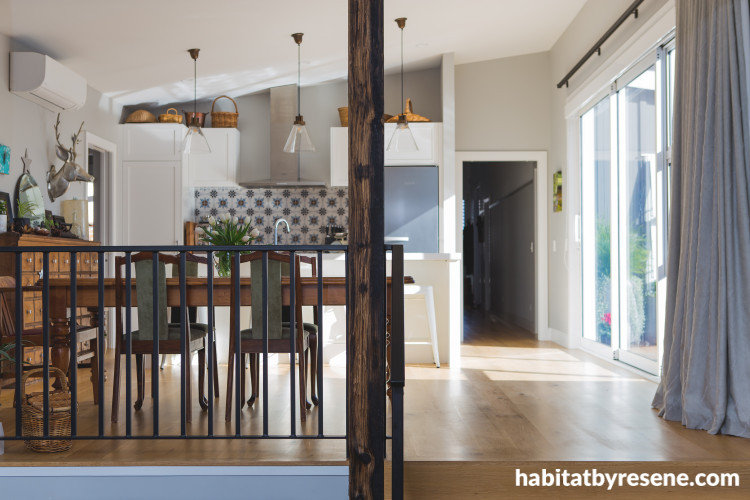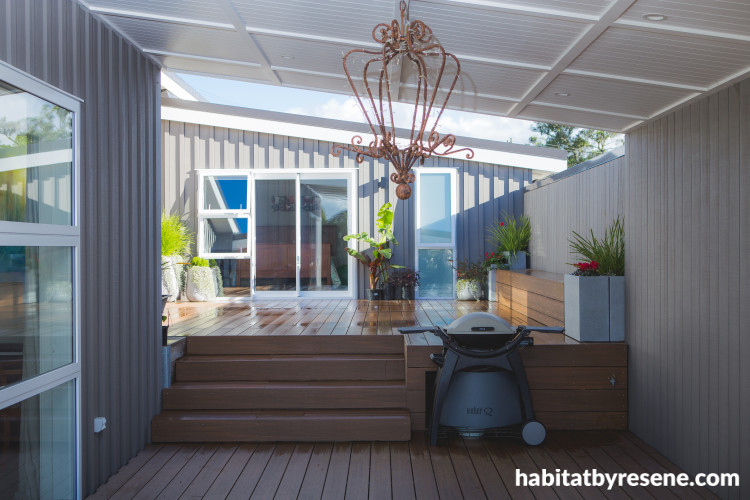 Zane and Suzanne's dramatic eco facelift
Zane and Suzanne Raphael knew the renovation of their rundown villa in Auckland's Greenhithe would be epic. What they didn't expect is that through the 12-month project they'd catch the eco-home bug and end up transforming the wooden home into a "super reno" and New Zealand's first 10 Homestar renovation.
Now they have a warm, dry, light-filled home with the interior finished in a neutral palette of Resene Eighth Friar Grey, trimmed in Resene Black White, which complements the home's timber accents.
Homestar is a rating tool, developed by the New Zealand Green Building Council, to measure the eco-friendliness, health and efficiency of homes. Homes are rated on a scale of 0 to 10. Zane and Suzanne's home is also the country's first stand-alone 10 Homestar rated renovation.
It's an impressive achievement from very humble beginnings. When they started, the 1967 villa was damp and draughty with no insulation and even some resident rats in the ceiling.
Getting started
As the villa had been a rental for several years, it was not in a great state when Zane and Suzanne bought it. Condensation and mildew were constant problems and the house was impossible to heat, which all left the family constantly battling sickness.
On top of that the roof was riddled with asbestos.
Overcoming those hurdles to create a safe and healthy family home for themselves and their two daughters Imogen (8) and Trinity (5) meant the couple quickly became caught up in researching and embracing healthy, sustainable construction and design choices.
With that in mind they turned to Allan McIntosh of Buildology Architectural Design design services and the Homestar assessment. Zane, himself a builder with Renovation Builders which led the project construction, had collaborated with Allan on previous projects and knew they'd be on the same page when it came to creating the preliminary design.
Sustainability plus
The Raphaels and Allan wanted to keep the renovation as sustainable as possible, so much of the existing timber framed walls were re-used, and the villa's concrete foundation footprint was retained.
Dilapidated weatherboards were replaced with a heat-treated vertical pine cladding over a new layer of insulation, followed by the addition of high-performance, thermally broken, low E glass, argon gas-filled double glazing.
The home now has a steel corrugated roof with a combined insulation R-value of 5.3, as well as photovoltaic panels to supplement energy use. These will, in the future be connected to batteries to store the solar power. There is also a large 26 cubic metre underground rainwater storage tank which supplies both the house and irrigation systems.
Inside combined 2x R1.8 underfloor insulation and R3.8 wall insulation will keep things dry and toasty. A Heat Recovery Ventilation system allows for fresh air to move through the house, maintaining it at a pleasant temperature.
did you know… that Resene has many Environmental Choice approved paints and wood stains, including a range of low and no added VOC paints for better interior air quality?
Going eco
The Homestar rating checklist can be overwhelming with all its categories and points, but Zane says there are three simple areas you can focus on to improve the ongoing 'eco' qualities of your home: improve your insulation, switch to LED lighting to save on power consumption, and invest in quality tapware to improve water consumption.
A new lease of life
Now the 12-month renovation is behind them, Zane and Suzanne are thrilled with their finished home, which is almost unrecognisable from its former self.
As well as the obvious improvements to the healthiness of the home, it also includes a double garage with electric car charging capabilities, four good-sized bedrooms, a study, three bathrooms, kitchen, scullery, laundry, and a large living area as well as several sunny decks.
Inside all the walls are painted in Resene Eighth Friar Grey, while all trims and ceilings in Resene Black White. The exterior is stained with Resene Waterborne Woodsman Smokey Ash.
The couple say they wanted a soft, clean and neutral colour scheme which would enhance furniture such as the beech bookshelf, kauri dining table and oak flooring.
The home also has the highest five-star Lifemark certification, which rates houses that are accessible and safely designed, meeting the needs of all ages and abilities with features such as wheelchair access, greater door widths and more accessible power points and light switches.
The result is a stunning, future-proofed family home.
The Super Reno was made possible thanks to suppliers, including Resene, wanting to help push for better, healthier homes. See more at www.homestarproject.co.nz.
Published: 13 Sep 2018
Do you have a home full of wonderful Resene paint and colour? Send us some snaps by emailing [email protected].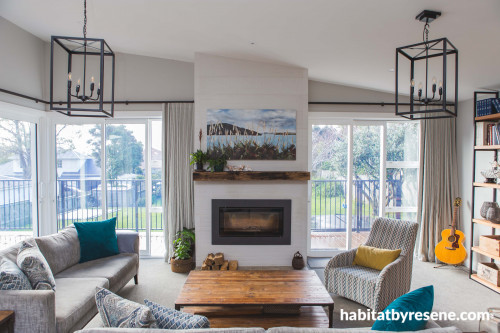 For their Greenhithe eco-home transformation Zane and Raphael opted for a neutral colour palette which would nicely showcase natural materials such as the wood shelving and coffee table. They opted for Resene Eighth Friar Grey on walls throughout the house, with all the trimmings and ceilings in Resene Black White.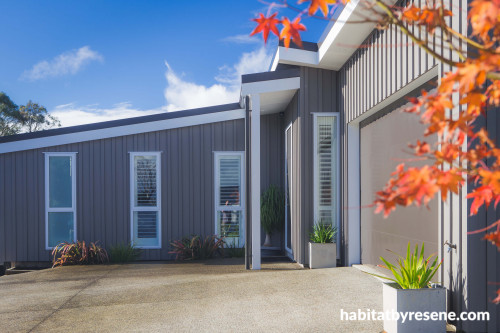 Tired, draughty weatherboards were replaced with vertical pine exterior cladding over added insulation, then stained it in Resene Waterborne Woodsman Smokey Ash trimmed in Resene Black White.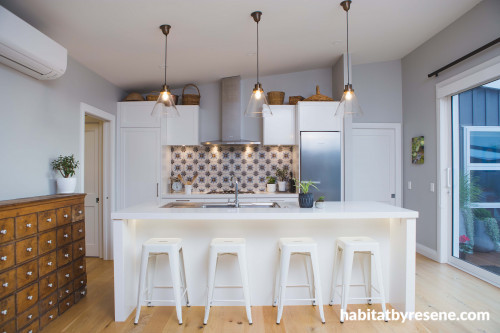 The white, clean lines of the kitchen fittings, and the bare timber floor and furniture are pulled together to dramatic effect by the neutral Resene Eighth Friar Grey walls and the Resene Black trims.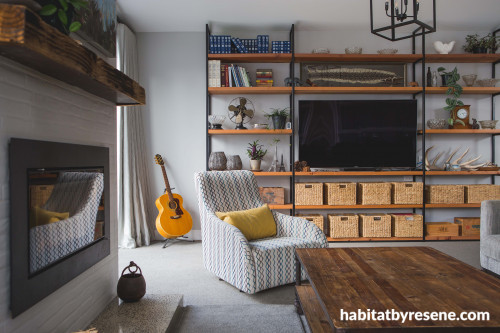 The neutral carpet in the living area, with the shades of grey in the furniture, add complementary tonal layers to the Resene Eighth Friar Grey walls, finished with the fresh Resene Black White ceiling.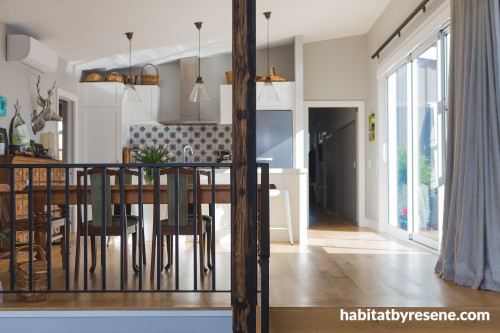 The multiple layers and tones of natural wood looking through the dining area and the kitchen, complemented by the warm neutral Resene Eighth Friar Grey walls and the pop of Resene Black White trim, make the space look interesting and inviting.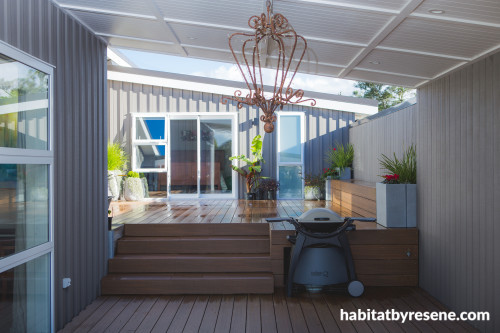 The pine-clad exterior in Resene Waterborne Woodsman Smokey Ash works well against the aluminium window frames. The windows themselves are high-performance, thermally broken, low E glass, Argon gas-filled double glazing.






the look
If you're stuck on what
colour to use or need colour
advice, try out the Resene
Ask a Colour Expert service.