►
◄
latest
habitat tv
blog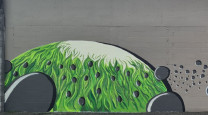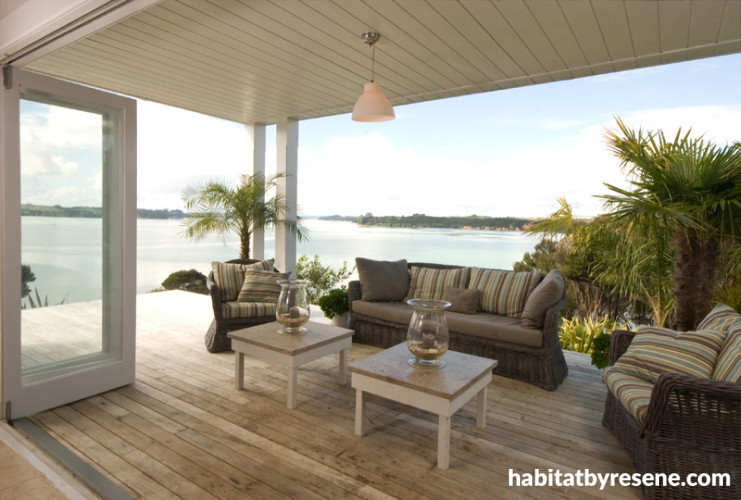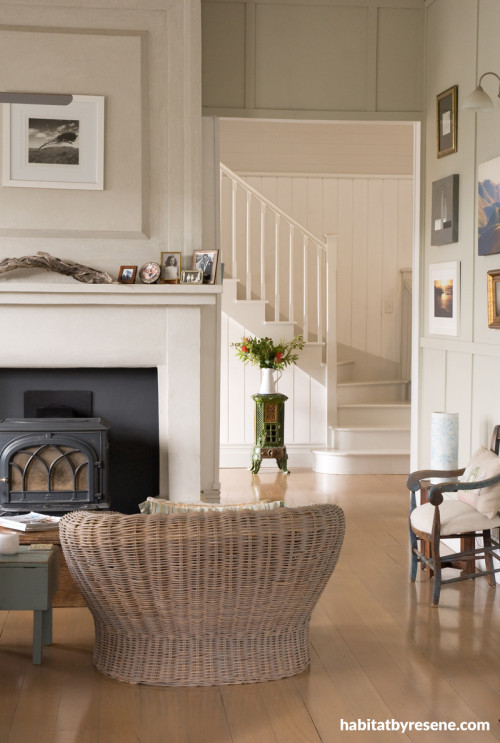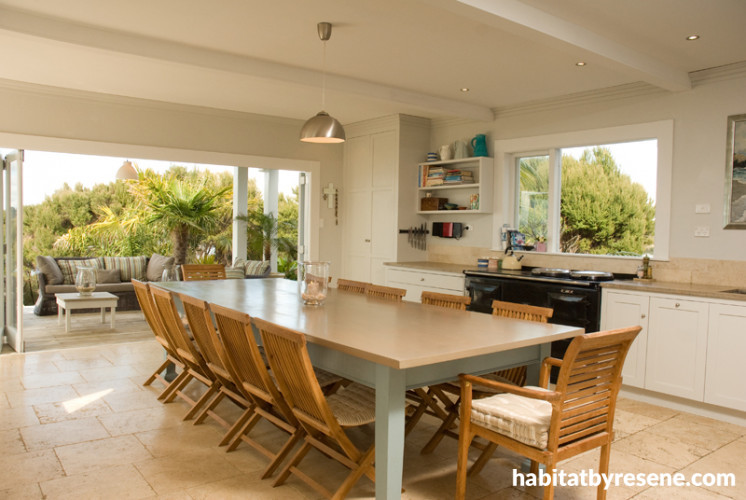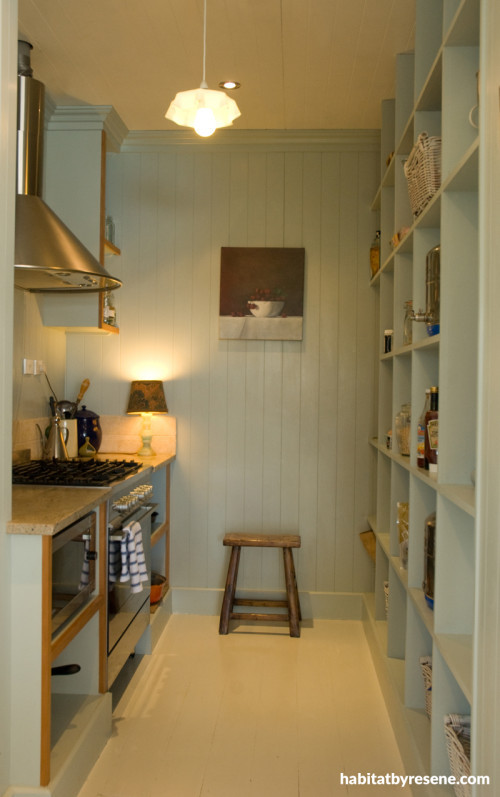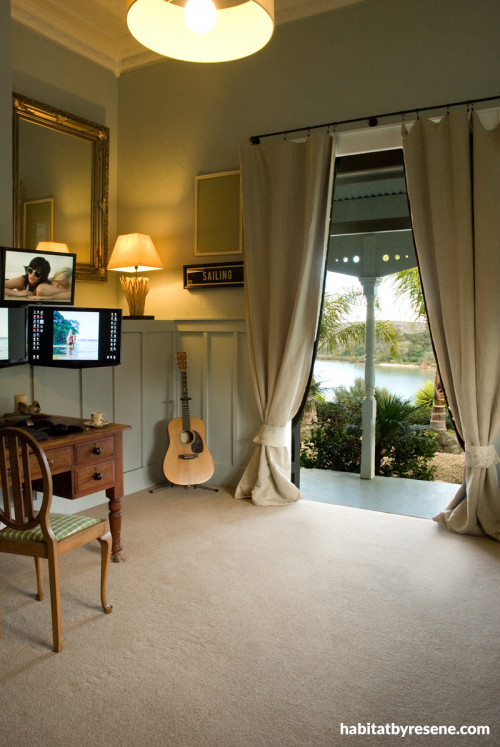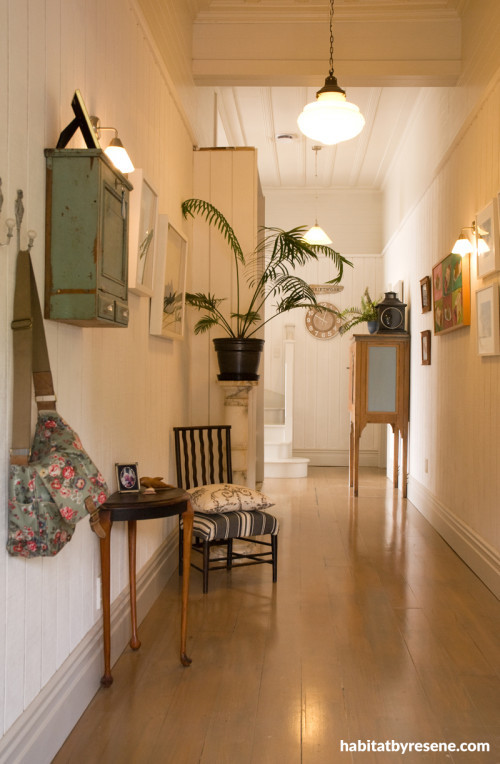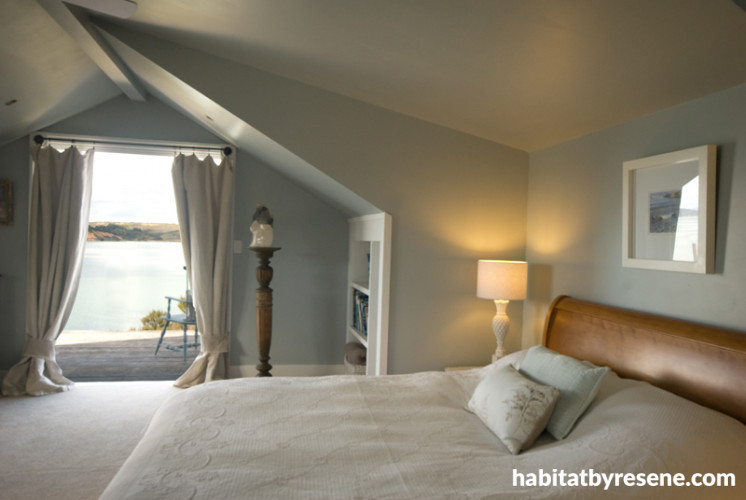 Vanessa and Richard's coastal crusade
Published: 24 Oct 2013
Do you have a home full of wonderful Resene paint and colour? Send us some snaps by emailing [email protected].
Old rest home becomes blissful retreat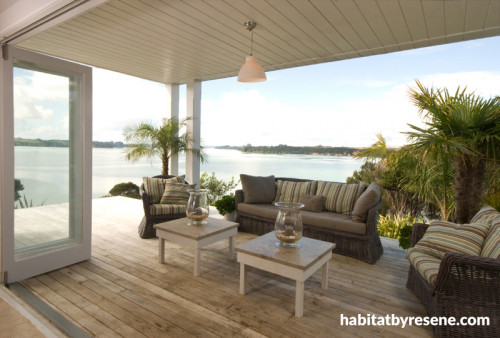 A former rest home that was a maze of cubicles has been relocated and reborn as a serene and beautiful coastal home for a family of six. Vanessa and Richard found the old villa in Dargaville after a two-year search and shifted it to land on the Te Puna Inlet just north of Kerikeri.
It was strong and well-maintained but split into dozens of small rooms. That didn't worry the couple – they were after the elegance of the high ceilings, the verandahs, timber floors and double-hung windows. It was always their intention to gut the interior and start from scratch, using a very personal selection of Resene colours.
The couple's renovation schedule intrigued their friends. They would do one room, completely at a time right down to the blinds and furnishings. Says Vanessa: "It looked like a film set. You would leave a finished room then be 'backstage' with all the chaos. It was the only way I could get my head around renovating while having four children and both working in full-time businesses. We had areas of total blissful perfection to retreat to and I could pretend there wasn't a near derelict house the other side of the door."
They now share their slice of paradise with paying guests who stay in two cottages – see www.driftwoodnz.com.
How did you decide on the overall look of the interiors? What was your overall philosophy?
We wanted to create an elegant family home that reflected our outdoor lifestyle and love of the sea. We wanted a huge kitchen, which was added on two years ago, with a 4m-long table. The look is, I suppose, quite Cape Cod which is now fashionable. It's all about natural linens and hemp, honed not polished surfaces, coastal colours, and casual and easy living.
It's important to let the water and the view be the stars of the show and that my colours should blend and flow, and not halt the eye at the wall. The Resene guys in both Kerikeri and Kaitaia are used to me turning up with bits of driftwood, shell and sand to match to colour. I ended up with a palette of about 15 colours that work on the coast. A friend who is not on the water used these colours, and I have to say it looked dull!
Do you have a favourite colour, and if so why is it your favourite?
Asking my favourite colour is like asking to pick my favourite child! I love Resene Triple Sea Fog. It's a very sophisticated grey, really understated which I've used for all the kitchen walls and cabinets. I love the Resene Hermitage in my bedroom as it changes with the light from quite blue to grey and green. You can never go past Resene Coastal Blue from the Karen Walker collection, which I have used to wash all my big baskets for the outdoor cushions and beach towels. I think Resene Linen is one of the best neutrals around – neutral but interesting.
We ended up building two holiday cottages on the property with the same coastal beachy feel as the house. Everyone loved the look we had created so it seemed a good idea to share it. They were more fun to do with some cool retro colours.
The colour of kina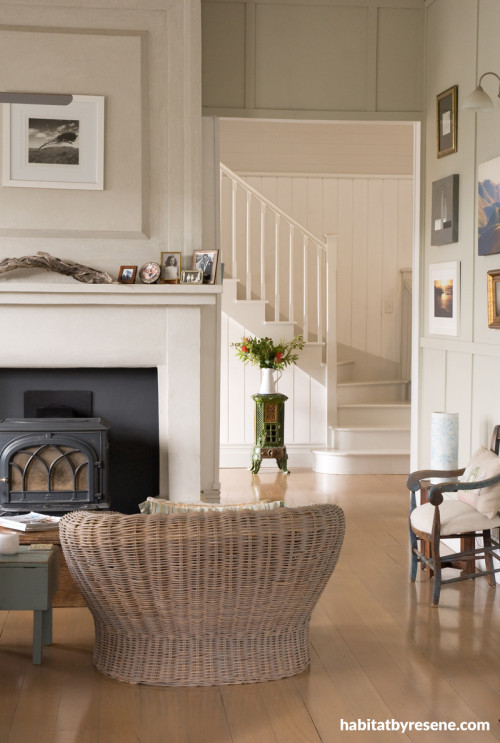 Vanessa's love of layering and texture comes through in the living room, where the pale green colour of the paneled walls was inspired by the colour of a kina shell. The colour was specially mixed for the couple at the local Resene ColorShop, which Vanessa has now aptly dubbed Resene Kinakina.
Long lunches... literally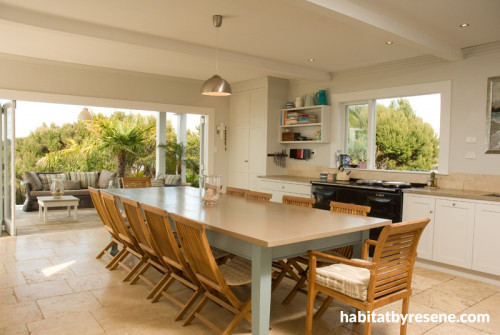 The farmhouse style kitchen was added on two years ago, and is home to a vast 4m-long dining table. The walls and cabinets are in one of Vanessa's favourite colours, Resene Triple Sea Fog, which she says is a sophisticated, understated grey.
Sea tones for a scullery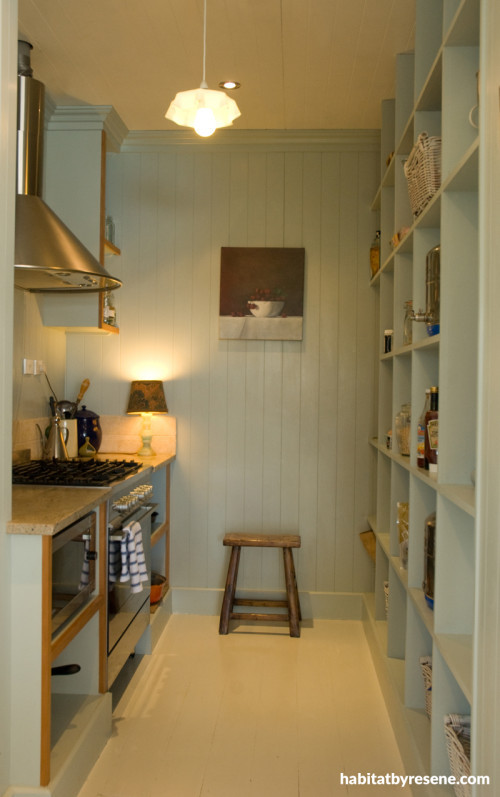 A butler's pantry leads off the main kitchen area and has a wall of shelving and second cooker to complement the big Aga in the main room. The walls here are in Resene Coastal Blue, a colour Vanessa also used to wash all of the big baskets she uses to store beach towels and outdoor cushions.
Pale and interesting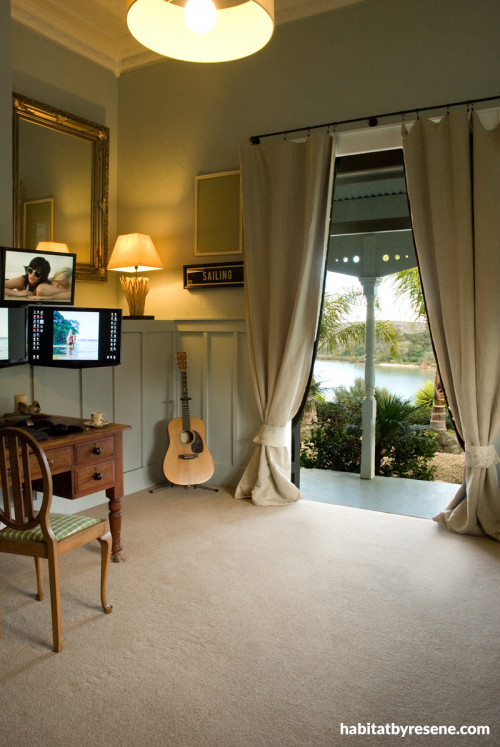 Resene Linen is used in the study. Vanessa calls it one of the best neutrals around; neutral yet interesting.
Arresting entrance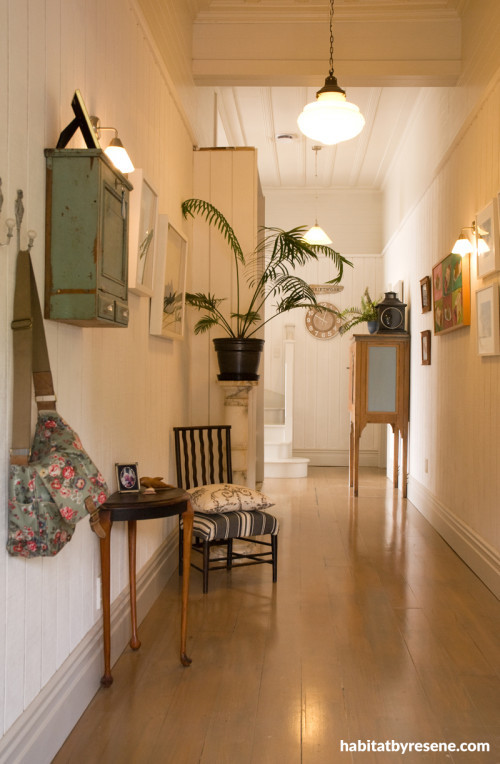 The soft pearl grey of Resene Athens Grey is used in the hallway, which is also home to old and interesting pieces of furniture.
A mutable blue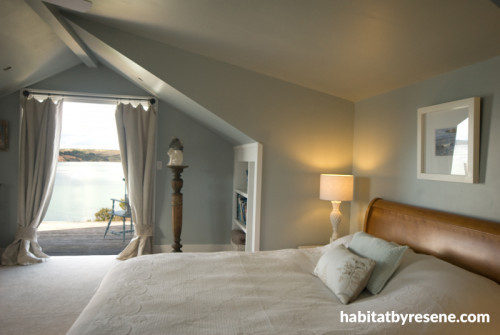 Resene Hermitage is used in the main bedroom. Says Vanessa: "It changes with the light from quite blue to grey and green."










the look
If you're stuck on what
colour to use or need colour
advice, try out the Resene
Ask a Colour Expert service.