►
◄
latest
habitat tv
blog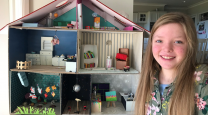 Travel-inspired interiors: 5 looks to transport you
Who said you had to leave your home to gain all the glorious inspiration travel offers? Take a voyage across the globe by incorporating these travel-inspired Resene colours and wallpapers in your space. Whether you're hoping to channel a tropical retreat or a Tuscan escape, there are plenty of colourful hues and wallpaper motifs to take you there.
How to create travel-inspired interiors
Travel is something that until recently, has felt a little foreign to us against the backdrop of the pandemic. But with borders opening, embarking on new adventures is once again on the cards. Travel is a great way to inspire new looks for your home – each country has a distinct interior style that often reflects its heritage. Architectural details, nature, fabrics and landscapes offer ample inspiration. Why not spice up a living or bedroom with a look inspired by travel? Some things to think about when creating a travel-inspired space:
Land on a theme: Having a theme helps to keep things cohesive in a room. Ultimately landing on a theme is down to personal preference, but a great place to start is thinking of your own travels, or a place you'd love to travel to. Is there a certain part of the world you've fallen in love with? Are there any designs you'd like to incorporate inspired by your own heritage?
Pick a colour palette: Establishing a colour palette is a good way to make sure your room looks chic and cohesive. If you're creating a Tuscan-themed lounge, for example, you'll want to use earthy tones in the furnishings and paints, or if you're going for a beachy colour palette, blues, beiges, light corals and whites pair well.
Create depth: Add to the overall mood and feel of a room by adding texture, in the form of artwork, rugs and cushions. Consider a gallery wall that really encapsulates the place you're channelling. Think beads, shells, landscape prints, even framed pieces of fabric. This is a great opportunity to display you've personally collected overseas.
Take us to Tuscany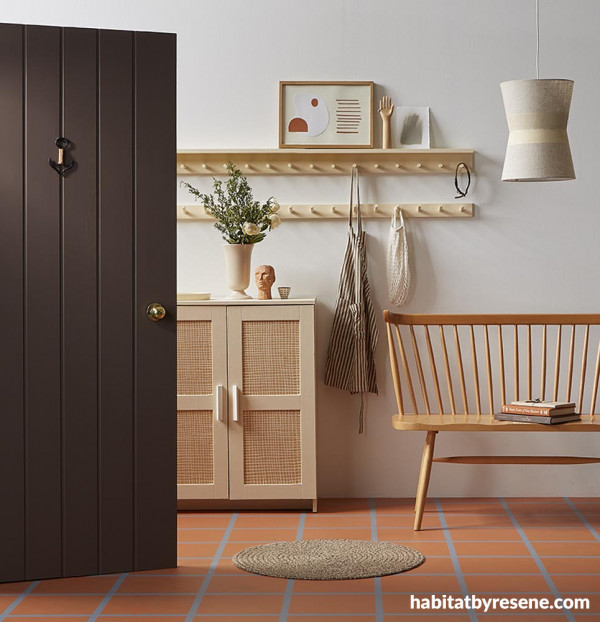 Go for a Tuscany-inspired interior look and embrace terracotta. This tone has quickly climbed the ranks to become one of the trendiest colours for interiors. The appeal of this hugely warming hue is understandable, as even just a few touches can bathe your home with a toasty glow. Wall in Resene Eighth Pearl Lusta, 'tile' floor in Resene Tuscany with grout in Resene Raven, door in Resene Felix, cabinet in Resene Blank Canvas with doors in Resene Gold Coast with 'cane' in Resene Double Dutch White and hook racks and shelf in Resene Double Dutch White. Project by Kate Alexander, image by Bryce Carleton.
Take a trip to Italy by incorporating a Tuscan interior style. Natural influences are found throughout the Mediterranean countryside; think olive trees, grapevines, golden fields, sweet pears and flowering pink bougainvillea. It's beautifully sophisticated, simple and refined. Tuscan designs often feature large tiled flooring, warm and sun-baked colours, dark woods, elegant iron accents, exposed beams and stucco.
Get that Tuscan travel feeling in your home with colours like Resene Korma, Resene Mai Tai, Resene Sante Fe, Resene Swiss Caramel, Resene On Track and Resene Light Tan. Or appropriately, Resene Tuscany, a dusty orange raw terracotta. Conjure up the warmth of a sunny countryside setting with your colour palette.
Adventure in the Amazon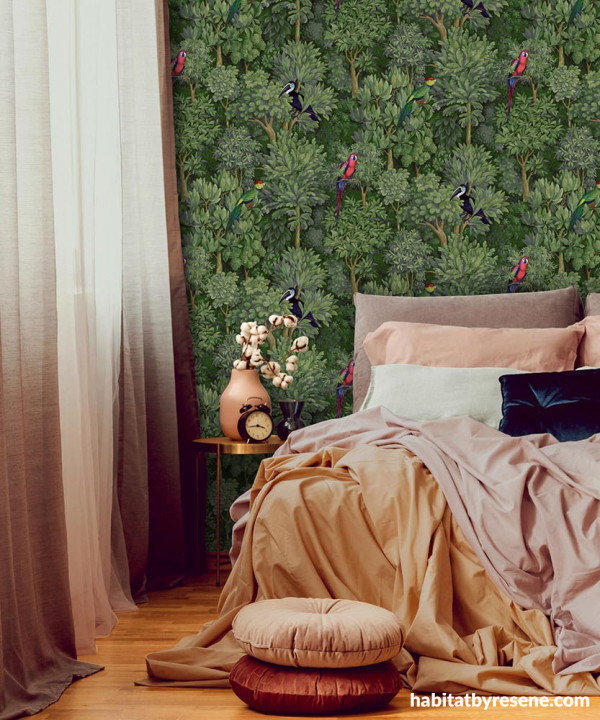 Embrace the spirit of the jungle with Resene Wallpaper Collection 91250. Birds perch in lush jungle in pinks and blacks. The look is fantastic as a feature wall in a bedroom.
Escape to the jungle in your bedroom or living room with the Resene Wallpaper Collection. Take an interior trip to a destination thick with trees and the cries of spider monkeys, toucans and macaws. It could be just what you need this winter. Try the zebra-dotted Resene Wallpaper Collection 91310, get a toucan touch with Resene Wallpaper Collection 91340 or visualise yourself lying under palms with Resene Wallpaper Collection 635690.
Have fun with a jungle theme, embrace a bright colour palette and include shades like Resene Forest Green and Resene Seaweed. Contrast them with other hues that evoke images of the Amazon like deep corals of bromeliads – try Resene Sunrise, Resene Glorious and Resene Tangerine. Incorporate natural materials like rattan, jute and bamboo to emphasise a jungle-inspired travel look.
Holiday in the Hamptons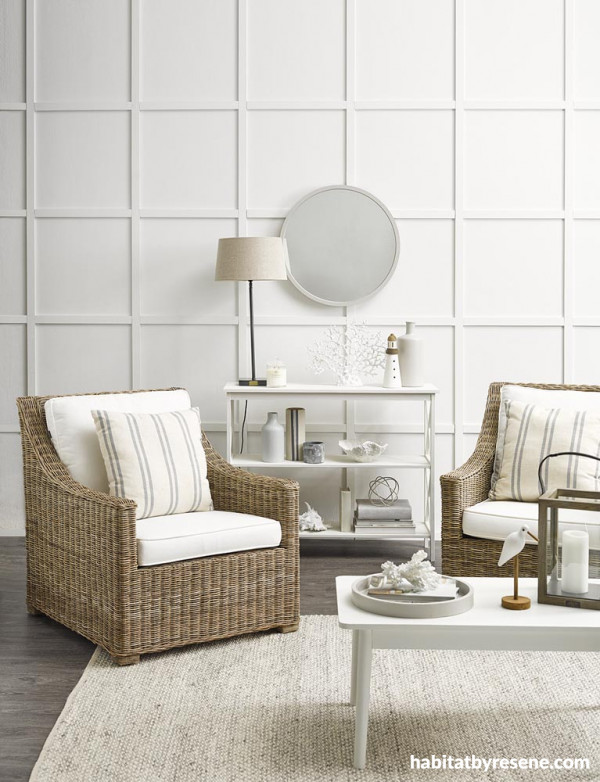 A Hamptons look never goes out of style. Create a light and airy look with walls in Resene Black White and flooring in Resene Colorwood Dark Ebony. Table and back shelf in Resene Merino. Tealight holder in Resene Halcyon, small coral and seashells in Resene Black White, mirror, tray and tall back vase in Resene Cloudy and wire orb in Resene Ash. Rug from Freedom, vintage lantern (on coffee table) from Johnston Imports/Ji Home, lighthouse decoration from Bed Bath & Beyond, lamp base and shade, striped cushions and armchairs from Johnston Imports/Ji Home, tray table from Freedom. Project by Vanessa Nouwens, image by Wendy Fenwick.
If you're after a travel look inspired by a chic beach vibe, a New York Hamptons look is for you. This interior look is unique because of its relaxed yet sophisticated coastal feel. It should feel easy, breezy, rejuvenating, light and open. You should ideally feel as relaxed in a Hamptons inspired room as you would lying by the sea. The great thing is you don't need to fly there to steal the look.
Keep things comfy and serene by sticking with a clean white palette with black elements to offer contrast. Try Resene Alabaster, Resene Rice Cake or Resene Black White with Resene Black. The Hamptons is all about summer brights, there are no autumn colours to see here. Incorporate bright pops of colour that match the mood with furnishings. Yellows, blues and greens work well and look to hues like Resene Duck Egg Blue or Resene Unwind.
Journey to Japan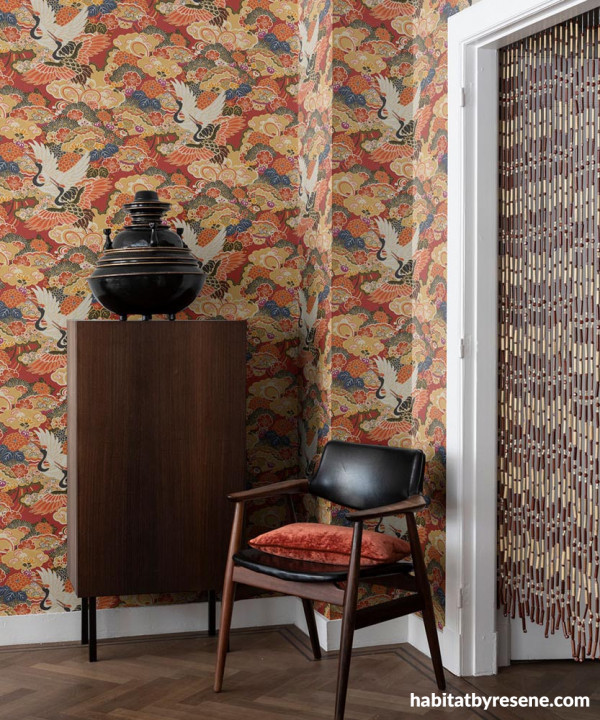 Create a soothing yet character-packed atmosphere with Resene Wallpaper Collection 409345. Try Resene Black White on ceilings, trims and any blank walls to add contrast to a space.
Natural, easy to live in and quiet – Japanese interior design is something to take plenty of notes from for another travel-inspired look. The Resene Kimono Wallpaper Collection is a great way to incorporate Japanese design. Walls can take centre stage in indigo blue, bright red and a wide range of natural tones. Surrounded by clear lines and expressive painting, you can bring the feel of a Japanese tea ceremony home to enjoy all year round. Try the red and gold cranes of Resene Wallpaper Collection 409352 or the calming koi in Resene Wallpaper Collection 409444.
For a Japan-inspired interior, think uncluttered spaces, natural materials like wood and stone, minimalist ceramics, light-filled spaces and an abundance of plants. Team with light and muted colours. Try Resene Bone or Resene Sandspit Brown as a wall colour.
Pretty in Paris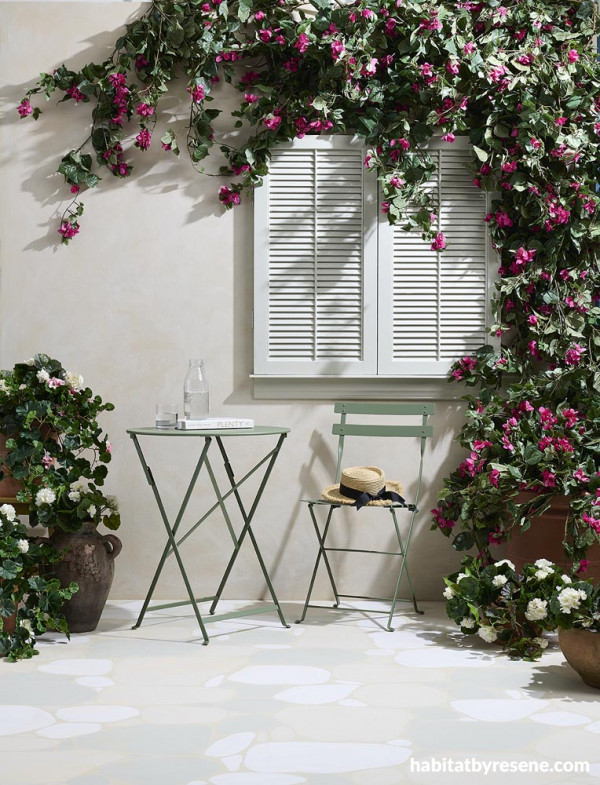 This classic look is reminiscent of Parisian scenes, and is particularly charming for outdoor patio areas. Though a key element in this look is limestone – which is an uncommon material in this part of the world – it's easy to emulate the stone's smooth edges and irregular finish using Resene FX Paint Effects medium. Wall in Resene Half Canterbury Clay with Resene FX Paint Effects medium mixed with Resene Eighth Canterbury Clay and Resene Double Spanish White. Shutters and windowsill in Resene Kangaroo and cobbled patio floor in Resene Half Canterbury Clay,Resene Eighth Canterbury Clay, Resene Double Spanish White, Resene Blanc, Resene Paris White and Resene Half Spanish White. Table and chair from Jardin. Project by Annick Larkin, image by Bryce Carleton.
Cafes and patios in Paris are places to linger, to enjoy a croissant or a Pain au chocolat, and simply absorb the world passing by. Why not bring a slice of Paris into your home? Parisian interiors are elegant and feminine, quite the mix of traditional and contemporary design. The good thing about a Paris-inspired look is it will never go out of style. It evolves gently over time. Stick to a simple colour palette, try walls in light grey like Resene Athens Grey or white. A milky blue can also look subtle and chic - try Resene Cut Glass or Resene Breeze.
Soft neutral walls offer the perfect blank canvas for art. Jewel tones like rubies and emeralds can also work well when they come in small doses, in an armchair or cushions, for example.
Top tip: It's easy to revamp an old painted patio with a little bit of help from Resene. Choose from Resene Walk-on for a satin finish or Resene Non-Skid Deck & Path for a safety conscious non-slip finish.
Whether it's a trek to the jungle or a coffee in Paris you're after, let Resene help you bring your favourite travel memories home to enjoy year round. If you need help getting started on your travel inspired interior, visit your local Resene ColorShop, use the free Ask a Resene Colour Expert service, or book a Resene Colour Consultation.
Published: 16 Jun 2022
Do you have a home full of wonderful Resene paint and colour? Send us some snaps by emailing [email protected].
the look
If you're stuck on what
colour to use or need colour
advice, try out the Resene
Ask a Colour Expert service.
the look
If you're stuck on what
colour to use or need colour
advice, try out the Resene
Ask a Colour Expert service.