►
◄
latest
habitat tv
blog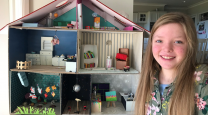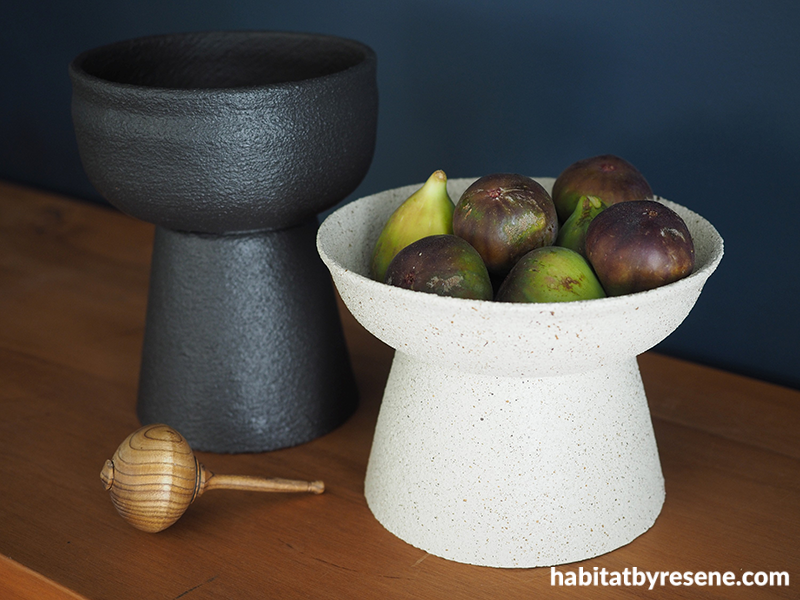 Got leftover Resene Sandtex? Try these DIY footed bowls
12 May 2022
These footed bowls are chic and stylish and make for a great candle or fruit holder. If you've used Resene Sandtex before, you know the finish is ideal for a wide range of projects where a textural effect is desired. It can offer a Mediterranean-style finish or help disguise an imperfect surface. If you have a half-used tin lying around, these DIY footed bowls are for you!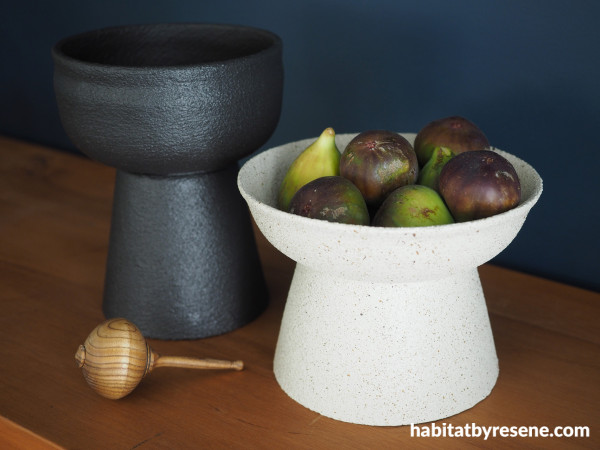 Fleur's DIY footed bowls are painted in Resene Bokara Grey, Resene Double Parchment, Resene Rebel and Resene Cafe Royale with a Resene Sandtex base. Back wall in Resene Dark Knight.
You will need:
Four bowls
Sandpaper (coarse grit)
Industrial adhesive
Resene Waterborne Smooth Surface Sealer
Paintbrush
Resene Sandtex
Resene testpot paints in your choice of colour (Fleur used Resene Bokara Grey, Resene Double Parchment, Resene Rebel and Resene Cafe Royale)
Old toothbrush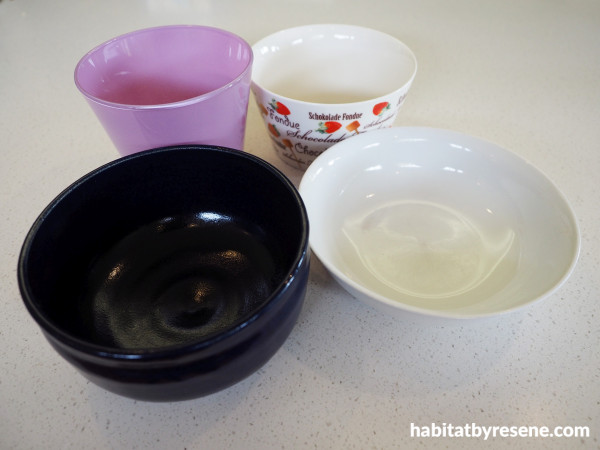 Step 1: For this project you need four bowls. Fleur chose two that had a rounded shape for the tops and two that had straight sides for the bases.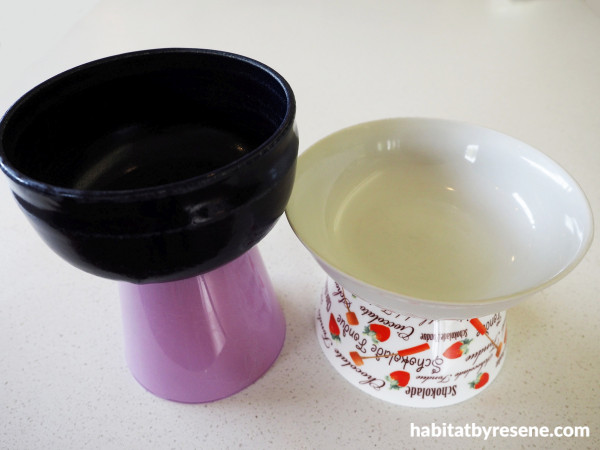 Step 2: Use industrial adhesive to glue the bottom of the base bowls (turned upside down) to the bottom of the top bowls. Leave this to cure overnight.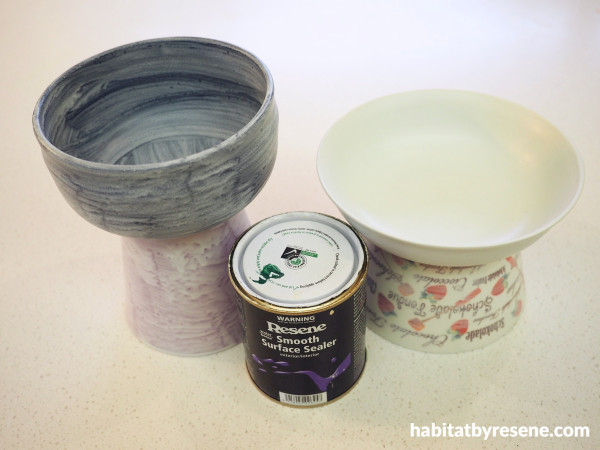 Step 3: Paint the bowls with a coat of Resene Waterborne Smooth Surface Sealer.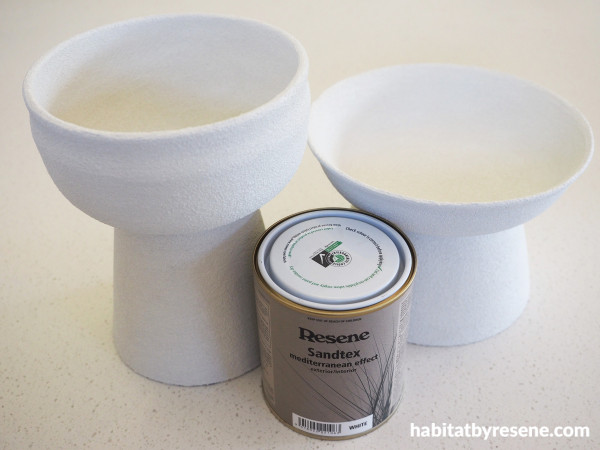 Step 4: Once the sealer is dry, paint on two layers of Resene Sandtex. Fleur did two smooth layers but you could apply it roughly to achieve a more textured finish. Make sure you leave the first layer to dry before applying the second layer.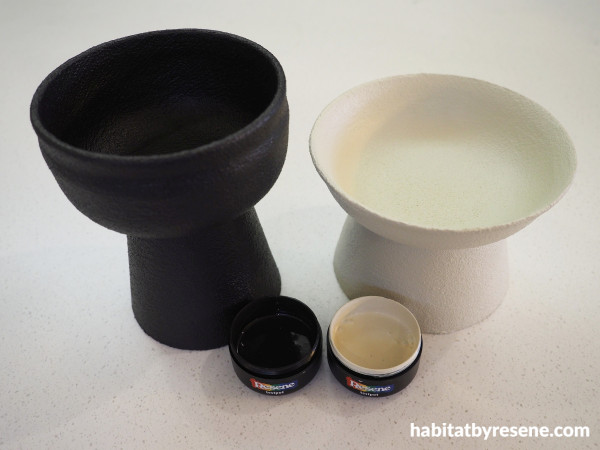 Step 5: When the Resene Sandtex is well dried, apply the final paint colour. For the taller bowl Fleur painted it with two coats of Resene Bokara Grey. You can get Resene Sandtex tinted to a wide range of colours, so if you are planning to do a larger project you could use the same colour for the bowls.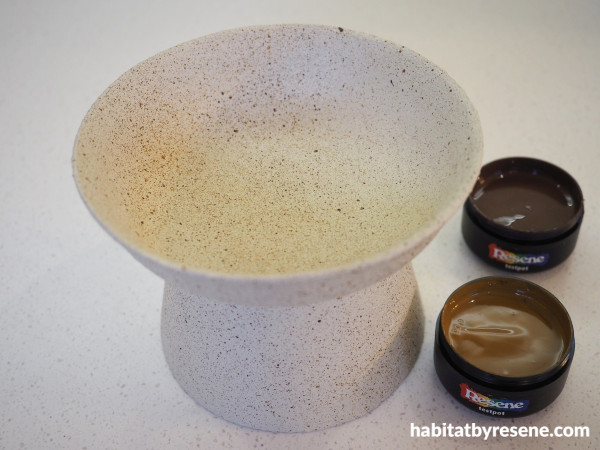 Step 6: For the shorter bowl, Fleur painted it in two coats of Double Parchment. Once this was dry Fleur used an old toothbrush to flick on Resene Rebel and Resene Cafe Royale.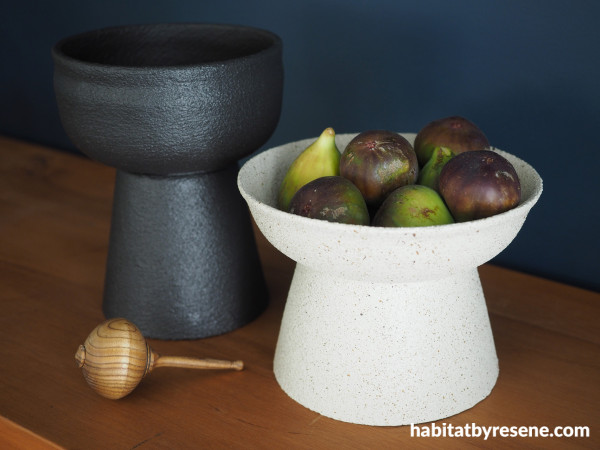 project and images Fleur Thorpe
Published: 12 May 2022