►
◄
latest
habitat tv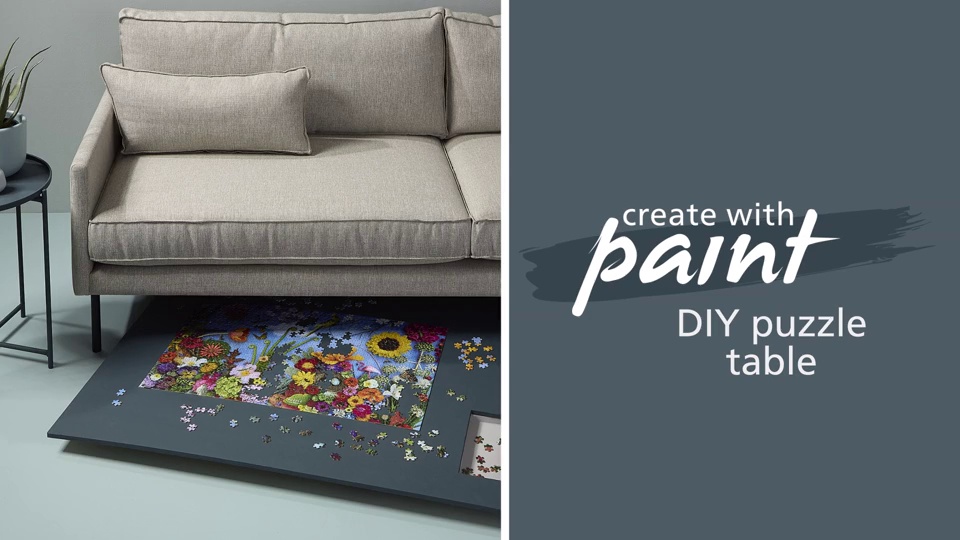 blog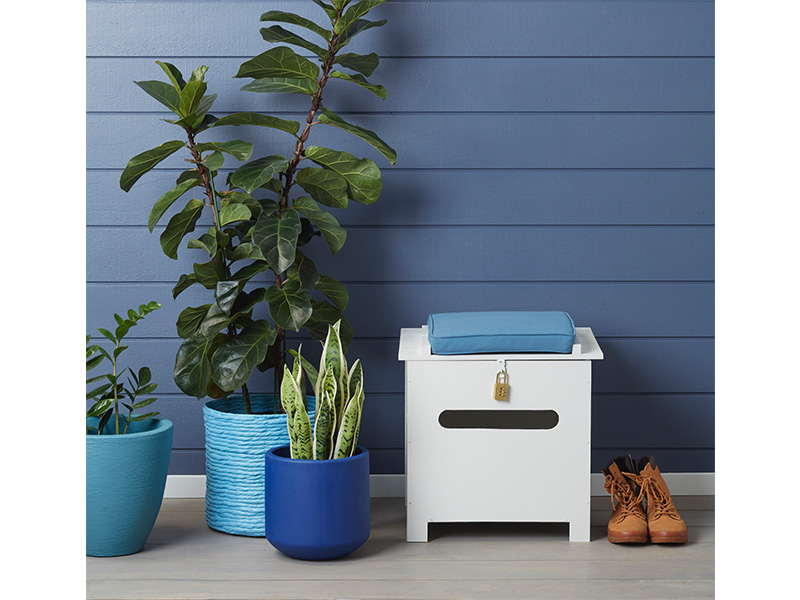 Make your own courier box
05 Mar 2020
Keep daytime deliveries secure with this simple to build box that doubles as a seat.
You will need:
1 sheet 2.4m x 1.2m x 12mm thick structural plywood
22mm2 x 1.2m long pine trim (optional)
Measuring tape and/or long ruler
Pencil
Nouveau Outdoor Cushion in Blue Heaven (from Mitre 10)
Table saw or similar
Jig saw or similar
Router or similar (optional)
Electric sander and sanding block
Electric drill
Screwdriver
10mm & 20mm long wood screws
Wood putty/filler
2 hinges
62mm hasp and staple
30mm set-your-own-combination padlock
Adhesive hook-and-loop strips (e.g. Velcro or similar)
Needle and thread
Clean, dry cloth
Resene Lustacryl in a colour of your choice – we used Resene Eighth Truffle
Resene Quick Dry primer sealer undercoat
Paintbrush or small roller
Small artist's detail brush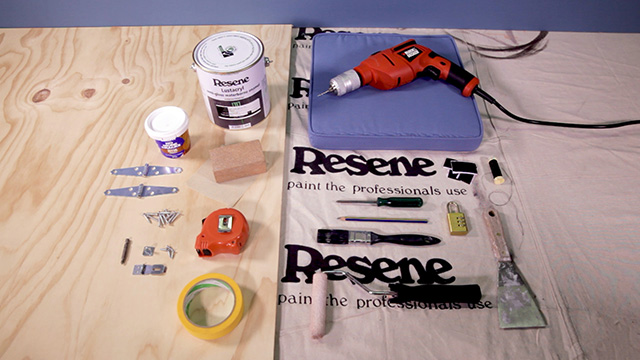 Step 1 Download the cut plan and measurements from the bottom of this page, which has been designed to minimise waste and the number of cuts. Measure and cut your plywood using a table saw and jig saw or similar. While you will not need a full sheet of plywood for the project, you will need a minimum surface area of 925mm x 140mm – so feel free to reuse an offcut section from another project if it is large enough. If you would like your courier box to also have a letter slot, you may choose to use a router to give the opening rounded edges.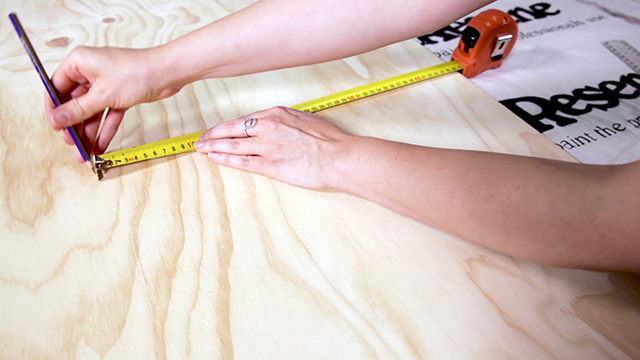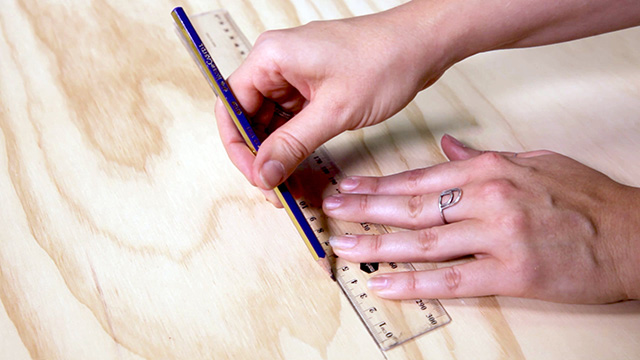 Step 2 Fill any holes or knots with wood putty and allow it to dry before sanding down all surfaces with an electric sander and/or by hand with a sanding block. Remove any dust by wiping down the entire box with a clean, dry cloth.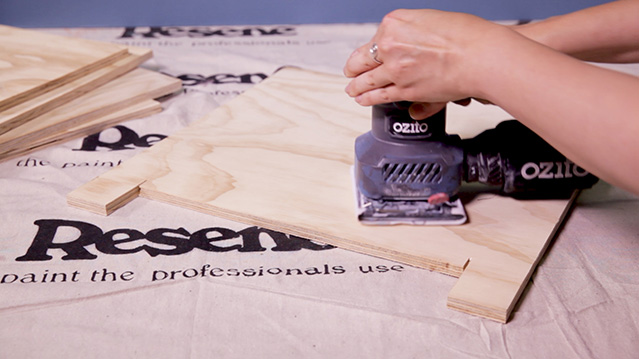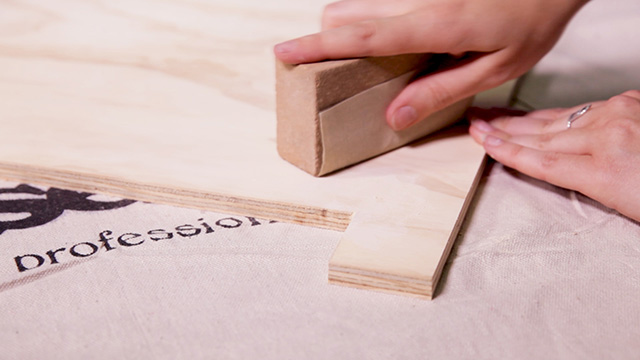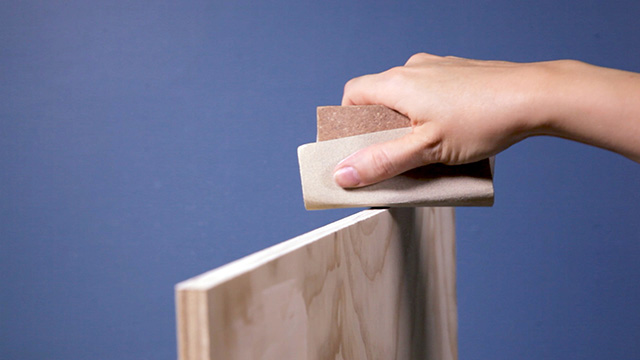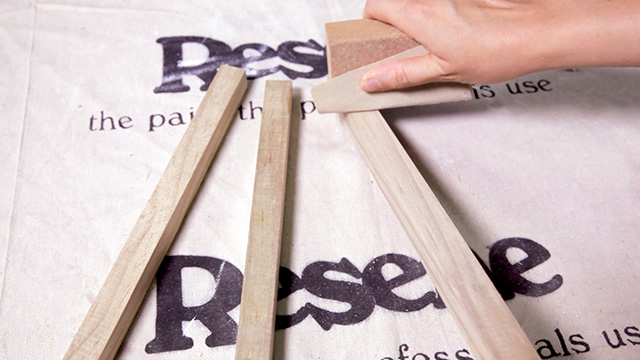 Step 3 Prime with Resene Quick Dry then apply two coats of Resene Lustacryl in a colour of your choice – we used Resene Eighth Truffle, a warm mushroom white – allowing each coat to dry completely before painting on the next one.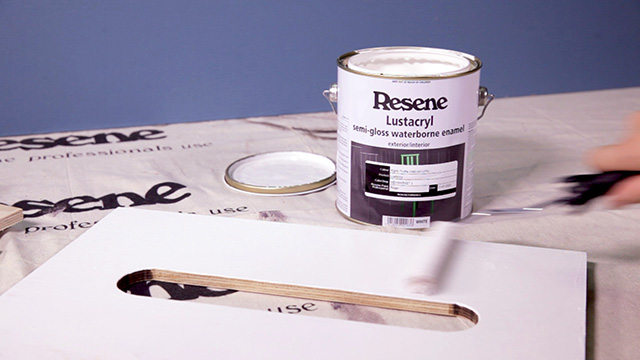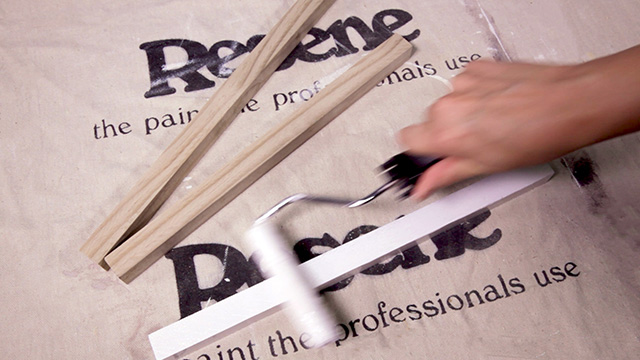 Step 4 Using an electric drill, drill holes 50mm, 200mm and 250mm from the top edge and 6mm in from the sides down the sides of the front and back panels. Then, drill holes 20mm in and 6mm up from the corner 'notches' you've cut into the bottom (which will become the feet of your box).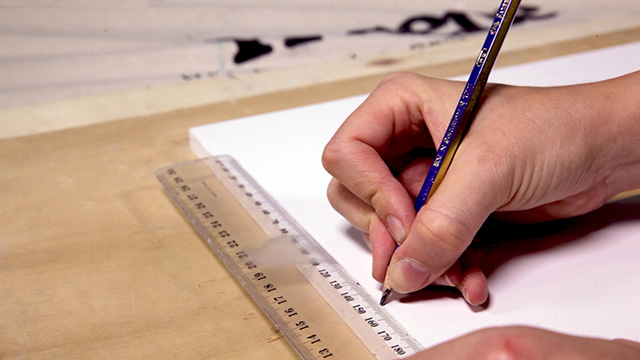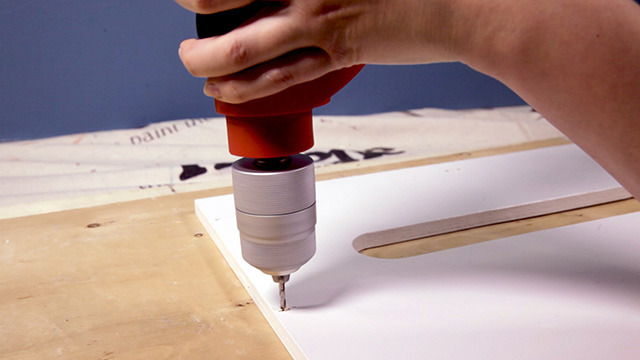 Optional: Attach the decorative trim to the top of the box lid with 20mm long screws attached through the bottom of the lid so that it creates a frame for where your cushion will sit.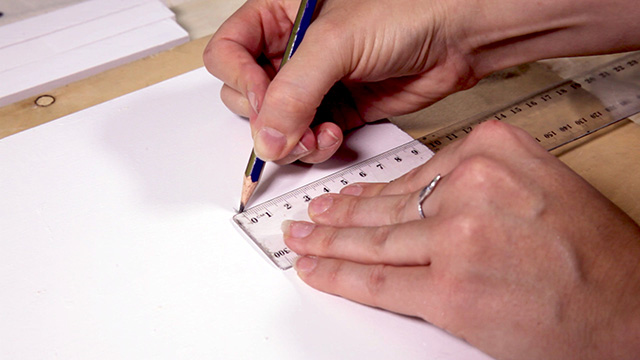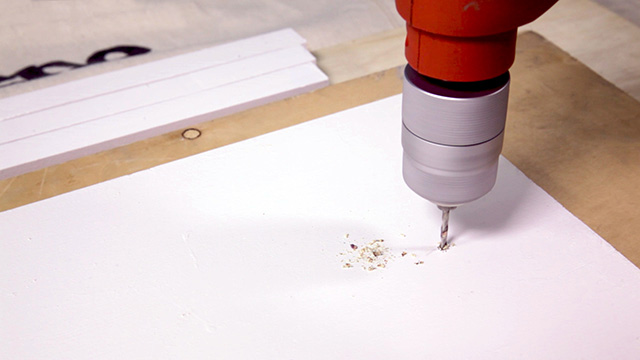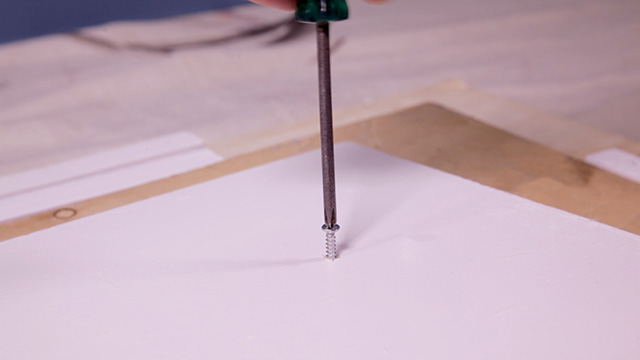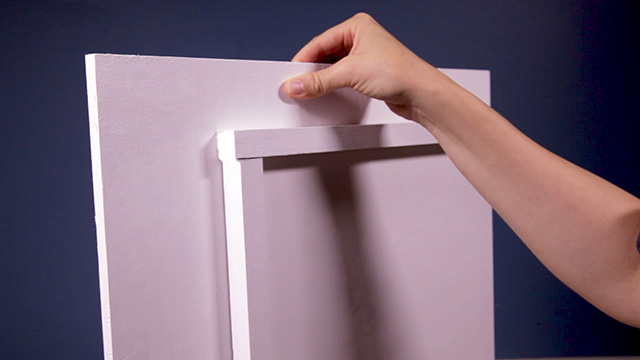 Step 5 Drill approx. 5mm into the centre of the sides of your box 50mm, 200mm and 250mm from the top edge along each vertical side.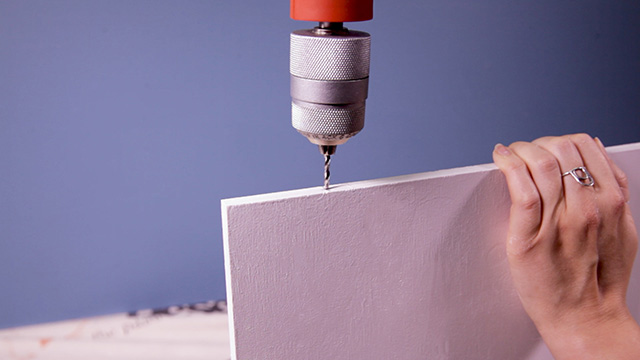 Step 6 Using a screwdriver, assemble your box with 20mm wood screws, through the front and back into the sides and base.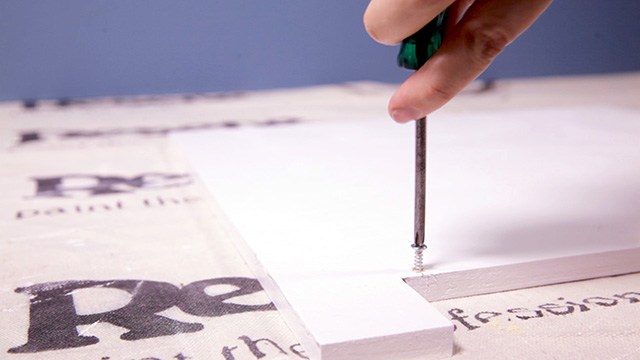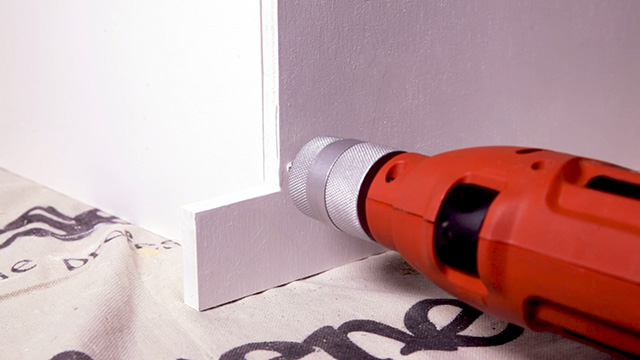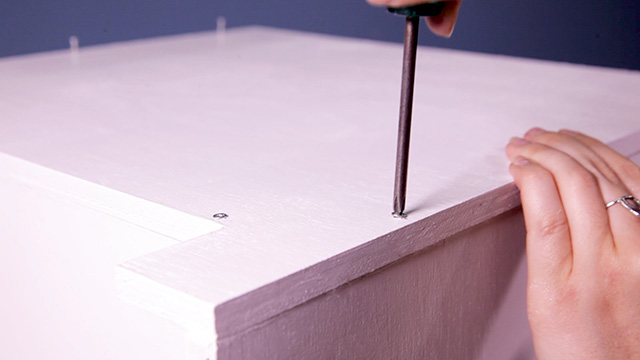 Step 7 Attach the hasp and staple to the front of your box and lid by measuring their placement, marking holes with a pencil, then drilling pilot holes. Use 12mm long wood screws to secure them in place.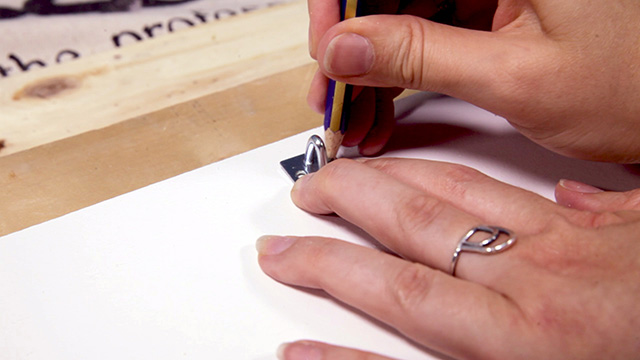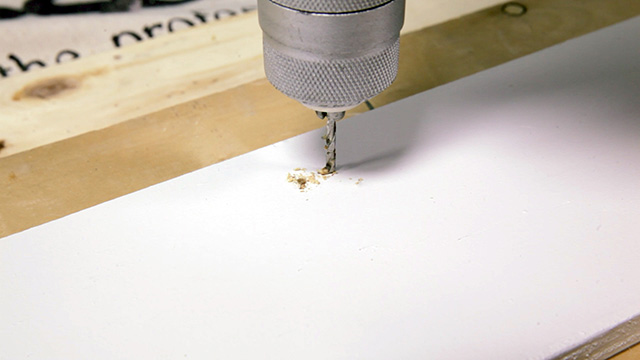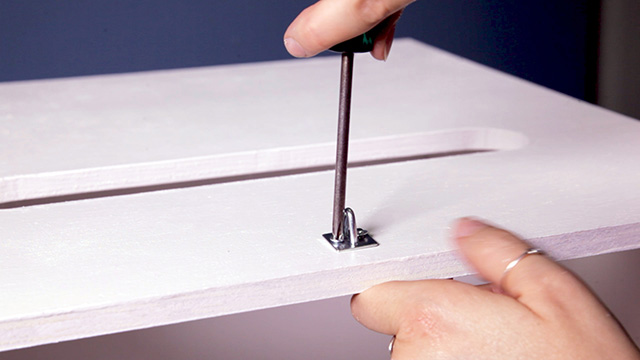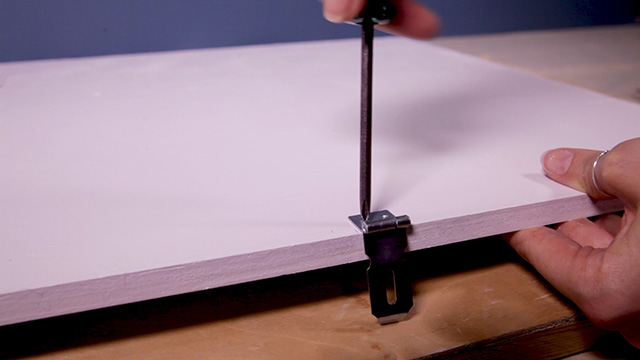 Step 8 Attach the bottom of your lid to the back side of your box with hinges. Depending on the type of hinges you choose, you may need to install them on the inside or outside. Measure your placement, then mark the holes with a pencil before drilling your pilot holes. Then, secure your hinges with 12mm long wood screws.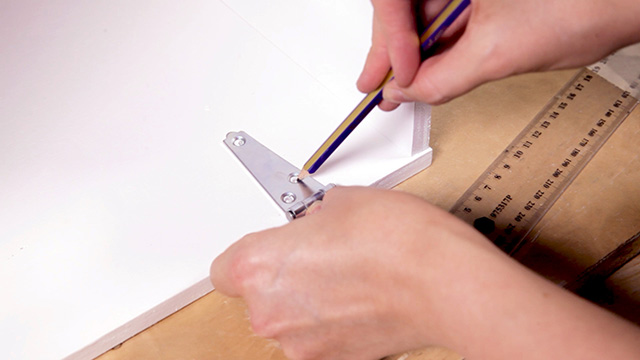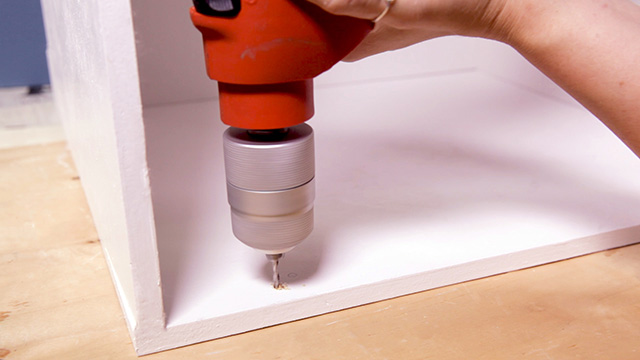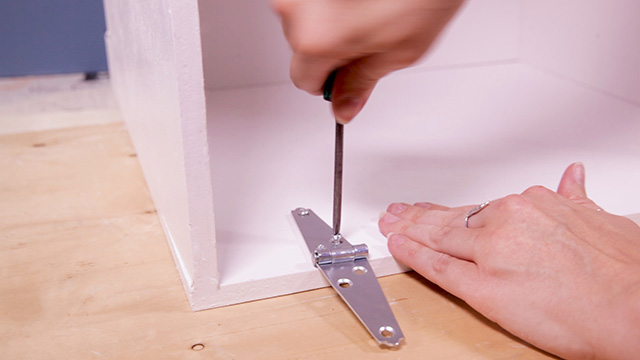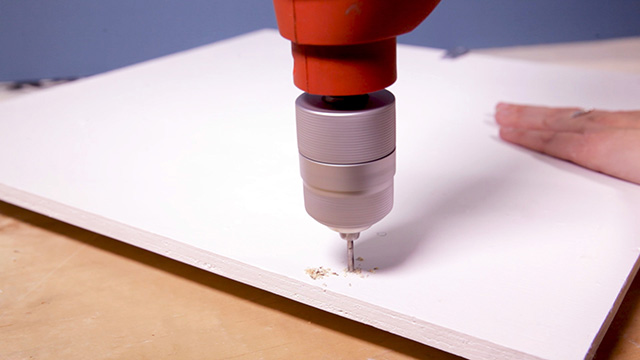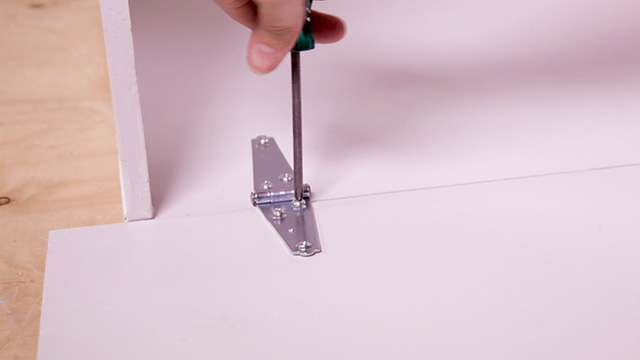 Step 9 Using a small artist's brush, paint the tops of the screws and your hardware in the same colour of Resene Lustacryl that you used for the rest of the box and touch up any areas as needed. If you have chosen to countersink your screws, fill the holes with wood filler, sand them down, remove any dust by wiping the surface with a clean dry cloth, then touch up with paint.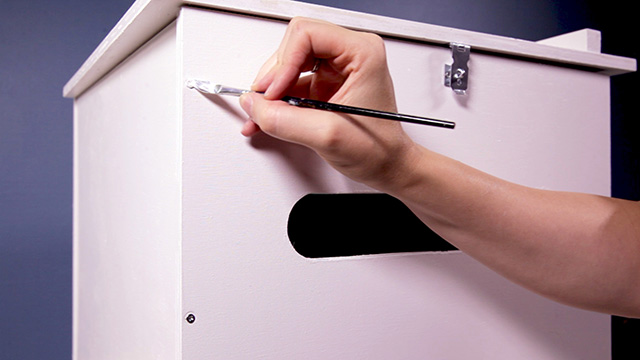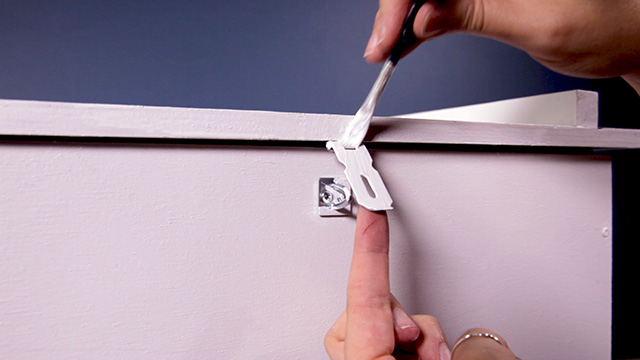 Step 10 Apply one side of the hook and loop adhesive strips to the top of your box lid and use your needle and thread to attach the other side to the base of your cushion. This will help to keep it in place when the lid is both opened and closed.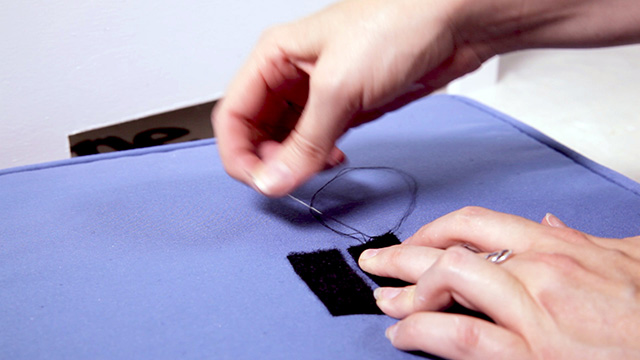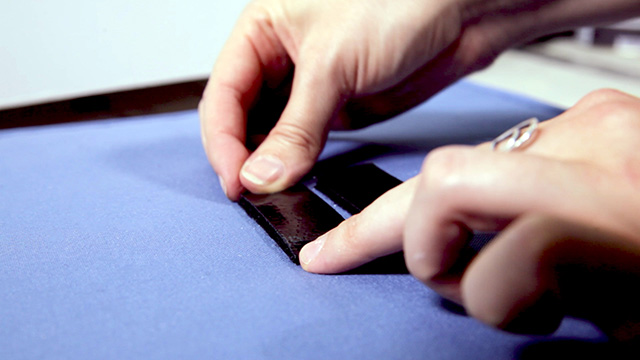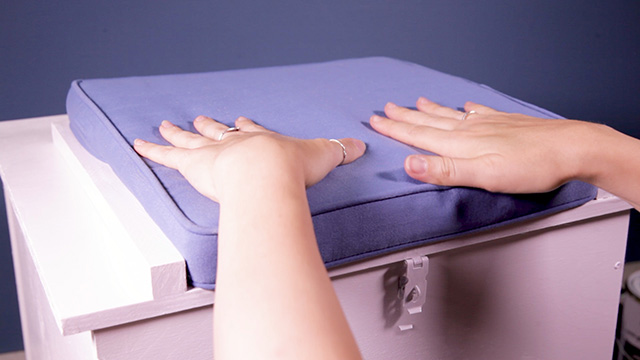 Step 11 Training your postal carrier to use your new box might be your biggest challenge with this project. You may wish to put out a sign or leave a note to explain that you would like your deliveries to be left inside it from now on. Depending on your relationship with your carrier, you may choose to share the combination to the lock. However, a simpler solution is to leave it unlocked and have your carrier lock it when they put a parcel in it. If you make an online purchase, it is a smart idea to put a note in the 'delivery instructions' area of the order form to let the courier to leave the package in your box.
You may also choose to secure your box to your deck or home to avoid the risk of it being picked up and carried off, but in most cases, the fact that your deliveries are out of sight – and thus out of mind – usually does the trick.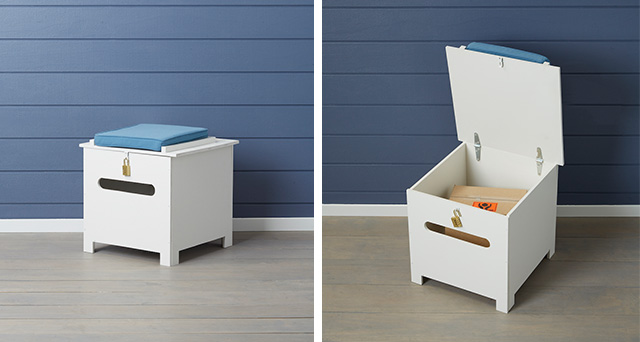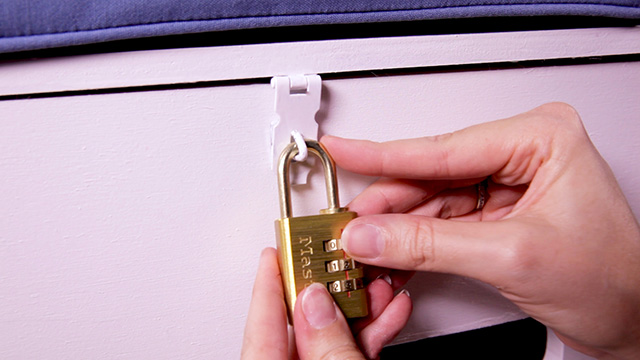 Top tip: Use letter stencils to label your courier box or decorate it with fun patterns using Resene testpots.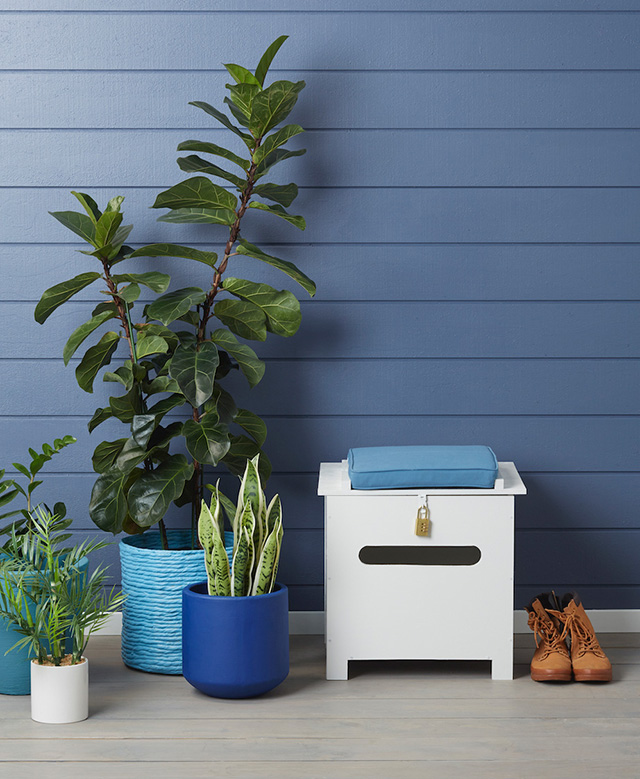 Courier box in Resene Eighth Truffle, wall in Resene Hammerhead, deck stained in Resene Woodsman Mid Greywash, trim in Resene Half Sea Fog and plant pots in (from left to right) Resene Bismark, Resene Half Sea Fog, Resene Hemisphere and Resene Aviator.
To print out the below dimensions and cut plan, right click on the image and select 'save image as'. Save the image to your computer and then print it out on to A4-sized paper.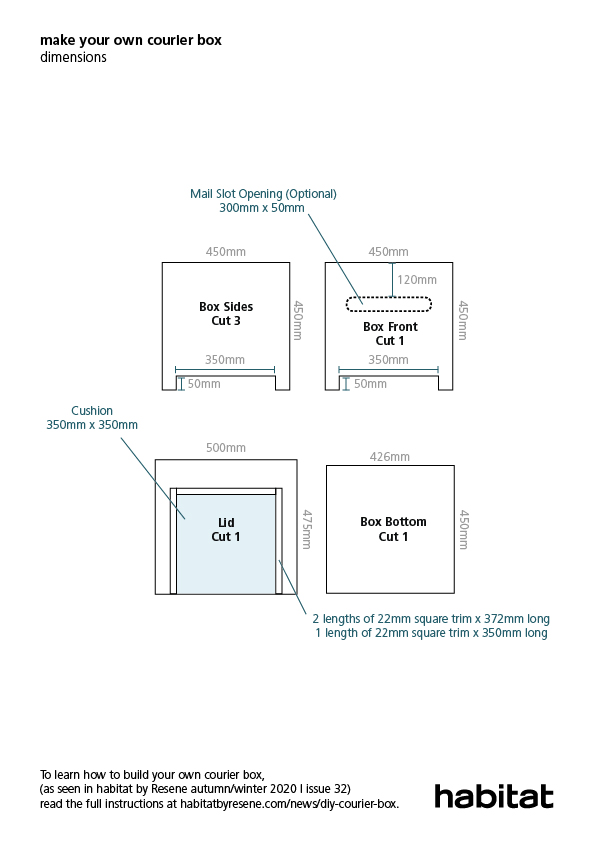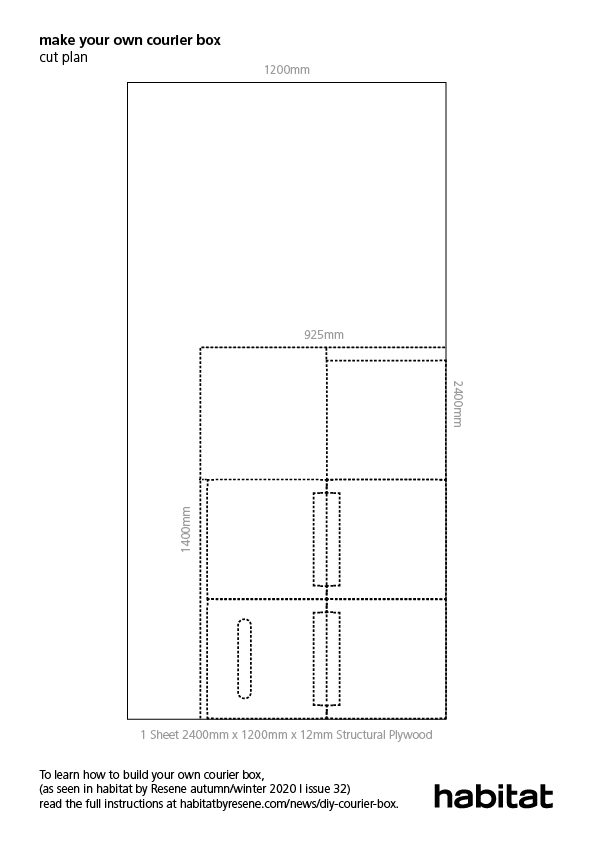 Note: If you are concerned about your box being strong enough to hold your weight, you may wish to use thicker plywood, such as 18mm thick structural ply. However, you will need to adjust the cut plan accordingly in order for everything to fit together the same way. Another option is to attach angle brackets/braces inside your box to strengthen it similar to the one pictured below.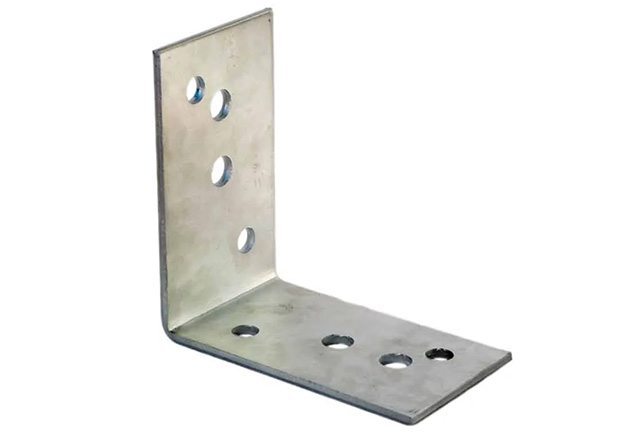 project and styling Laura Lynn Johnston
images Bryce Carleton, Ben Whorwood?
video Ben Whorwood
Published: 05 Mar 2020