►
◄
latest
habitat tv
blog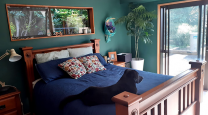 This Morrinsville home strikes the perfect balance of functional, accessible and fabulous with feature walls in elegant Resene Foundry
Marie's marvellously moody home is the perfect blend of functional and fashionable. After searching for a retirement home that was suitable for a paraplegic in a wheelchair, Marie decided to build her own. Her new architecturally designed home in the heart of Morrinsville is the epitome of elegance with graceful interiors that flow seamlessly, thanks to Marie's clever use of dark Resene Foundry and Resene Half Iron.
With her mobility dog Konrad by her side, Marie set out on a journey to create a home that was not only practical but also daring in its design. "There were so many colour choices with Resene," says Marie, who was drawn to Resene's darker hues.
"The final decision came down to what look I was after and these colours have given me exactly what I wanted.
"I wanted a home that felt relaxing and fresh at the same time as being modern and easy to manage."
Marie started with a base colour of Resene Half Iron throughout the home, painting her kitchen, lounge, hallway and bedroom walls in the pale grey hue. She gave her interiors a crisp edge with Resene Quarter Black White on the ceilings and trim. "I ended up choosing Resene Half Iron with Resene Quarter Black White as it gave a fresh clean look plus it was the perfect colours to go with the kitchen cabinets and benches," says Marie, who then introduced a multitude of bespoke dark feature walls dotted throughout the home. "At first I was concerned about using darker walls as I thought it would enclose the area too much, but this didn't happen.
"I think it is all about having balance and I have no regrets. The colours I chose are definitely a reflection of my personality."
In the bedrooms, Marie created striking a feature wall in Resene Foundry in the spare room and dark wallpaper similar to Resene Foundry in the master created another bold feature. Resene Foundry is a shadowy charcoal with a hint of warmth. She continued the colour palette through the bedrooms and into the main bathroom, where wall in Resene Half Foundry contrasted beautifully with the tiling. "I love everything about the choices I made," says Marie. "If I had to pick, my favourite room would be the master bedroom.
"I love the effect of the dark wall behind the brighter mustard bed cover, it feels so fresh and restful."
Creating a striking colour palette gave Marie the chance to embrace a more tranquil atmosphere in her home by using colours that were both modern and fresh. She accompanied her paint choices with elegant wallpaper similar to Resene Wallpaper Collection E384505 in her entranceway. "I purchased Resene A4 drawdown paint swatches and moved them around the different rooms to see what they looked like at different times of the day," says Marie. "The wallpaper was much harder to decide on but the staff at the Resene ColorShop were very helpful.
"The wallpaper in the entrance matched the Resene Half Iron on the walls perfectly."
When designing her future home, accessibility was key for Marie. Her home now includes functional design features such as level entry from all exterior doors, polished concrete floors, higher than normal power points and wider doorways. "Over the years I have been in a wheelchair I have lived in several places which gave me an idea of what I needed to go with," says Marie, who worked closely with Brooke from Tawa Architecture to create a home that is fully accessible.
"Brooke was amazing in understanding my needs and his final plans exceeded what I had originally thought I would have."
Marie's decision to keep the interior minimalist extended to her exterior spaces, where she chose to create a small private garden that was accessible, private and easy to maintain. She painted her home in Resene Grey Chateau with soffit in Resene Quarter Black White. She stained the surrounding fence in rich Resene Driftwood that makes her charming garden pop. "I have always found Resene paints easier to apply and the overall finish was perfect," says Marie, who encourages others to experiment with bold colours in their homes too. "I feel by using the same colour throughout with subtle differences makes the house flow.
"When looking for a colour scheme make sure you have plenty of time and don't rush it, it can be a long and worthwhile project."
Top tip: If you have concrete flooring or benchtops, protect them with Resene Concrete Wax. Perfect for interior surfaces, Resene Concrete Wax is a tough waterborne satin glaze that is easy to apply. Scratches are also easily repairable, making it easy to keep the surface maintained.
See more of Tawa Architecure's designs here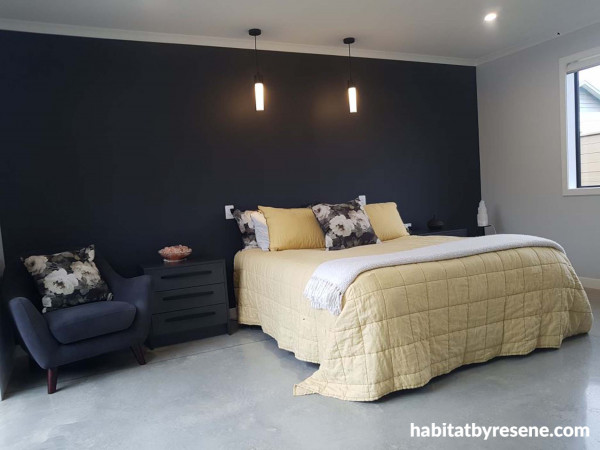 Marie's master bedroom is a rich haven of colour, with a feature wall inspired Resene Foundry, surrounding walls in Resene Half Iron and trim in Resene Quarter Black White. For a similar look, try Resene Wallpaper Collection 610376.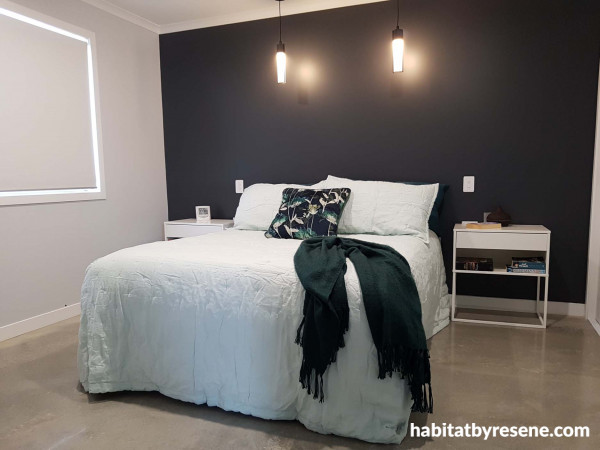 The second bedroom is striking with Resene Foundry on the feature wall, Resene Half Iron on the surrounding walls and trim in Resene Quarter Black White.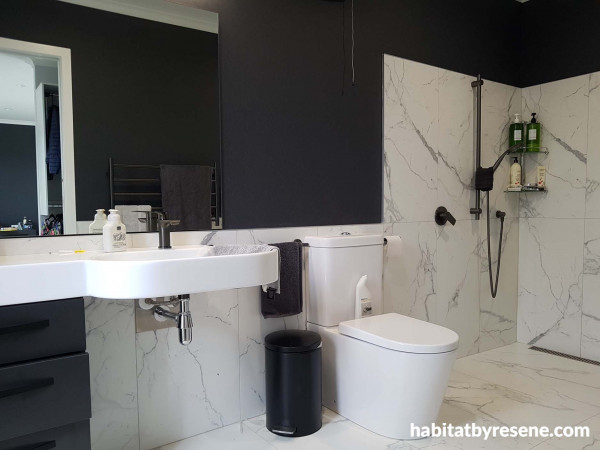 The bathroom is the epitome of sophisticated elegance with Resene Half Foundry on the walls.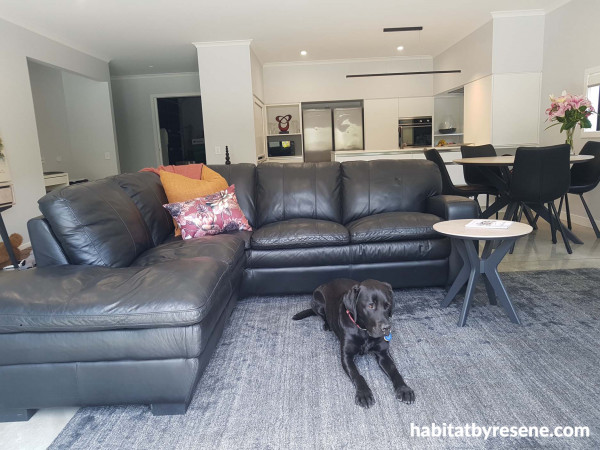 Marie and her mobility dog Konrad are enjoying life in their minimalistic home. The walls of the kitchen and lounge are in Resene Half Iron with Resene Quarter Black White trim.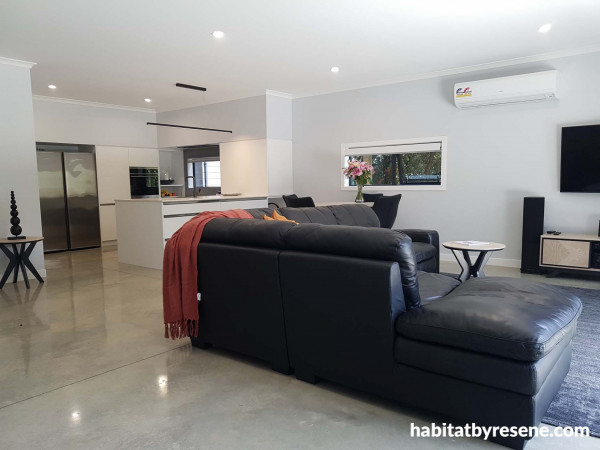 The lounge and kitchen flow seamlessly with pale grey Resene Half Iron on the walls and trim in Resene Quarter Black White.

The stylish entrance pairs Resene Quarter Black White with wallpaper. For a current alternative try Resene Wallpaper Collection E384505.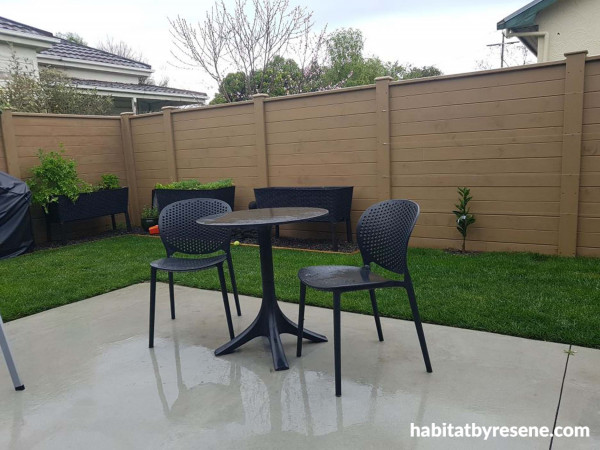 The boundary fence stained in Resene Driftwood creates a warm atmosphere in Marie's back garden.
Published: 14 Oct 2021
Do you have a home full of wonderful Resene paint and colour? Send us some snaps by emailing [email protected].
Resene Quarter Black White
the look
If you're stuck on what
colour to use or need colour
advice, try out the Resene
Ask a Colour Expert service.