►
◄
latest
habitat tv
blog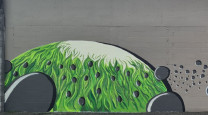 This Invercargill villa is transformed with maximalist interiors
"Have nothing in your house that you do not know to be useful, or believe to be beautiful." So said British poet, novelist, translator and textile doyen William Morris. It's a maxim that resonated with Lynne and Trevor from the moment they bought their 1940s villa in Invercargill 13 years ago, and they have responded to it with a home marked clearly by a powerful and heartedly eclectic chromatic stamp in Resene paints.
But the DOC technical advisor and the DOC biodiversity ranger, respectively, had their work cut out for them. "The roof leaked beyond buckets," recalls Lynne. "Waterfalls were a feature in some rooms." To make matters worse, there were holes in the floor and burn holes around the chimney, windows were rotting, there was no insulation and the home's plumbing and electrics needed significant work. "We bought it as we loved the location and are both capable, handy renovators," reasons Lynne.
Revamping on weekends and weeknights, even when it snowed, Trevor and Lynne removed seven walls to create what is now their dining room and kitchen scullery – light, vibrant rooms, "maximalist and functional, with a heart," says Lynne.
To match their retro orange curtains – a spontaneous, love-at-first-sight purchase by Lynne during a business trip in Christchurch – the couple painted their scullery in punchy Resene Clockwork Orange. "I wanted the scullery to be bright and cheerful," adds Lynne, "and given that the second bathroom is adjacent to the kitchen area, I also wanted it to reflect the orange of the bath. It's a happy colour and makes me smile."
Beyond its orange tub, the second bathroom is the only pattern-covered space, boasting an electric blue mural beaming with flowers, berries, butterflies and beautiful weeds. Purchased from Resene's Victoria Avenue store in Invercargill three years ago, the wallpaper, called Resene Wallpaper Collection XXL4-029, is a striking note against walls in Resene Zircon, an iced blue-white that fills much of the abode with calming simplicity.
Decoratively speaking, a similar spirit can be found in the lounge, where a feature wall in Resene Plum, an intense purple, captures one's attention behind a medley of retro furnishings. It's a statement piece that is forever in flux. "The lounge wall changes over time, as and when I feel like it," says Lynne.
But her hard-won décor finds are forever pieces. The secret to her success: "Keep an eye on Trade Me and second hand shops, and barter for trades and materials. Never buy cheap; save till you can afford the better product. Never take short cuts."
Channelling the five acres of cottage-style gardens seen from their windows, Trevor and Lynne's home spills with life. In many ways, they wanted interiors that reflected how their surrounds feel when in bloom – warm and colourful – to balance Southland's cool, dark winters.
The result is a space that's rich in personality and unequivocally theirs. "I wanted our house to tell the story of who we are and what we are," says Lynne. "I want people to feel comfortable and welcome in our home."
images Joseph Robert's Rugged South Photography, supplied by Trevor and Lynne
Published: 21 Oct 2020
Do you have a home full of wonderful Resene paint and colour? Send us some snaps by emailing [email protected].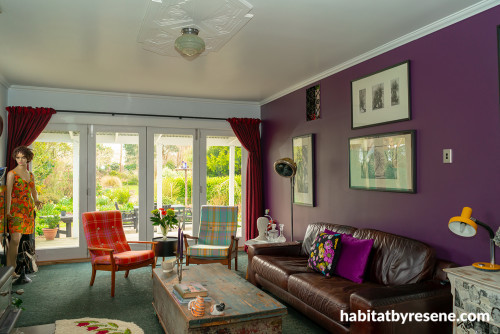 A pair of plaid vintage armchairs, retro furnishings and a chocolate-coloured sofa sit comfortably against a lounge feature wall in Resene Plum, a brilliant, intense purple. For contrast, adjacent walls are in Resene Zircon and the ceiling and doorframes are in Resene Black White.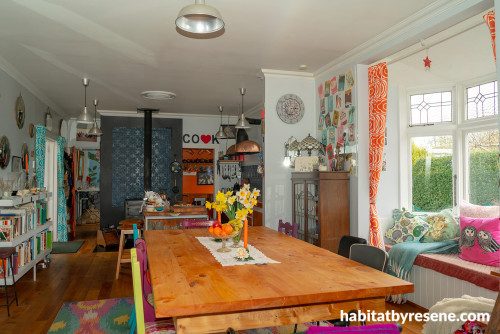 After removing seven walls to create their dining room and scullery, homeowners Trevor and Lynne painted the latter in Resene Clockwork Orange. "This colour just felt good," says Lynne of their choice. As in much of the home, the adjacent walls are in Resene Zircon, which brings a distinct sense of calm to their eclectic mix of furnishings. The ceiling and trims are in Resene Black White.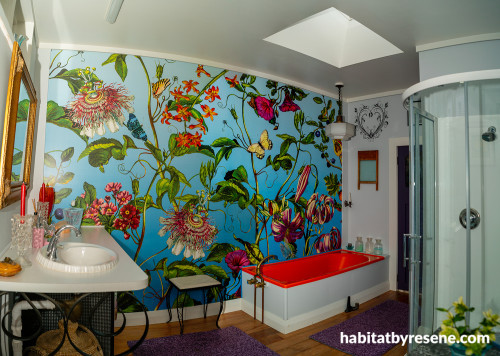 Resene Wallpaper Collection XXL4-029 draws your eye in the second bathroom, and is balanced with ceilings, trims and skirting boards in Resene Black White, and a door in Resene Blackcurrant. "It totally resonates with us and we knew it would match the orange bath we were putting in," says Lynne of their vibrant wallpaper, purchased three years ago.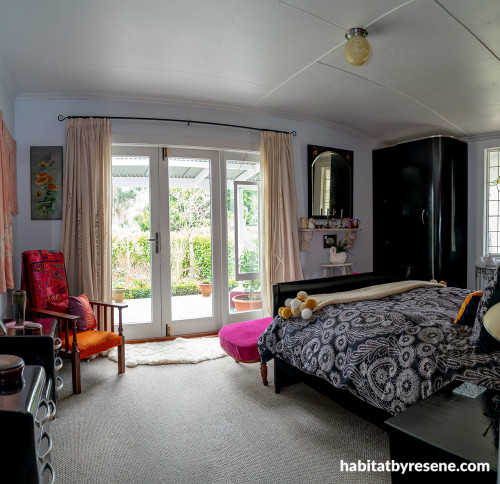 In this bedroom, walls in light blue Resene Zircon complement pops of orange and fuchsia. For crisp detailing, the ceiling, doorframes and trims are in Resene Black White. "Resene Black White is just so versatile and absorbs colours and reflects them back. It is not harsh and stark," says Lynne.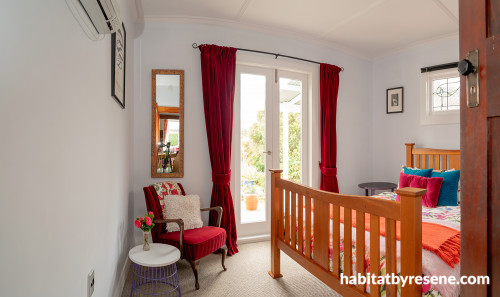 This light-filled bedroom, complete with walls in Resene Zircon and ceilings and trims in Resene Black White, is full of character. Curtains reminiscent of Resene Hot Chile play with velvet cushions and a tassled throw similar in colour to Resene Guggenheim.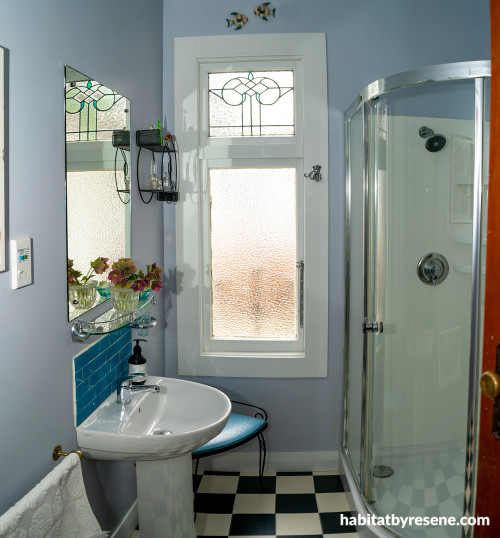 Against chequerboard flooring, walls in Resene Zircon make this bathroom feel particularly inviting. The skirting boards and trims in Resene Black White elongate some of the room's defining features and lengthen the space.














the look
If you're stuck on what
colour to use or need colour
advice, try out the Resene
Ask a Colour Expert service.