►
◄
latest
habitat tv
blog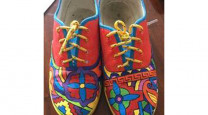 Q: We may be painting our home Resene Shark and need a lighter colour for the plaster.


A:

We are looking at painting the Linea weatherboards on our new home Resene Shark (or similar) and need a lighter colour for the plaster - we like grey tones, but are not sure on the contrast.

It's best to choose the powder-coat colours for the roof, garage doors and window joinery first as there will be fewer colour options for these. Then you can choose paint colours to complement them.

There may be restraints in regard to how deep a colour the plaster can be painted – if it's too dark, this may void the warranty on the substrate. You need to know this before falling in love with a colour then finding out that you can't use it. Resene Quarter Tuna will go well with Resene Shark but if this is too dark for the plaster, try Resene Gull Grey or Resene Silver Chalice.

Other charcoals for the Linea are Resene Double Gravel or Resene Kensington Grey. If you're planning on dark colours, use the Resene CoolColour version of the colour to reflect more heat off the surface and keep it cooler.