►
◄
latest
habitat tv
blog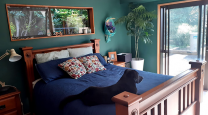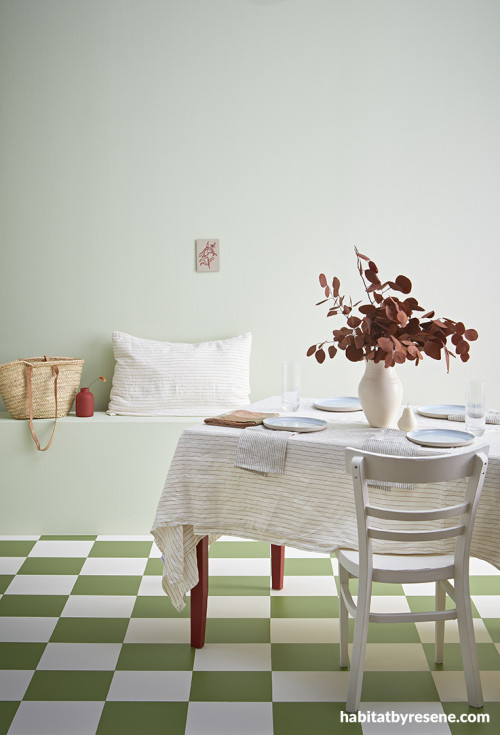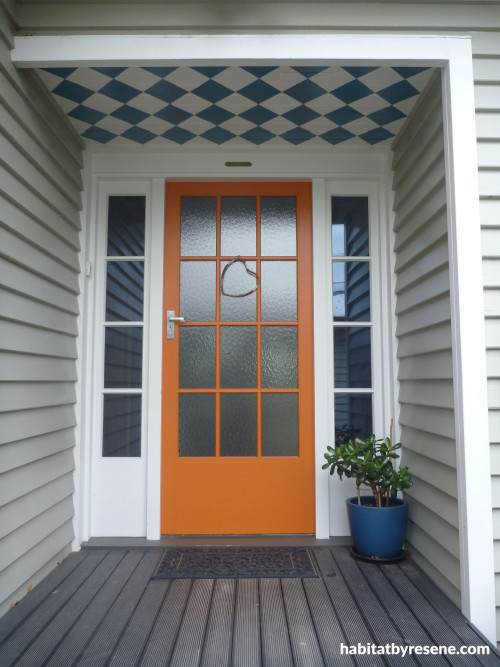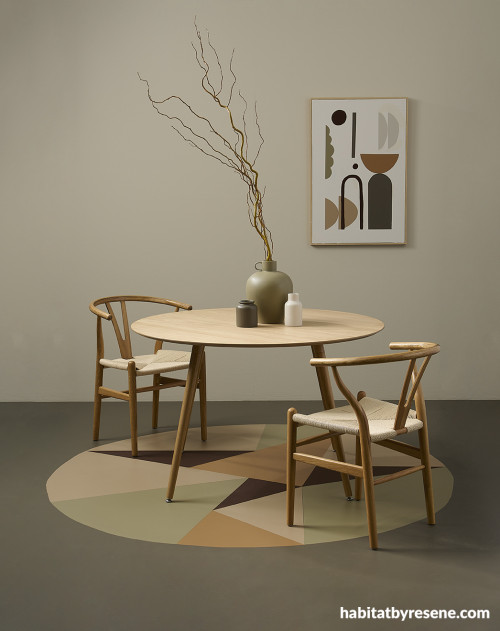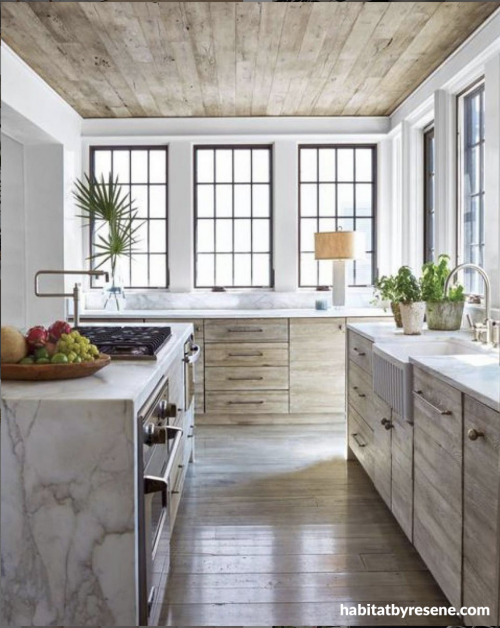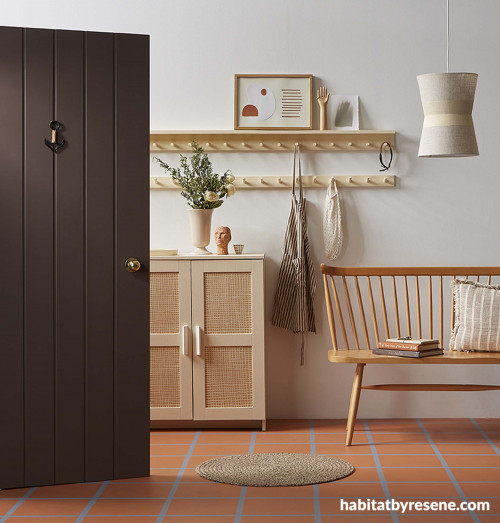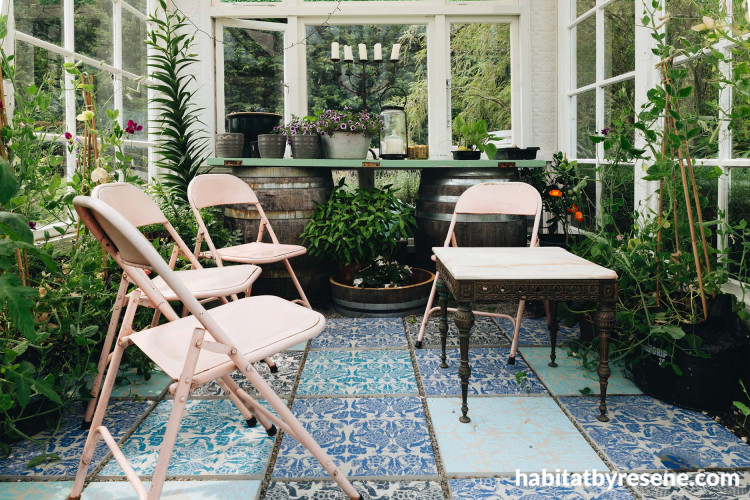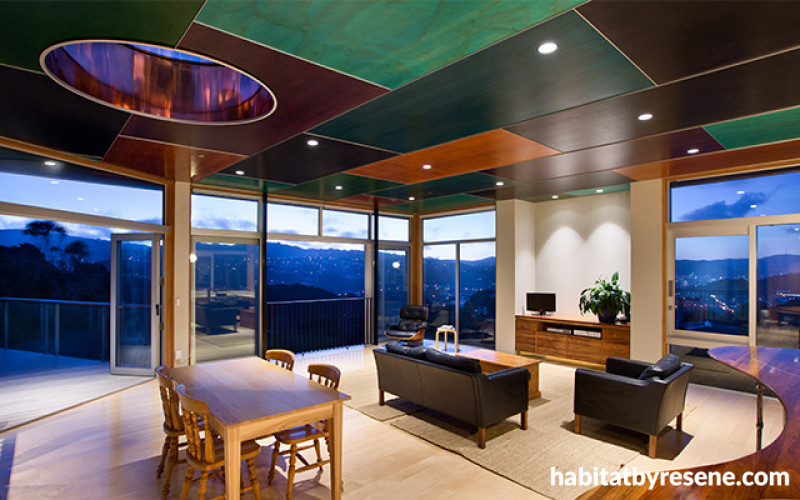 Off the wall: Get creative with these ideas for fabulous floors and clever ceilings
You'll be floored by the results when you look beyond your four walls and start treating your floor and ceiling as part of your creative canvas. Consider the ceiling and floor as your 5th and 6th walls, ready to be transformed into statement features with vibrant Resene paint or wallpaper. Whether you're crazy about checks or after some fantastic faux tiles, all it takes is a bright idea and a splash of colour to make a truly memorable space.
You might think your ceiling or floor is a case of out of sight, out of mind, but in fact a coloured or patterned floor or ceiling is the cherry on top of your interior design. They can create cohesion in a space, tying together elements of décor and giving your existing colour scheme a lift. It's also a lot more cost effective than new tiles, floorboards or a new ceiling.
There are a few simple guidelines of colour to follow that can help you make the most of your space. To make your room feel cosier and more intimate, opt for darker colours on the floor or ceiling. If you're after a more open-feeling space, go for lighter, brighter choices. Darker colours are better at hiding imperfections, while brighter colours are great at highlighting detailed features. Try continuing your colour scheme from your walls onto the ceiling for a cocooning look or get creative with a patterned floor that's sure to add interest to any room.
Check it out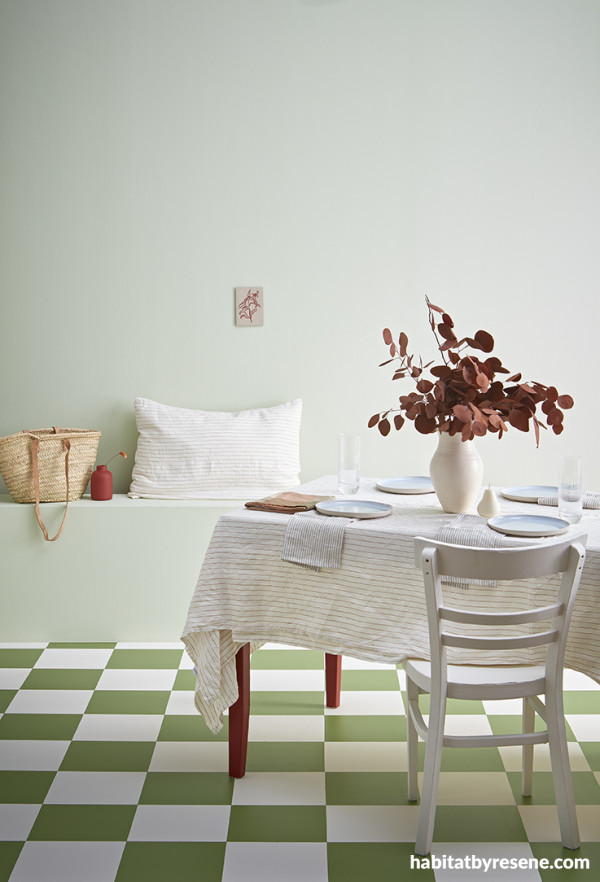 This sweet cottage dining room features a colourful chequered floor in Resene Dingley and Resene Quarter Spanish White. The wall and seat are in Resene Pale Leaf, the table is in Resene Fahrenheit and the vase is in Resene Spanish White. Market basket, tea towels, linen napkins, throw from Blackbird Goods, striped pillowcase and tablecloth from Foxtrot Linen,card on wall from Garden Objects, plates and glasses from Città, pear candle and notebook from Paper Plane, red enamel jug from Everyday Needs. Project by Gem Adams. Image by Wendy Fenwick.
The floor isn't just there to be walked over – it can be a work of art too! The chequered floor is a timeless interior design feature seen in Westminster Abbey and the Palace of Versailles, but it's now making a big statement in the interior design world. It's also a trend that easily marries up with the popular Cottagecore style – where rustic and country-inspired interiors come into the fore.
How to paint a chequerboard floor pattern

First, start with the lightest colour and paint two coats using Resene Walk-On paint. Allow to dry thoroughly before taping out the grid using a set square to create 90-degree corners. Next, use a paint roller to paint the darker colour in the exposed squares, repeat with a second coat before removing the tape carefully when the paint is almost – but not completely – dry. For the classic black and white floor use Resene Black White and Resene Blackjack or introduce retro-inspired colours from nature, such as leafy Resene Dingley or deep golden ochres such as Resene Tussock for a light and summery look. Add extra brightness to the space by pairing your checks with crisp white décor in Resene Black White.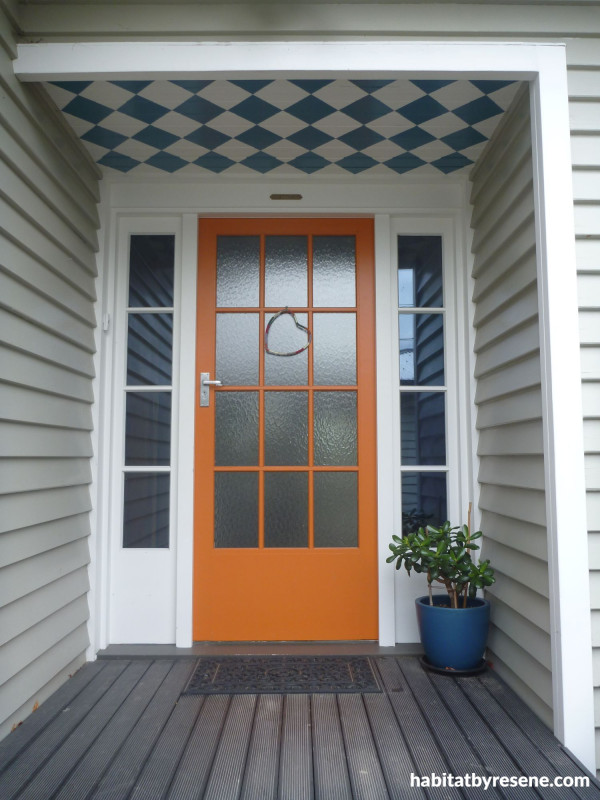 This front entrance was given a colourful makeover with chequered ceiling in Resene Bismark and Resene Quarter Thorndon Cream. The weatherboards are in Resene Triple Ash and the front door is in Resene Clockwork Orange. Project and image by Fleur Thorpe.
Jazz up your entranceway, hall or lounge with this fun and easy ceiling idea. If you're a lover of crisp lines and shapes, then this one's for you. A chequered or harlequin pattern is a great alternative to stripes. Where stripes on the ceiling lengthen a room, chequered patterns round them out, enveloping the space and making it feel more complete. Stuck on ideas for your colour palette? Colour your chequered ceiling by mimicking sky colours with dusty Resene Powder Blue. If you have low ceilings, keep things light to create a sense of movement. If your home has higher ceilings, you can try bringing in deep reds or forest greens to create a sophisticated space. For a ceiling in a porch area use Resene Lumbersider.
Rug up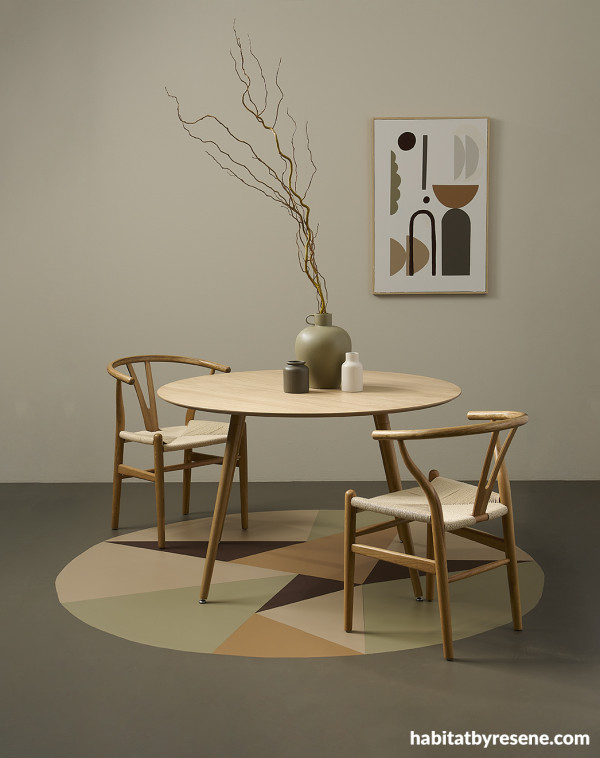 This creative painted rug is in Resene Brown Pod, Resene Lichen, Resene Brown Sugar and Resene Dusty Road and floor in Resene Half Akaroa. DIY artwork in Resene Quarter Akaroa with shapes in Resene Mondo, Resene Brown Sugar, Resene Half Akaroa, Resene Half Nomad, Resene Lichen, Resene Dusty Road and Resene Brown Pod. Vases in Resene Quarter Akaroa, Resene Mondo and Resene Half Nomad. Project by Laura Lynn Johnson. Image by Bryce Carleton.
One of the newest trends is the revival of the rich, warm hues of the 1970s – with a twist. Back just in time for summer, rusty oranges, chocolate browns and avocado greens are taking centre stage once more. Rather than splashing these rich colours haphazardly across the walls, the newest interior designs take the less is more approach, infusing the space with delicate touches of colour. This not only allows the space to breathe while also incorporating gorgeous colours such as Resene Brown Pod and Resene Lichen but means it's easier than ever to get this look without changing your existing colour scheme. If you have neutral walls, why not give your floor an update with a painted rug painted with Resene Walk-on? A painted rug will help you define your space, especially in areas such as the dining room that are often seen as a thoroughfare from the lounge to kitchen. It's also a great solution for warmer weather when it's too hot to have a cosy rug in the space.
Tip to toe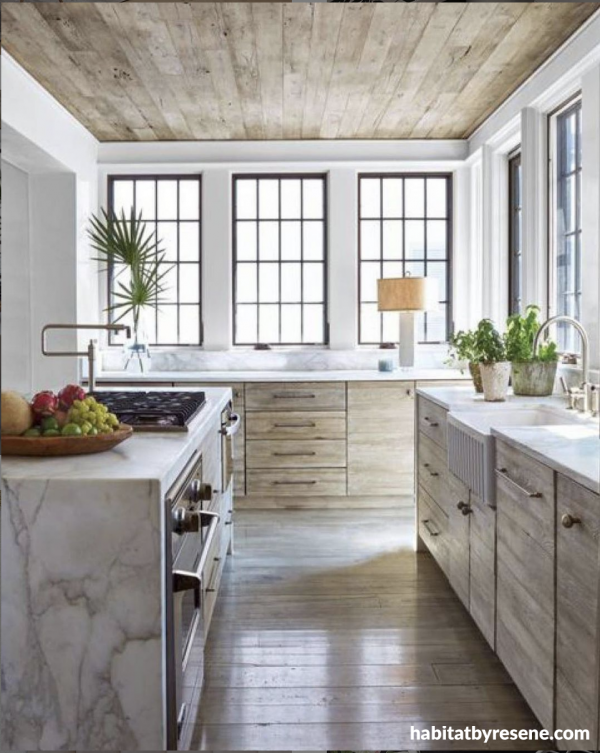 This rustic kitchen adds interest with faux timber Resene Wallpaper Collection 18293 on the ceiling.
Despite its name, wallpaper isn't just for your walls. A wallpapered ceiling can lift any space from drab to fab in a heartbeat, incorporating a unique range of colours seamlessly and easily. A wallpapered ceiling will have a massive impact on any space, but works especially well in the kitchen, powder room or small neutral rooms where you want to make a colourful statement. Wallpaper on the ceiling gives you the best of both worlds, incorporating the colours you love in the space while leaving your walls free to hang art and photographs that would otherwise clash. This kitchen uses Resene Wallpaper Collection 18293 on the ceiling. The faux wood panelling reflects the timber elements of the kitchen floor and cabinetry, tying the space together and creating an atmosphere that is warm and homely. Using faux wood panelling on the ceiling has the added bonus of giving you the same impact as a real timber ceiling would, without the worry of a hammer and nails.
Sense of tile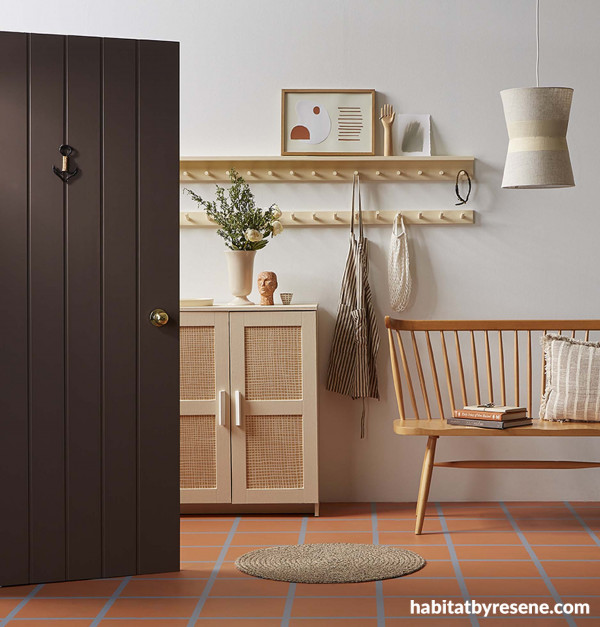 This faux tiled entranceway is warm and cosy with Resene Tuscany and Resene Raven on the floor, wall in Resene Eighth Pearl Lusta and door in Resene Felix. The cabinet is in Resene Gold Coast with 'cane' in Resene Double Dutch White. The hook racks and shelf are also in Resene Double Dutch White. Project by Kate Alexander. Image by Bryce Carleton.
One of the trendiest interior colours right now, terracotta is bringing the heat to homes around the country. Baked earth tones such as Resene Tuscany are great for floors as they bring a sense of warmth to the space and ground your colour scheme. Take your terracotta floor to the next level by creating this easy tile effect that is budget friendly and can be done in a weekend. Simply measure and mask your tiles, then paint in vibrant Resene colours for an instant taste of summer. Painted tiles can work with any colour scheme and, with no pesky grout to get in the way, cleaning them is a breeze. Resene Walk-on is a general purpose flooring and paving paint that is perfect for projects like these and has a great satin finish. Try taking your colourful tiling effect partway up the wall to create a unique two-toned wall that embraces and warms the space.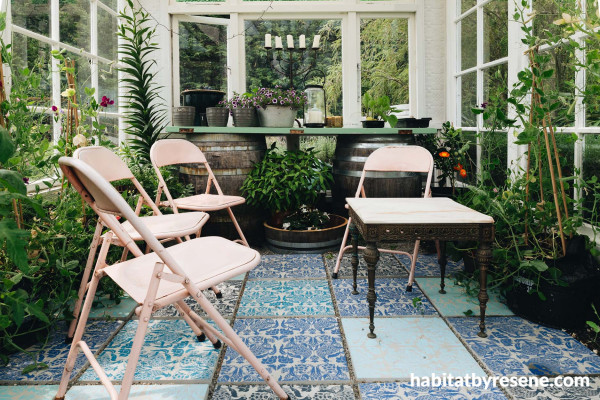 Ben and Helen Masters from Paperhands built their own conservatory in the garden of their 111-year-old villa. Ben screen-printed recycled tiles for the floor with the wallpaper Masons Peacocks MP02 design in vibrant Resene Resolution Blue, Resene Bunting, Resene Orient and Resene Kumutoto.
If you're a bit shy when it comes to hand-painting tiles or you have existing tiles in your space already, there are some great options to infuse a bit of colour. Try stencilling a design onto your existing tiles with paint, such as traditional damask or floral patterns. Vary the shade of paint from tile to tile for a versatile look that creates interest and keeps the eye moving. Colours that work well for this are deep redy browns such as Resene Dark Crimson or sprinkle in golds such as Resene Gold Rush metallic for some added elegance. If you're after a bolder look, paint alternating tiles in different strengths of the same colour, such as Resene Resolution Blue,Resene Delta Blue and Resene Cut Glass or even use the chequered effect on a larger scale to create a statement floor. For outdoor areas that get slippery consider using Resene Non-Skid Deck & Path as your stencil paint, making the stencil beautiful and functional.
Sky's the limit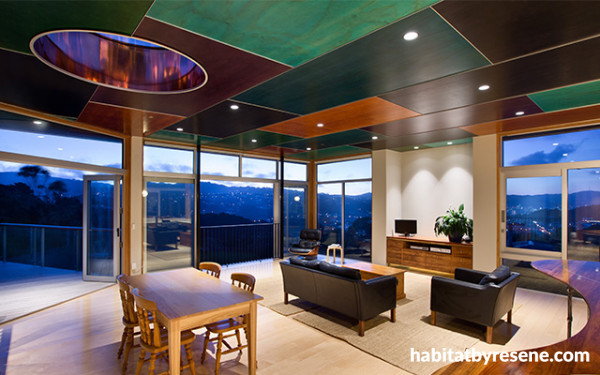 Wellington architect John Mills chose a variety of Resene Colorwood stains that were custom coloured to create the effect of a tui in flight across the ceiling of this home.
If you want to add a touch of remarkable beauty and unique texture to your space, look no further than a wooden ceiling. A growing trend in the interior design world, a wooden ceiling is easy to install and creates an atmosphere that's hard to beat. The Resene Colorwood range has an incredible variety of wood stains perfect for any interior colour scheme, from deep blue Resene Colorwood Apollo Blue and rich Resene Colorwood Emerald Green to natural tones such as Resene Colorwood Dark Oak. Or if you want something more subtle, you could try a whitewashed look with Resene Colorwood Whitewash. Not only will a coloured wooden ceiling bring the wow-factor to your space, but wood is also a natural insulator.
There are a few things to consider before committing to a wooden ceiling. Examine the amount of space you have – a wooden ceiling looks best in larger rooms or rooms with high ceilings. Don't forget your existing colour palette (including the floor!) – make sure to keep the space cohesive by colour matching your ceiling to your floor and ensuring your walls are in lighter colours such as Resene Merino to keep the space looking bright.
By simply embracing your ceiling and floor as an extension of your creative colour palette you can easily create a space that pops with personality and embraces the latest design trends.
Top tip: Resene Walk-on is a satin finish general purpose flooring and paving paint, based on tough acrylic resins designed to withstand lots of foot traffic. It's ideal for use on steps, decking, concrete, porches, suitably primed timber, composite boards and interior floors. To use, simply wash down the existing coating, remove any loose flaking material, prime or seal if needed and recoat using two coats of Resene Walk-on.
Published: 04 Nov 2021
Do you have a home full of wonderful Resene paint and colour? Send us some snaps by emailing [email protected].