►
◄
latest
habitat tv
blog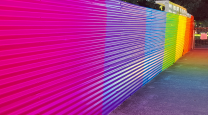 Makeup artist gives her villa a character makeover with bold pops of colour including blush pink
Makeup artist Amber Carroll is used to transforming her clients for weddings and photoshoots, so when it came to her own she was keen to give it a bit of a Resene colour transformation.
"Paint is like lipstick; if you don't like it you take it off and put on another colour. It's never going to be a total disaster."
After purchasing their renovated 120-year-old villa in Auckland decorated top to bottom in white, Amber and husband Chris decided to personalise the family home they share with kids Luca and Lexi using vibrant Resene paint colours that reflect their personalities.
"When we moved in here eight years ago the house was beautifully painted in Resene Alabaster white, which we love, but we wanted to inject more of our personality in some of the rooms," says busy working mum Amber.
"In the bedroom we wanted to create our sanctuary, our haven. We had a headboard made in gold velvet and all the colours and textures worked well together with the Resene Alabaster white and the deep, rich midnight blue of Resene Magnum on the wall.
"It's soothing and peaceful to have a dark room, which gives it a bit of character as well. It's my favourite room," she says.
Amber adds that she adores her home makeup studio, where she sees regular clients, bridal parties and holds makeup lessons, which she lovingly painted in Resene Birthday Suit.
"It's soft and pretty, and feminine without being in your face candy doll. It's subtle and even the anti-pink people like it. The colour is so flattering on the skin tone. It's good for selfies, good for my brides and good for natural light for my makeup lessons. It's good for my mood as well. It always puts me in a happy mood when I'm in my office."
"I love all shades of pink because I am a makeup artist," she laughs, "so give me all the pink."
Amber says she has since added tan leather 1950s vintage chairs from Japan into her studio, adding that "the pink and the white all works so well".
The studio, she says, is easily the most commented on room in their house.
"People just love the pink," she says. "It inspires them because it's so unexpected. It was quite a bold choice eight years ago but I feel like people have come forward with colours since then and are more prepared to push the boat out a little bit with their colour choice".
The creative's talent for experimenting with on trend, exciting makeup palettes and love of style translates seamlessly into her vibrant decor and styling combinations that flow throughout the rest of their family home.
Amber collaborated in her decor choices with interior architect and designer Janice Kumar-Ward, whom she met through a friend of a friend.
"I have quite a fruity, eclectic taste and like to push the boundaries, and she can bring what I think in my mind to life. She's a professional, she has incredible taste and I am happy to be guided by her.
"I am not a beige client and she knows I like pops of colour and different textures. I love how she creates layers and cohesiveness to her designs."
The relationship began when Janice created a desk in Amber's office. But when the two creatives connected, it was fireworks, and they continued to weave their collaborative design aesthetic throughout the light, airy villa.
"That's the exciting part, choosing all the colours and bits and pieces," Amber adds.
While husband Chris, who works in a transporting warehouse logistics business, was initially hesitant about the pair engaging an interior decorator, eight years later he has worked with Janice on many projects.
"He enlisted her help at his workplace and she did an amazing wall in stripes using Resene Magnum and a Resene White, which is really impactful. It's not what you'd expect for a transport or logistics company," she laughs.
Read more about makeup artist Amber Carroll at BeautyEQ.
Interior design Janice Kumar Ward www.jkw.nz
Images Rebekah Robinson.
Published: 11 Mar 2021
Do you have a home full of wonderful Resene paint and colour? Send us some snaps by emailing [email protected].
the look
If you're stuck on what
colour to use or need colour
advice, try out the Resene
Ask a Colour Expert service.