►
◄
latest
habitat tv
blog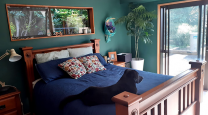 Make your mark with wood stains indoors and out
Back in the day wood stain used to really only come in one colour - a good old dark brown. That's the colour of all wood, right? Particularly if you take children's drawings of trees as your reference point!
Thankfully things have come a long way since then. The Resene Colorwood interior range of wood stains and the Resene Woodsman range for exteriors comes in a huge range of shades from black to white, with plenty of blues, yellows, greens and even red, as well as wood shades in everything from Resene Mahogany to Resene Dark Rimu and Resene Japanese Maple.
Today's stains work well inside and out and are a great way to add colour while showcasing the texture and grain of wood.

A mix of stain colours can be a great way to add interest to your deck or even create an eye catching feature on your fence or wall, particularly if they contrast against a bold background. Here the mix of colours is (from the top down) Resene Waterborne Woodsman Heartwood, Resene Waterborne Woodsman English Walnut, Resene Waterborne Woodsman Totem Pole, Resene Waterborne Woodsman Driftwood and Resene Waterborne Woodsman Nutmeg.
Back in the day, wood stain was mostly used to protect wood while still keeping some of the appearance and texture of the natural material, which largely meant stains were restricted to a brown colour palette so it was obvious it was still wood.
Today there is much more choice in colours, which opens up more creative opportunities for using wood stains. You might have a wood coffee table or shelves that you want to add a pop of colour to, to lift an otherwise minimalist or monochrome room. By using a shade like Resene Colorwood Red Pepper or Resene Colorwood Emerald Green you get that pop of colour, while still allowing the wood grain to show through for added effect.
This use of bold non-traditional stain colours can also be especially effective outside, where touches of Resene Waterborne Woodsman Totem Pole or Resene Waterborne Woodsman Earthsong green can contrast large areas of deck stained in more traditional shades such as Resene Woodsman Kwila.
The key to experimenting with wood stain colours is to test them first before committing as different types and colours of wood will create different results.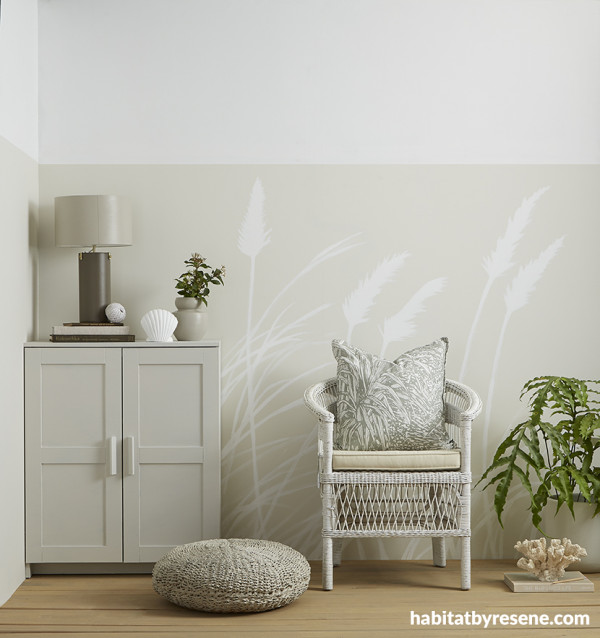 Natural or subtle wood stain tones work well to anchor rooms where the colour palette is paler and neutral. The wood floor of this conservatory is stained in Resene Uluru which keeps it feeling fresh. The lower wall is painted in Resene Half Joanna, then covered with a subtle toetoe mural painted in Resene Quarter Alabaster to match the colour on the top half of the walls. The rest of the room fittings and furnishings add layers of similar neutrals to give the room depth and interest. The cabinet is Resene Half Truffle and the lamp has a base in Resene Mondo with a Resene Planter shade. The vase is Resene Iko Iko. Project by Kate Alexander, image by Bryce Carleton.
Stained wood surfaces are an excellent way of emphasising the connection between indoors and out. To maintain that sense of indoor/outdoor flow, it makes most sense to use more natural stain shades, though you can still play with depths of colour to elevate plain wood surfaces like pine.
Try going darker with Resene Bark or Resene English Walnut, which when paired with paler toned walls or furnishings can add depth without making these transitional spaces feel dark. For a more minimalist, or Scandi style opt for paler wood stains in Resene Natural or Resene Whitewash.
While you might want to use a clear finish on exterior timber, don't. Clear finishes don't give exterior timber enough protection. Instead, choose a wood stain colour close to the timber colour to keep the look natural while still providing protection against the weather.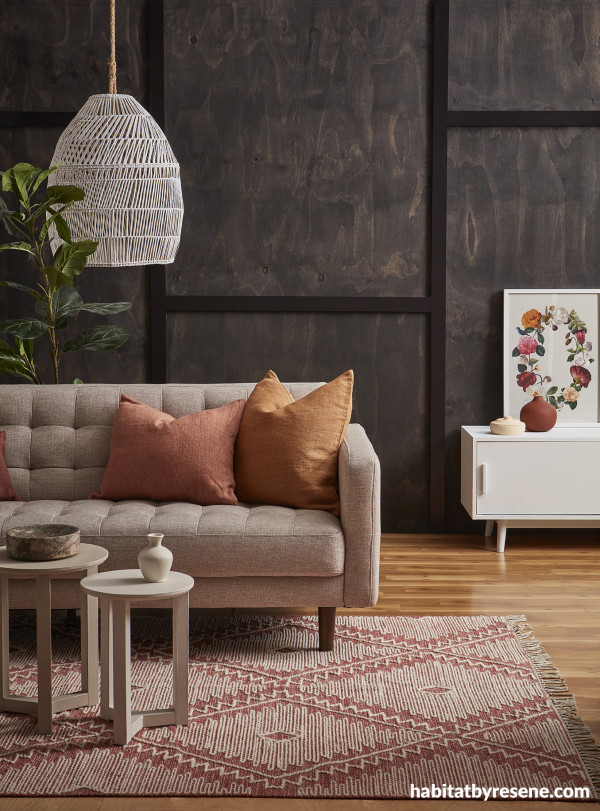 Wood stains can be used creatively on much more than floors and decking. Resene Colorwood Sheer Black elevates an inexpensive material such as plywood to give this room a dramatic backdrop that also showcases the caramel tones of the Resene Colorwood Natural stained floorboards. The battens on the wall are painted in Resene All Black to give sharpness and structure to the wood grains. White and earthy furnishings give an elegant finish to the living room, with a pendant light shade in Resene Black White, a sideboard in Resene Snow Drift and nest tables in (left to right) Resene Bison Hide and Resene Quarter Drought. The vase on the small table is Resene Quarter Drought. On the sideboard the lidded dish is Resene Tequila and the vase is Resene Half Hairy Heath and the round case is Resene Half Hairy Heath.Project by Laura Lynn Johnston, image by Wendy Fenwick.
If you're a fan of black, or other bold and moody colours, but don't want your space to be dark or oppressive, consider using a stain over wood surfaces instead of a paint.
The translucent nature of stain lightens the finish of dark colours without losing the impact, particularly if you layer other areas of trim or furnishings in the space with denser, painted finishes in dark shades.
Adding a lighter stain on a wooden floor will also bring extra freshness to the final look and bounce more light around the room.
Top tip: If you use plywood on your interior or exterior walls, adding battens is a cost-effective and simple way to hide the joins while adding a bold design feature.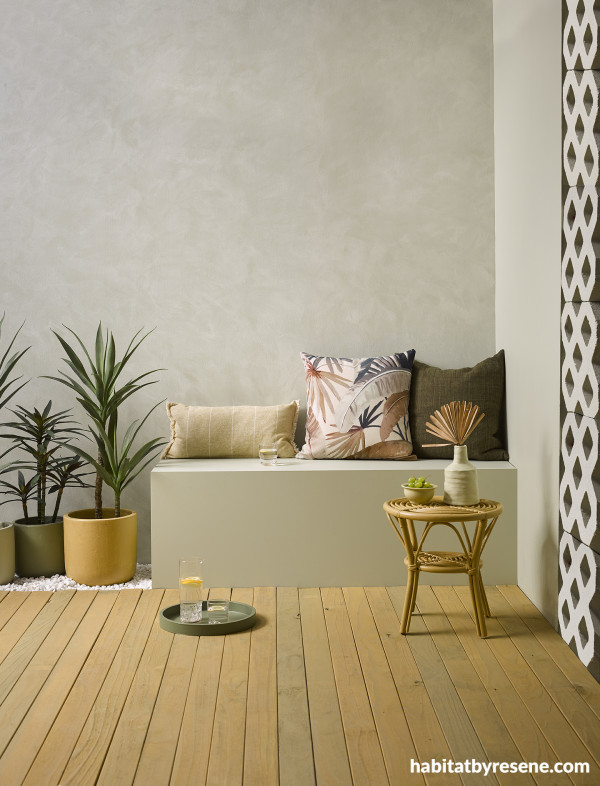 This concrete patio corner is given a touch of softness and sunshine with the use of Resene Woodsman Uluru on the decking. It works well with the added greenery from the plants and the touch of Resene Teak on the table and large plant pot. The back wall is given added interest in Resene Aspiring with Resene FX Paint Effects medium mixed with Resene Moon Mist. The breeze block side wall and the small vase on the table are also in Resene Moon Mist. The bench seat is Resene Aspiring and the smaller planter is Resene Siam. Project by Vanessa Nouwens, image by Wendy Fenwick.
We do love a timber deck to give us long-lasting, low maintenance outdoor living that flows easily from inside.
While it is OK to leave some timber decks to weather, if you want to prolong their life, it is best to stain - or paint - them to protect the timber from the elements.
The best stained finish for a deck is Resene Woodsman Decking Stain, Resene Woodsman or Resene Kwila Timber Stain. For an oiled finish try Resene Furniture and Decking Oil. If your deck sits in a lot of full sun, it's also a good idea to choose a Resene CoolColour which will help protect it from the heat, particularly if you've opted for a darker shade of stain.
When it comes to choosing your colour, you could go for a natural look with Resene Woodsman Natural; try to emulate the finish of a different wood with Resene Woodsman Limed Gum or Resene Woodsman Dark Oak. Or treat it the same way you'd treat any other coloured surface, and think about what works with the surrounding garden and the exterior of your house. Perhaps something with a green hue to blend into nature like Resene Rangitoto, or paler for a beachy effect like Resene Waterborne Woodsman Driftwood.
Top outdoor tip: If you have old concrete pavers that have lost their colour, you can refresh their colour using Resene Concrete Stain, much like a wood stain works on timber.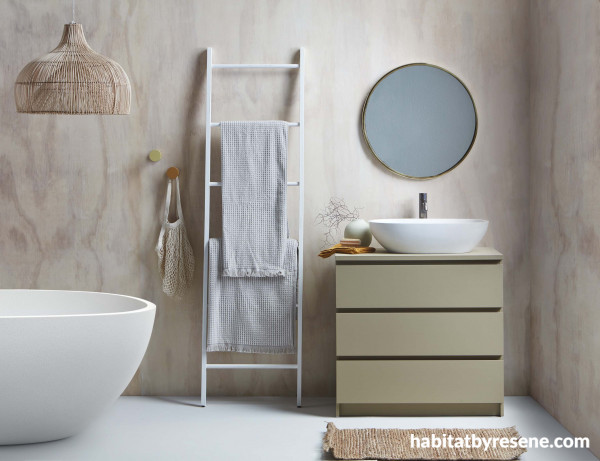 This pale Resene Colorwood Whitewash wall lends pared back sophistication to this minimalist Scandi influenced bathroom, that also feels perfect for a beach house. The wood grain is highlighted by the light stain to give the walls an almost marbled appearance that makes a stylish, contemporary backdrop to the cabinet in Resene Colins Wicket, the ladder towel rail in Resene Rice Cake and the floor in Resene Eighth Stonewashed. The vase on the drawers is Resene Half Stone Age and the wooden wall hooks are Resene Rococo (left) and Resene Swiss Caramel. Project by Gem Adams, image by Wendy Fenwick
Pale neutral wood stains such as Resene Colorwood Whitewash or Resene Colorwood Light Greywash are hugely versatile colours to consider for your interiors. Paired with plenty of plant life as well as leafy green paint colours such as Resene Alfresco or Resene Caper, and crisp white paints such as Resene Alabaster or Resene Merino, you have the perennial favourite Scandi look. Shift to washed blues like Resene Escape for more of a relaxed bach feel. Go for deeper blues like Resene Blue Night and Resene Coast or even a pop of deep red Resene Pohutukawa for a trip to the Hamptons. For more sophistication, try pairing your stained timber with metallic silver and a charcoal like Resene Bokara Grey or bold tones of burnt orange such as Resene Weathered Orange.
If you want a carefully weathered or distressed look, try Resene Colorwood Whitewash on cupboard doors and window trims. Elevate the look by pairing it with contrast areas in a darker wood stain like Resene Colorwood Mahogany.
View the colour range online –
For interiors, Resene Colorwood or for exteriors, Resene Woodsman
Published: 17 Feb 2022
Do you have a home full of wonderful Resene paint and colour? Send us some snaps by emailing [email protected].