►
◄
latest
habitat tv
blog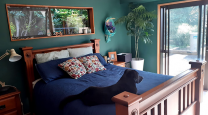 Lizzie's cute cottage glows like a jewel
Sometimes a momentous event will spur us into action. That was the case with Lizzie Cook of Christchurch when earthquake repairs gave her the opportunity to complete renovations on her cottage that had begun some time ago.
Her delightful home is now a symphony of Resene colour with each one carefully referenced and chosen often for a very specific reason: a meditative colour for the bedroom, blues to echo a paua shower door design in the bathroom and a combination of fresh yellows for a room that Lizzie now describes as being "mellifluous – an image of pleasing musical fluidity."
Lizzie explains, "I wanted each room to have its own personality through colour and I wanted to avoid using white because I think it is such a lame option."
Her brave colour choices weren't contained to the interior. Lizzie wanted an "audio-visual" blue for the exterior, choosing Resene Mariner. She says green plants and trees look vibrant against the blue weatherboards. She chose a sunny yellow Resene Drover and wanted an earth-related orange that reminded her of the cuttings through the clay hills of farm and forest tracks and roads that she grew up with in Te Tai Tokerau. "I ended up with a much brighter orange than initially intended, Resene Gold Drop, and grew to like it."
Her painters, Feutz & Goldsmith, were delighted with the colours saying it's the only house they've painted that they wanted to photograph. "Painters do get fed up with white!"
"The intention was to have a house that glowed like a jewel, surrounded by the various greens of trees and shrubs, and the bright splashes of wild flowers," says Lizzie.
Some of her colour choices continue to delight her. "I wanted the hallway to have an in-bred sense of light so I chose Resene Blue Chalk. The changes of colour are amazing depending on the light angles and time of day."
In her most recent renovations, the focus was on the kitchen and laundry, working with designer Nicki Bell. Lizzie was happy with the existing layout but wanted to maximise storage and usefulness. All joinery in the kitchen and laundry was pine, painted in the kitchen and waxed in the laundry to reveal the wood grain
Lizzie had always hankered after red blinds for her kitchen for the way red stimulates the appetite so found colours for the cabinets that balanced the red and worked with the rimu tongue-and-groove ceiling and walls: Resene Havoc (red), Resene Hypnotic (creamy green) and Resene Ship Cove (grey blue).
All the internal features of the house were meticulously removed and reinstated after installing full insulation in the ceiling, floor and walls.
Lizzie commissioned The Glass Room to make a stained glass window, adapting glass designs she found online including an Edwardian beauty for the toilet (worth just a visit to look at the window), glass panels for two cupboard doors in the kitchen and appropriate glass for the parlour door.
Published: 16 Oct 2019
Do you have a home full of wonderful Resene paint and colour? Send us some snaps by emailing [email protected].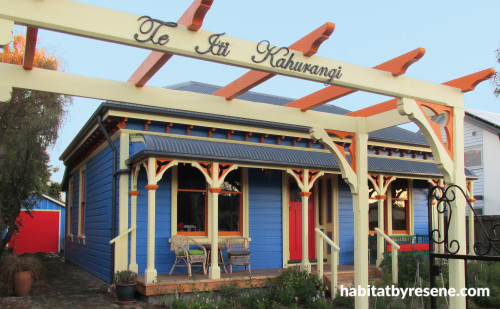 The outside of the pretty square-fronted veranda villa sparkles in blue Resene Mariner, glows in yellow Resene Drover (Lizzie liked the name as well as the colour) with details in orange Resene Gold Drop. Resene Drover is from an older collection, try Resene Chorus Line for a current alternative.The front door is Resene Guardsman Red.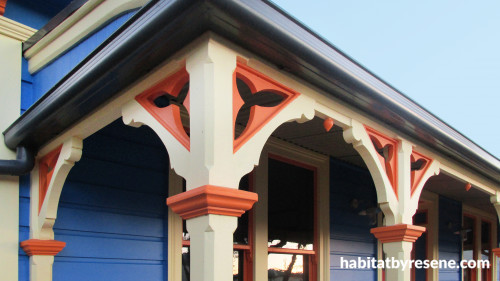 The orange details were intended to be more muted but Lizzie now loves the strength of Resene Gold Drop along with the Resene Mariner weatherboards and Resene Drover trims. Resene Drover is from an older collection, try Resene Chorus Line for a current alternative.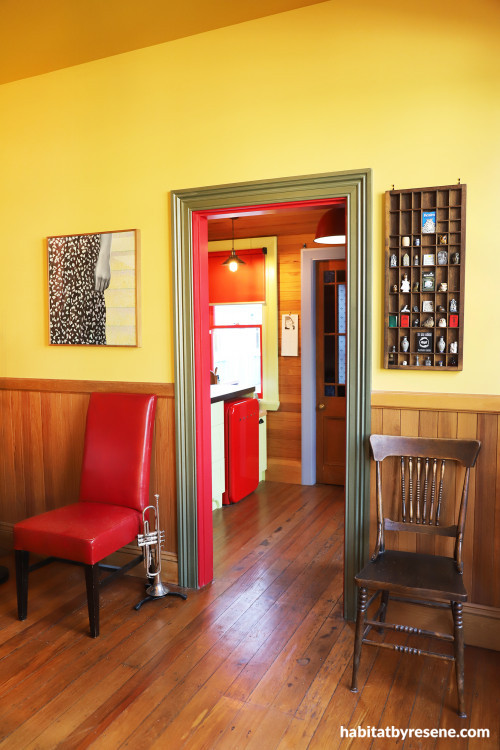 The living room walls are painted in a rich ochre Resene Rob Roy, with the ceiling in Resene Pizza and the door surround is in Resene Vault metallic.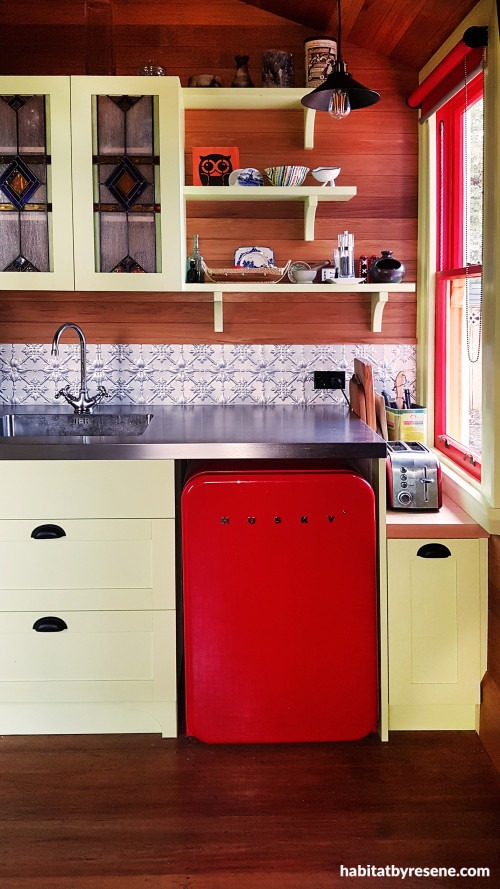 Newly renovated but totally in keeping with the character home, the kitchen cabinets and window architraves are in Resene Hypnotic with the window reveals in Resene Havoc, a similar colour to the retro fridge.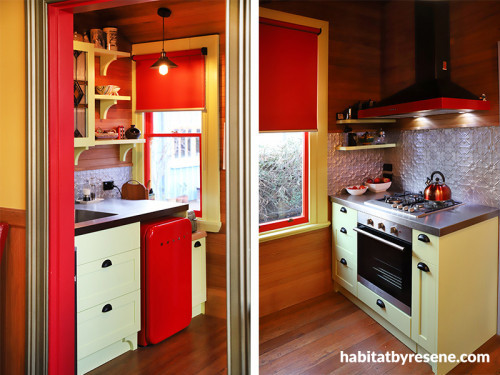 The kitchen is painted in Resene Havoc (red), Resene Hypnotic (creamy green) and Resene Ship Cove (grey blue) to balance the rimu tongue-and-groove ceiling and walls.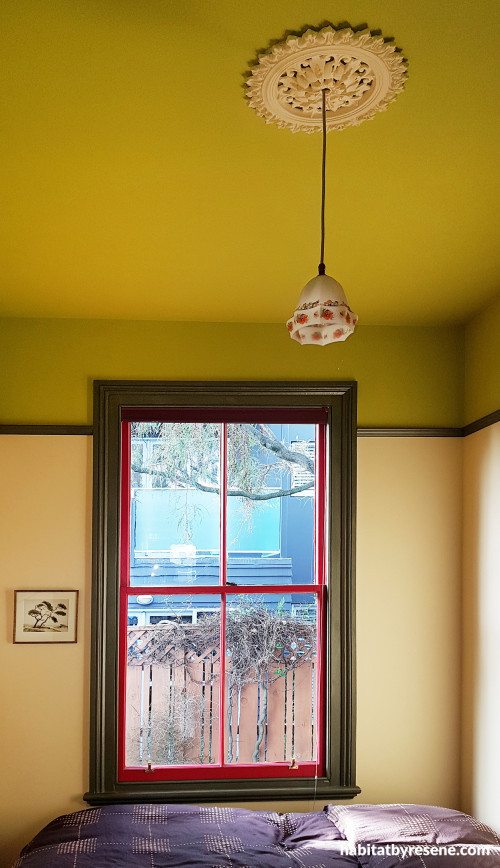 This bedroom is painted in Resene Billy T above the picture rail, with Resene Astra below. The windows are in Resene Shiraz (red) and Resene Vault metallic.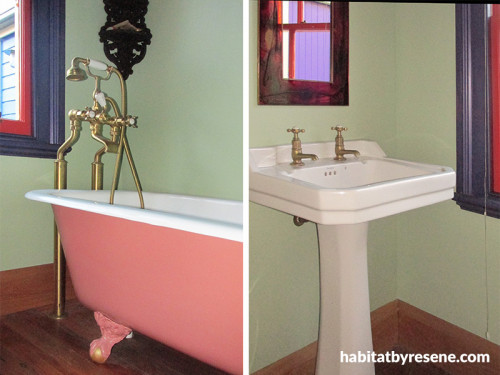 A clawfoot bath in Resene Coral Tree contrasts against walls in Resene Norway with a window in Resene Zodiac metallic and Resene Red Red Red.
the look
If you're stuck on what
colour to use or need colour
advice, try out the Resene
Ask a Colour Expert service.