►
◄
latest
habitat tv
blog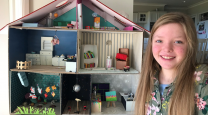 Leafy and floral wallpapers are in full bloom: Branch out with these 5 design ideas
Leafy and floral motifs are a budding trend in the interior design world. Get a whiff of the great outdoors in your home with a new nature-inspired look from the Resene Wallpaper Collection. We've curated five different looks to choose from to help you get started.
Wallpaper has seen a resurgence in its popularity. Leaves and florals can transform a room with their flourishing foliage. Whether you like an interior look that's soft and subdued or bold and dramatic, there's a timeless leafy look that caters to all tastes.
Floral wallpaper's history
It's difficult to trace exactly when wallpapers began to be adorned with flowers and leaves (some argue cave paintings, where in some places, humans would embellish walls with natural motifs). But we do know that by the 1600s, flock wallpaper (a raised pattern with soft material on it) had been developed and brought with it a more nature-focused aesthetic. Floral prints were particularly popular in England, where it remains a key feature of their traditional aesthetic.
The arrival of colour printing in the late 17th century, and the ability to join multiple sheets of paper together in a roll, created more complex nature-inspired wallpaper designs. Wallpaper was no longer exclusively an option for aristocratic society.
Make it maximalist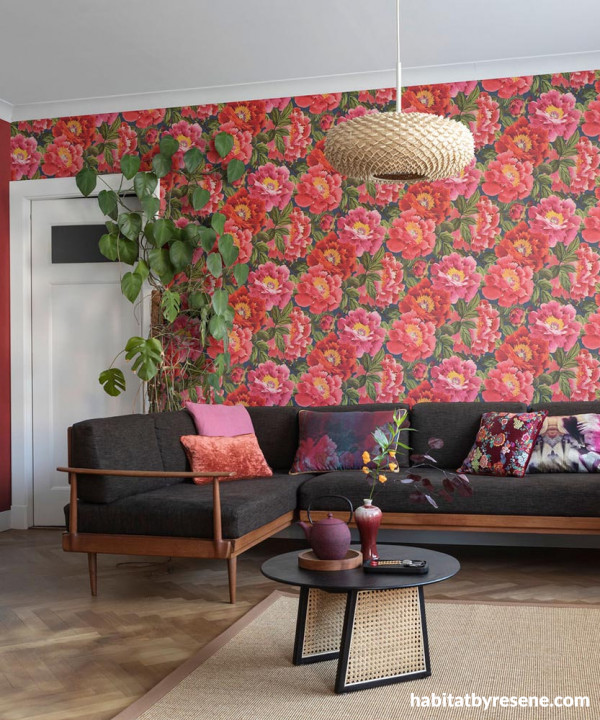 Resene Wallpaper Collection 408355 sets a bright and cheery mood in a living room. Its maximalist design is balanced with neutral furnishings. Team with Resene Black White on the trims, ceiling and door for the ultimate crisp look against the red and pink of Resene Wallpaper Collection 408355's flowers.
Create a riot of colour and pattern in a living space with maximalism, a popular style in both wallpapers and interiors in general. Clashing and concentrated colours of varying patterns are welcome here. Don't be afraid to go big and bold with leafy and floral wallpaper, pick a print that aligns with your personality and have fun with it. Too often we play it safe with our interiors, when really they are a direct reflection of ourselves. Installing a new wallpaper design is the perfect way to take the leap and inject more personality to your home.
Consider bold and maximalist leafy and floral patterns like safari-inspired Resene Wallpaper Collection 91310, the fig tree-covered Resene Wallpaper Collection 91080 or the birds of paradise plant-dotted Resene Wallpaper Collection 91170. Let your wallpaper be the life of the party in your room!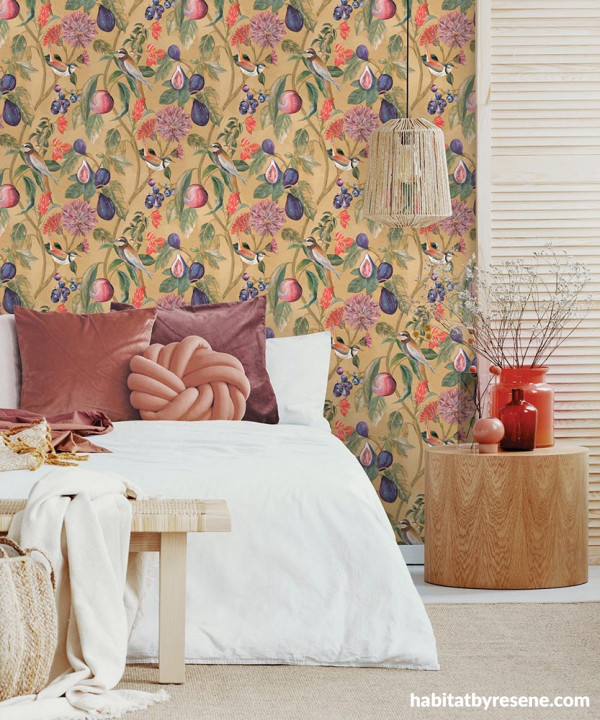 Resene Wallpaper Collection 91310 combines birds and fig trees. Complement its tones with any adjacent walls in a soft neutral like Resene Rice Cake.
Top tip: Order a sample of Resene wallpapers and try before you buy. It's the same as paint, you'll want to hang it against your wall to get a feel for how it will look. Textures and colours can look very different in varying lights, whether it's natural or incandescent. Leave it up for a few days and see how the pattern looks at different times of the day. Most designs are available as samples – if your favourite isn't check with your Resene ColorShop team to see if you can borrow the wallpaper collection book to view in your home.
Set a mood with a mural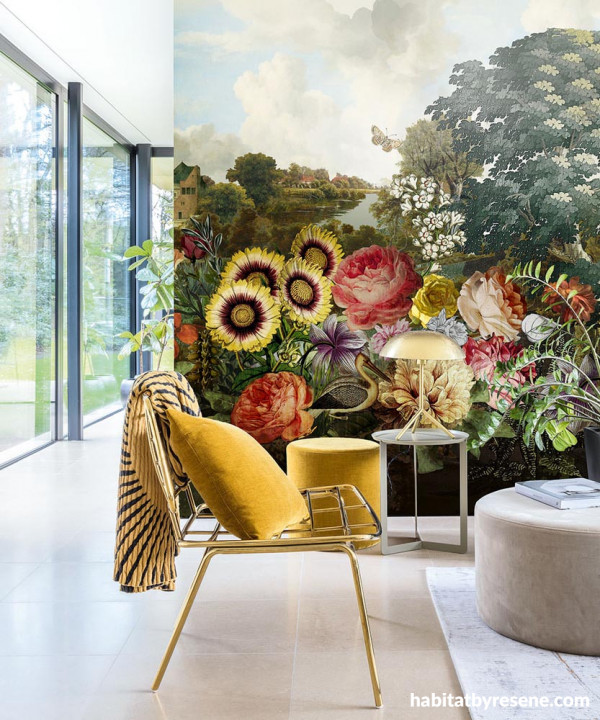 Resene Wallpaper Collection DGKEN2022 sets the tone in this living area. Tie in its yellow flower heads with hard and soft furnishings in similar hues. Try Resene Rice Cake or Resene Half Pearl Lusta on the ceiling and any opposite walls and trims to complete the modern mural look.

Wallpaper murals have seen a surge in popularity this year, and what better way to bring nature indoors than with a leafy or floral wallpaper design. Create the look of a calming meadow, thick jungle, blossoming path or flourishing garden with Resene. Murals bring joy to a space, particularly to living areas in a home. Have a bland wall in your dining room? Why not update the space with Resene Wallpaper Collection 99345's outlook to willows, palms and peonies. Or transport yourself in a bedroom to somewhere European, with Resene Wallpaper Collection DGKEN3012 and its floral foreground and a palace in the far-off distance. Resene Wallpaper Collection FJ41609's winter forest look is monochromatic and elegant, too. For a slice of home, try Resene Wallpaper Collection HX7-050 complete with cabbage trees.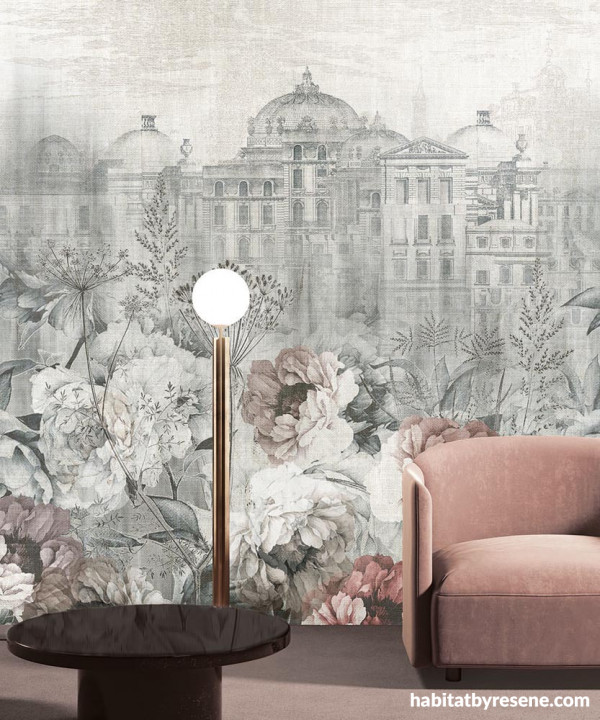 Resene Wallpaper Collection DGKEN301 stuns against dusty pink tones like Resene Shilo and Resene Sakura.
Top tip: If you can't find what you want in the wide range of the Resene Wallpaper Collection or you're looking for something quite personal and one-of-a-kind, try out the Resene WallPrint service where you can create your own wallpaper from a photo or favourite print. You simply upload a photo, put in the dimensions of your wall and your order can be delivered to you as numbered wallpaper strips cut to size. Try it out at www.resene.com/wallprint.
Pair with wildlife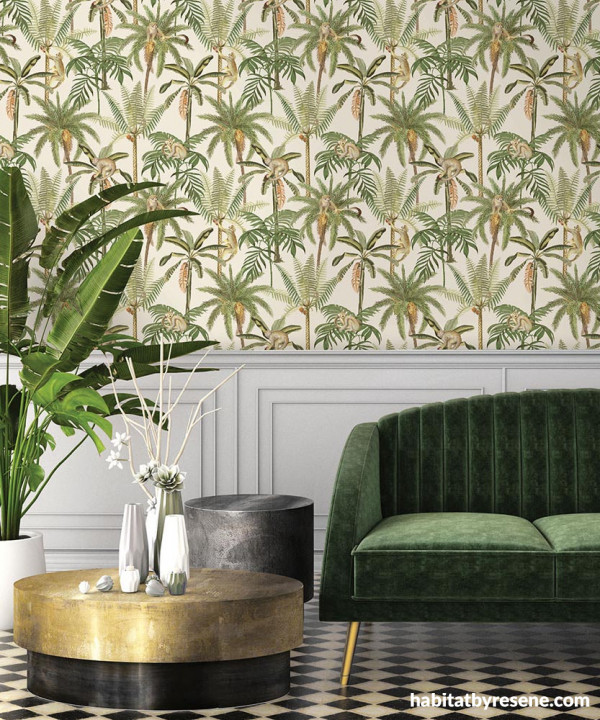 Resene Wallpaper Collection 91101 brings plenty of character to this luxe living space, with its swaying palms and cheeky camouflaged spider monkeys. Pair with house plants to tie in the natural look, and furnishings in similar tones. Paint Resene Eighth Spanish White on the walls for contrast, and paint a tiled floor look with Resene Black and Resene Double Pearl Lusta.
With flora comes all creatures great and small. Animal motifs can connect us to the natural world. Combining natural wallpaper settings with animals and birdlife amongst a lush backdrop of plants offers a sense of serenity and fun. Adding quirky motifs of furry and feathered friends has become incredibly trendy in the wallpaper realm. Different animals will of course add different character to a room. Birds, for example, can help create an atmosphere of elegance and calm.
Try the birds perched on aqua branches in Resene Wallpaper Collection HX7-056, or flamingos set against lush palms in Resene Wallpaper Collection 91260. For something more neutral-toned, try the stilt-patterned soft beige and green Resene Wallpaper Collection 91150.
Top tip: Consider scale when choosing a floral or leafy wallpaper. Smaller scale patterns tend to create a feeling of spaciousness, but note that they can look lost in larger rooms. Larger scale patterns generally make a room feel more intimate.
Go abstract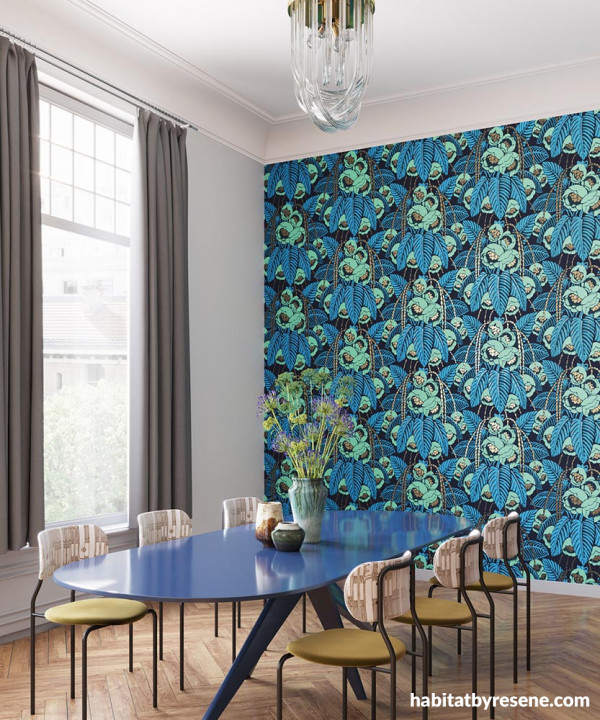 Resene Wallpaper Collection AGA304 makes for the perfect backdrop for dinner parties in this dining room. Without it, the room would feel cold and lack personality. Pair it with Resene Black White on the adjacent walls to let the bold pattern set the room's atmosphere . Paint a table in Resene Bunting for some bright blue energy.
Don't feel put off using floral wallpapers at home because all you can think of is your great granny's bedroom. Know that there are plenty of non-traditional patterns available, including designs that lean more towards abstract. Abstract botanicals offer a softer nod to nature, rather than a direct representation of it. They are modern, contemporary and can actually allow you to be a bit more daring with your colour choices. There are fewer rules and instead you can experiment more, abstract design calls for that approach! Try the overlapping leaves of Resene Wallpaper Collection 456608, the fronds of Resene Wallpaper Collection 635690 or the lotus-like leaves of Resene Wallpaper Collection 1907-139-05.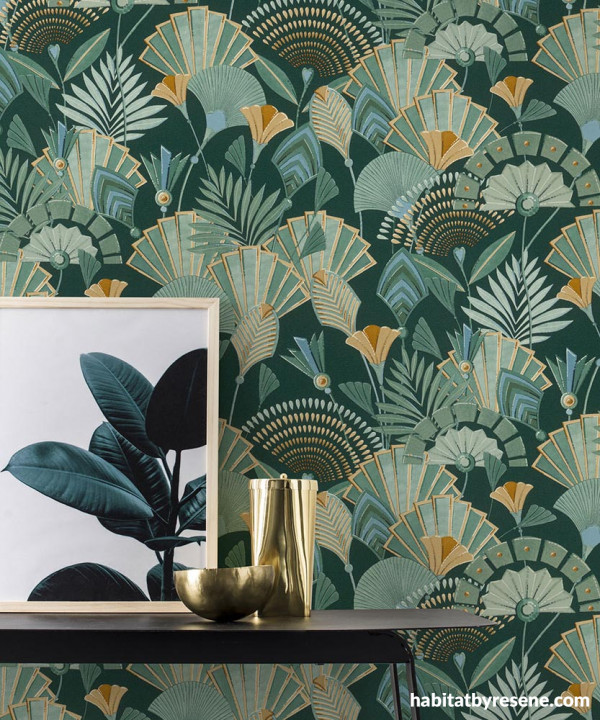 Add interest to a hallway or smaller space with Resene Wallpaper Collection 635690.
Top tip: Consider your current furniture and style to help you evaluate which design and colour to opt for wallpaper-wise unless you are wanting to makeover an entire room. Also think about if you have any gallery walls in the space you want to wallpaper. Busier wallpapers may end up competing with gallery walls, so you may need to choose a more relaxed look to allow your art to take centre stage.
Set a tone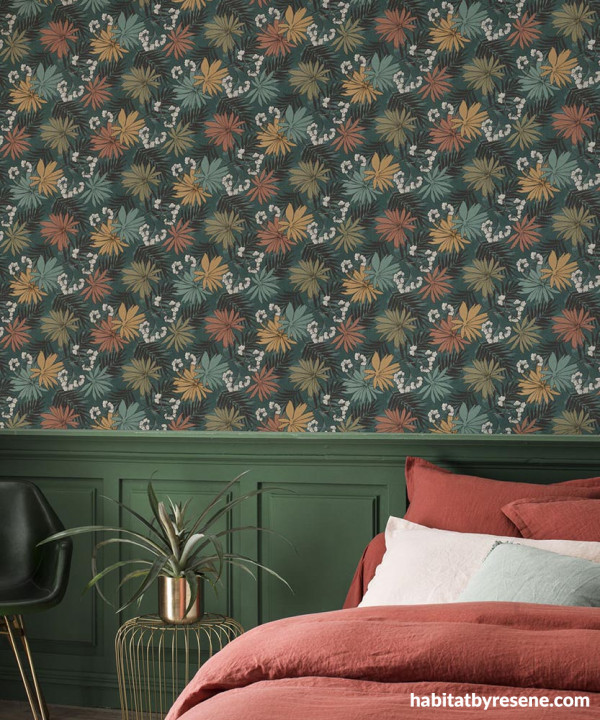 Channel the cosiness of autumn with Resene Wallpaper Collection 463378, featuring a fallen-leaf type motif in warm reds and yellows. Paint the lower half of the wall in a complementary green tone like Resene Seaweed or Resene Forest Green to tie the look together elegantly.
Take inspiration from the colours in your leafy and floral wallpaper. The best way to create a cohesive look in a room using both paints and wallpaper is to pick a tone and run with it. The two are not mutually exclusive, both can make one another sing. Just make sure to select your Resene wallpaper and Resene paint colours together to ensure they play up each other's strengths. Avoid an overly-strong paint colour that will dominate the room and out-stage your wallpaper.
Try the gentle and floral Resene Wallpaper Collection 1907-138-02 with similarly toned aqua blue like Resene Maestro. Or the neutral leaves of Resene Wallpaper Collection 296036 with a soft beige shade like Resene Spanish White.
Top tip: Discovered a pattern you love but don't want to use it everywhere? Consider a feature wall and hang a large mirror on the opposite side to reflect the pattern across the room.
Bring nature in this winter and transform a space, there's plenty of choice in the Resene Wallpaper Collection. The right wallpaper will add spaciousness, life and cohesiveness to a home.
Published: 23 Jun 2022
Do you have a home full of wonderful Resene paint and colour? Send us some snaps by emailing [email protected].
Resene Eighth Black White
the look
If you're stuck on what
colour to use or need colour
advice, try out the Resene
Ask a Colour Expert service.