►
◄
latest
habitat tv
blog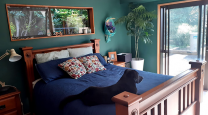 Lara and Ben's mid-century modern home stays true to its roots
When Lara and Ben bought their 1950s Wellington home, it was bursting with tell-tale signs of the era; floral wallpaper adorned every wall in the house and carpet was laid in almost every room. They wanted to transform the property into a practical home better suited for a young family – a goal that came to fruition with an open plan refreshed in a crisp and contemporary Resene colour palette.
The first challenge at hand was to remove the chandelier-style lighting that punctuated the spaces, which were decidedly the wrong kind of retro. Next, they relined, rewired and insulated the home. Carpets were peeled back to reveal beautiful original rimu floorboards. Then, Lara and Ben turned their focus to bringing fresh colour to the walls.
"We wanted to keep to a simple colour palette and chose to paint Resene Black White throughout our home so it would feel cohesive and fresh," Lara explains. "It also allowed for us to add in a few muted pops of colour that lean back towards the mid-century style."
Published: 04 Sep 2019
Do you have a home full of wonderful Resene paint and colour? Send us some snaps by emailing [email protected].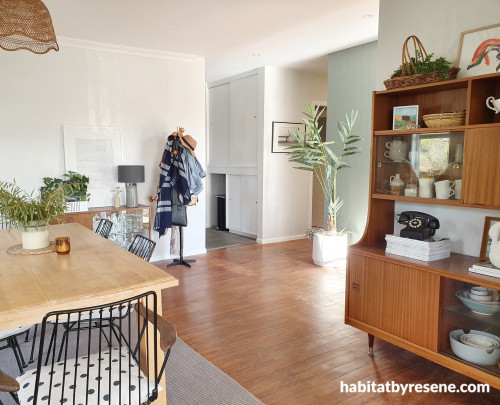 Walls painted in crisp Resene Black White in the main living/dining area provide a backdrop for warm timber mid-mod furniture to stand out. Lara and Ben chose to paint the accent wall (at right) in Resene Smoky Green to create a calming environment. The trims and ceiling are in Resene Alabaster.
To create a more unified floorplan, Lara and Ben removed the non-structural wall between the dining and entry hallway, opening up the layout. Opting for walls painted in Resene Black White now helps reflect more light into the space while the feature wall in classic Resene Smoky Green adds both warmth and character.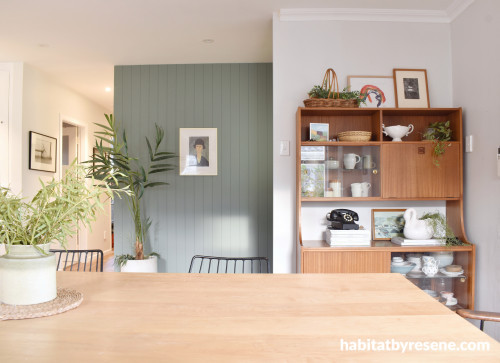 Inside the front entry, Lara and Ben installed tongue-and-groove panelling to bring texture to the walls and painted it in Resene Smokey Green. The other walls are in Resene Half Black White with a ceiling and architraves in Resene Alabaster.
"Removing the wall has made such a difference to the overall feel of the house. It feels bigger, brighter and much more welcoming now. We love the Resene Smoky Green feature wall, and people often comment on it when they arrive," Lara says.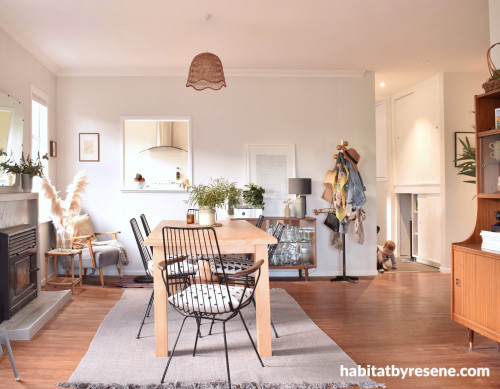 Lara and Ben lovingly designed their family home with mid-century themes in mind. The main walls in the living/dining room are in Resene Half Black White while the trims and ceiling are in lighter Resene Alabaster.
Combining a mixture of textures is an element common of mid-century decorating, which heavily influenced Lara and Ben's choices for furniture and décor. The choice for a primarily neutral colour palette also enabled the couple to introduce different colours through soft furnishings, furniture and artwork which can be quickly and easily swapped out when their tastes and trends change.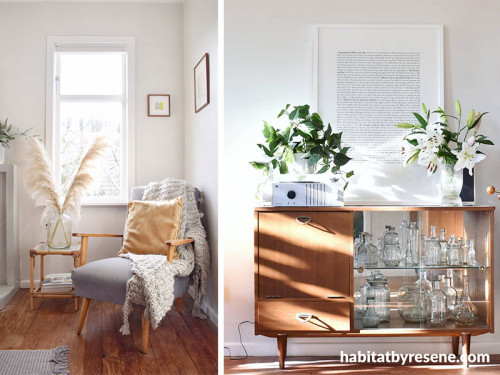 Resene Black White walls and Resene Alabaster window trims enhance the space by reflecting light further into the now open plan room. Chunky textiles introduce an element of texture while the natural timber furniture and flooring bring in additional warmth.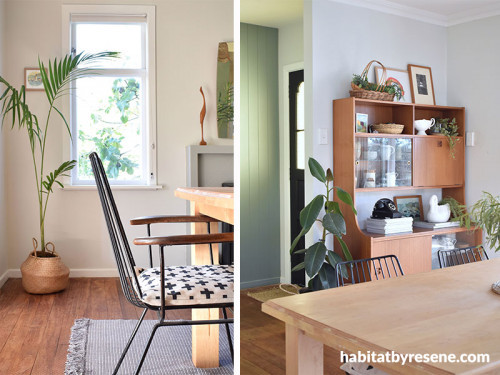 Mid-century modern details link the renovated home back to its roots. The main walls are in Resene Half Black White, the featured wall at the entry is in Resene Smoky Green, the ceilings and trims are in Resene Alabaster and the inside of the front door is in Resene Foundry.
But when it came to the master bedroom, the couple felt emboldened to experiment. They chose bold and moody Resene Rhino on all four walls to create a restful retreat.
"I found our master bedroom was the perfect place to experiment with colour. We decided to go all out and paint all four walls in Resene Rhino rather than choosing one feature wall. I love the end result. The moody navy on the walls is such a contrast to the rest of the house and it feels like a cosy place to retreat to after a long day."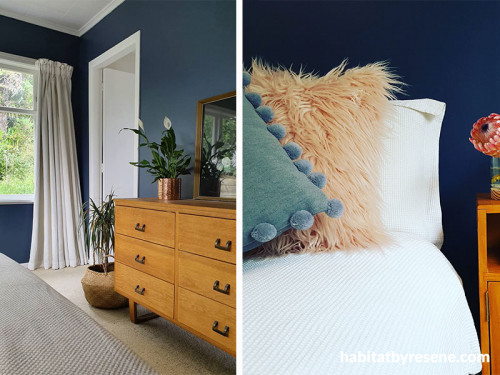 The dark and moody hues of Resene Rhino makes for a cocooning master bedroom. The ceiling and architraves are in Resene Alabaster.
Though painting all four walls in a deep navy may at first seem like a cold shade for a bedroom, the soft purple undertones in Resene Rhino add a degree of warmth. When paired with trims, ceilings and doors painted in the sharp white Resene Alabaster, the room also appears lighter with enhanced space. It's a hue that, while bold, leaves room to allow for artwork, plant life and furniture to take centre stage.
The result of Lara and Ben's hard work and careful colour selections is a crisp and contemporary mid-century influenced space that should stand the test of time for years to come.
images Lara Barnett
the look
If you're stuck on what
colour to use or need colour
advice, try out the Resene
Ask a Colour Expert service.