►
◄
latest
habitat tv
blog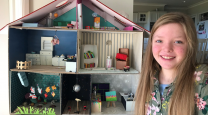 Know your blues: Eight dreamy blues to consider (and how to pick one for your home)
There's nothing that sets a mood in a room like blue does. An incredibly versatile colour, blue can be refreshing, tranquil or moody. Its numerous shades can work as a subtle backdrop to a room, or a blue can make a statement as an energetic feature. It comes in so many shades it's impossible not to find one that you like in the Resene palette.
Dark, rich blues are a great choice for a cosy and moody reading nook in your home (try Resene Indian Ink or Resene Bunting), while more muted blues can set a soothing tone in a bedroom or bathroom (try Resene Duck Egg Blue or Resene Breeze). Whether you're after a neutral tone with a hint of blue or a rich navy that packs a punch, there's plenty to choose from.
The history of blue
We have blue paint thanks largely to the ancient Egyptians, who worked out how to create a permanent pigment. Egyptian blue (the first colour to be synthetically produced) was invented in around 2,200 B.C. It was around the same time the Great Pyramids were built. Limestone and sand were combined with a copper-containing mineral, then heated to create the hue.

Historians say the end result was an opaque blue glass, which could be crushed up and combined with egg whites or glues and made into paint or ceramic glaze. The hue was held in high regard by the Egyptians, who used it to paint ceramics, statues and even to decorate pharaohs' tombs. For the next 6,000 years, the colour continued to evolve.
How to pick a blue
Similar to picking any shade, you'll want to consider the mood you want to create in a room. Some general notes to consider: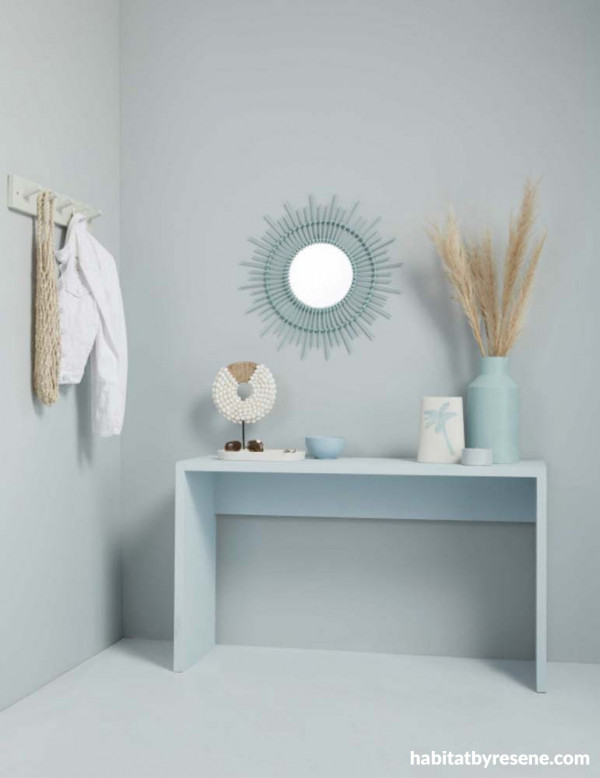 This beachy entranceway uses Resene Duck Egg Blue for the wall, with the floor in a lighter shade of Resene Quarter Duck Egg Blue. The hall table continues the blue theme and is painted in Resene Slipstream. The mirror and vase are painted in cool Resene Raindance and the hook rack is in neutral Resene Truffle. Project by Vanessa Nouwens, image by Bryce Carleton.
About this colour: Resene Duck Egg Blue comes in a range of shades. It can look beautifully sophisticated when used as a backdrop in a restrained and elegant design.
How to use it: From bedrooms to classic rustic country kitchens, Resene Duck Egg Blue is a hue that's virtually unmatched in its versatility. Try it on bedroom walls to create a tranquil atmosphere or in a hallway or bathroom that feels dark or small.
Complementary colours: Pair it with misty lilac Resene Abbey Road or smoky charcoal Resene Snapshot. For a vibrant look, pair it with pops of a pomegranate shade like Resene Code Red.
Best friend neutrals: Pair with Resene Cararra, a clear off-white, or cool whites such as Resene Half Black White and Resene Half Merino.
Do you like to be beside the seaside, the dark depths of Resene Coast work just as well in a coastal seaside home or sophisticated urban apartment. Wall painted in Resene Coast , floor coated in Resene Concrete Wax. Concrete pots from Moodstore painted in Resene Ship Cove and stools painted in Resene All Black. 'On The Rocks' artwork by Amber Armitage, chair from Contempa, cushion from Penney + Bennett, table from WRW & Co, tray and marble bowl from Citta, candle from Ecoya, water jug from Father Rabbit, woven basket from Caro With Love. Project by Amber Armitage, image by Melanie Jenkins.
About this colour:Resene Coast is a deep mid-grey blue, what you'd expect to find on the Southern Wairarapa coastline. If you're after a sophisticated (yet still welcoming and friendly) look, a darker tone like Resene Coast can make that happen.
How to use it: Try using Resene Coast as a feature wall in a bedroom or living room. Go for a modern monochromatic look and create depth in a room by pairing it with lighter tones like Resene Surrender,Resene Periglacial Blue and Resene Half Dusted Blue.
Complementary colours: Try pairing the shade with Resene Half Cut Glass, a tint of green blue, or Resene Celebrate, a joyous egg yolk yellow, bright and robust.
Best friend neutrals: Resene Sea Fog, a versatile white with a hint of grey, soft Resene Eighth Joss or calm cream beige Resene Blank Canvas.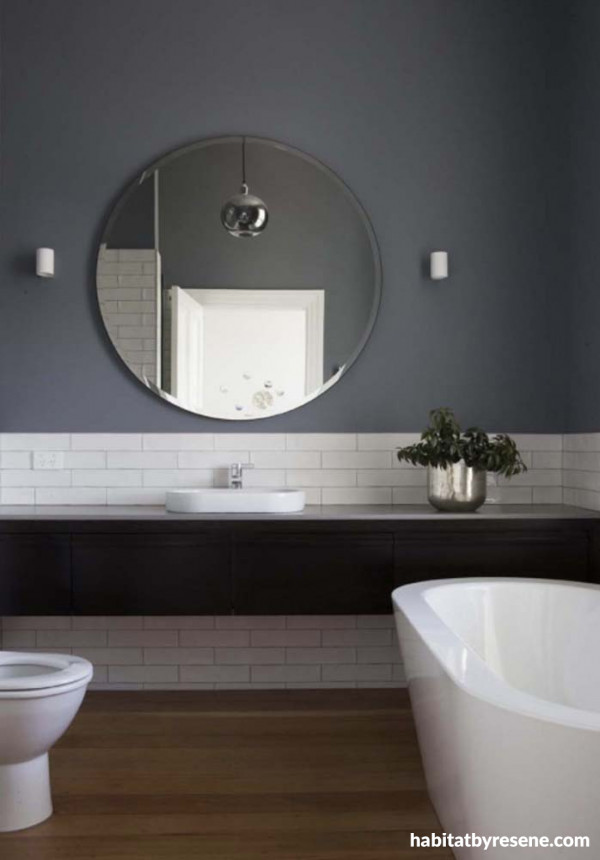 With a 3.6m high ceiling, walls painted in Resene Raven stretching to the top and matai timber flooring below, the elegance of this ensuite in Wellington architect Clare Bush's home is unmistakable. For the ensuite's colour scheme, Clare used Resene Raven as the main colour, a timeless grey with a twist of blue. "I like that while it's neutral, it's also just on the edge of being a colour," she says. The ceiling and trim are painted in classic Resene Double Alabaster.
About this colour:Resene Raven is a mysterious and timeless grey blue, much like Massachusetts' famous Cape Cod cottages.
How to use it: Turn your bathroom into a true at-home sanctuary with Resene Raven, spruce up your study with the tone for a sophisticated feel, or create a relaxing vibe in a master bedroom.
Complementary colours: Resene Rebel is a deep warm smoked earth brown and works well, as does the punchy and acidic Resene Spritzer.Resene Black also looks fantastic with Resene Raven, particularly on furnishings in Resene Enamacryl gloss tinted to Resene Black.
Best friend neutrals: Pair with Resene Mystic, a tint of esoteric grey, or soft pink Resene Shilo.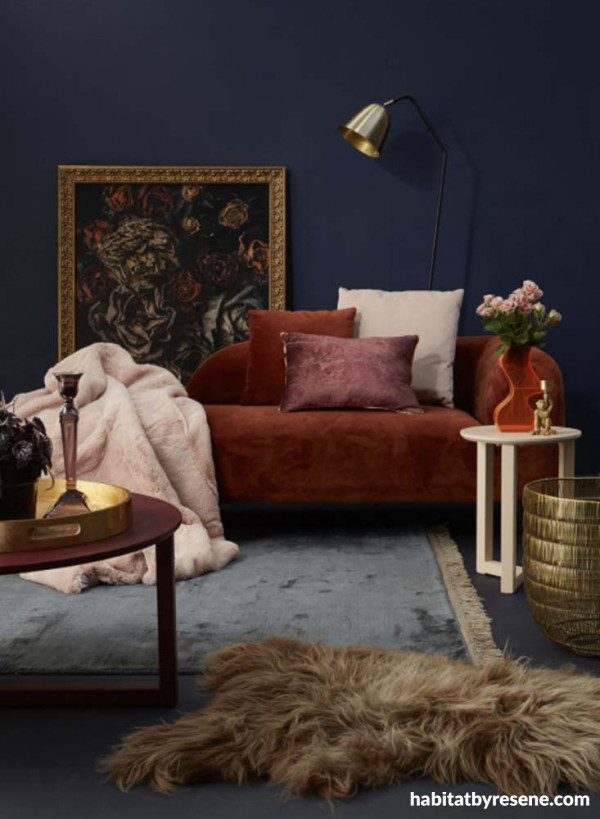 This lounge keeps it classic and cosy with walls in Resene Indian Ink and the floor in Resene Bastille. The coffee table offers great contrast in Resene Persian Red, and the side table in Resene Negroni, is a neutral contrast to the colour palette while keeping to its warm hues. Sofa and cushions from Contempa, rug and sheepskin from Bo Concept, artwork from Endemic World, lamp and tray from Freedom, wire basket from Bo Concept. Project by Kate Alexander, image by Bryce Carleton.
About this colour:Resene Indian Ink is a popular and versatile inky hue, reminiscent of a night without moonlight.
How to use it: Often thought to make a room feel smaller, this isn't always true when it comes to a dramatic tone like Resene Indian Ink. In fact, dark colours blur the edges of the walls, making it look a lot more expansive. Try it in a living room or guest bedroom for a moody look.
Complementary colours: Try pale green Resene Aspiring or the russet hued brown Resene Felix.
Best friend neutrals: If you're painting a room in the Resene Indian Ink, consider painting the ceiling in a white neutral to keep the room from feeling too heavy, and to add visual height. Try Resene Alabaster or Resene Black White.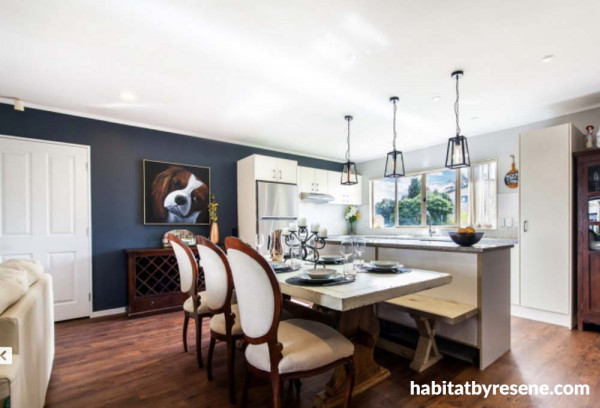 The dramatic tones of Resene New Denim Blue look fantastic as a feature wall in this kitchen. Artwork pops on the shade, especially set against the ceiling and doors in Resene Black White.
About this colour: Resene New Denim Blue is a charcoal blue. If you're looking for a versatile blue, you need look no further than denim. Teamed up with various colour combinations, it plays a key role in achieving a whole range of looks.
How to use it: Denim blue creates a timeless look. Try it as a feature wall in your kitchen. It also works well on your roof, doors and joinery as well.
Complementary colours: Try it with subtle and warm Resene Pioneer Red, grey-green Resene Rivergum or olive brown Resene Lichen.
Best friend neutrals: To achieve a classic look, pair with Resene Quarter Black White, Resene Half Rice Cake or Resene Eighth Rice Cake.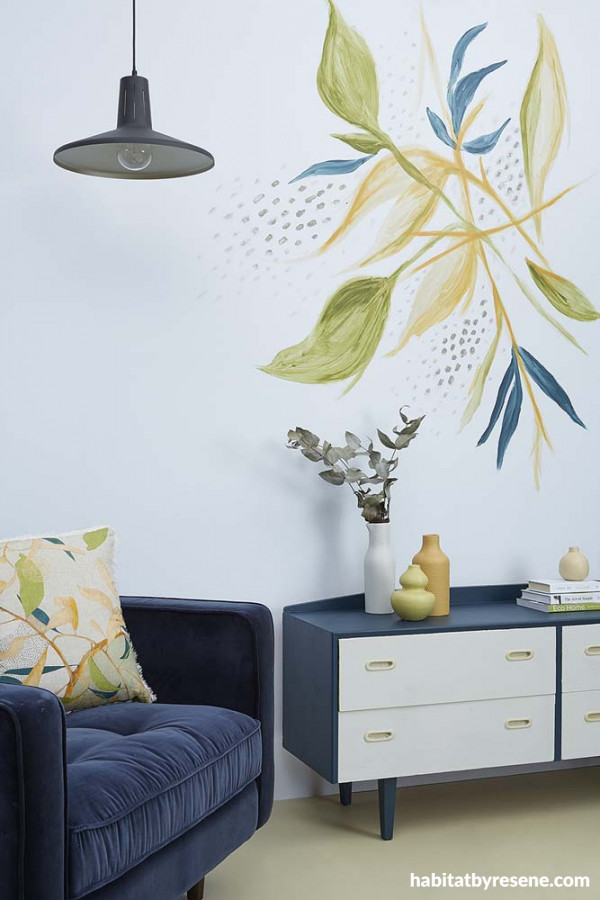 A wall in Resene Solitude has been given a gorgeous treatment with a watercolour-style mural in shapes and colours inspired by an artistic cushion featuring a design painted by artist Dana Kinter. Wall in Resene Solitude, watercolour mural in Resene FX Paint Effects medium mixed with Resene Tussock, Resene Saratoga,Resene Elephant, Resene Pirate Gold,Resene Calico,Resene Cobblestone and Resene Bubble White and floor in Resene Chino. Sideboard in Resene Elephant with drawers in Resene Half Copyrite and handles in Resene Chino, nesting coffee tables in Resene Saratoga and Resene Tussock, tall jug vase (with eucalyptus) in Resene Half Copyrite, large bowl in Resene Calico, large round vase in Resene Elephant, tealight holder in Resene Kombi and coasters in Resene Solitude. Chair and lamp from Freedom, cushion from Adairs. Project by Laura Lynn Johnston, image by Bryce Carleton.
About this colour:Resene Solitude is cool, coastal and dreamy, perfect for creating a chic look with a nautical spin.
How to use it: Create a serene space by using it on bedroom walls and bathrooms, it has a softening effect. Pair Resene Solitude with billowy white curtains and white linens for a dreamy, feminine and cloud-like bedroom.
Complementary colours: Golds and yellows shine against Resene Solitude's cool tone. Try Resene Tussock or Resene Rob Roy. Resene Deep Koamaru is a deep violet and also pairs well as it offers contrast.
Best friend neutrals: Resene Solitude pairs well with beiges and bright whites like Resene Alabaster,Resene Black White and Resene Thorndon Cream.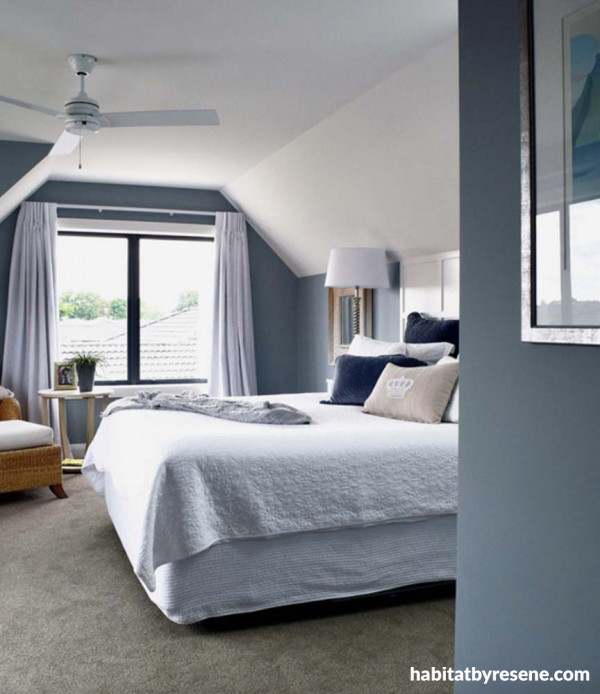 Home owners Vivienne and Geoff painted the master bedroom in their French-style home with Resene Dusted Blue on the walls and Resene Half Black White on the ceiling and trim.
About this colour:Resene Dusted Blue is a pale blue-grey that invites a calm atmosphere. It's perfect for introducing an injection of colour into a space without overwhelming it.
How to use it: The grey undertones of this colour are the perfect pick for outdoors as well as indoors. If you have an older home, particularly if it's a weatherboard cladded villa, you can't go wrong with Resene Dusted Blue. Inside, it works well in offices, lounges and bedrooms.
Complementary colours: The luscious Resene Casal or Resene Talisman, a deep and earthy brown.
Best friend neutrals: Resene Half Sea Fog, Resene Half Merino, Resene Half Black White and Resene Alabaster.
Resene Forecast
This Hamptons living room look is inspired by the architecture and decor of holiday homes in the luxury seaside communities that hug the eastern coast of upstate New York. The walls are in Resene Forecast, tongue-and-groove panelling in Resene Sea Fog, floor in Resene Colorwood Mid Greywash, screen in Resene Regent Grey, side table and lampshade in Resene Quarter Sea Fog, cabinet in Resene Sea Fog with inset panels in Resene Blue Night timber lamp base in Resene Colorwood Whitewash and flower vase in Resene Raindance. Sofa and cushions from Johnston Imports (JI Home), rug from Bed Bath & Beyond. Project by Megan Harrison-Turner, image by Bryce Carleton.
About this colour:Resene Forecast is a pale blue, almost grey, reminiscent of moody clouds. It feels clean and modern and can easily create a crisp scheme in any space.
How to use it: Resene Forecast can appear almost luminous in a well-lit space, it's serene and whimsical and looks fantastic as a feature colour in modern kitchens and lounges. Style the tone with touches of deep charcoal or black in a space, or pops of white.
Complementary colours: The tone provides an unobtrusive and stylish background for all sorts of colour combinations and furnishings. Try incorporating the deep and dark Resene Gumboot or the windblown Resene Toi Toi.
Best friend neutrals: Whites and beiges like Resene Half Sea Fog and Resene Half Spanish White work well.
Whether it's a tranquil, energising or moody atmosphere you're aiming to create in your home, blue will always be a fantastic option.
Published: 19 May 2022
Do you have a home full of wonderful Resene paint and colour? Send us some snaps by emailing [email protected].
the look
If you're stuck on what
colour to use or need colour
advice, try out the Resene
Ask a Colour Expert service.