►
◄
latest
habitat tv
blog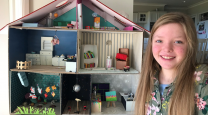 Keeping with the classics
In an age where it can sometimes feel like trends change even faster than the weather, classic design styles and colour combinations will always be in high demand. But, formulating a design that doesn't border on boring or feel like it's been frozen in history can take a bit of finessing.
Creating a look with real longevity starts with finding the right foundation to build upon – well-constructed furniture in timeless designs, durable finishes and a flexible palette that complements a whole spectrum of colour choices are a winning combination. Plus, sticking to a classic look can help you avoid the issue of a design looking choppy if you've had to stop and start your renovation.
By employing some thoughtful planning and tried-and-tested ideas, you'll end up with a design solution that can be easily adapted as tastes and styles change, a cohesive look and a project that stayed within your budget.
Published: 16 May 2019
Do you have a home full of wonderful Resene paint and colour? Send us some snaps by emailing [email protected].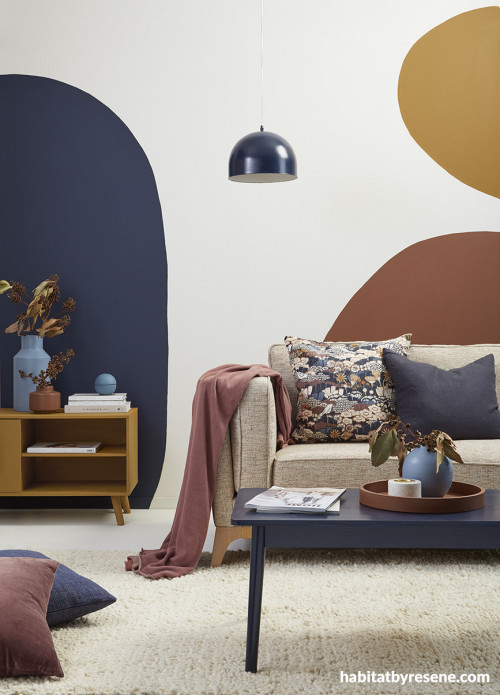 The colours in this lounge, inspired by the kimono-like pattern of the cushion, are part of the Resene Classics Collection – a specially curated selection of shades with staying power that look great in virtually any home. The wall is painted Resene Merino with shapes (clockwise, from top right) in Resene Swiss Caramel, Resene Route 66 and Resene Indian Ink. The coffee table and pendant lamp are also in Resene Indian Ink, the sideboard is in Resene Swiss Caramel and the vases are in Resene Excalibur and Resene Route 66.
Failing to plan is a plan to fail
The best design solutions start with a well thought out plan – and it's especially important if your renovation will be happening over the course of several months (or, let's be honest, years). Fleshing out a path forward that keeps your end goal at the front of the decision-making process can help you steer clear of problems later and figure out where to spend your money to get the most bang for your buck. A good plan will also help you to avoid the temptation of last-minute bargains that might not be the right fit for your design or end up looking dated by the time your project is finished.
If you're unsure where to start, it never hurts to get an expert opinion. Resene Colour Experts can assist you with colour advice, free online or at Resene ColorShops or you can book a Resene Colour Consultant to come and visit you. Or ask your Resene staff if they can put you in touch with other home and design experts in your area.
Back to basics
One way to ensure a space has staying power is to turn it into a blank canvas. Nothing beats a base that's built on good quality basics. Consider buying solid wood furniture – the best that you can afford. Coffee and side tables, drawers and shelving that can literally stand the test of time will help them keep looking better longer, which will have a positive impact on the look of the entire space. Plus, these pieces can be easily stained or repainted over and over as your tastes evolve. From there, you can start picking a palette that complements the tones in your timber.
Remember that a 'blank canvas' doesn't necessarily mean that you have to stick to simply white or cream. The right colour choices – classic tones that work like neutrals – can also be used to build a base you can bring to life with changeable extras, such as cushions, throws and decorative accessories.
As a helpful resource to get you started, Resene has created the Classics Collection – a specially curated selection of shades that have staying power and look great in virtually any home or project. Grab a free chart from your local Resene ColorShop, or order online and pick whatever colours speak to you. Or try one of these tried-and-true combinations to get you started.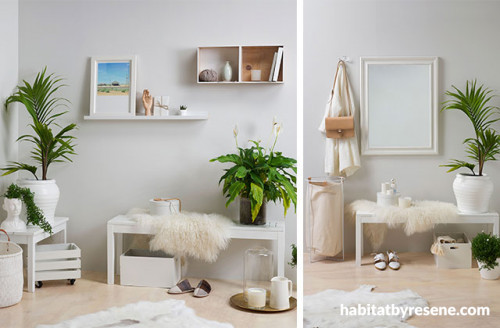 This classic white-on-white palette looks extra fresh with tropical plants and a mix of textures, including the woven basket, faux furs, and the plywood flooring finished with Resene Whitewash. The walls are painted Resene Double Black White, the benches and mirror frame are in Resene Quarter Rice Cake and the hat box and slatted crate are in Resene Sea Fog.
Classic colour combos
There is a reason why some combinations are considered classics – they work in most rooms and appeal to most tastes.
An ever-popular non-white neutral to consider is Resene Half Tea, a muted grey-beige that subtly changes in appearance depending on the light and surrounding colours. You can easily pair it with greyed blues, such as Resene Coast or Resene Dusted Blue, but it's just as successful when teamed with earthy browns like Resene Arrowtown or Resene Napa and brick reds, such as Resene Pioneer Red or Resene Redwood. For a crisp finish, opt for a bright white like Resene Black White for ceilings and trims.
Other interesting neutrals to experiment with include:
One of the most classic combinations of all is navy with white and beige, a grouping often seen in the ever-popular Hamptons style. Try going a touch darker into a blue-black such as Resene Indian Ink then complement it with Resene Alabaster and Resene Half Spanish White.
If deep blue is not your thing, opt for a paler weathered blue such as Resene Breeze for a beachy effect or swap the blue out completely for a forest green such as Resene Permanent Green.
Of course, you can't get more classic than simple black and white. You can still experiment by veering into deep greys and charcoals, such as Resene Jaguar or Resene Bastille, and into creamier or putty-toned whites like Resene Pearl Lusta. All of them make a great backdrop for layering on colourful furnishings and accessories.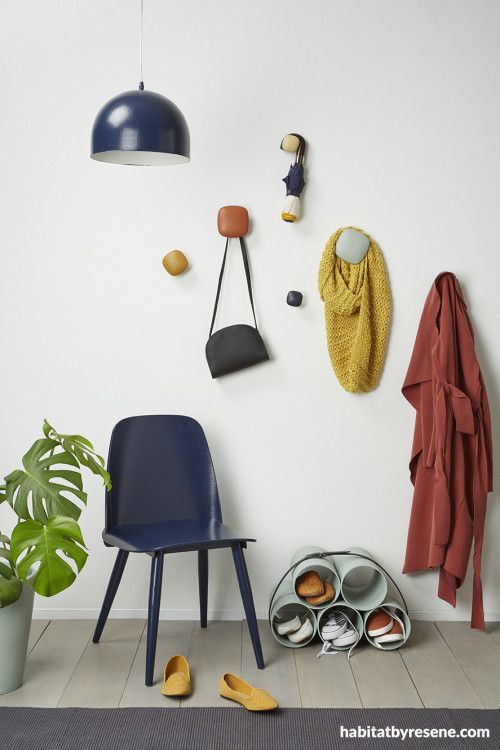 Colours from the Resene Classics Collection have been used in this simple, pared down entryway – and the look is anything but boring. The wall is painted Resene Alabaster, the timber floor is finished in Resene Colorwood Mid Greywash and the chair and pendant lamp are in Resene Indian Ink. The shoe organiser and plant pot are in Resene Pewter while the coat pegs (clockwise, from top) are in Resene Putty, Resene Pewter, Resene Jaguar, Resene Twizel and Resene Desperado.
Break it up
Too much neutral can be boring, so you may need to get a bit brave to break things up. Adding a feature wall in a bold Resene paint colour or wallpaper is an easy way to work a trendier colour into a classic palette and, if you get tired of it, it's much easier and more practical to update just one wall than an entire room.
Another way to add depth to your design is to start with a pale shade on the walls and then build up layers of deeper tones. For example, walls in Resene Biscotti could be built upon with furniture and accessories in deeper sun-baked shades, such as Resene Just Dance, Resene Soulful, Resene Desperado and Resene Twizel.
Opting for a classic palette doesn't mean you can't incorporate touches of your own personal flair, either. Try using a muted pastel shade like Resene Half Secrets or Resene Half Duck Egg Blue as your main wall colour and layer it with changeable soft furnishings in different and deeper tonal shades with pops of bold contrast. Look to the Resene The Range fashion colours fandeck for popular brights that would make an eye-catching feature, such as Resene Cleopatra or Resene Yowza.
Remember to work in a bit of texture too. Try using different tactile-looking fabrics and finishes in tandem with your classic colour palette. Natural fibres like coarse linen, smooth silk and natural wood grains can all add visual interest and, when cared for properly, will look great for years to come.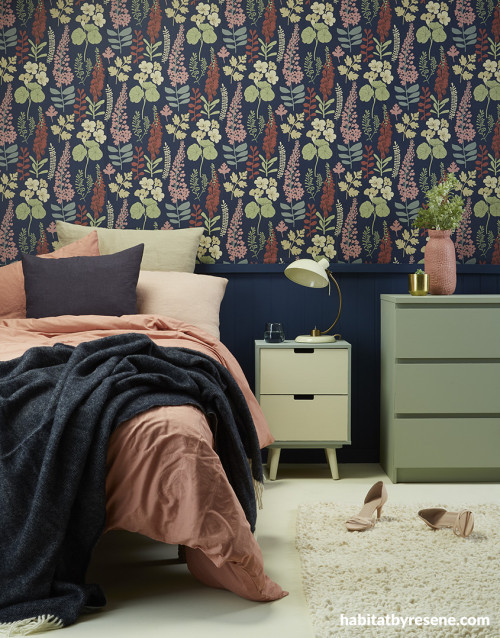 This warm and welcoming bedroom brings a series of classic colours inspired by Resene Wallpaper Collection E384534 off the walls and into the room for a well-coordinated look. The tongue-and-groove panelling is painted Resene Bunting, the set of drawers are in Resene Pewter and the nightstand is painted Resene Pewter on the outside with Resene Coconut Cream drawers and legs. The floor is also in Resene Coconut Cream.
images Bryce Carleton, Melanie Jenkins
styling Amber Armitage, Vanessa Nouwens