►
◄
latest
habitat tv
blog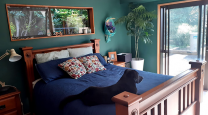 How colour affects your mood: 5 top paint colours to promote wellbeing
If peering up at the sky, out across the water or down at fallen leaves offers you a sense of calm, why not bring this feeling indoors? In an instant, certain shades can make us feel calm, content, tranquil or energised. Delve into our quick lesson in colour therapy to help you pick a new hue for your walls. Be it rainforest greens, river blues or rose pinks – Resene paint has got you covered. With winter approaching and grey days becoming more frequent, brightening up your home with a new shade is a fantastic mood-booster.
What is colour therapy?
Colour therapy (also known as chromotherapy) is based on the idea that certain colours can aid our mental and physical health. Colours can cause subtle changes in our moods and biology. Historically, plenty of civilisations have experimented with colour and recognised its varying emotional benefits. Historians say the ancient Egyptians used colour for cures and ailments. They often looked to nature and incorporated it into various aspects of their lives. Floors of their temples, for examples, were often green like the grass that grew alongside the Nile. Blue was often used in temples. Greek physician Hippocrates understood too the power of colour, he used coloured ointments on his patients.
In terms of interior design in modern times, colour therapy can be used by selecting a wall colour that speaks to you and ignites a feeling you want when you enter that room. Colours that bring you calm and balance are ideal for bedrooms and bathrooms, and more bright and energising hues are great for spaces that are more social, like kitchens, living rooms and dining rooms.
Breezy blues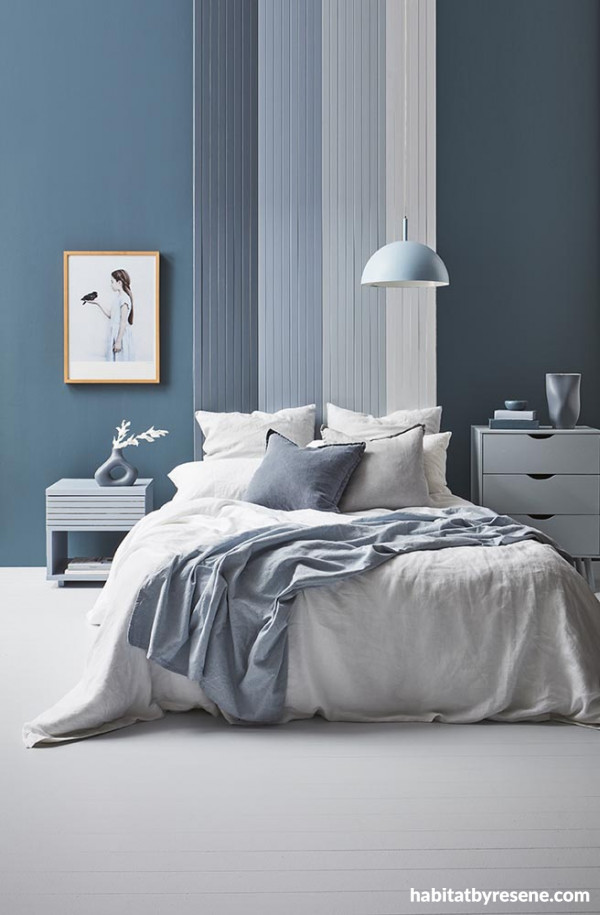 Spending time surrounded by intense colours like red can actually raise your heart rate. Resene blues, on the other hand, are among the easiest colours to live with. Darker/denim blues in particular have just the right amount of greyed dustiness to them to make them perfectly suited for our intense natural light. The wall in this calm bedroom is in Resene Rhino, floor in Resene Iron and battens in Resene Half Denim Blue, Resene Gull Grey, Resene Neutral Bay and Resene Midwinter Mist. Chest of drawers in Resene Gull Grey, bedside table in Resene Neutral Bay, pendant lamp in Resene Iron, footed bowl on bench seat in Resene Rhino, squiggle vase and crinkle vase in Resene Half Denim Blue, tealight holder (on books) in Resene Rhino and books painted in Resene Rhino and Resene Neutral Bay. Duvet cover and pillowcases from Foxtrot Home, throw and rug from H&M Home, linen cushion from Adairs. Project by Vanessa Nouwens, image by Wendy Fenwick.
Blue is among the most calming and tranquil colours in your tool kit for interior design. Psychologically, blue relaxes the mind, slowing down your heart rate and blood pressure. Blue can help you feel centred, serene and calm. Aqua and blue tones have been shown to promote better sleep in bedrooms. Blue has an array of positive effects, and little to no negative effects on the psyche.
If you're after a soothing navy hue for a bedroom, be it on a feature wall or splashed across a whole room, try tones like Resene Coast, Resene Bunting, Resene Blue Night, Resene Indian Ink and Resene Jaguar. For something with a little more grey, try Resene Breathless, Resene Forecast or Resene Neutral Bay. These tones work great in studies too, as they promote focus.
Pretty in pink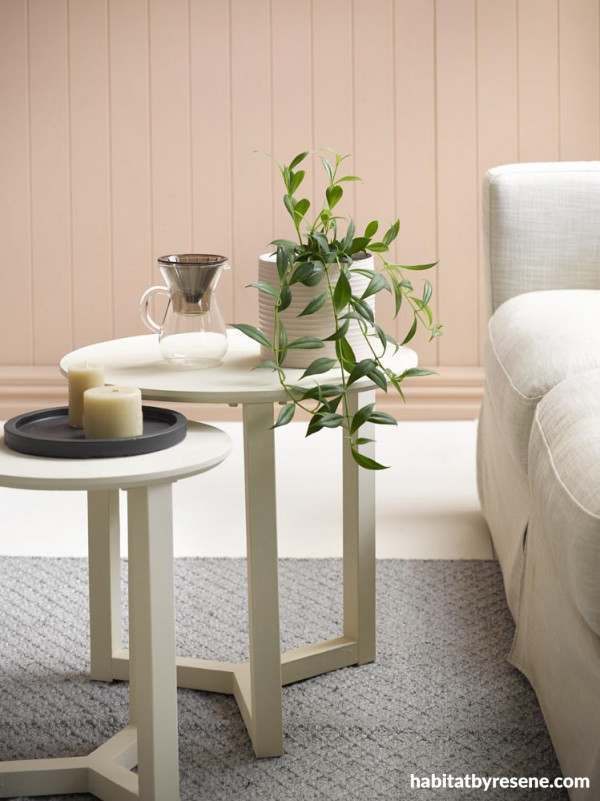 For a soft and soothing take on pink, dusky Resene Rascal on the walls is paired with warm creams. The floor is Resene Quarter Sandspit Brown and the coffee tables are Resene Spanish White. Project by Gem Adams, image by Melanie Jenkins.
Pink evokes a feeling of softness, it's a colour intrinsically linked to nature and flowers. Wellbeing-wise, it calms us. This shade has the opposite effect to its primary colour, red – the longer you are exposed to it, the calmer you can feel. Its varying shades can create an array of different moods, depending on what you are after. There is actually such a thing labelled the 'Pink Effect': in 1979, psychologist Alexander Schauss published research that proved that pink can calm the mind and lessen aggression.
Pink walls give off a subtle glow, meaning people and furnishings look brighter and more flattering. A light pink bedroom or bathroom is therefore a great option. It also works well in living rooms, it's unexpected, yet inviting and warm. Try the subtle and grown-up pink shades of Resene Soothe, Resene Just Right and Resene Dust Storm. For something a little more adventurous and bolder, go for Resene Paper Doll, Resene Wax Flower or Resene Vanilla Ice. There is no shortage of Resene pink hues to choose from.
Top tip: Pink teamed with lighter neutrals will achieve a soft, romantic vibe while darker combinations can be more dramatic. It's a colour that lends itself to a variety of styles. It is warm, elegant and soothing.
Go green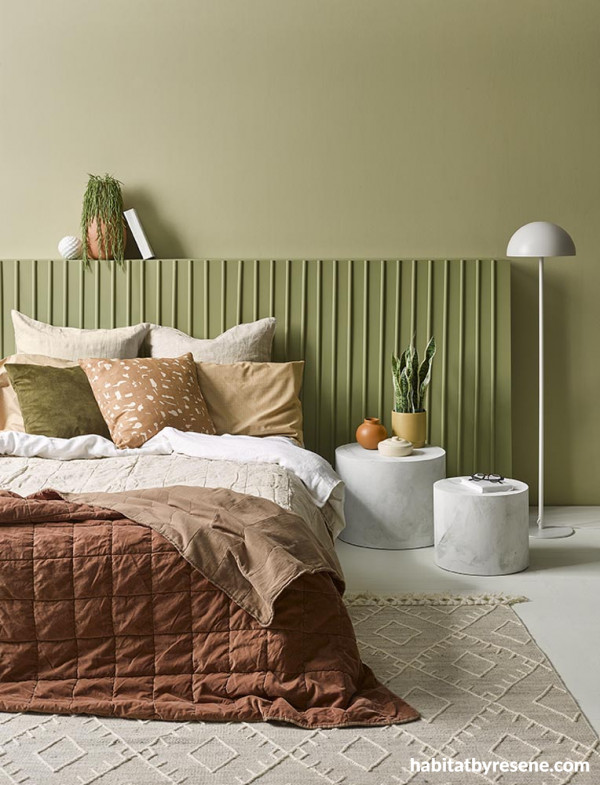 Your bedroom is your sanctuary – the place where you begin and end each day, and where you retreat to recharge your batteries. It's also a space that demands special care be taken when decorating and selecting a colour palette. Create an atmosphere of calm and promote wellbeing with green. The upper wall here is in Resene Stone Age, lower batten wall in Resene Wilderness and floor in Resene Green White. Side tables in Resene Alabaster with 'marble effect' in Resene FX Paint Effects medium mixed with Resene Rolling Stone, cacti plant pot in Resene Celeste, jug vase in Resene Spitfire, diamond-textured vase in Resene Half Duck Egg Blue, tiny vase in Resene Lime White, large vase in Resene Beethoven, lidded dish (on table) in Resene Hampton, round vase in Resene Toffee and plant pot in Resene Teak. Rug from Freedom Furniture, lamp from The Design Store, linens and cushions from Città. Project by Laura Lynn Johnston, image by Wendy Fenwick.
The human psyche associates nature with freshness, safety and peace. You can support restfulness and rejuvenation with green shades. Earthy greens have long been touted as some of the most calming colours around, primarily for their association to nature. It's one of the most restful colours for your eyes, and is known to be restorative and mind-clearing. It makes sense then to look to this section of the colour wheel as the base of your palette for a room. Try Resene Paddock, Resene Rivergum and Resene Flax for soft grey-green looks. For a darker, deeper dive into green, opt for Resene Forest Green, Resene Seaweed or Resene Midnight Moss.
Top tip: The trick with using a calming base tone in a room is finding a balance between building up those serene soft tones and evoking enough interest and intrigue to keep the space from becoming boring. The easiest way to achieve this is by building up tactile and visual texture, then picking great accent colours to complement your hero hue.
Embrace earth tones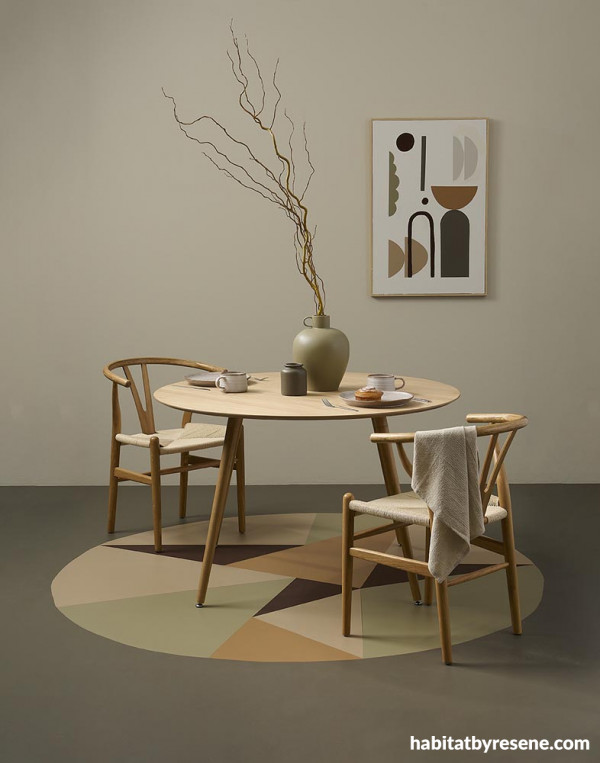 Building a colour palette on grounding and earthy hues like Resene Dusty Road,Resene Lichen, Resene Half Nomad,Resene Brown Sugar and Resene Brown Pod will bring a sense of warmth and comfort to your space while at the same time being playful and energising.Wall in Resene Half Akaroa, floor in Resene Mondo with round painted rug in Resene Brown Pod,Resene Lichen,Resene Brown Sugar and Resene Dusty Road. DIY artwork in Resene Quarter Akaroa with shapes in Resene Mondo, Resene Brown Sugar, Resene Half Akaroa,Resene Half Nomad,Resene Lichen, Resene Dusty Road and Resene Brown Pod. Vases in Resene Quarter Akaroa, Resene Mondo, Resene Brown Sugar, Resene Half Akaroa, Resene Half Nomad, Resene Lichen, Resene Dusty Road and Resene Brown Pod, chair in Resene Brown Pod and hall table in Resene Dusty Road.Table from Nood, chairs from Mood Store, rug from Freedom Furniture, plates, mugs and cutlery from Briscoes. Project by Laura Lynn Johnston, image by Bryce Carleton.
Want to feel grounded and nurtured in a space? Try earth tones, that is, any tone with some brown pigment. These hues evoke warmth, they help us find our centre. They can work especially well in living spaces and kitchens. Brown tones can create a sanctuary-feel in a home. Earth tones are incredibly satisfying colours to work with because they come together so harmoniously. You can mix and match without much hesitation because these tones are all present in nature. They fit naturally with each other.
For deep soil tones, try Resene Mission Brown, Resene Lignite or Resene Mondo. Pair them with other earth tones like Resene Mai Tai, Resene Swiss Caramel or Resene Colins Wicket.
Bring in the sun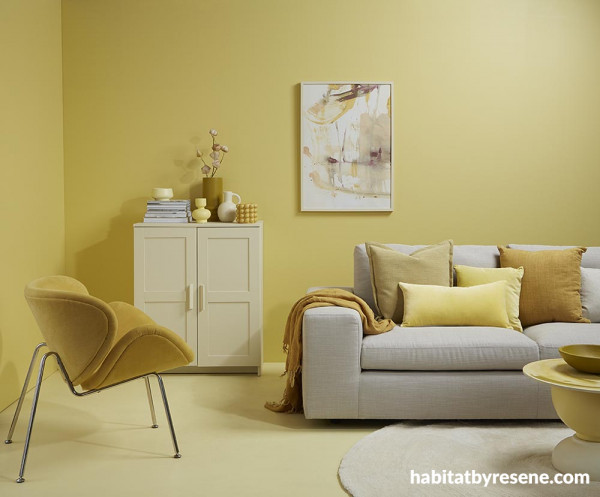 Enjoy the sunshine, even on a dull day, in a lounge that evokes the radiance and joy of tonal yellow decorating. Walls in this lounge are Resene Chenin and floor in Resene Mellow Yellow. Coffee table in Resene Stinger, low dish in Resene Gin Fizz, artwork frame in Resene Blank Canvas, two door cabinet in Resene Double Spanish White, cream vase in Resene Solitaire. Sofa from Freedom Furniture, chair from Nood. Project by Vanessa Nouwens, image by Bryce Carleton.
Soft and sunny, yellow is a classic mood-booster. Offering energy, vibrancy and positivity, yellow is a fantastic colour to add to your home if you're after any of these effects. Bright, electric yellows can inspire energy and passion, and soft buttery shades are closely related to feelings to happiness, optimism and confidence.
Kitchens are a great place to use yellow, offering a very welcoming and warm greeting. An energy boost in the morning is usually needed, so it's welcome here! Cream and pink are the perfect colours to add contrast into a yellow room but choose one or the other. Bring a bright pink like Resene Lipstick in through cushions and painted vases for more of a fun, punchy look. For something more calming, a soft cream such as Resene Half Spanish White is your go-to.
Try Resene Popcorn or Resene Sidecar for a softer take on yellow, or Resene Broom and Resene Bright Spark if you want a shade that packs a punch.
Top tip: Yellows intensify more inside than any other colour. If in doubt choose a lighter option so you can enjoy your yellow without it being overpowering or use stronger yellows on a feature area and team with lighter colours to balance it out.
Whether you're after an energising lift, a dose of tranquillity or an injection of zen in a space, there's something to suit the mood you want to create in each space. If you need help choosing your favourites, ask a Resene Colour Expert for help – in store, online, or book a consultation.
Published: 09 Jun 2022
Do you have a home full of wonderful Resene paint and colour? Send us some snaps by emailing [email protected].