►
◄
latest
habitat tv
blog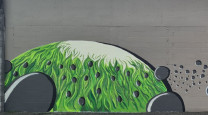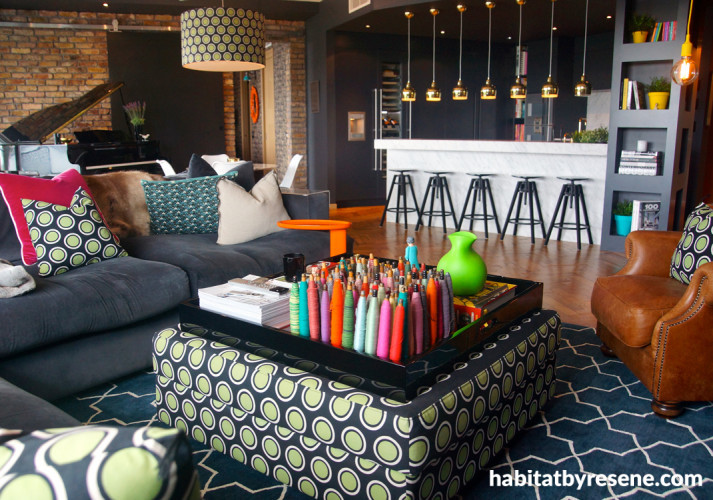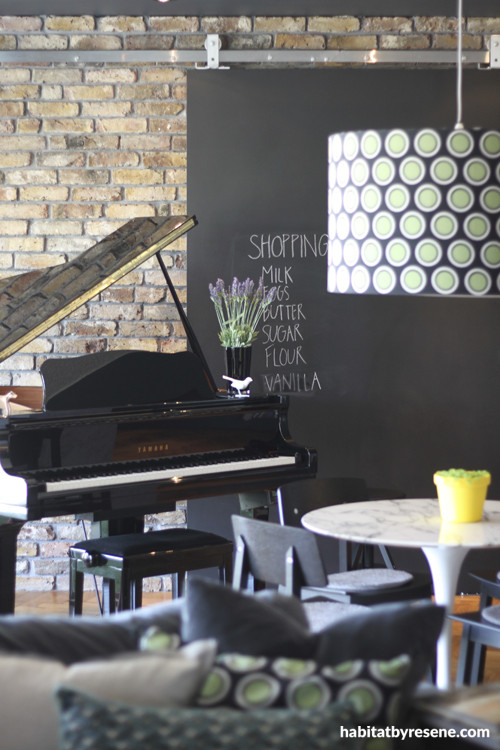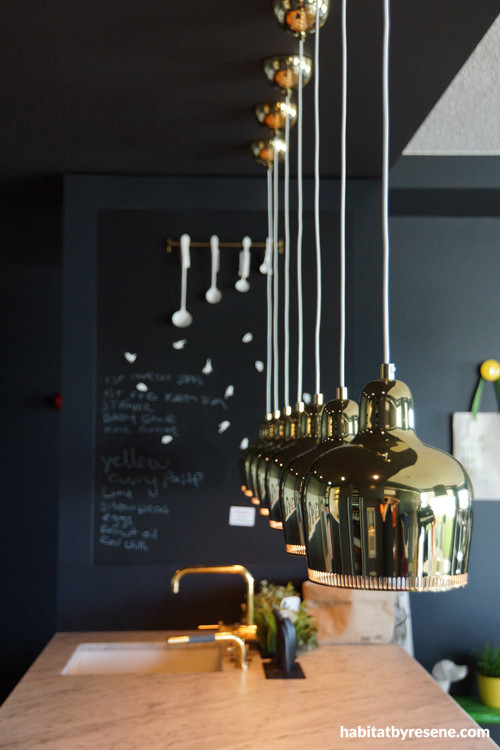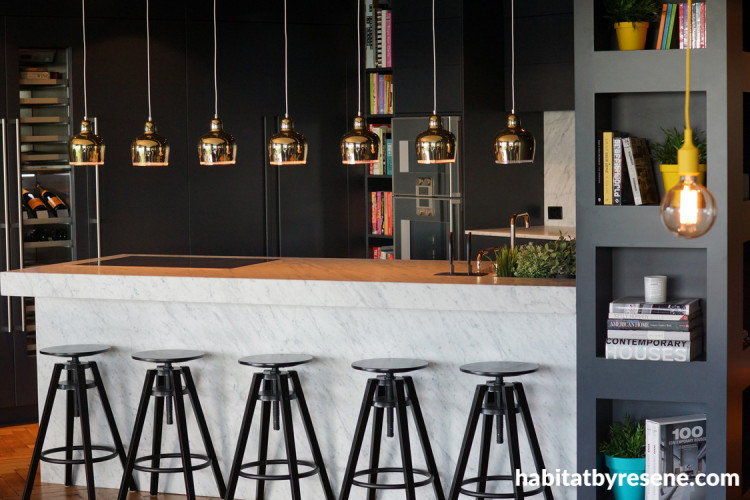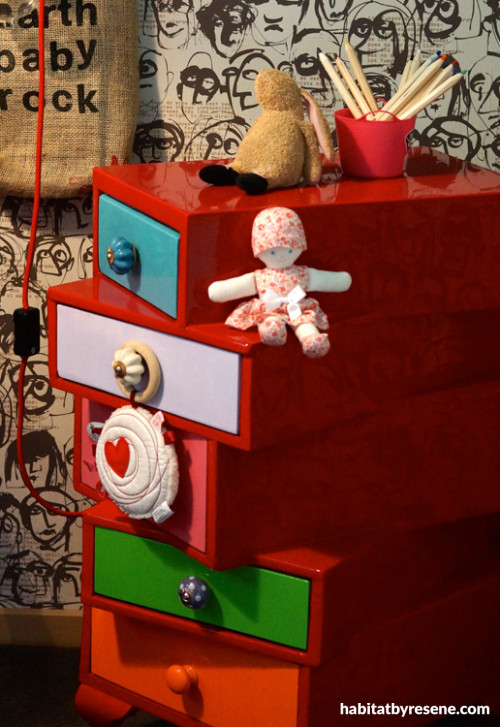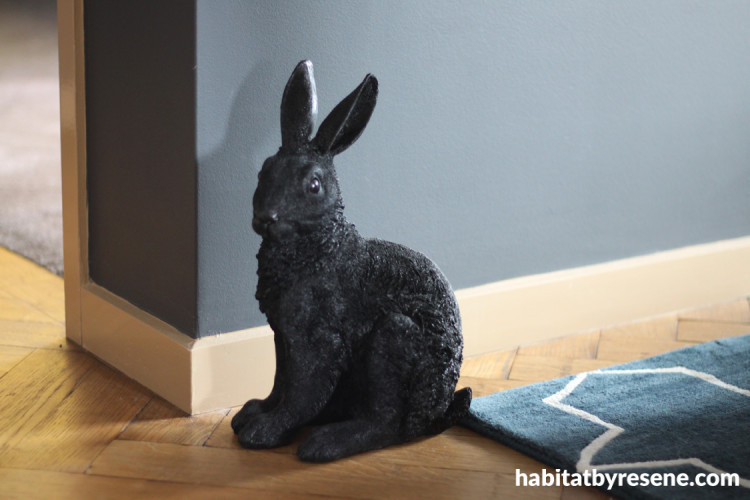 Heidi and Kim's storybook apartment
'Globetrotter' is an apt description of Heidi, of Yohm Interiors, and husband Kim.
For several years, the couple has split their time between working and living in London, exploring Europe, and relaxing in their home-away-from-home, a sea view apartment on Australia's Sunshine Coast.
It's there that they recently completed a fantastical makeover, using a canvas of Resene colour and inspiration from Lewis Carroll's classic book Alice in Wonderland.
Says Heidi: "Mooloolaba has always been our 'fun spot', and so the inspiration was exactly that… 'fun for grownups' with a lot of worldly sophistication thrown in and a few unexpected twists."
Perhaps most unexpected is the rich history that lies within the home – from the antique parquetry flooring sourced from Bordeaux, to a rustic brick wall from Heidi and Kim's London garden, both circa 1700s.
Dedicated places are designed to get the creative juices flowing, such as the door of the master bedroom painted in Resene Blackboard Paint. Kids and adults alike are invited to scribble and play tic tac toe on one side; the other is reserved for secret love notes and private messages between Heidi and Kim.
With the apartment now up for sale, Heidi talks to us about the inspiration behind the whimsical makeover.
How did the project come about?
We'd owned the unit, known as UNITFIVE, for 10 years and it was serving us well as a brilliant holiday home. However, the interior had never received the attention to detail that some of our other homes had.
The apartment needed modernising, and needed ambience and persona, especially since we were planning to spend more time on the coast. We wanted to establish the same contemporary warmth and sophistication at UNITFIVE that we experience elsewhere.
How did you decide on the overall look of the interiors?
This project was inspired by the Lewis Carroll story Alice in Wonderland. I wanted it to feel like one had fallen down a dark rabbit hole and arrived at the Mad Hatter's tea party – entering a whimsical fantasia, with breathtaking views. Hence colours pop, the walls talk, light cables swing, and life is overscaled and large.
What was the biggest decorating challenge for this project?
A major design challenge was too much light in the apartment. I specified Resene Foundry to create a canvas that absorbs much of the pinching glare, and prompts a homely, nurtured feeling when inside.
We can now enjoy the view while watching television, reading, snoozing and relaxing – without having to close the blinds and forgo the wonderful views just to be comfortable.
Read more: Rennee and Bryan's born-again kitchen
Published: 15 Jan 2015
Do you have a home full of wonderful Resene paint and colour? Send us some snaps by emailing [email protected].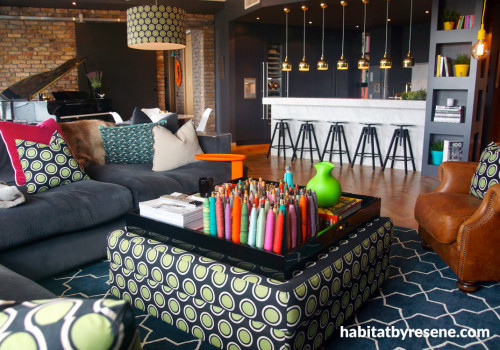 The apartment is a magnet for light, sometimes uncomfortably so. Heidi and Kim used Resene Foundry to absorb excess light and glare, and as a backdrop for the bright details dotted throughout.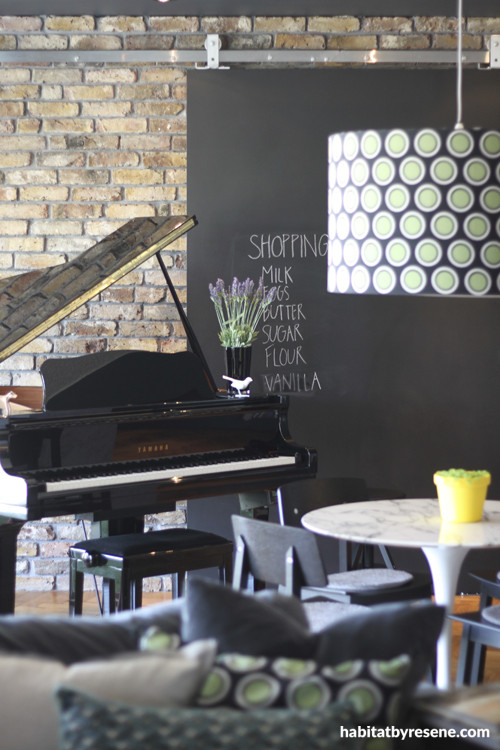 An industrial door painted in Resene Blackboard Paint adds both a practical and entertaining aspect to the apartment, from writing shopping lists to creating a game of tic tac toe.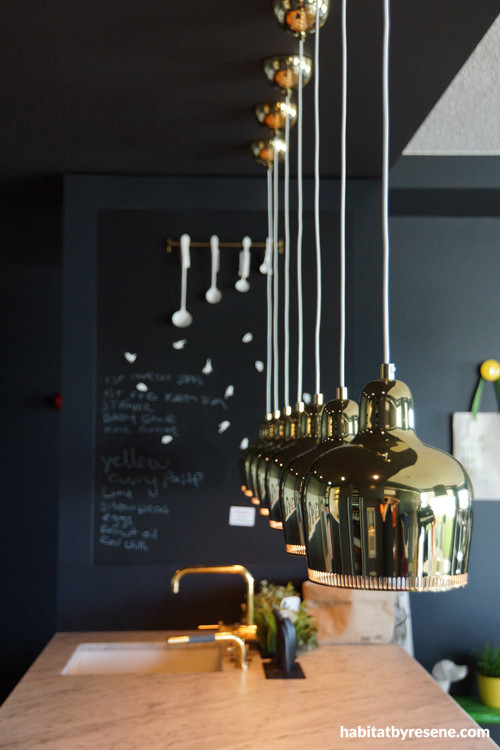 A smaller chalkboard in the kitchen, with an undercoat layer of Resene Magnetic Paint, is used to post photos, cut outs, notes and reminders.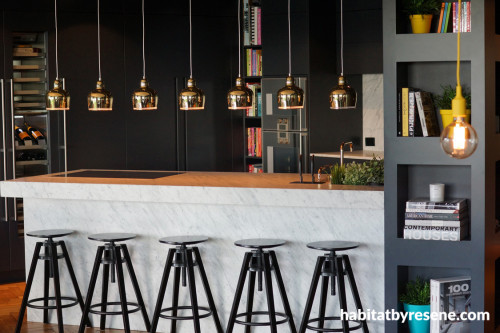 The rest of the kitchen, where Resene Foundry extends from the living room to the walls and cabinetry of the sun-facing room.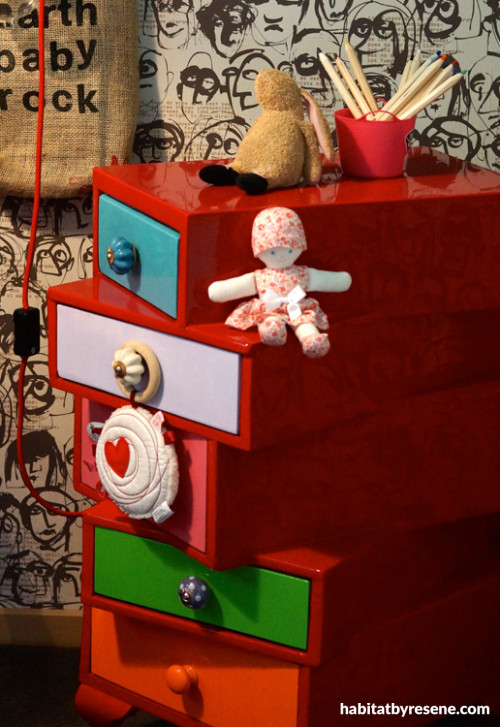 Pieces of furniture are painted in customised Resene shades throughout the home. Replicate the colours of this kid's cabinet with Resene Smashing (red), Resene Freefall (blue), Resene Abbey Road (purple), Resene Glorious (pink), and Resene Orang-atan (orange). Achieve the high gloss finish with Resene Super Gloss (solventborne) or Resene Enamacryl (waterborne).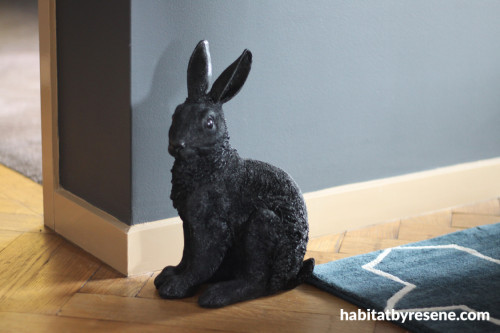 "I'm late, I'm late!" The famous book Alice in Wonderland inspires the look of this apartment. Unlike the white rabbit, this bunny is happy to patiently sit as decoration, in front of a wall painted in Resene Foundry and trims in Resene Buff. Floors are French Oak antique parquetry from Bordeaux, circa 1770.








the look
If you're stuck on what
colour to use or need colour
advice, try out the Resene
Ask a Colour Expert service.