►
◄
latest
habitat tv
blog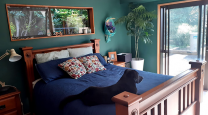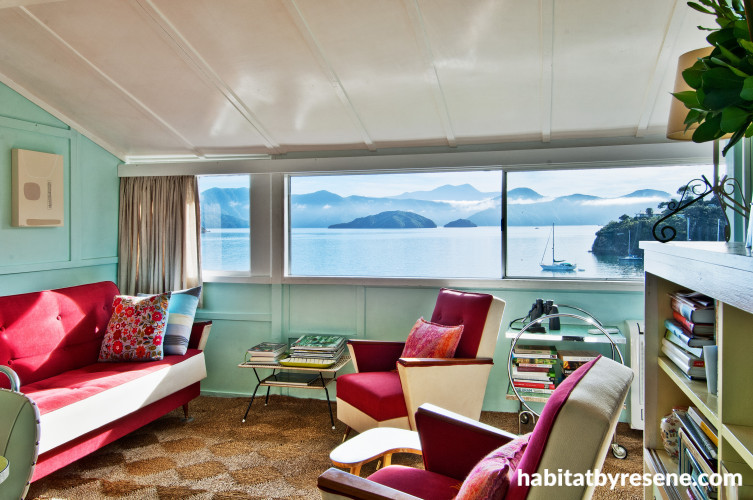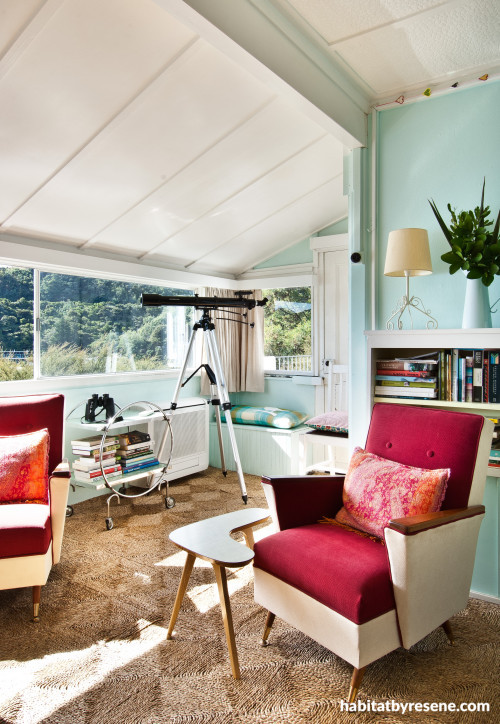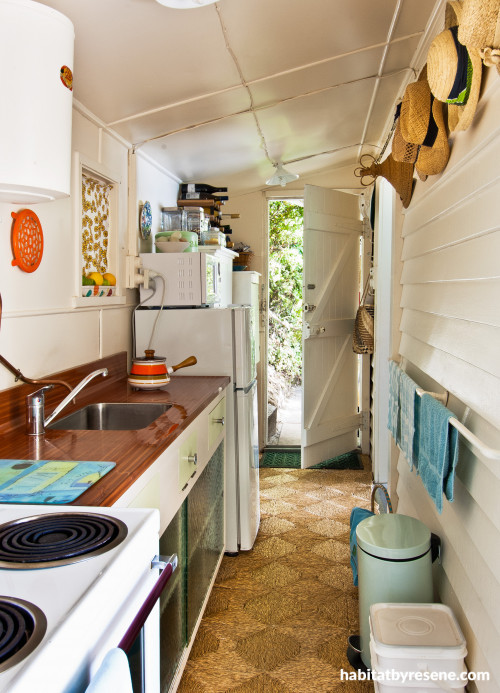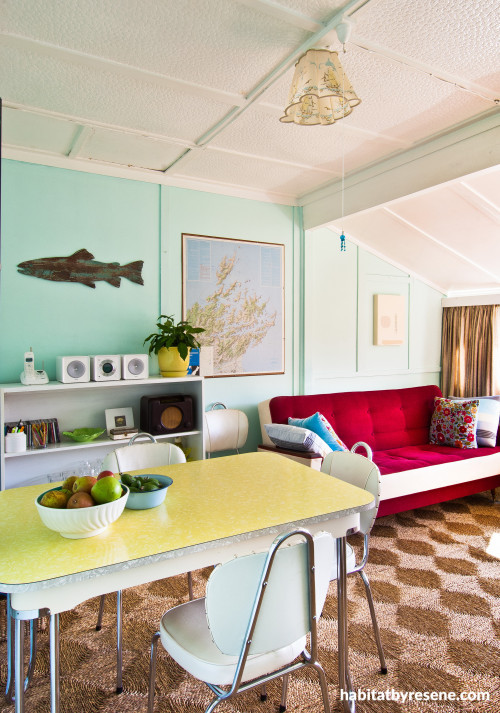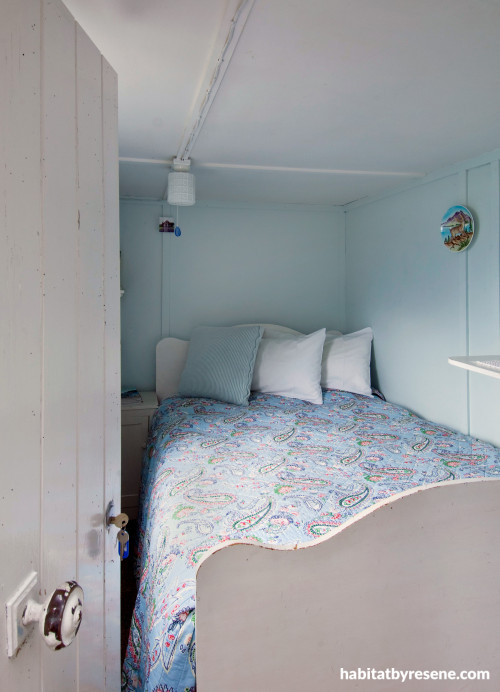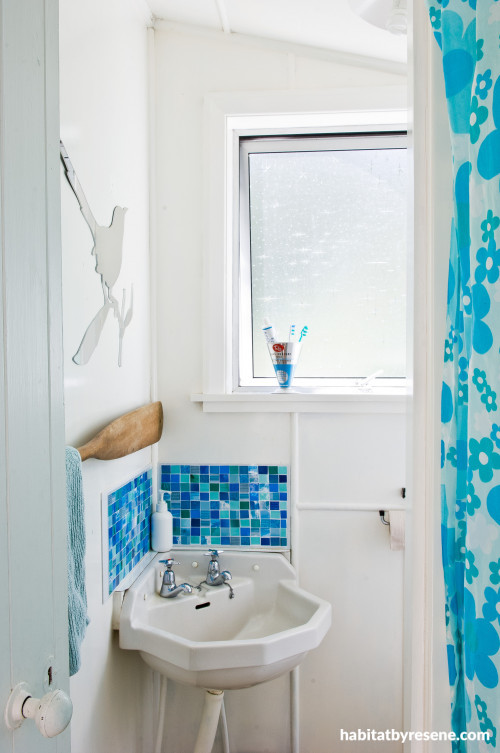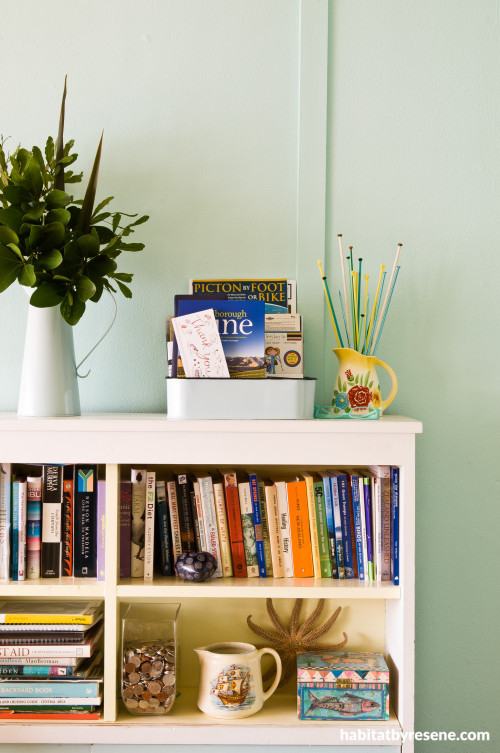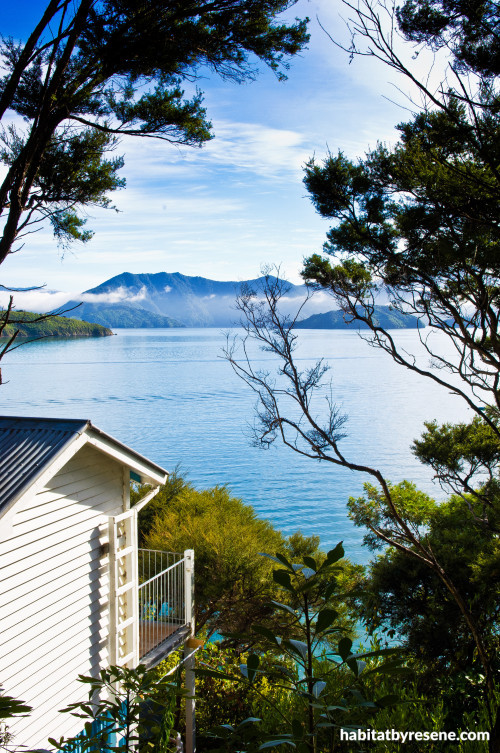 Hazel and Chris's super cute retro bach
This tiny 1950s bach is legally protected from change, inspiring its owners to honour its origins with a delicious refurbishment using seafoam turquoise Resene paint and mid-century furniture.
Hazel Kirkham and Chris Elphick have owned the cute leasehold bach in the Marlborough Sounds since 2006. Living in Wellington, they both travel a good deal for work and while they're lucky enough to spend a lot of time in the Pacific Islands, they say there's nothing quite like spending a few days at their hideaway in the Sounds.
What was your approach to renovating the bach?
The terms of the leasehold mean that the owners cannot extend or substantially change the building. That restriction is a really good thing from our point of view because it means we're not tempted to pull the place down and build something that would cost a fortune and not make us any happier.
We bought the place because we fell in love with it as it was, all 64 square metres of it. So we've tried to be true to that, and do the minimum needed to make it comfortable and convenient. That's a tricky mix to get right. It would be easy to get precious. Our rules are that everything that is brought into the bach has to be found, second hand, bought from Trade Aid, or just too gorgeous to resist. And clutter is banned.
We have added insulation and a heat pump, so the bach is cosy in winter, an awning so that the balcony becomes like an extra room in summer, and a cedar hot tub outside, so that we can soak under the stars.
When we are not using the bach, we rent it to holiday visitors. Most of our guests are Kiwis, particularly honeymooners, who just love the retro style mixed with luxury touches like modern appliances and wi-fi.
What Resene colours have you used, and what inspired those choices?
We didn't want to lose the mid-century feel. The turquoise walls and lemony paintwork on the cupboards and shelves were definitely part of that so I looked for Resene colours that matched – Resene Half Foam for the living room walls with Resene Chill Out as an accent, mainly in the kitchen. I also used good old Resene Quarter Spanish White. It may be an oldie but it is certainly a goodie. I used to own an art gallery and I found Resene Quarter Spanish White was perfect for some of the walls as it didn't fight with all the colours around it.
What is your advice for someone trying to achieve a similar look?
If you fall for an older property, be sure to identify exactly what it is that first made you go 'Ah, I love this'. Then hang on to those features. It is so easy to wipe out the essentials in the excitement of renovation.
The biggest challenge was to resist over-doing things. Having a retro look means that every op shop brings another temptation to add one more thing, when actually, less is more.
Do you have a favourite colour?
Many years ago I went to a restaurant in Europe where they had used three different colours for the seats – yellow, coral and sky blue. The effect was stunning, really sunny and uplifting without being garish. Ever since then I've used that combination as a starting point for colour schemes. So it was interesting to realise that raspberry, lemon and turquoise are typical holiday home colours. The colour I most often use as an accent in interiors is raspberry. It works brilliantly with any neutral background and a whole range of other accent colours.
Chris and Hazel's bach is available for holiday rentals at www.bookabach.co.nz/8560. Photography by Paul McCredie.
Published: 06 May 2015
Do you have a home full of wonderful Resene paint and colour? Send us some snaps by emailing [email protected].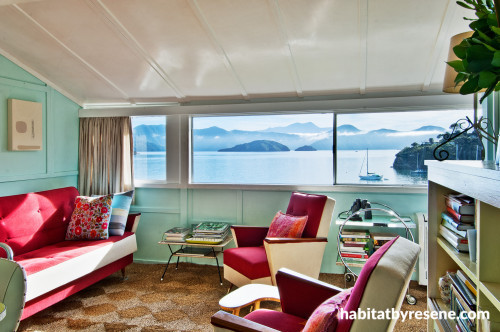 Painted in summery classics like raspberry, turquoise and lemon, this tiny bach in the Marlborough Sounds is a holiday maker's dream getaway.
Turquoise goes retro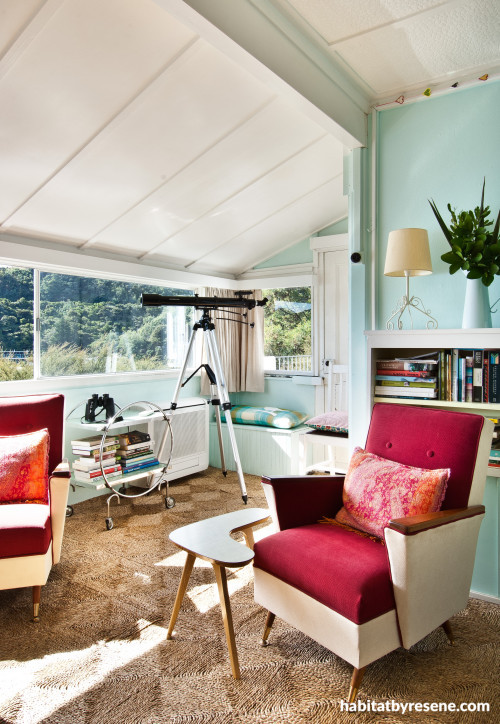 Hazel and Chris used a classic combo of raspberry and turquoise to give their bach a retro twist with walls in Resene Half Foam. Trims and ceilings are in Resene Quarter Spanish White.
Like a time capsule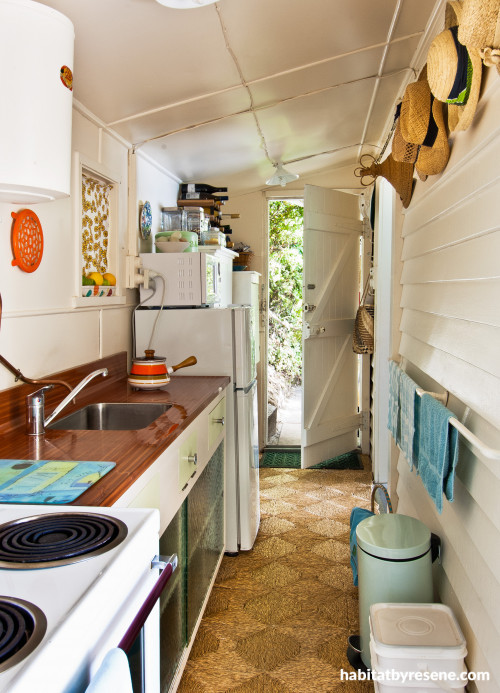 With restrictions on extensions or substantial changes, Chris and Hazel were happy to enhance the original interiors rather than completely change them. The cute galley kitchen is largely untouched with a spruce-up in Resene Quarter Spanish White and drawer fronts in Resene Chill Out.
Texture and treasures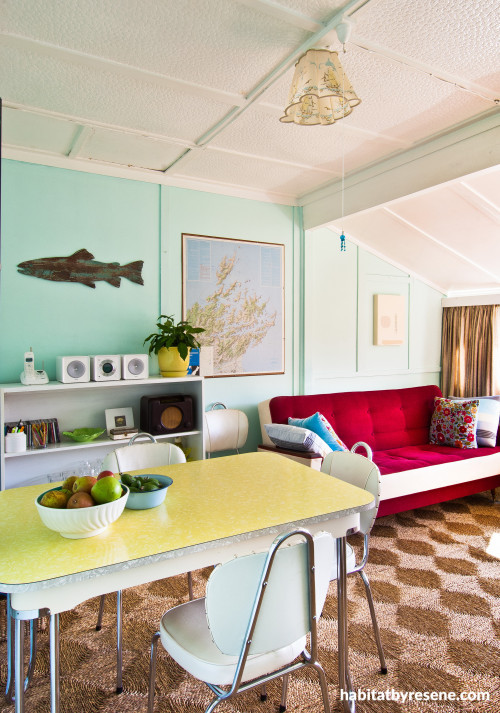 Seagrass matting and mid-century furniture like the Formica dining table give extra personality to a bach already brimming with character.
So restful, and cute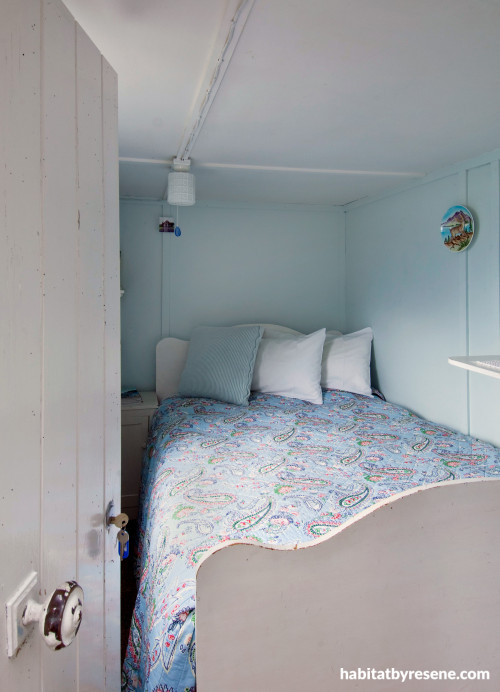 Resene Half Foam flows into the bedrooms too with linen chosen to tone in.
Small but serviceable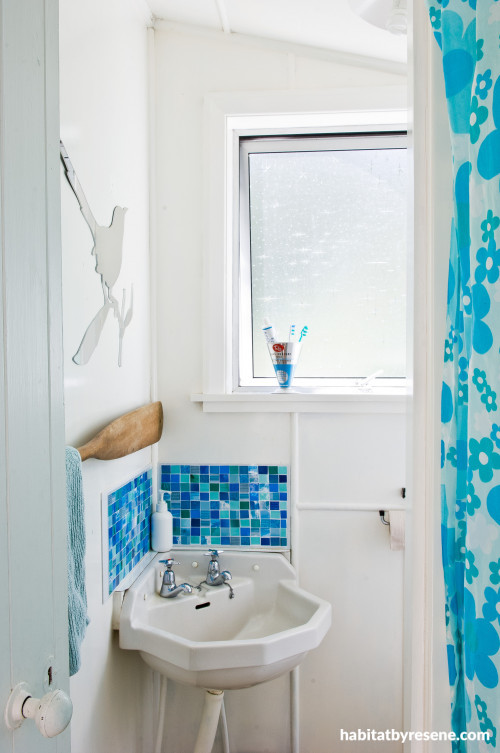 A bird mirror, an oar repurposed as a towel rail, an original Deco-style corner basin and sea-coloured tiles – all you need in a bach bathroom!
Less is more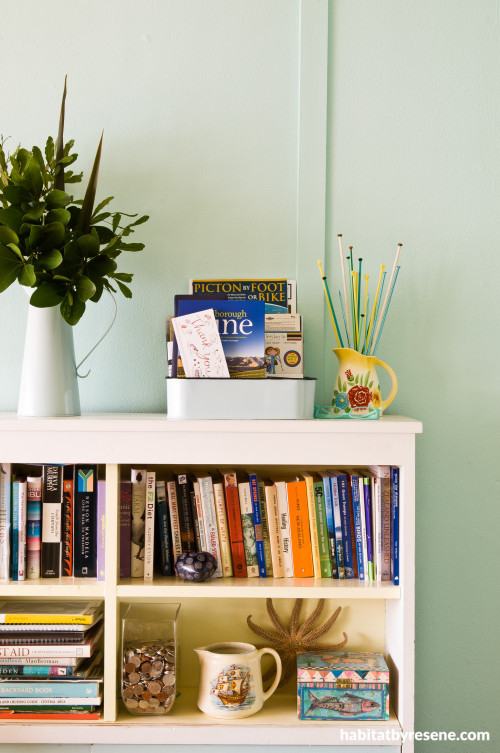 Even the bookshelf follows the couple's rule that less is more, with its restrained but interesting collection of books and objects. Says Hazel: "The biggest challenge was to resist over-doing things. Having a retro look means that every op shop brings another temptation to add one more thing."
A magical setting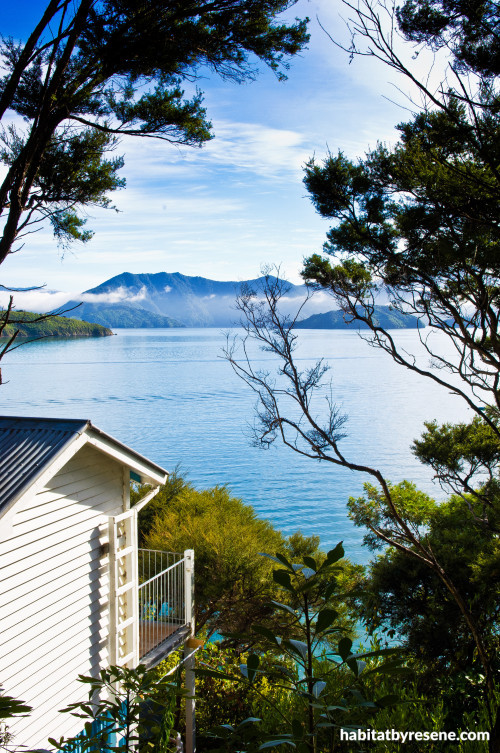 Looking past the bach out into the Marlborough Sounds were mist hangs on the distant hills.
Resene Quarter Spanish White
the look
If you're stuck on what
colour to use or need colour
advice, try out the Resene
Ask a Colour Expert service.