►
◄
latest
habitat tv
blog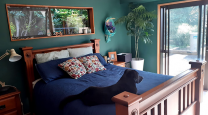 Get your summer spaces guest-ready: Silly season tips for sleepouts, caravans, outdoor areas and guest rooms
Wahoo, summer's nearly here! But before you sit back, relax and kick into holiday mode, it's time to pay special attention to those areas that come into use for gatherings of friends and families. Whether you're hooking up the caravan to camp at your favourite beach or making your backyard barbecue ready, Resene has an array of products to clean, refresh and transform your spaces before the guests arrive.
Transform your transport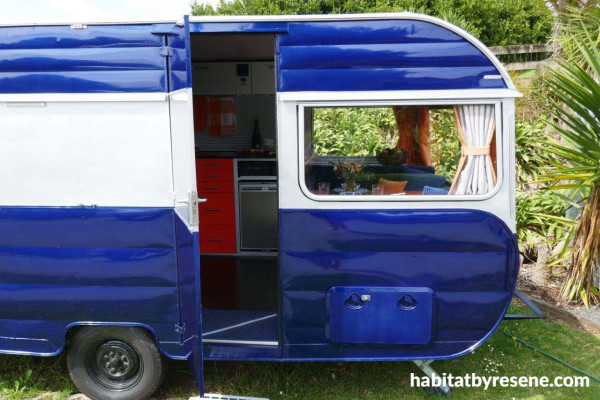 Resene Surf's Up provides the perfect holiday vibe for Sandra and Cameron's caravan.
Nothing screams summer like an electric blue caravan. Sandra and Cameron's creative project saw them transform a dilapidated caravan into a vibrant home with bright Resene Surfs Up on the exterior and energetic Resene Trinidad on the interior cabinetry. "Although the caravan is a very small space, we wanted to have a distinction between the living area and the bedroom area," says Sandra, who brought the outdoors in by painting the bed base and bathroom area in Resene Surfs Up to create contrast with the Resene Trinidad cabinetry. "We were a little worried that this might be too much in such close confines but are really happy with the bright and cheerful look.
"It has been a long road to this point, but the real fun part of the journey starts now as we get hooked up and embark on our adventures."
If there's one takeaway from Sandra and Cameron's ambitious renovation, it's that colour is the crux of successful design. Bright colours will naturally lighten a space, creating interest without a sense of clutter. Limit your bright colour palette to two vibrant colours, such as Resene Resolution Blue and Resene Guardsman Red, with a supporting neutral colour such as Resene Black White for a crisp finish.
Top tip – Caravans locked up over the winter can often develop mould and left unchecked it can damage paintwork and woodwork. Give your interior and exterior surfaces a clean using Resene Moss & Mould Killer. Remember to open windows to allow air to circulate too.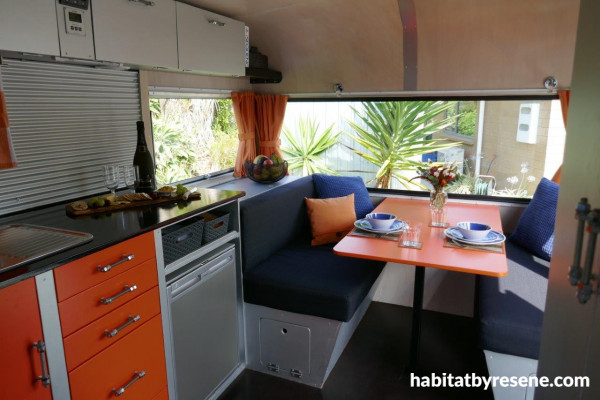 Inside the caravan, Sandra and Cameron weren't afraid to use bright colours and splashed Resene Trinidad across their cabinetry and dining table. The benchtop is in Resene Black and the ceiling is in Resene Aquaclear mixed with Resene Colorwood Enhance White.
Sleeping out in style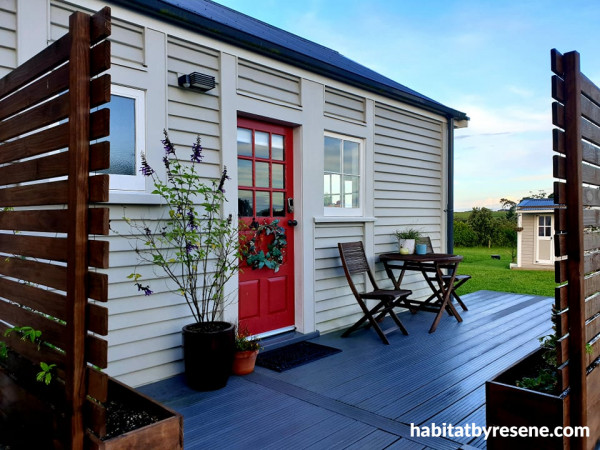 The 110-year-old Victorian villa Huntly House rents out the sleepout as an Airbnb. The weatherboards are in Resene Double Truffle and trim in Resene Half Sea Fog. The door painted in Resene Pohutukawa mimics the vibrancy of the surrounding natural landscape and the deck is in Resene Quarter Grey Friars.
Sleepouts are one of the ultimate DIY projects, and often great examples of ingenuity. This little room at Huntly House in Clark's Beach, originally housed the large generator for the house. The small space has been renovated into a sleepout by the home's owner Hayley and is also an Airbnb Link here: Hayley's Profile - Airbnb. A pop of red Resene Pohutukawa cheerfully welcomes guests. Hayley painted the exterior weatherboards in Resene Double Truffle complete with Resene Half Sea Fog trim and carried on the theme in the interior space, where the south-facing room glows in Resene Quarter Truffle with Resene Sea Fog trim that complements the dark vinyl floor.
"As much as I love moody, decadent colours for a bedroom, because of the southern aspect and multiple functions – sleeping, eating, watching TV, reading, working – in such a small space, I decided to keep the walls light with tonal differences appearing in the window treatment and carpet colour," says Hayley. "I think deeper or bolder colours can be used in smaller rooms depending on the function of that space and what light requirements it may have for that use."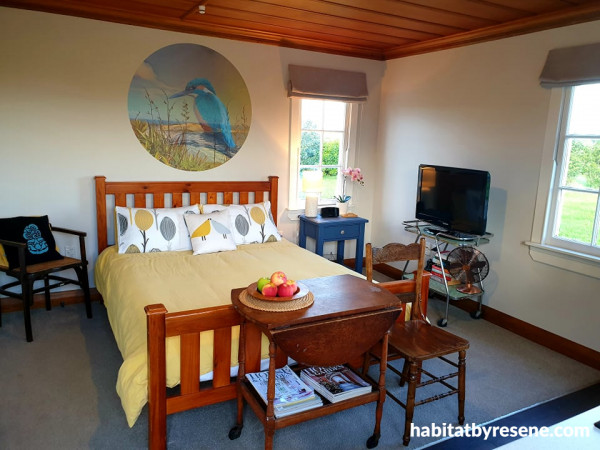 Huntly House's sleepout is light, bright and cheerful with Resene Quarter Truffle on the walls and Resene Sea Fog trim.
When working with small south-facing rooms, it's best to keep to lighter colours, but this doesn't mean you have to cast aside creativity entirely. Using yellowed neutrals such as Resene Quarter Tana and Resene Biscotti will reflect what natural light there is in the space, creating a warm glow that will imitate the atmosphere of a sunny room. Read more about the history of Huntly House here Three storey 110-year-old villa is rejuvenated with Resene paints after surviving tornado and 600km relocation | Habitat by Resene
Always check your local council bylaws when it comes to building or installing sleepout or cabin as you may require a consent. Buildings under a certain size may not require a consent if there is no potable water but many council bylaws state a sleepout or cabin must be associated with a main dwelling where toilets and running water are available.
Top tip: When renovating heritage buildings, protect native timber with Resene Qristal Clear. This hardwearing polyurethane is ideal for native timber ceilings and skirtings in homes with native timber such as kauri or rimu and comes in flat, satin and gloss and Resene Qristal ClearFloor, a highly durable clear coat ideal for native timber floors.
Think outside the box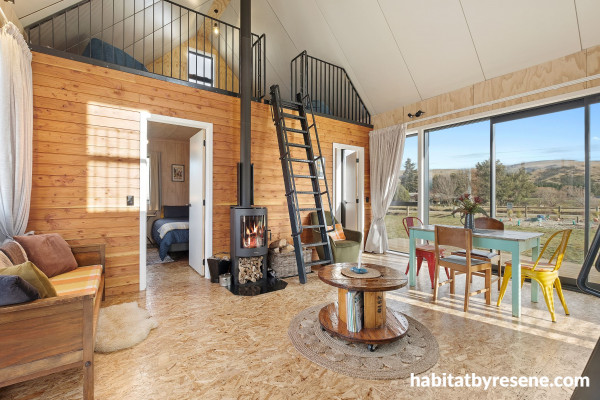 The floors of this Voyager Cabin are finished in Resene Aquaclear with Resene Half Black White on the ceiling and trim. The feature larch wall is finished in Resene Qristal Clear polyurethane satin and the surrounding plywood walls are in Resene Colorwood Rock Salt.
Voyager Cabins is a great example of thinking outside the box to create a living space.
The cabins were converted from a shipping container by Shanon and Shelley as accommodation for cyclists completing the Clutha Gold Cycle Trail. They achieved a backcountry chic look by combining natural timber finished in Resene Aquaclear with bright ceilings in Resene Half Black White. "We wanted the buildings to be modest, existing in natural surrounds and enabling people to spend time relaxing in the outdoors," says Shanon.
"We wanted the cabins to look elegant, but not flashy, with a relaxed country modern vibe."
If you want to keep things simple but effective in your own tiny home, wood and white is always a great combination. Try pairing walls in Resene Colorwood Natural with whites such as Resene Quarter Merino or Resene Rice Cake. Using white on your ceiling and walls will reflect natural light, making your small space feel bright and open. Introduce natural elements, such as houseplants or accents in Resene Green House or Resene Dell, to make your tiny home feel like an extension of nature.
Read more about Voyager Cabins here.
Barbecue ready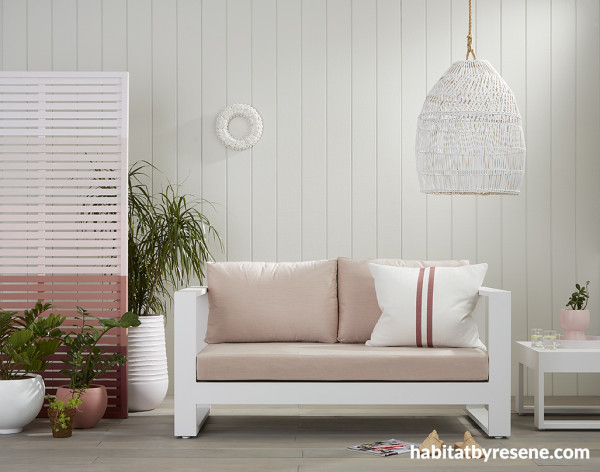 Wall in Resene Triple Merino, deck in Resene Woodsman Tiri, ombre screen in (from top to bottom) Resene Ebb, Resene Soothe, Resene Paper Doll, Resene Coral Tree and Resene Merlot, plant pots in (from largest to smallest) Resene Ebb, Resene Alabaster, Resene Coral Tree, Resene Paper Doll and Resene Merlot and pendant lampshade in Resene Alabaster. Sofa and coffee table from Outside Space, cushion from Collect Living.
In the event of a surprise 'pop-in' from relatives during holiday season, it pays to have adaptable outdoor spaces. Barbecues are the perfect way to cater for unexpected guests but make sure your outdoor areas are also ready for unscheduled arrivals. Cleaning your deck with Resene Timber and Deck Wash is the quickest way to clean up your timber outdoor areas. Once you've moved the furniture off your deck, it will only take a few hours to re-stain the timber with Resene Woodsman Decking Stain, Resene Woodsman wood oil stain or Resene Furniture and Decking Oil. Opt for a Resene CoolColour, which features heat reflective technology. You can also revamp tired outdoor wooden tables and chairs with Resene Timber and Furniture Gel. Create entertaining zones by using simple trellis to create screens and investing in modular outdoor furniture will help you adapt the space to find extra seating for additional guests.
Top tip: Attach two or more framed trellis together to creating a folding outdoor screen. Paint with Resene Lumbersider, a tough waterborne exterior paint to ensure maximum durability in all exposed conditions.
Gussy up a guest bedroom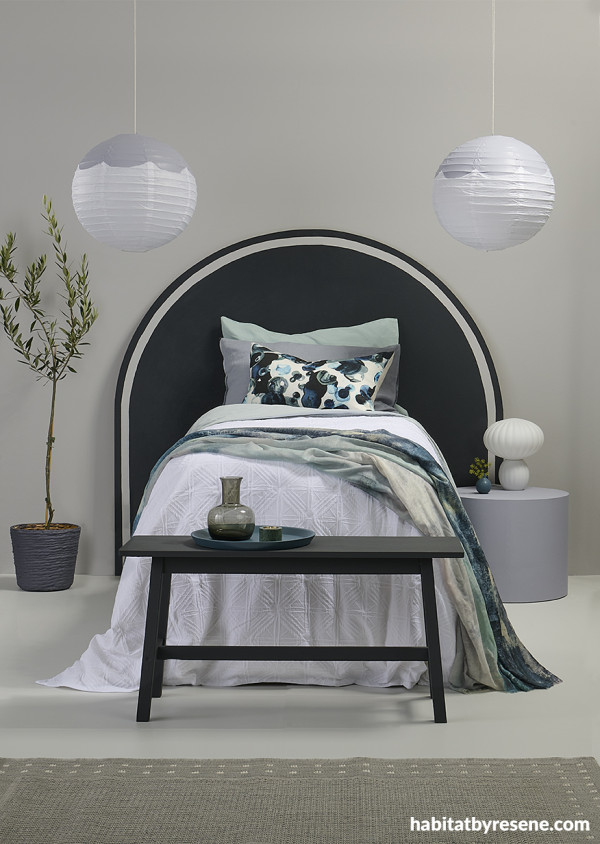 This simple yet sophisticated bedroom features a simple headboard built from ply and painted in Resene Shark with a stripe in Resene Rakaia, creating the ultimate guest retreat. The walls are in Resene Rakaia, floor is in Resene Quarter Rakaia, bench in Resene Shark, side table in Resene Santas Grey, basket (with olive tree) in Resene Jimmy Dean. Round tray, medium vase and bud vase in Resene Explorer, scallop shape on lampshades in Resene Santas Grey and tray, and bud vase in Resene Explorer. Duvet cover, sheets and pillowcases from Adairs, bubble pillowcase and throw from Katrina Hobbs, carafe from 10 Curated. Project by Melle van Sambeek, image by Bryce Carleton.
Spare some time to spruce up a spare room and turn it into a guest bedroom. Sometimes all you need is some new bedlinen and a fresh coat of paint to transform a forgotten space into a visitor-friendly room. It's best to keep guest bedrooms as simple as possible to allow space for your guest's suitcases but add some decorative flair to help your guests feel at home. While a neutral wall colour will ensure that the space caters for all tastes and preferences, a simple arched headboard painted onto ply can take a space from drab to fab. Make sure there is plenty of lighting for late night reading and bedside tables for storing jewellery and other small items they might have.
Top tip: Resene SpaceCote Low Sheen has a desirable low sheen finish that can be used on interior walls. This adaptable paint can also be used to create writable surfaces so you can transform a guest bedroom wall into a handy chalkboard. Team it with Resene SpaceCote Flat on ceilings.
Get creative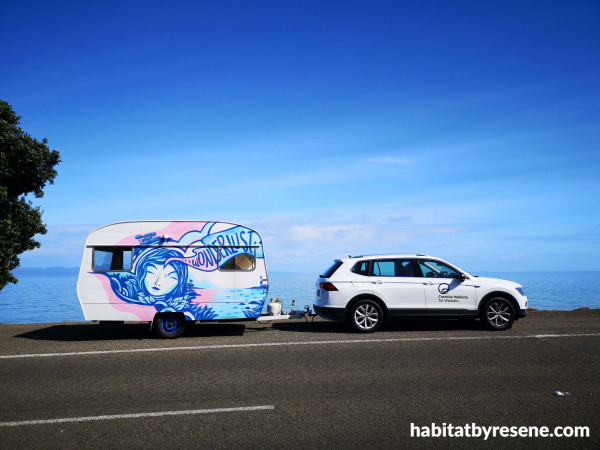 Artists Craig and Pauly worked together to create a vibrant caravan-turned-meeting room for Creative Waikato. They used bright Resene Pale Rose, Resene Float, Resene Morning Glory and Resene Orchid White.
If you're more artistically minded, then a painted mural on the exterior of your camper or caravan is definitely an option to consider. This colourful, summery design was a collaboration between artists Craig McClure and Pauly B. The caravan has become a mobile meeting room for Creative Waikato to take on the road, as the arts organisation serves the wider Waikato region. The pair worked with dream-like tones such as Resene Pale Rose, Resene Morning Glory and Resene Orchid White to keep the tone of the caravan positive and upbeat.
"The idea behind the design was that the caravan meeting room would be like a portal for creative ideas to be shared and explored," says Craig.
"In the meeting room creatives, artists, and art groups could discuss openly their obstacles and successes, leaving the 'portal' with a fresh mind set and strategy for their practice or business.
"We wanted the caravan to look fun and accessible so that people would feel safe sharing their ideas."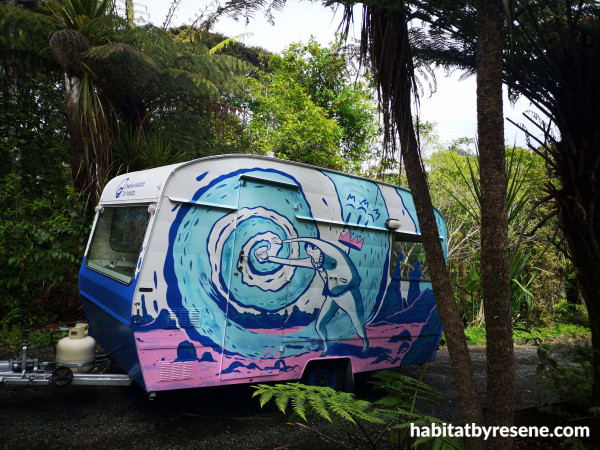 The Creative Waikato meeting room travels across the region and provides a safe space for artists and creatives to discuss their ideas. Pauly and Craig used Resene Pale Rose, Resene Float, Resene Morning Glory and Resene Orchid White for the exterior murals.
With a wide range of vibrant paint options, Resene makes it easy to take you caravan to the next level, making it stand out on the road with a splash of personality and colour. The mural process can be a fun way to spend a weekend and the end result will have passers-by in awe. Kickstart your colour palette by selecting a main colour you would like to feature – bright and cheerful colours such as Resene Galliano or Resene Aqua work well.
Top tip: Use the Resene Colour Palette Generator to come up with a cohesive colour scheme. Choose your mural subject and get painting!
Published: 18 Nov 2021
Do you have a home full of wonderful Resene paint and colour? Send us some snaps by emailing [email protected].