►
◄
latest
habitat tv
blog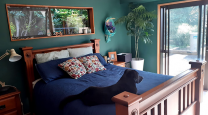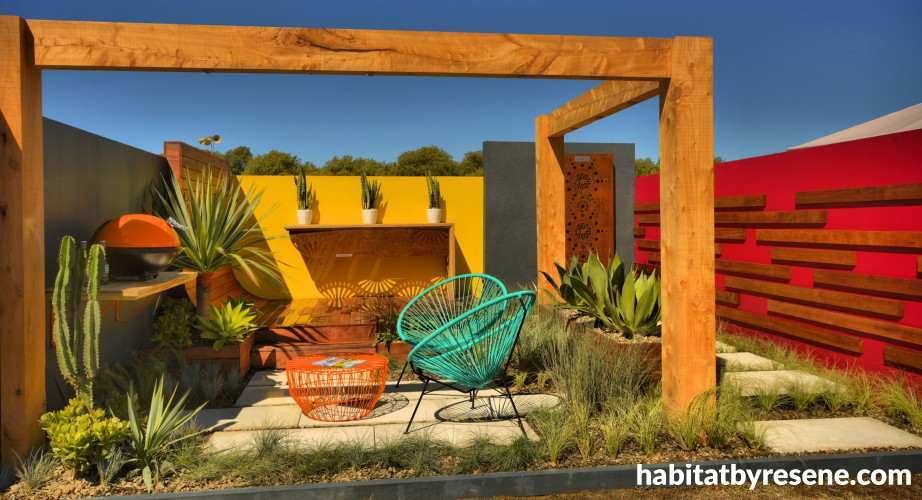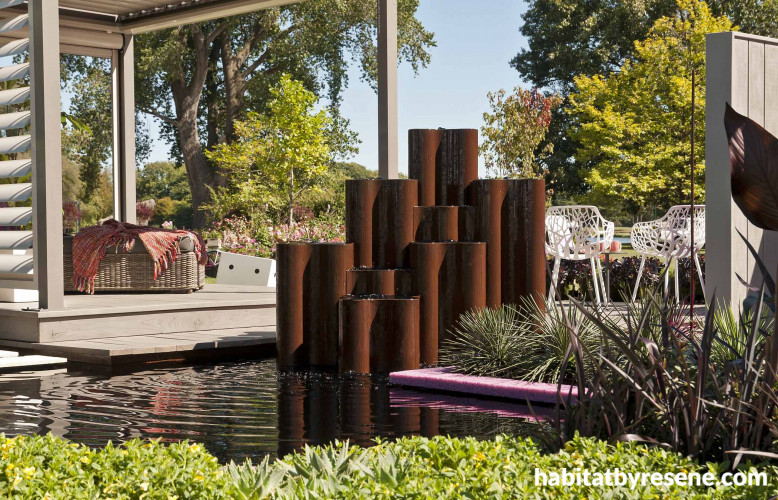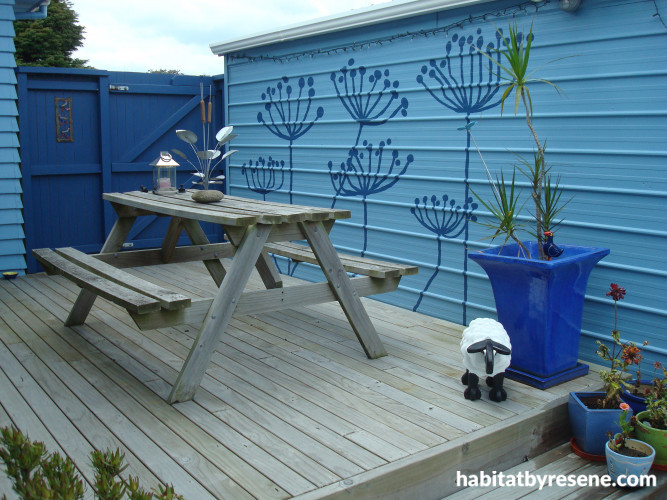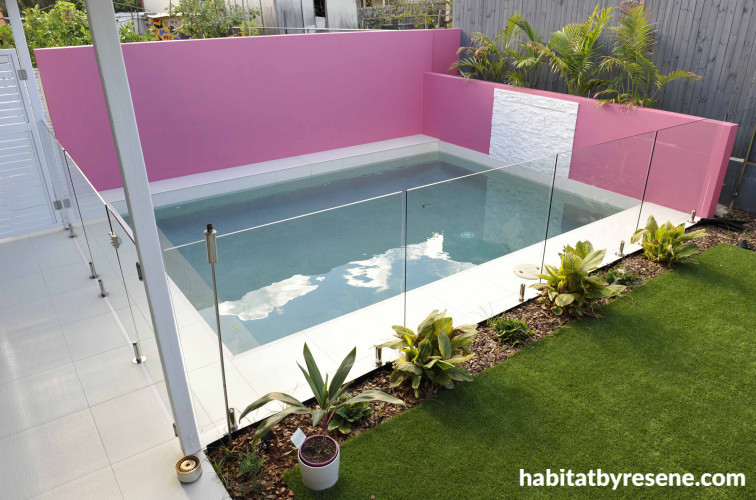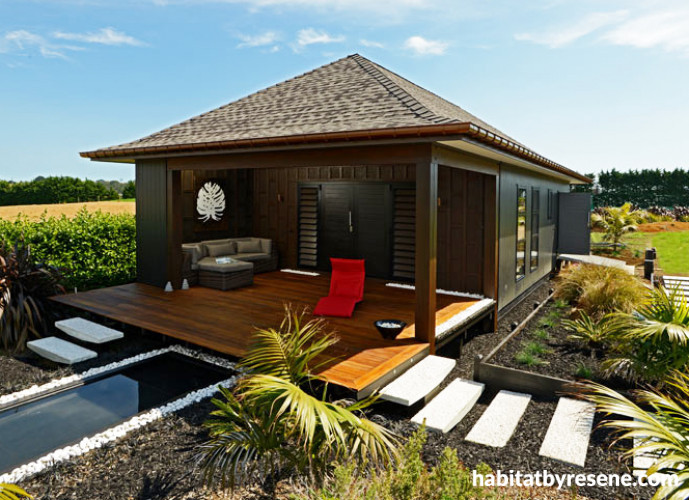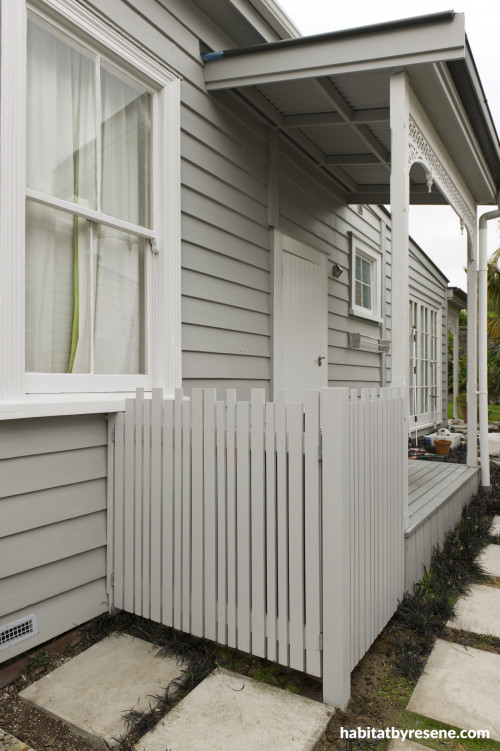 Hot and spicy on the outside
Published: 13 Mar 2014
Do you have a home full of wonderful Resene paint and colour? Send us some snaps by emailing [email protected].
Gardens get going with colour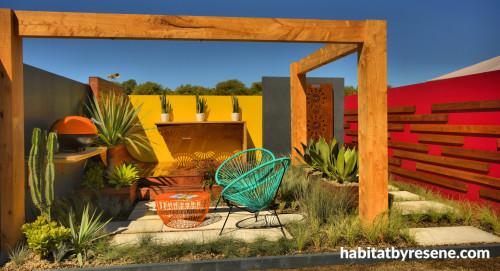 There's a rising tide of bold and bright colours, and it's not being contained or confined to our interiors. Hot sizzling colour is finding its way into our gardens. The image above may be a display garden, at the recent Ellerslie International Flower Show, but it's often in these types of forums that shifts in design trends begin. The design won the 2014 Lexus Emerging Designs section of the show for student Jordan Hampson. The sun-soaked courtyard used Resene Resitex Plastercote with Resene Golden Dream, Resene Geronimo and Resene Mine Shaft in a design that celebrated the client's Mexican heritage but also embraced the true essence of the New Zealand summer. The judges commented on Jordan's exceptional use of colour combined with innovative design elements.
When it comes down to it, there's not much difference in interior and garden design. In a garden, there are the different spaces (rooms) to deal with, each with its distinctive purpose – the alfresco dining area, an area to relax, a lawn for the kids to play on, somewhere to put the bins and dry the washing. Resene colour can play a significant role in the garden, just as it does inside.
A cohesive looking garden will have an over-riding flavour whether that's subtropical, native or country floral. Or whether it takes its inspiration from a country or area – California, Provence, Japan, Bali. Or Mexico.
As with this design, the paint colours and details you include will support your chosen theme or look. Just like the lamps, art, accessories and cushions you use inside you home, the accessories and architectural details you use outside will complete the scheme.
You can go for classic partnerships, such as a terracotta coloured plaster wall for your Spanish-inspired courtyard, or a dark-stained slatted fence for your restful zen-like retreat.
Or for those same spaces, you can think slightly outside the square – a turquoise wall for the Mexican one, and a deep lacquered red slatted screen for the Japanese. How about a smoky deep purple wall behind the grey-green foliage in a Mediterranean inspired planting scheme? Or an orange and yellow pop-art style wall for a fun Californian feel?
Use paint or stain colour to create focal points in a garden. Occasional accents, such as an arbor, an over-sized pot, a garden sculpture, or a specimen plant, help create drama in a garden.
Using contrast is a great way to avoid predictability in a garden. Like most design principles, in moderation, contrast is good but too much can be confusing and unsettling. This is especially true if you have a smaller courtyard garden. Use one striking focal point, preferably viewed from the house as well.
Did you know… that aside from the more traditional rich browns and blacks, the Resene Woodsman exterior stains range comes in spicy reds and rusts, as well as sea-washed blues, verdant greens and soothing greys? Click here to see just how versatile this range is.
Outside the Box

Another display garden at the Ellerslie International Flower Show was designed by Dunedin-based Outright Landscape Design and built by Evergreen Landcare. Winning gold and called Outside the Box, it is a modern courtyard garden that presents the paradoxical concept of enjoying life through embracing difficulties and challenges. Colours used include Resene Smitten (pink), Resene Sorbus (orange), Resene Stonehenge (on pergola) and Resene Woodsman stain tinted to Resene Smokey Ash on the deck. The viewer is asked to step outside the safety and familiarity of their box (the walled pergola) and explore a series of spaces around the garden, which there is some difficulty in doing – there's a wall maze, prickly plants and stepping stones through a pond as obstacles to overcome to arrive at places of retreat.
Hope springs eternal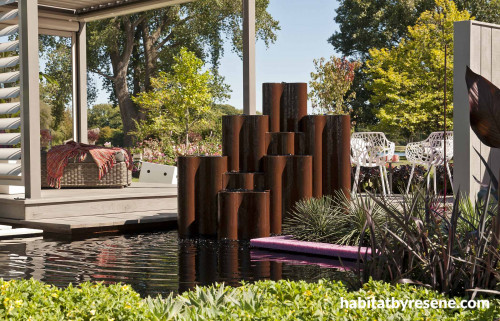 Central to the Outright Landscape Design exhibit was the 'Hope Springs' water feature that represents the willingness we must have to carry on despite adversity.
Garden art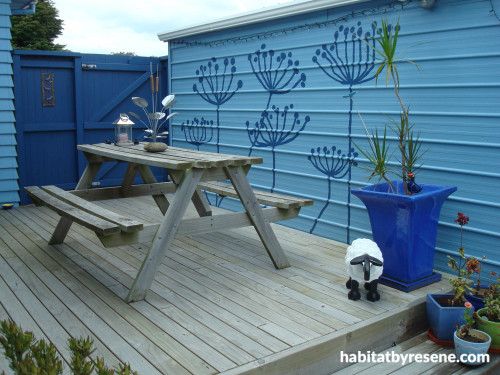 Feature walls don't have to be just on the inside of the house. This one was painted free-hand by clever homeowner Michelle Pollard as a striking focal point for her outdoor dining deck. Inspired by an old habitat article, she painted the cladding in Resene Bermuda Grey with Resene Madison for the trims and seed-head design.
Having fun with colour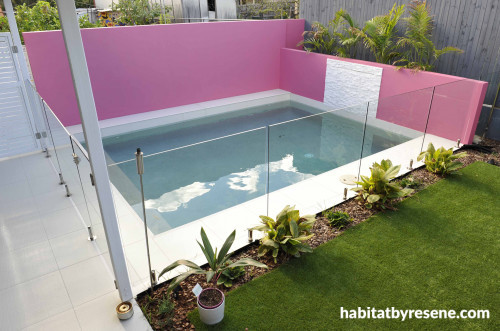 Here's another example of a garden feature wall, this time in sizzling Resene Rouge (it looks a little lighter than normal here, in that strong Aussie sunshine). As a glamorous backdrop to this pool, it was painted by Australian-based Stephen Brophy Painters.
A Bali-style escape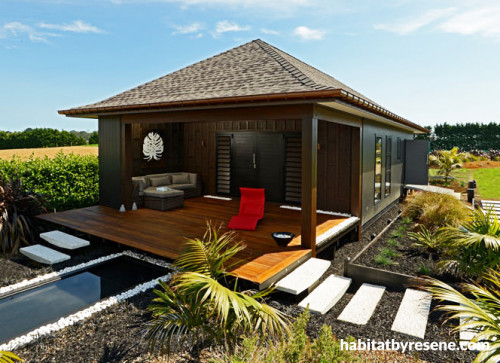 Stanley and Barbara Armon used Resene colour consultant Nikki Morris to create the colour scheme for the exterior of their Balinese inspired weekend retreat south of Auckland. Using a Gaf Elk roof tile sample and the Marley Copper Stratus rainwater system, Nikki recommended Resene Bokara Grey for the cladding, Resene Quarter Thorndon Cream for the soffit and veranda ceiling and Resene Dark Rum for the fascia. All were tinted into Resene Lumbersider paint. The doors are in Resene semi-gloss Enamacryl tinted to Resene Baltic Sea.
Silk purse out of a...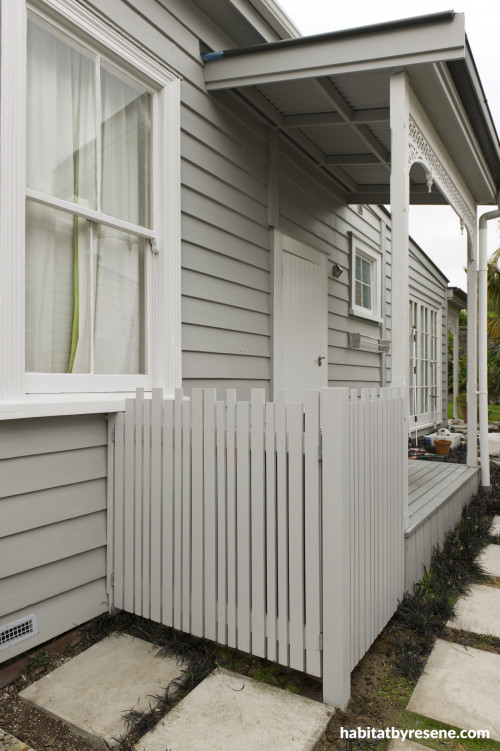 Even the most mundane of garden elements can be made into a feature. This is actually a wheelie bin locker, created in conjunction with Hirepool for a previous issue of Habitat magazine. It's funky uneven top and varying paling widths give it a designer edge. It's finished in Resene Silver Sand to match the house.
Resene Quarter Thorndon Cream
the look
If you're stuck on what
colour to use or need colour
advice, try out the Resene
Ask a Colour Expert service.