►
◄
latest
habitat tv
blog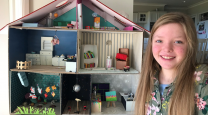 Get in shape: Five geometric wallpaper looks for your home
There's nothing that refreshes a space in a dramatic way quite like wallpaper. Contrast and character can spill into a room with the right wallpaper. Walls can come to life and crawl with flowers, tigers and vines. The Resene Wallpaper Collection is stacked with options to give your home a new look.
Geometric designs have long been popular in the architecture and interior worlds, the Ancient Greeks, Moroccans and Scandinavians have all historically used geometric patterns. These patterns have experienced a modern resurgence. Geometry-inspired wallpapers offer a sophisticated and contemporary feel – take a look at our five picks to try at home.
Wallpaper's history
Wallpaper has helped homeowners construct different realities and moods in homes for centuries. Although it's tricky to tell when wallpaper was first made, historians estimate it was first created and used in China around 200 B.C. The paper was a mix of mulberry bark, linen, bamboo fibres and hemp. These first wallpapers depicted gods, flowers, landscapes and birds, all hand painted on rice paper.
By the 15th century, wallpaper was being imported regularly from China to Europe. These wallpapers were made with woodblocks and coloured by hand. They often featured prints of devotional images, and later, designs made up of geometric shapes. A key part of their appeal was that they were a cheaper option compared to tapestries, and as a bonus, could conceal cracks in walls.
Be nature-inspired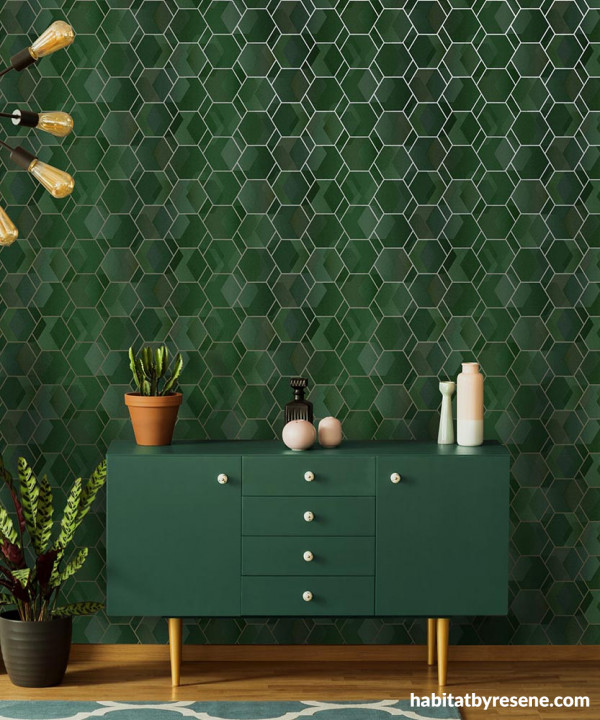 Make a beeline for Resene Wallpaper Collection 91280. Its hive-like hexagons grace this wall in varying shades of deep, earthy greens. Pair with furnishings in matching green hues like Resene Permanent Green, Resene Bush or Resene Palm Green. Keep wooden flooring elegant and natural by protecting with clear coats in Resene Aquaclear or Resene Qristal ClearFloor.
Embrace geometric wallpaper patterns that offer a nod to nature. Incorporating natural-feeling elements and designs into our homes is soothing, be it the inclusion of natural wood furnishings, natural fabrics or a pattern on the wall. Honeycomb patterns in particular are a fantastic geometric look that jazz up any wall space. The pattern is versatile, able to evoke multiple moods – from vintage to Moroccan, Hollywood Regency to contemporary. Geometric patterns give shape and dimension to a room, and most importantly, add interest. A honeycomb pattern offers a 3D effect and makes a wall pop. It's organic feeling and timeless.
If you're after a dose of geometric nature-inspired wallpaper, try Resene Wallpaper Collection 90370, dotted with intersecting lines and hummingbirds. Resene Wallpaper Collection 90602 is also honeycomb-inspired in gold overlapping shapes, or take a look at the green and gold Resene Wallpaper Collection FOL001, reminiscent of kina.
Top tip: It's best to avoid highly metallic wallpapers in rooms with bright sunlight as the reflection can be distracting. Gold and silver are great in windowless rooms, spaces with low light and rooms you use at night as they help reflect the light.
Play with patterns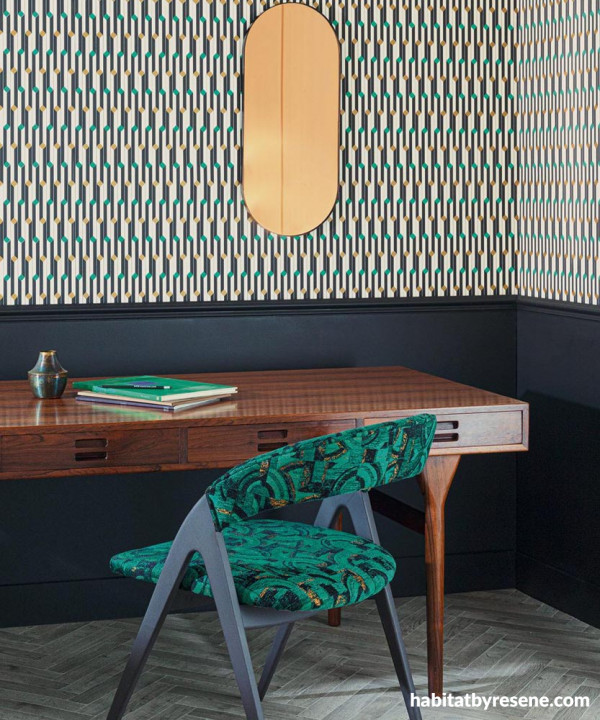 Resene Wallpaper Collection FOL50 has been heightened with herringbone flooring, natural wood and a navy strip on the bottom half of the wall. Add your own deep blue strip with Resene Blue Night,Resene Biscay or Resene True Blue. The mixing of two patterns – herringbone floor and busy geometric wallpaper – works well here, as the two tie in a similar beige tone. The navy hue also softens their contrast and pulls them together.
Don't be limited by one geometric pattern in a room, know that you can pair multiple together. There are a few tricks to getting the look right, and avoiding overwhelming a room. Firstly, choose a united colour palette. It's less likely your patterns in a room will clash if they are both in the same hue. Aim to pick a central colour that will tie any two patterns in a room together. Neutrals are generally a safer choice when pairing geometric patterns together. Combined well, contrasting colours can look fantastic too. For example, black and white striped wallpaper paired with bold pink floral wallpaper or furnishings, such as Resene Wallpaper Collection 3342-13 with Resene Wallpaper Collection 408355, is eye-catching.
Use a variety of scales if you are mixing wallpaper patterns together. Mix small and busy with oversized geometric designs. You could even play with the same motif in different scales on two adjacent walls. Picking a style can help here too. If you're going for ocean themed, one wall could be boats, the other waves.
Embrace art deco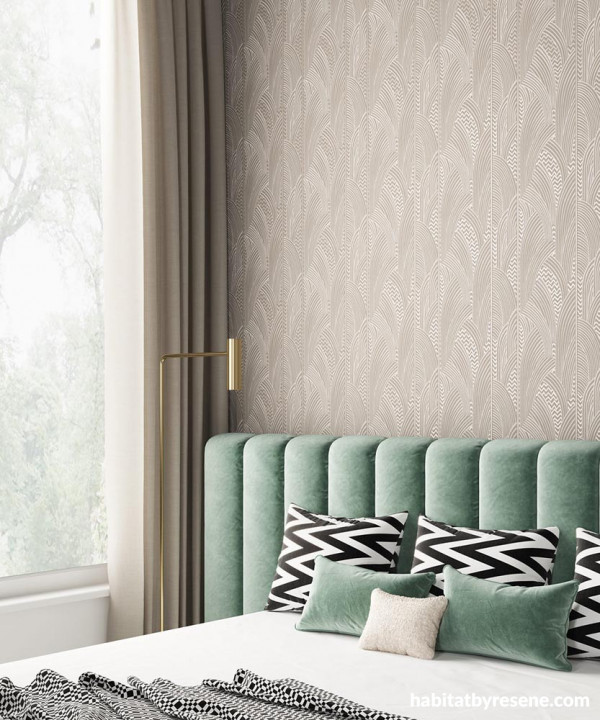 The art deco-esque repetition of round shapes is evident in this arching wallpaper. Resene Wallpaper Collection AGA101 is chic and soothing in this bedroom. Contrast with trims and ceiling in Resene Black White.
Art Deco style originated in Europe in the early 20th century, its heyday from 1920-1940. High-contrast between white and black, strong vertical linear forms – as well as round, exaggerated curves – geometric details, jewel toned velvet, marble, brushed brass and high-gloss finishes are all things to look for. If you're keen to bring the drama of the twenties into your interior, a stylish and curved wallpaper pattern is a great place to start. Try Resene Wallpaper Collection GLA903 or Resene Wallpaper Collection Z44523.
Colour wise, to tie in with an art deco-inspired look, bold use of red, black and white together balanced with softer, mid-range neutrals is the way to go. Try using Resene Dynamite and Resene Jalapeno with Resene Noir and Resene Alabaster on statement pieces. Use colours like Resene Ethereal, Resene Napa and Resene Double Pravda on walls and flooring for a balanced look.
Play with paint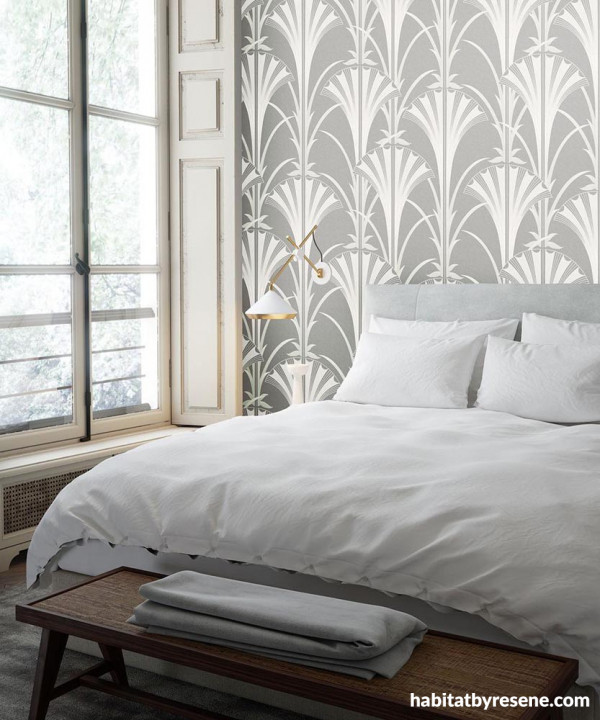 Create a soft and chic look in a bedroom with Resene Wallpaper Collection AGA003. Paint shutters or an opposite wall in tones like Resene Double Alabaster, Resene Quarter Thorndon Cream or Resene Merino to complete the look.
Tying in your paint choices with your geometric wallpaper can elevate a room even further. Choose complementary shades from the same part of the colour wheel, or go for a monochrome look and pick similar hues from your wallpaper. This way you'll ensure your space feels cohesive, and the approach works for both lighter and darker wallpapers. Try your paint colour options using testpots from your local Resene ColorShop. This is especially important if you are choosing contrasting tones to make sure you're happy and your choices work well together.
Go maximalist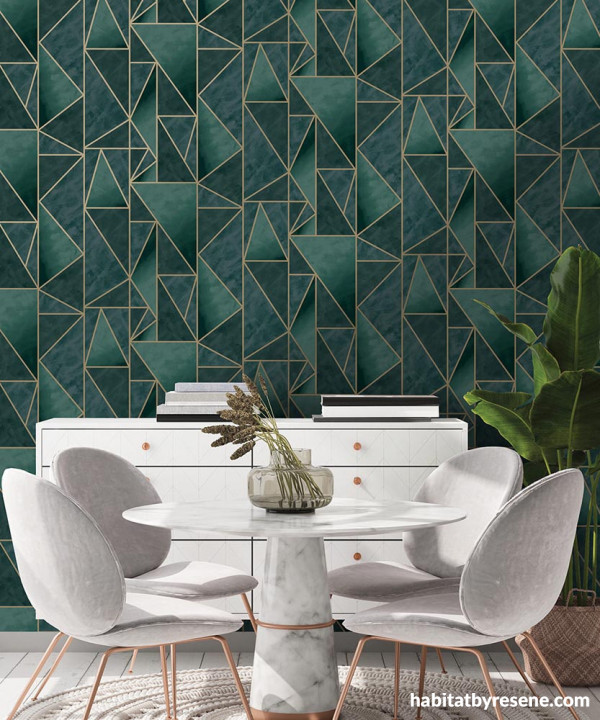 Resene Wallpaper Collection 91141 is busy and beautiful in this dining room. It's green and aqua tones contrast well with furnishings in whites like Resene Black White, Resene Rice Cake or Resene Half Bianca. To tie in its gold sheen, paint selected pieces in Resene Gold metallic paint.
Geometric wallpaper patterns are perfect for achieving a maximalist interior look. Maximalist spaces really scream personality and energy. Patterns and colours across a room create a feast for the eyes. Layer your room and curate a collection of items and art to sit in front of your wallpaper on furnishings. Done well, a maximalist-style room tells the story of who lives there, and what they value.
Don't be afraid to clash colours and geometric patterns. The most important thing to consider when planning your maximalist décor is to think about what you like. This is your chance to express yourself through your décor.
Top tip: If you can't find what you want in the wide range of the Resene Wallpaper Collection or you're looking for something quite personal and one-of-a-kind, try out the Resene WallPrint service where you can create your own wallpaper from a photo or favourite print. You simply upload a photo, put in the dimensions of your wall and your order can be delivered to you as numbered wallpaper strips cut to size. Try it out at www.resene.com/wallprint.
Whether you're after wallpaper to set the right tone in a room, visually alter its proportions or to project fantasies of where you'd rather be, view the extensive wallpaper library at your local Resene ColorShop or get a taste of the new releases online, www.resene.com/wallpaper.
Published: 01 Jun 2022
Do you have a home full of wonderful Resene paint and colour? Send us some snaps by emailing [email protected].
the look
If you're stuck on what
colour to use or need colour
advice, try out the Resene
Ask a Colour Expert service.