►
◄
latest
habitat tv
blog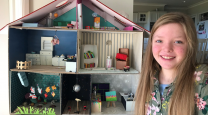 From bland to beautiful: This Christchurch couple filled their charcoal and pink bungalow with paintings, plants and peacefulness
For self-confessed serial renovators Leigh and Cory, colour is everything. When the couple first bought their 1920s three-bedroom bungalow in Christchurch it was painted tip to toe in white. With a vibrant style and an ever-growing collection of art from around the world the pair dared to decorate, splashing the walls in charcoal Resene Half Baltic Sea and rosy Resene Blanched Pink.
In between their busy schedules – Leigh is an engagement and performance manager, and Cory is a team leader – the couple have renovated four houses. Their newest home has seen them branch out with an energetic colour palette, an array of houseplants and some sensational Scandi décor. "Curated clutter probably best describes my interior style at the moment," says Leigh. "But it's always evolving.
"Cory and I both like things that are a little bit quirky and unexpected. We don't like to follow trends."
Resene Half White Pointer walls peep out of the spaces between the couple's impressive paintings in the living area and kitchen. With trim in Resene Eighth Black White, the brightness of the space provided Leigh with the perfect opportunity to create her own gallery walls.
"The great thing about a gallery wall is that it's never really 'done'," says Leigh, whose collection of artwork includes prints from New Zealand artists such as Fleur Woods, Flox and David Eggleston. "If you have the space, you can keep adding to it or swap out pieces for anything new that catches your eye.
"We often pick up artwork when we're on holiday, the large canvases have all been brought back from trips to Bali. We just choose things that appeal to us and have found the pieces that stand out to us often have bright colours."
After opening up the floorplan in the kitchen, living and dining area, the space has now become Leigh's favourite place to spend her time. Leigh's collection of houseplants – too many to count, she says – also thrive in the space, with its all-day sun reflected off the Resene Half White Pointer walls.
"The house had recently been painted in neutral colours when we moved in, which was a great backdrop for all our art. But we wanted to inject some more colour into the interiors and have done this by adding feature walls in some of the rooms," says Leigh, who created a feature wall in the first guest bedroom using paintable Resene wallpaper similar to Resene Wallpaper Collection RD7020. "One of the projects I'm most proud of is the feature wall in the guest bedroom, which I recently wallpapered and painted in Resene Blanched Pink.
"It was a really quick and easy way to transform the room."
The second guest bedroom appears to be the polar opposite to the first, with its moody feature wall in deep Resene Half Baltic Sea. Resene Half Baltic Sea is a Scandinavian grey made with ancient rock tones that create a cooling sense of movement. "Resene Half Baltic Sea is one of my favourite colours," says Leigh, who has used the colour in three of her homes. "It looks great in both modern and character homes.
"We didn't really have a plan for the colours, we just chose ones we liked."
With every new house they renovate, the couple's experience grows and shifts. Becoming more confident with colour has been key to the success of their most recent renovation. "We've always enjoyed the process," says Leigh, who has dealt with many challenges over the renovation period, including rotten windowsills. "The biggest lesson we've learned from this house is that buying a house renovated to someone else's tastes isn't really for us. We'd much rather choose all the fixtures and furnishings ourselves."
True to her word, Leigh has made the study her own with a fun colour block in Resene Just Dance on the Resene Half White Pointer wall. Resene Just Dance's sweet blend of mango and apricot hues warms the space and has provided an area for another of Leigh's signature gallery walls. Leigh's passion for upcycling was also brought to the fore in the study, where she revitalised an office storage cupboard using Resene Quarter Robin Egg Blue.
"We've used Resene paint since our first renovation in 2003 and really like the range of Resene colours and quality of the paint."
"The house is still a work in progress as we slowly do things to make it 'ours'."
Leigh's top tips for people wanting to introduce colour and renovate their home on a budget:
Paint is the quickest and easiest way to transform a space if you're on a budget.
Paintable wallpaper adds texture and colour to a room and is ideal for covering up imperfect walls.
I'm a big fan of upcycling! Look for pieces that are well made and can be repurposed into something useful with a bit of TLC. For example, the storage cupboard in our office was found on online for $30 and upcycled by adding shelves and painting the interior with Karen Walker Chalk Colour
Art is a great way to add colour and personality to a space and doesn't need to be expensive. I often pick up frames from op-shops and paint them with leftover Resene house paint or testpots to create a uniform look. Things like vintage postcards, greeting cards, pages from old books, fabric or wallpaper offcuts can all look great framed and don't cost a lot.
See more of Leigh's inspiring interiors on her Instagram
Learn how to create your own gallery wall here: Picture perfect: How to create a gallery wall for any type of artwork | Habitat by Resene

Leigh and Cory created a phenomenal space in their home, decked out with a creative collection of paintings and plants. The walls are in Resene Half White Pointer and trim in Resene Eighth Black White.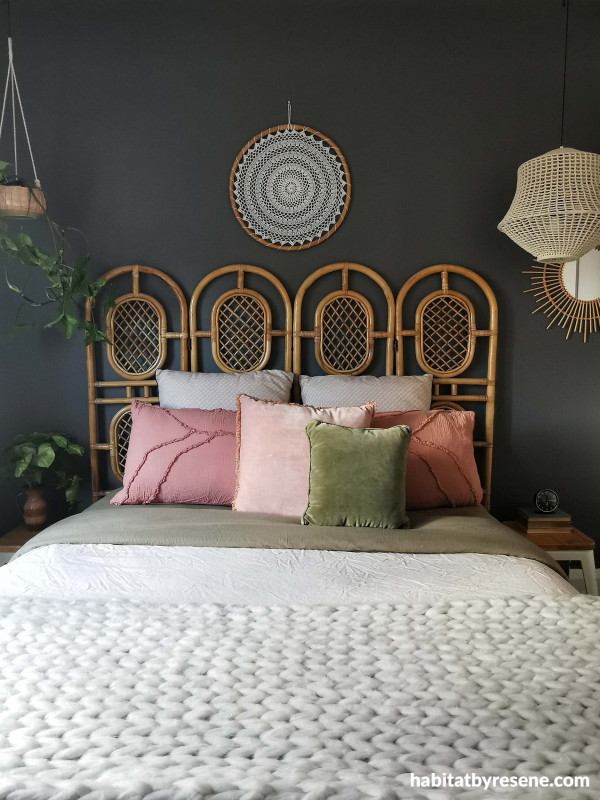 The second bedroom's feature wall in Resene Half Baltic Sea complements Leigh's choice of Scandi and boho décor.

Leigh created a feature wall with board and batten paintable wallpaper, similar to Resene Wallpaper Collection RD7020, painted in Resene Blanched Pink with trim in Resene Eighth Black White.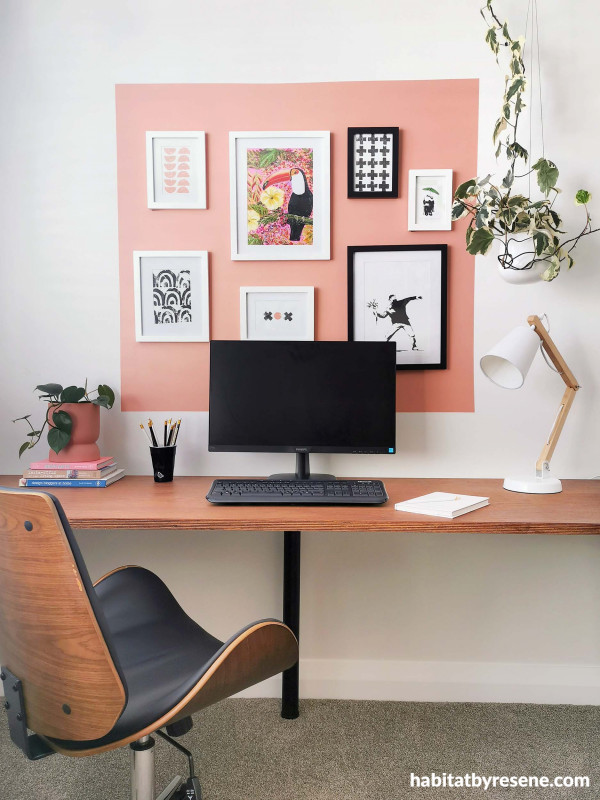 The study received a pop of colour with a creative colour block design painted in Resene Just Dance on the Resene Half White Pointer wall.

Leigh's love of upcycling is evident in her colourful home. Her study boasts this recently upcycled cupboard with the interior painted in Resene Quarter Robin Egg Blue.

Resene Half White Pointer provides the perfect backdrop to the couple's colourful artwork in their living area. The gallery walls are finished with crisp trim in Resene Eighth Black White.

The living area flows into the dining room and kitchen, which reflect the all-day sun with walls in Resene Half White Pointer. Many of the artworks in Leigh's home feature female faces, an aspect Leigh says was entirely unintentional.

Leigh's monochromatic gallery wall is made from second-hand frames and vintage prints found on Trademe. The wall is in Resene Half White Pointer.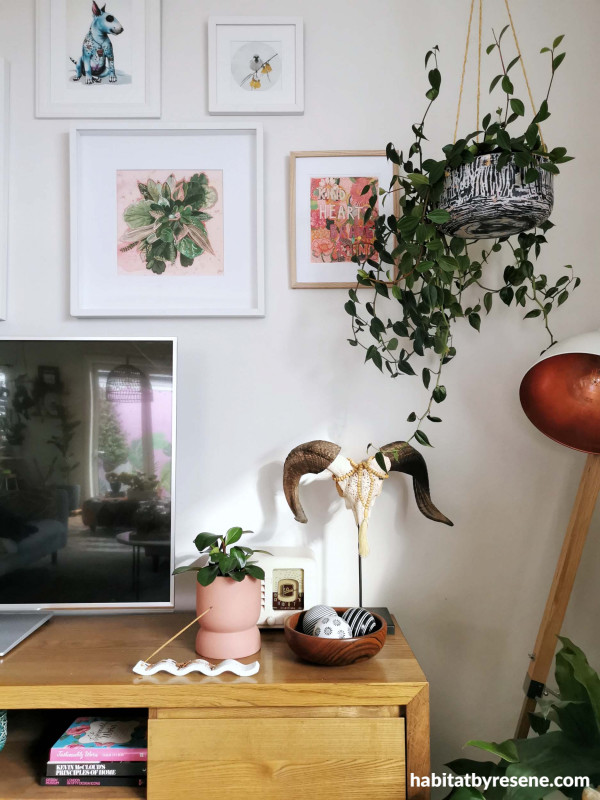 Leigh's artwork pops in the living room on Resene Half White Pointer walls.
Published: 02 Sep 2021
Do you have a home full of wonderful Resene paint and colour? Send us some snaps by emailing [email protected].
Resene Half White Pointer
Resene Eighth Black White
the look
If you're stuck on what
colour to use or need colour
advice, try out the Resene
Ask a Colour Expert service.