►
◄
latest
habitat tv
blog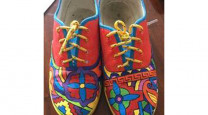 Five on-trend seasonal autumn updates that are easy to achieve
18 Mar 2021
Loving the end of the golden weather and ready to flip the script? As the blues and greens of summer turn to autumnal ambers and browns, Resene paints come into the picture as the easiest-ever way to satisfy a desire for a change of scene. Check out these ideas you can quickly cosy up to at your place.
1. Comes naturally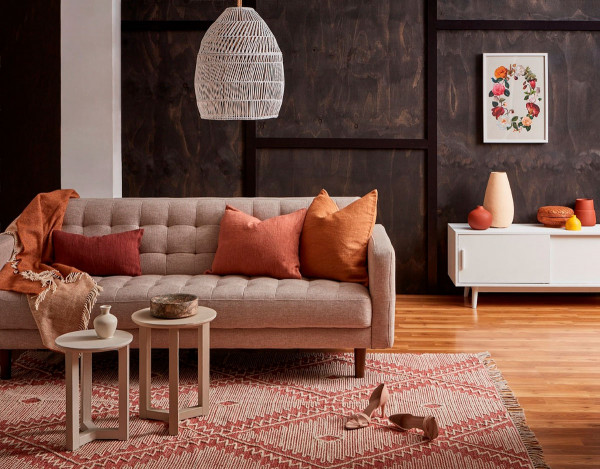 Resene Colorwood Sheer Black wood stain combined with the timber surface creates a textured look on the wall which has a cocooning quality. The battens are Resene Lustacryl tinted to Resene All Black to create depth. Floor in Resene Colorwood Natural, pendant light in Resene Black White, nesting tables in Resene Bison Hide (left) and Resene Quarter Drought (right) and small fluted bud vase in Resene Quarter Drought. Sideboard in Resene Snow Drift, vases in Resene Tequila, Resene Half Hairy Heath, Resene Prairie Sand and Resene Buttercup, Sofa from Nood, cushion covers and marble dish on table from Città, rug from Adairs, heels from H&M, artwork by Cloud 9 Creative from Endemic World. Project by Laura Lynn Johnston, image by Wendy Fenwick.
'Tis the season to start spending a few more hours inside, but if you surround yourself with natural colours and materials, you'll enjoy a little of the great outdoors even when you're staying in. Providing depth and visual interest, textural finishes help to create a cocooning effect ideal for this time of year, and Resene Colorwood wood stains take timber's texture up a notch while allowing the grain to show through. To add depth to the room add contrasting batten detail to the plywood wall with Resene Lustacryl in Resene All Black, and contrast with forgiving Resene Colorwood Natural wood stain on the floor. Complete the scheme by painting your existing or op-shop lightshades and vases in complementary natural hues and updating soft furnishings like your cushion covers.
2. Set the tones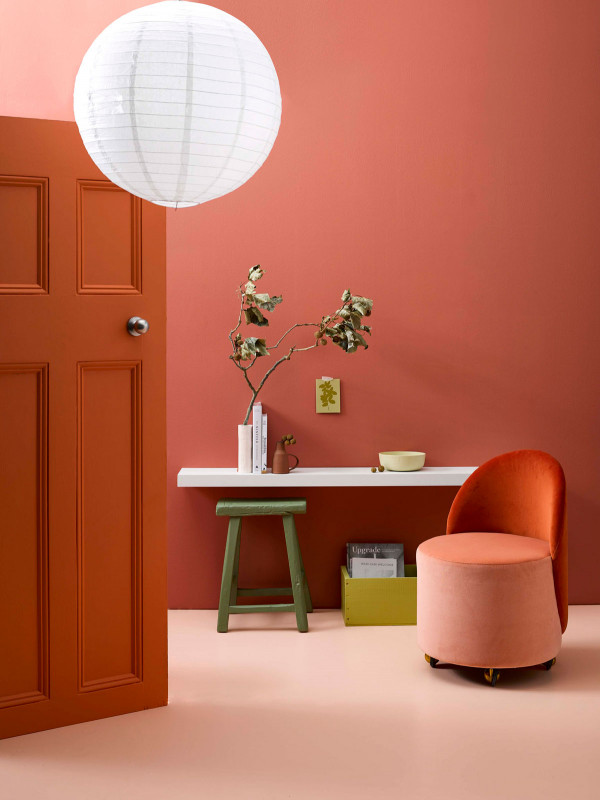 Try a tonal terracotta room with a wall in Resene Apple Blossom, door in Resene Sebedee and floor in Resene Wax Flower. The bowl is in Resene Yuma, stool in Resene Woodland, crate in Resene Gingko, thin vase in Resene Just Right and the tea light holder in Resene Pale Oyster. The chair is from Douglas and Bec, postcard on wall from Garden Objects, books from Paper Plane, jug from Blackbird Goods, rice paper shade from Wah Lee Co. Project by Gem Adams, image by Wendy Fenwick.
Immerse yourself in autumn with on-trend terracotta colours. The more sophisticated sisters of previously popular blush pink, in this space they play well with earthy green and yellow, and pale neutrals. Try terracotta in a statement tonal palette, a look that's at the forefront of interiors fashion and easy to achieve using varied strengths of the same Resene paint or similar Resene paints within a single colour family. Simply select your hero colour (in this case, the mid-red Resene Apple Blossom on the wall), then team it with a lighter and darker version for an enveloping feel.
Top tip: Use Resene testpots or A4 drawdown paint swatches (available to order online, or at your local Resene ColorShop, or view free in the in store colour library) to trial your proposed colours in the right light.
3. Clay time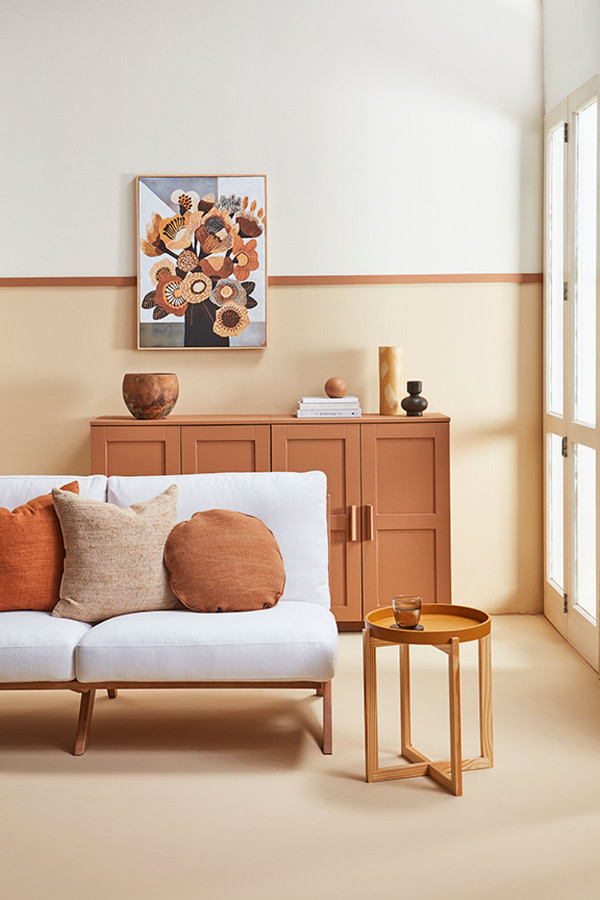 Top of wall and window frame in Resene Spanish White, batten in Resene Brown Sugar, lower wall and floor in Resene Canterbury Clay. Cabinet in Resene Brown Sugar, large pot in Resene FX Faux Rust Effect, round ornament in Resene Brown Sugar, tall vase in stripes of Resene Tussock and Resene Calico, short shapely vase in Resene Wood Bark and coffee table in Resene Putty. Sofa from Freedom, cushions from Città, artwork Harvest Bunch by Kirsten Katz, glass on table stylist's own. Project by Vanessa Nouwens, image by Wendy Fenwick.
For many, grey has long been the neutral of choice, but this season, some new neutrals are coming in hotter. Warmer and more comforting, yet still able to honour the history of heritage homes, brown, beige and clay colours are big news. This restful living room layers them with paler neutrals that encourage calm and darker ones as accents. Bring some graphic detail into your space by opting for different Resene paints above and below your dado rail (try Resene Spanish White and Resene Canterbury Clay), then painting the rail in a contrasting colour that connects to other decorative items in the room (try Resene Brown Sugar). Stuck for colour inspiration? Step outside to take notes from nature itself, ask for advice at your closest Resene ColorShop or use the Resene Colour Palette Generator online to get started.
4. Hit the floor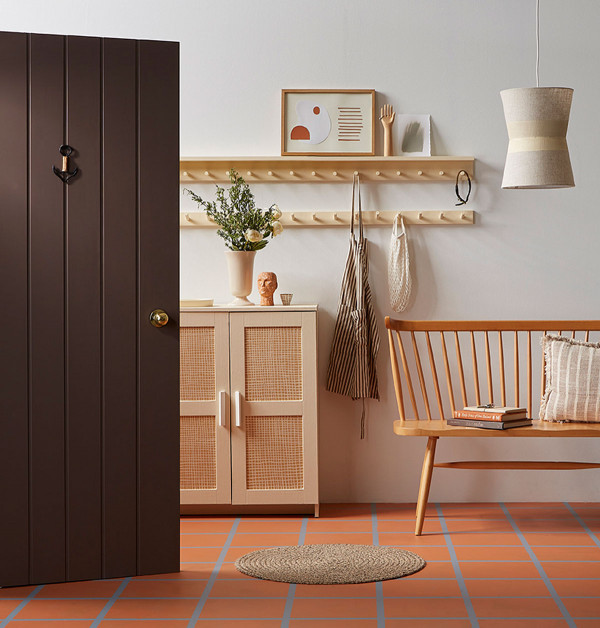 Wall in Resene Eighth Pearl Lusta, door in Resene Felix and floor in Resene Raven and Resene Tuscany. Shelf and racks in Resene Double Dutch White cabinet in Resene Blank Canvas, Resene Gold Coast (doors) and Resene Double Dutch White (panels). All other items stylist's own. Project by Kate Alexander, image by Bryce Carleton.
If you prefer to keep your walls plain and simple, have some fun with your flooring instead. Closed borders be damned – this autumny entryway takes you to Tuscany in no time, and it's created not with tiles but with Resene Walk-on paint, formulated for maximum durability for floors and walking areas. Paint your floor with your base 'grout' colour (we've used Resene Raven) and allow to dry, then use a ruler and pencil to measure and mark your floor before masking with painter's tape to create your grid and applying your 'tiles' (we've used Resene Tuscany). Remove the tape and coat the whole floor in Resene Concrete, which will help keep your floor looking good.
5. Leaf it hanging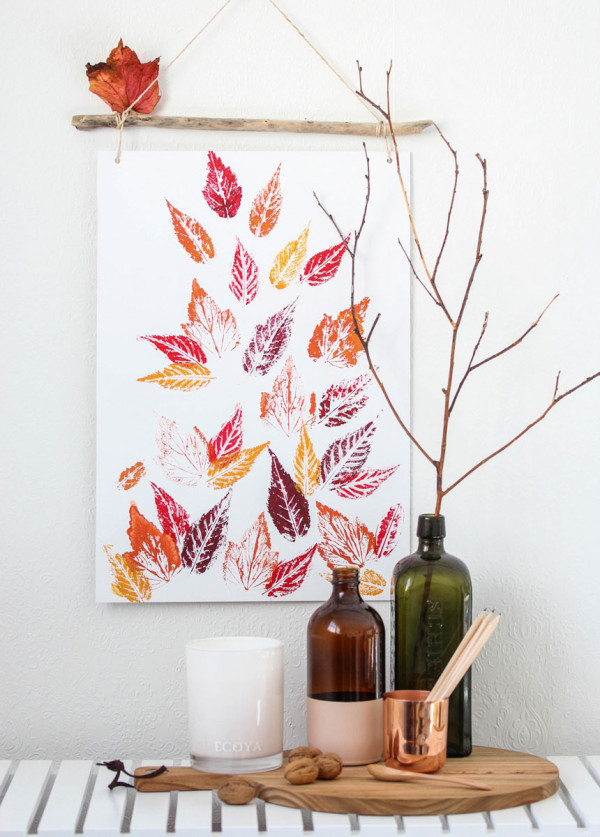 Artwork in Resene Ayers Rock, Resene Lightning Yellow, Resene Poppy, Resene Persian Red and Resene Kamikaze. Project and image by Nikki Astwood of Revised Edition.
Artistry never goes out of style, and a DIY painting also keeps on giving, bringing colour and life to your home, and a sense of creative satisfaction every time you see it. With inexpensive Resene testpots available from Resene ColorShops, it's also ultra-affordable.
While away a rainy afternoon making this autumn-leaf print in two simple steps with fresh or fallen leaves and a dried branch from your garden. Style the finished product as part of a decorative vignette that includes an arrangement of dried flowers or foliage that you can leave au naturel or paint to match.
Step 1: Use a paintbrush and Resene testpots to paint one side of each leaf, then evenly press them onto a sheet of A4, or larger, piece of card with the palms of your hands. Alternatively, use a roller to paint then press the leaves onto the card. Remove the leaves and allow the paint to dry.
Step 2: With a hole punch, make two holes at the top of the card, then string your artwork onto a small branch before hanging it on the wall.
Do you have a home full of wonderful Resene paint and colour? Send us some snaps by emailing [email protected].