►
◄
latest
habitat tv
blog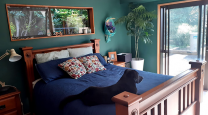 Five colour and style trends we're going to see everywhere in 2022
As 2022 gets underway, nature is inspiring all areas of interior design, from botanical prints and natural materials to paint colours. The desire for calming and restful interiors that counter the upheavals in the world is a strong driver behind international colour trends. Nurture and flourish are the keywords, and the colour palette is uplifting!
The biophilia print
If there's one way to summarise the wallpaper trends for 2022 it's the word: biophilia. The term that no one really knew about until about a year ago is now widely used to describe interior design inspired by nature to create a harmonious interior space. Resene Wallpaper Collection designs have captured the trend, and high on the list are those that feature botanical prints. Nature-inspired interiors come top of the list of trends, including the desire to bring plants into the home, and using Resene wallpaper is a great way to do it.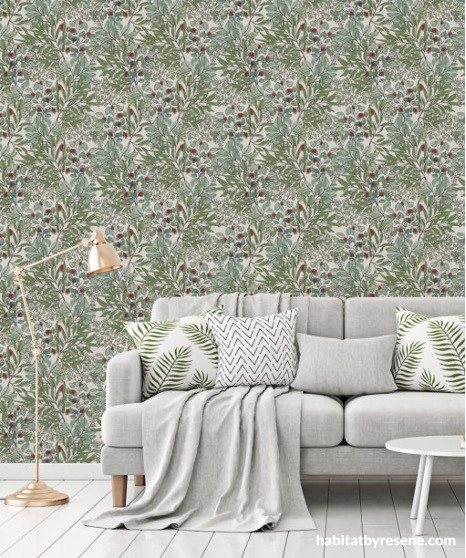 Try a verdant wallpaper with splashes of scarlet such as Resene Wallpaper Collection 37534-1, from the Resene Geo Nordic collection. Team with a similar painted floor in Resene Quarter Rice Cake.
Millennial purple
A periwinkle purple/blue has been chosen by the international colour institute
Pantone as 2022 Colour of the Year. The colour, Pantone Very Peri, a periwinkle purple blue with red undertones, is a symbol of the global zeitgeist and symbolises expansive possibilities, says Leatrice Eiseman, executive director of the Pantone Colour Institute.
"Very Peri displays a spritely, joyous attitude and dynamic presence that encourages courageous creativity and imaginative expression," she says. The purple/blue colour range is a favourite for the power it packs. An accent of purple adds a bold and sophisticated energy to any colour scheme. If purple or periwinkle is a little too bold, try a soft lilac like Resene Ghost or mushroom hue like Resene Matakana which can be used in place of a neutral. These colours are more in line with the new trend for 'millennial purple' a grey-infused lilac which is popping up on the fashion runway in the evolution from millennial pink, which became popular a few years ago.
Mauves like Resene Ghost are often overlooked as wall colour options but they have plenty to offer. Thanks to their rich grey-meets-taupe-meets-indigo undertones that shift and change throughout the day and night, these hues are infinitely more interesting than a true neutral. Wall in Resene Ghost, battens in Resene Santas Grey and flooring in Resene Colorwood Rock Salt. The DIY cloud painting is in Resene Gumboot, Resene Matakana, Resene Zulu, Resene Jimmy Dean, Resene Santas Grey, Resene Ghost, Resene In The Mauve and Resene Sea Fog with frame in Resene Sea Fog. Bookshelf in Resene Santas Grey (outside and edges) and Resene Jimmy Dean (inside). Chaise lounge from Nood, throw from H&M Home, rug and glass from Freedom. Project Laura Lynn Johnston, image Wendy Fenwick.
A green for all seasons
2022 is the year for grey-green. Green is easy on the eye, cool, restful and is the 'anchor' of the garden, so it works beautifully to give a grounding effect in your home. A simple paint shade can have a powerful effect on emotions and this restful hue symbolises balance and harmony often seen in the natural world. It's a colour subtle enough to be used for entire rooms or simply as an accent on kitchen cabinetry or a feature wall.
Design experts around the world agree, shades of green are trending. The grey-green hues represent nurture and growth and give a feeling of peace and calm without being overpowering. Greens to try, Resene Yucca, Resene Spanish Green, Resene Pewter, Resene Haven or Resene Ravine.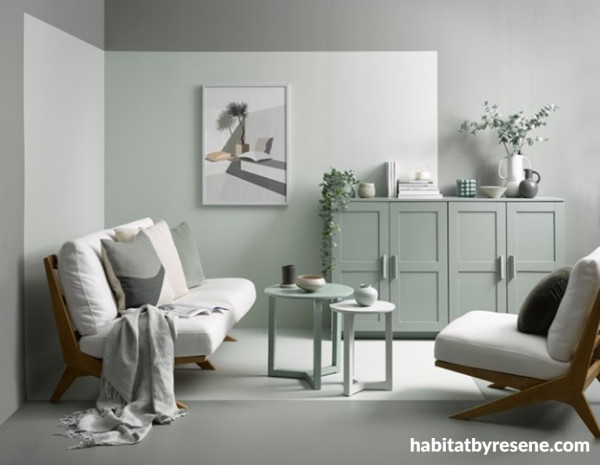 In this serene living room a soft tonal colour palette of gentle green greys creates a calming and welcoming space. Tonal decorating, or monochromatic decorating, is a sure-fire way to achieve a relaxing space that is entirely cohesive. The trick, however, is to add in contrast and texture to prevent the room from feeling too flat or of one note. Wall and floor in Resene Ravine with square in Resene Pumice, cabinets in Resene Blue Smoke, coffee tables in (from large to small) Resene Pewter, Resene Haven and Resene Harp. Plant pot in Resene Yucca.
Vases, bowls and smaller accessories in Resene Napa, Resene Yucca, Resene Blue Smoke, Resene Pewter, Resene Ravine, Resene Haven, Resene Pumice, Resene Armadillo, Resene Eagle and Resene Harp. Frames in Resene Napa and Resene Duck Egg Blue.
Project: Vanessa Nouwens, image Wendy Fenwick
Sunny citron
Sunny shades are making a splash in the design scene once again as many of us look for ways to warm up our home - and add an element of cheerfulness. Buttery and citron tones add energy and freshness to colour schemes. These are colours that are grounding and calming but also uplifting and cheerful, for simple, natural and beautiful spaces. If a whole wall is too much of a commitment, try a Resene Wallpaper above the dado, sunny kitchen cabinetry or a yellow front door. Resene yellows to try: Resene Gingko, Resene Buttermilk, Resene Zen, Resene Galliano or Resene Bright Spark.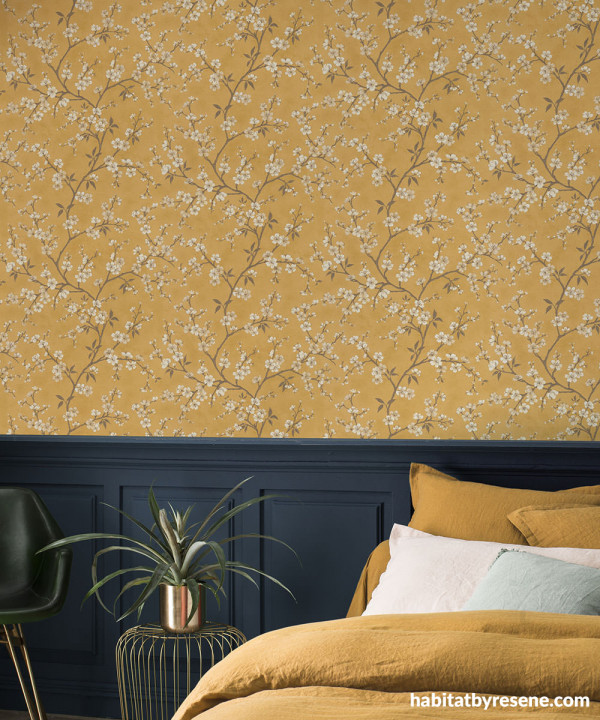 Brighten a room with a sunny yellow wallpaper in a Chinoiserie style with Resene Wallpaper Collection 456721, from the Resene DENZO II range. Team with panelling painted in Resene Midnight Express.
Warm neutrals
Move over grey, warm, neutral paint colours are back. Along with bringing warmth and versatility to a space, a neutral paint palette can instantly make a room feel cosy and comforting. Consider a rich neutral for a high-traffic area of your home, like your living room, for a versatile shade that will work with a variety of decor styles while creating a more inviting ambience. Try Resene Double Merino, Resene Spanish White, Resene Kangaroo, Resene Tea or Resene Bison Hide.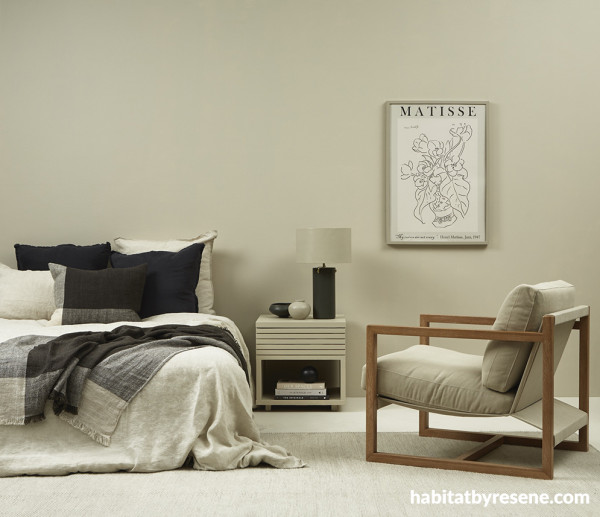 Warm your world up with a colourway in off-whites. These walls are painted in Resene Tea and the floor is painted in Resene Blanc. Bedside table in Resene Bison Hide, lamp in Resene Bison Hide and Resene Black. Bowl in Resene Black and vase and large frame in Resene Tapa. Duvet cover and cushions from Adairs, chair from Freedom, throw and rug from Citta. Project by Vanessa Nouwens. Image by Bryce Carleton.
Published: 12 Jan 2022
Do you have a home full of wonderful Resene paint and colour? Send us some snaps by emailing [email protected].