►
◄
latest
habitat tv
blog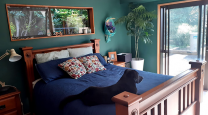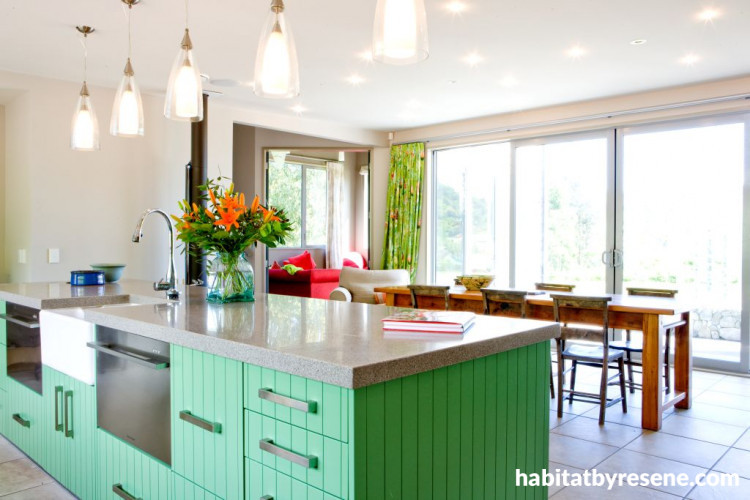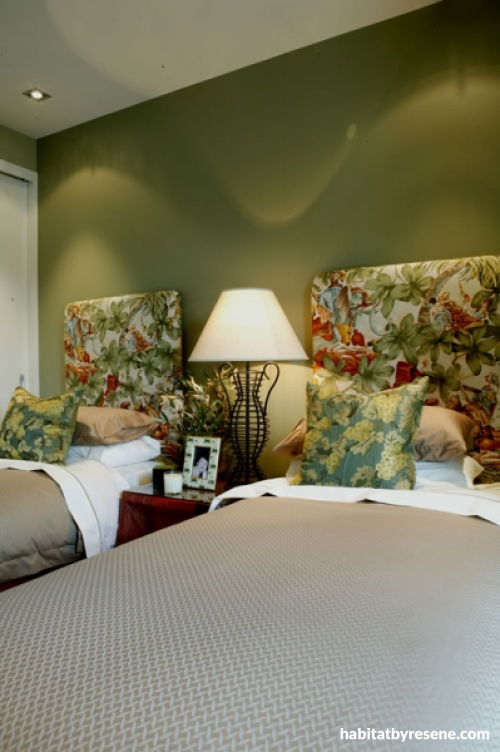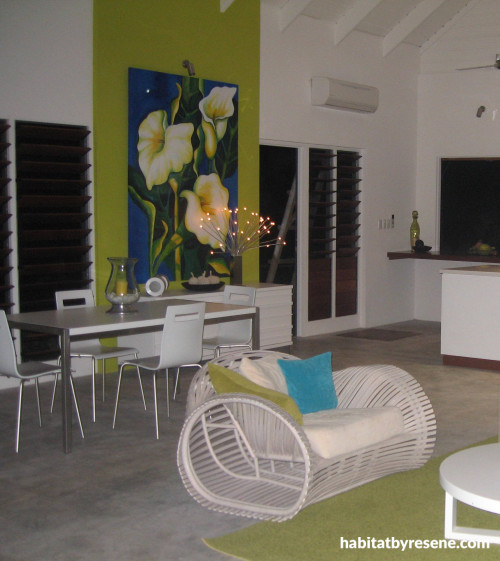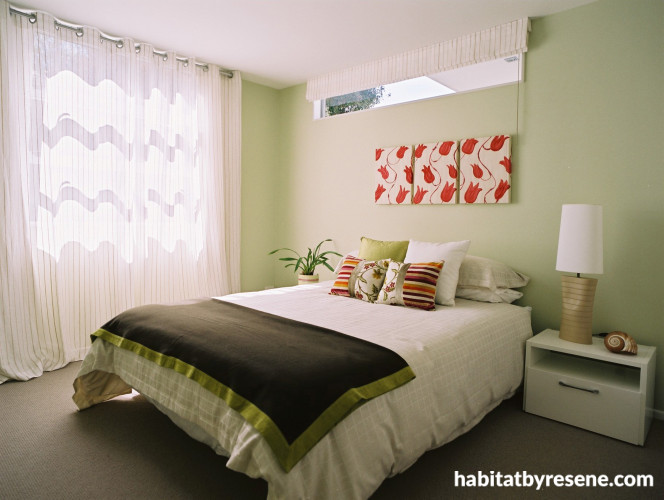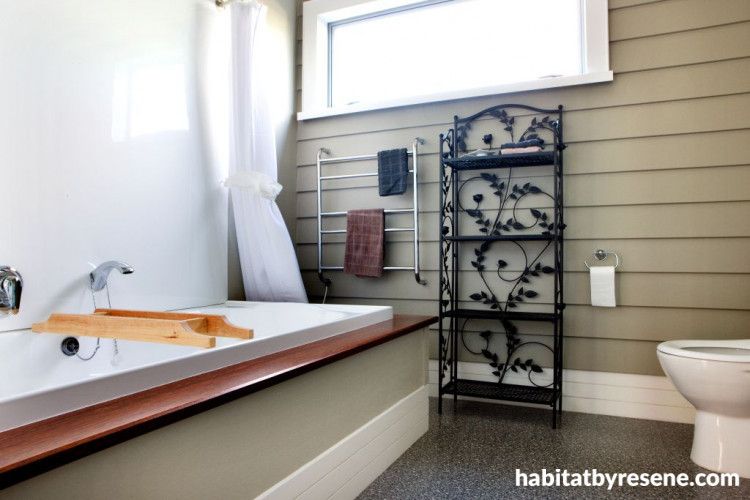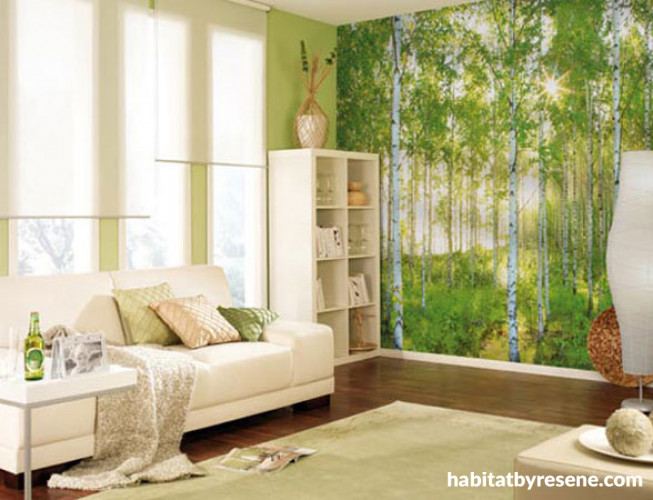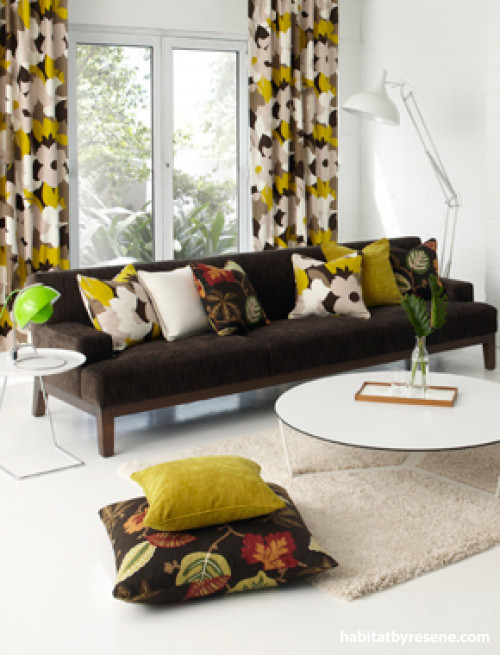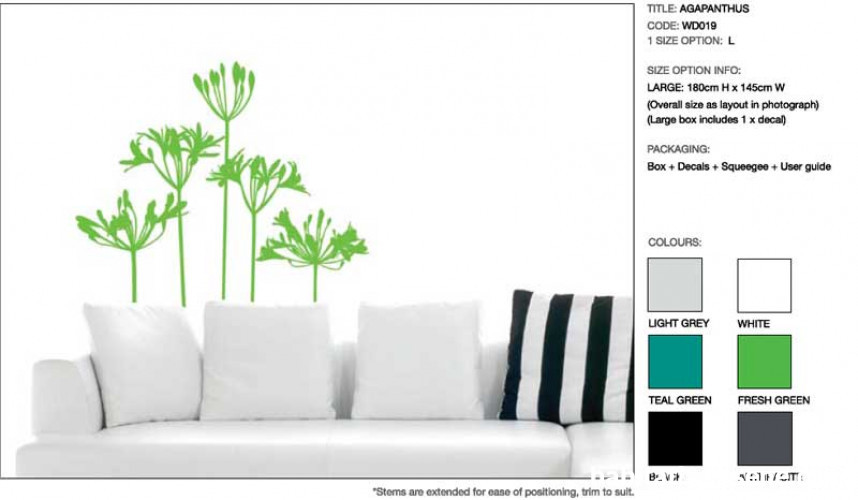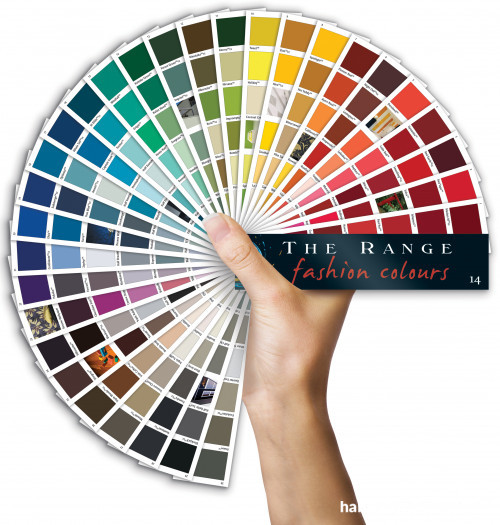 Eco warrior or just a really cool colour?
Published: 30 Aug 2012
Do you have a home full of wonderful Resene paint and colour? Send us some snaps by emailing [email protected].
Watch out, green's all grown up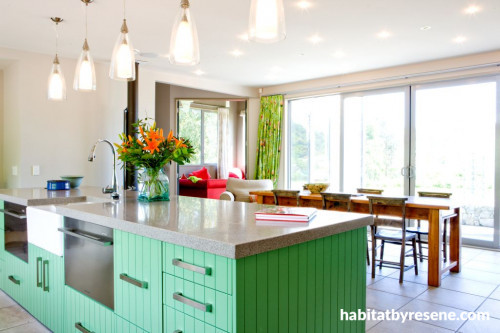 It's the colour that's had the most profound change in status in decades, if not centuries. Green. This simple adjective for the colour of grass and leaves now carries the weight of all things eco-friendly on its shoulders. But those shoulders are broad enough, and for a colour that's so harmonious and restful, it's the perfect signature shade for the eco trend. Can't imagine red, or orange doing the job, can you?
Any which way
And it's a versatile colour and definitely the colour of the day, something that's brought home with the latest range of fashion colours from Resene, launched just last week. With seven cards in the fandeck given over to 40-odd different greens, it's a green-lover's feast.
It's a colour that goes hand-in-hand with the trend for botanic elements in interiors, whether that's an overblown bright flower motif, or an elegantly stylised bamboo-motif wallpaper. The kitchen shown here uses the aptly named Resene Spirulina and was designed by Heather Thorley of Colour Options.
Soothing sea greens
There are the soothing sea-green, called crossover greens because they sit so beautifully between green and blue. Nostalgic, slightly retro and ideal with that vintage bachy look, there are colours like Resene Half Kumutoto, Resene Waterfront, Resene Escape and Resene Awash. These colours marry well with timbers whitewashed with Resene Colorwood or Woodsman Whitewash, chunky baskets and natural sand-toned fabrics.
NEWS FLASH: Get down to your local Resene ColorShop and treat yourself to The Range fashion colours, a sumptuous collection of fashion paint colours so right for today's trends. Or order online. And you can get a taste of the latest colour trends for 2013 online too.
Peppy greens
Then there are the truer green, clear grass and jade greens that make a bolder statement. Use them as a feature wall, or in colour-blocking. Nice and strong, they suit boys bedrooms and to be used as accents. These greens go well with other primary colours – red and yellow – as well as crisp whites. Have a look at Resene Origin and Resene Robin Hood.
Tip: On the reverse of the colour chips of any Resene fandeck are suggestions on other colours to use to create a colour scheme, if you get stuck on what to put with what. For example, suggestions for colour partners to Resene Origin are soft browns, silvery stone-greys and soft oranges.
So sharp they'll cut you
Dollop in some more yellow and you come up with acid greens. Tangy and edgy, they go well with charcoal and green-edged creams, palest icy blue perhaps.
These greens also tip into sludgy tones that speak of antiques and shady Victorian-style rooms. See Resene Westwood and Resene Bach.
The future of green is growing, so to speak. This year Resene Thorndon Cream, a relatively new green-based neutral nudged its way into the Top 20 most popular Resene paint colours. And at the Resene Total Colour Awards this year, two of the residential winners used strong greens.
The garden comes inside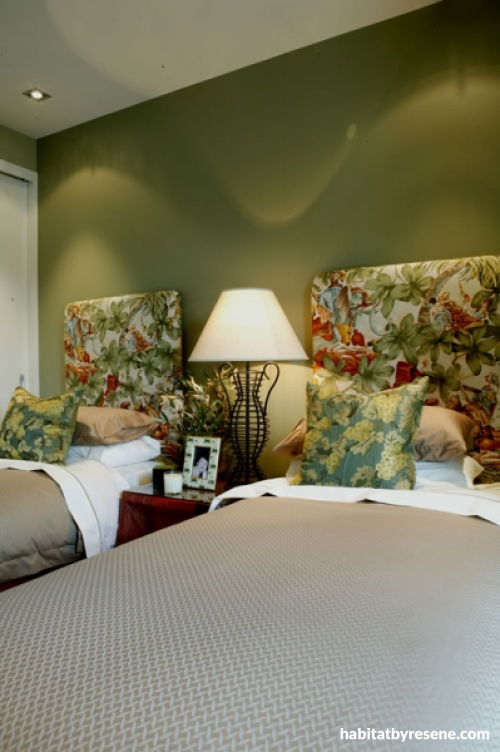 An evocative mix of bold floral fabric headboards and a dusky green wall in Resene Wilderness transforms this bedroom, designed by Rachael Buxton of Interioretc.
Setting off an artwork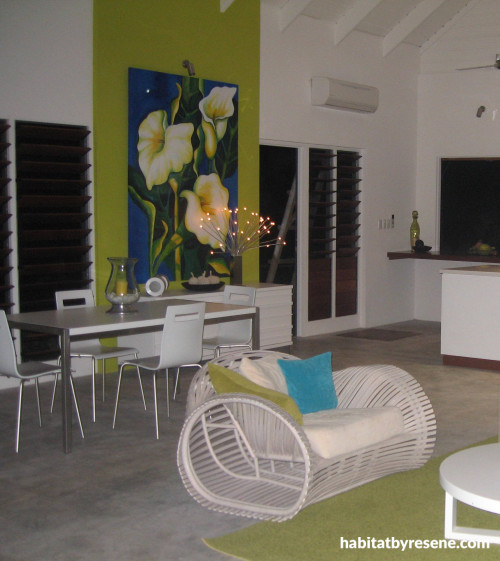 A feature wall in Resene Billy T is the perfect backdrop for a striking piece of art in this Vanuatu home designed by Australian-based interior designer Julie Chandler.
Zone out with Resene Zen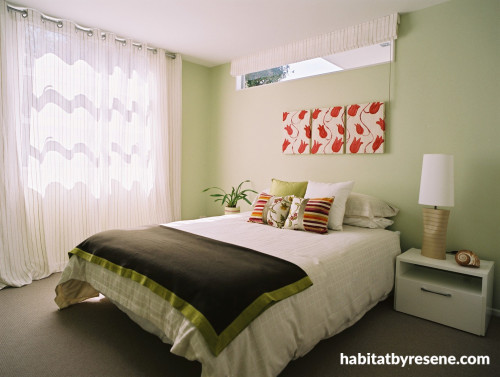 Resene Zen is a restful green for the guest bedroom, made even more beautiful by the diffuse light coming in through the window. It was created by Trinity Design.
Are we in or out?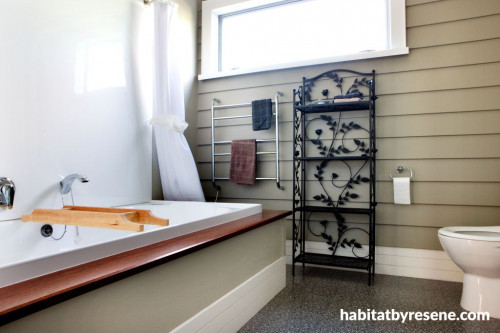 If you really want to bring the outdoors in, but not in a vegetative way, how about this? Using weatherboards as an interior wall lining, in this case for a bathroom. They're painted in Resene Stonewall, a muddy green/brown off the Whites & Neutrals chart. The bathroom is in a house by Darren Hunter of Red Shed.
A walk in the forest?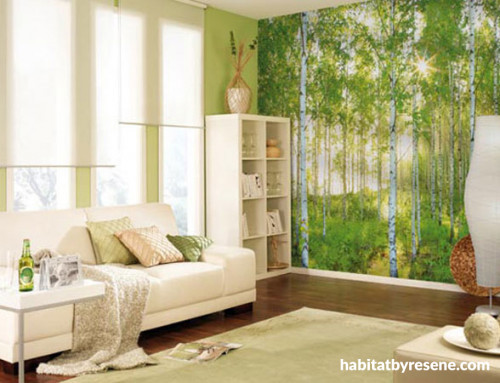 If you really want to bring a bit of greenery into your interiors, how about this over-the-top mural wallpaper by Vision and available from Resene, called Sunday.
Growing up with green
This lucky baby gets to grow up with green… and with a tree silhouette lovely painted by mum Kate Hinton. The tree was painted on to the Resene Mint Julep walls by projecting an outline image onto the wall to sketch. Kate then painted it in Resene White, finishing the detail in pink testpots. The skirting boards and doors are Quarter Pearl Lusta.
Floral explosion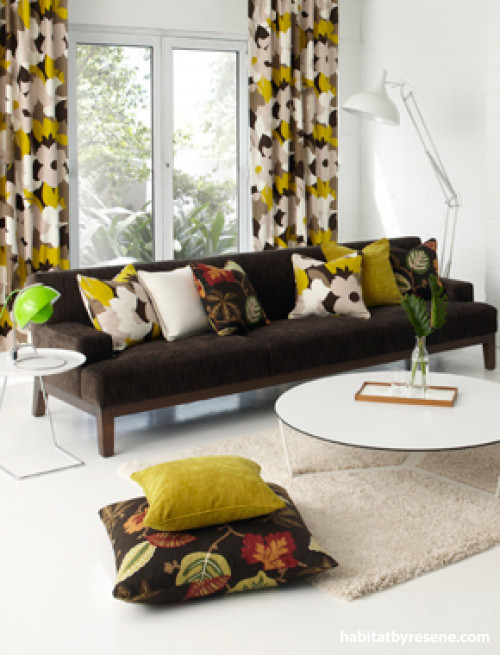 The Adachi range of fabrics from Warwick Fabrics are a perfect example of over-blown yet stylised botanic prints using acid greens, deepest browns and crisp white.
What's that growing up the wall?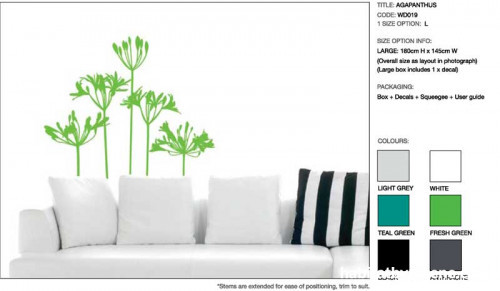 If you don't want a full green wall but want a bit of botanics in your life, these cool agapanthus wall decals are from Resene (they come in six colours). Click here for more designs.
The latest fashion colours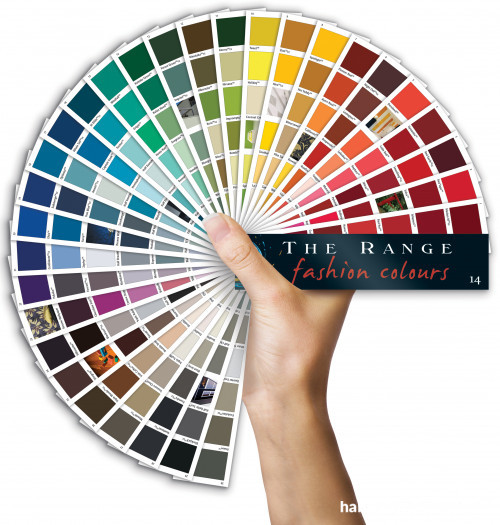 Get down to your local Resene ColorShop and treat yourself to The Range fashion colours, a sumptuous collection of fashion paint colours so right for today's trends. Or order online. And you can get a taste of the latest colour trends for 2013 online too.
the look
If you're stuck on what
colour to use or need colour
advice, try out the Resene
Ask a Colour Expert service.