►
◄
latest
habitat tv
blog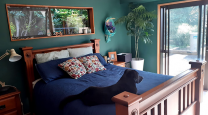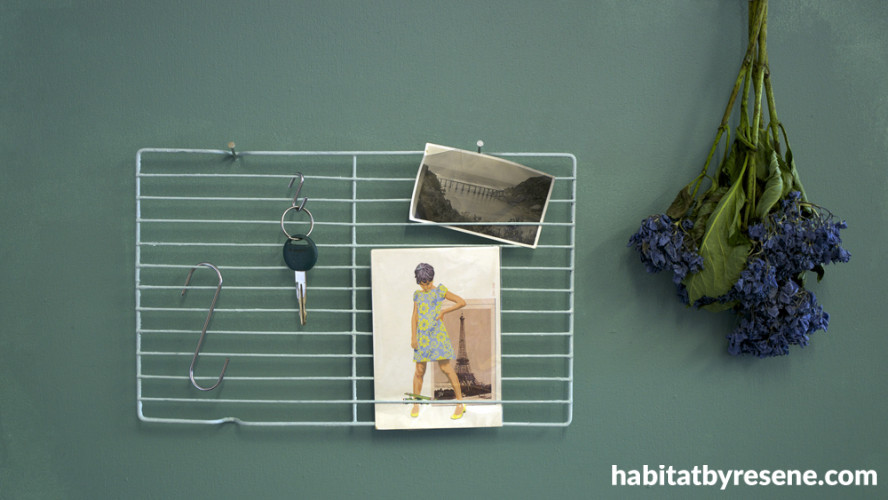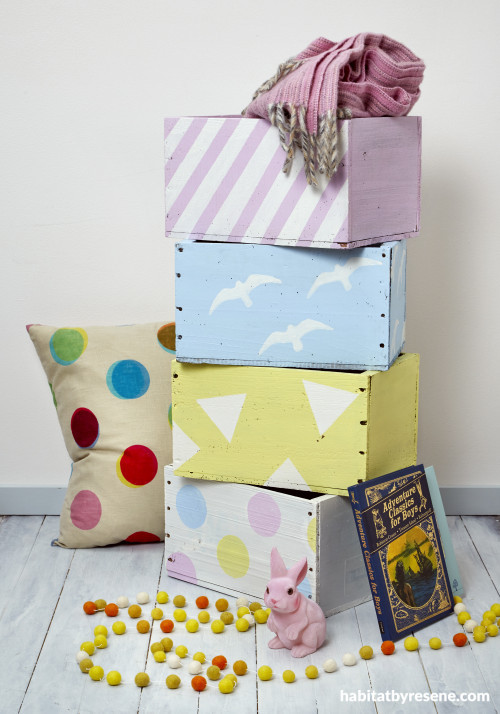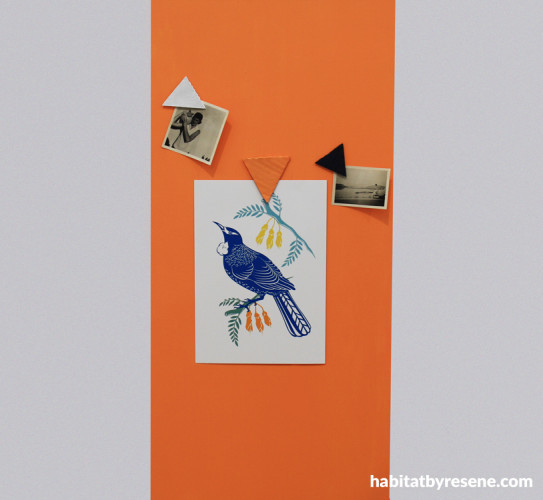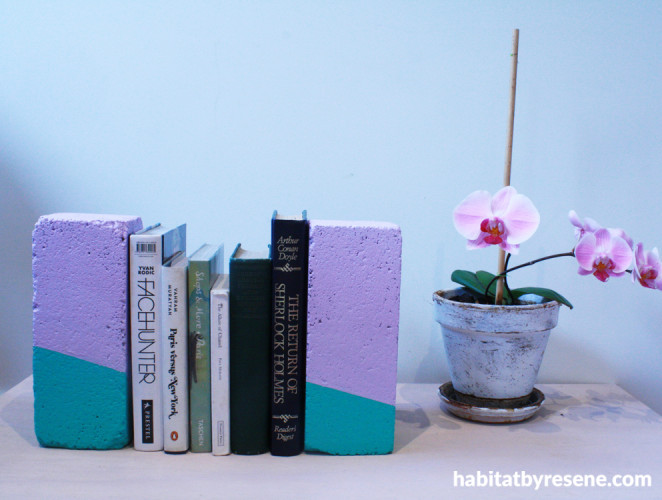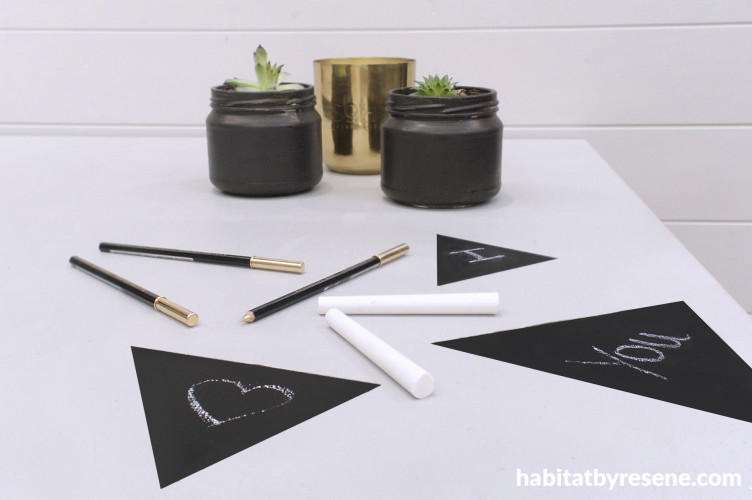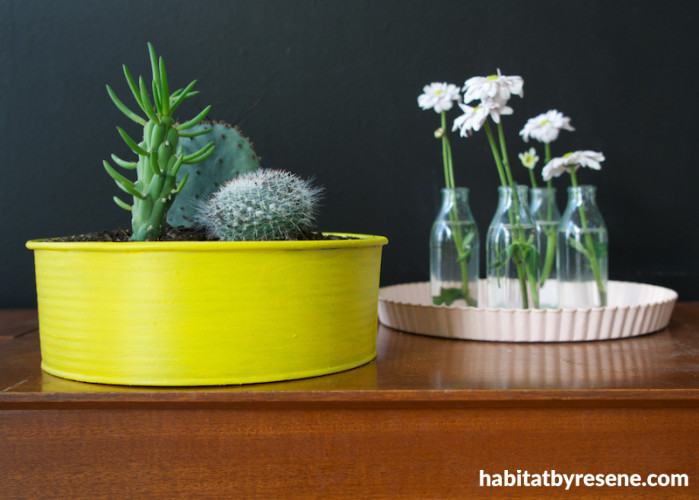 Easy paint projects
DIY projects bring with them a certain satisfaction, not least the sense of pride and joy that comes when someone compliments your handiwork.
A couple of paint brushes, an array of Resene testpots and a spark of an idea – that's all it takes to create something beautiful and personal for the home.
Because of this, we recently introduced the Bright Ideas feature to our Facebook page, showing quick and easy DIY projects using Resene paint.
To keep up with our Bright Ideas, which we post every Friday, make sure to 'Like' our page www.facebook.com/habitatbyresene. Here's a compilation of some of our latest projects.
Published: 26 Aug 2015
Do you have a home full of wonderful Resene paint and colour? Send us some snaps by emailing [email protected].
Hanging rack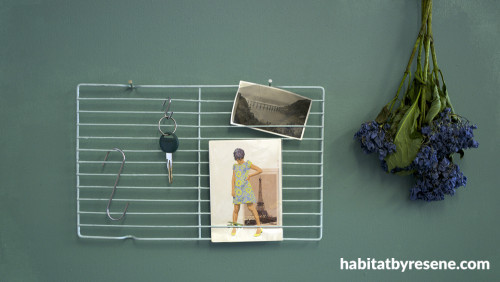 Upcycle an old cooling tray, by giving it a light sanding and brush of Resene Reservoir. The colour looks particularly lovely against a wall in Resene Cutty Sark. Use garden hooks to hang up your keys and scarves, and fold treasured postcards and photographs through the rack.
Kids' toy boxes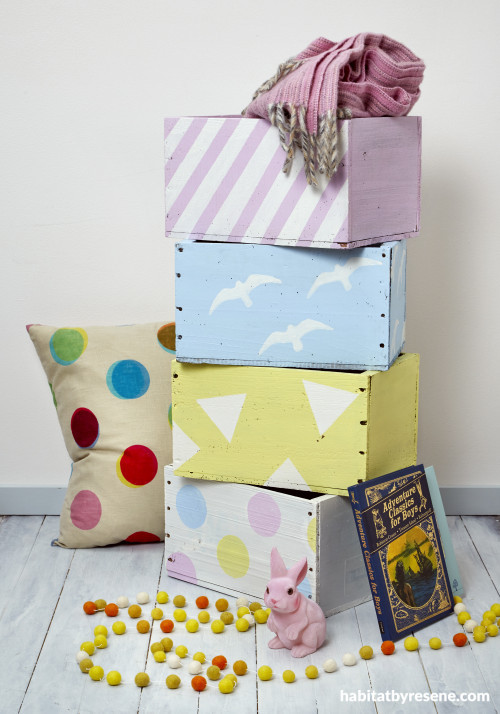 We breathed new life into these nail boxes, painting them in a quintet of colours from the Resene KidzColour range.
To get the look, paint the boxes in your choice of colours and patterns – we used Resene Flower Power (pink), Resene Smiles (yellow), Resene Splat (blue) and Resene Softly Softly. Finish the boxes in Resene Aquaclear – satin, semi-gloss or gloss. All other items are from Collected by LeeAnn Yare.
Magnetic colour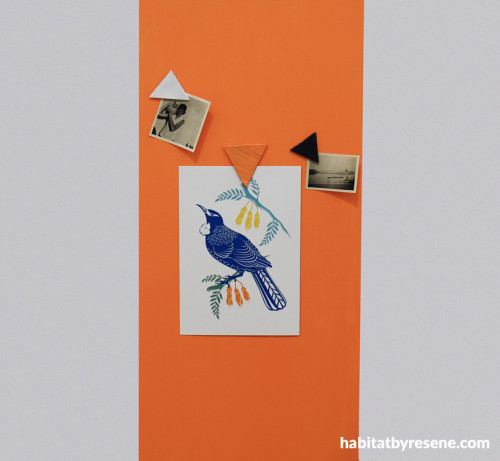 Another way to hang your paintings and photographs is by painting a strip of Resene Magnetic Magic on your wall. Using masking tape, block out a strip on your wall and paint with the magnetic paint. Once completely dry, paint over with a colour of your choice (we've used Resene Shirley Temple).
Sturdy bookends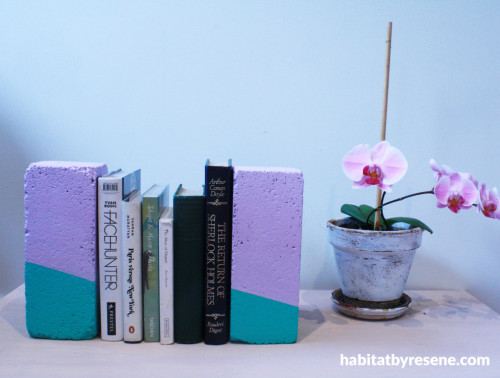 These colourful bookends will look beautiful propping up your beloved tomes. Paint two bricks in Resene Unicorn, from the Resene KidzColour range. Once dry to the touch, place the bricks side by side (horizontally) and use masking tape to section off the slanting stripe, and down the sides if you wish. Paint the bottom half in Resene Dali, and remove tape once dry.
Note perfect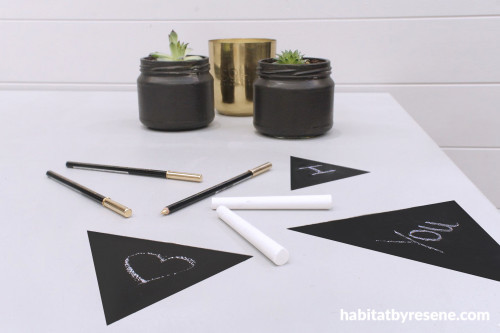 Personalise your study by painting chalkboard paint triangles on your desk with Resene Blackboard Paint. The desk is painted in Resene Transmission. Resene Blackboard Paint comes in other colours too, or use Resene SpaceCote Low Sheen which can also be used as a chalkboard paint finish.
From baking to planting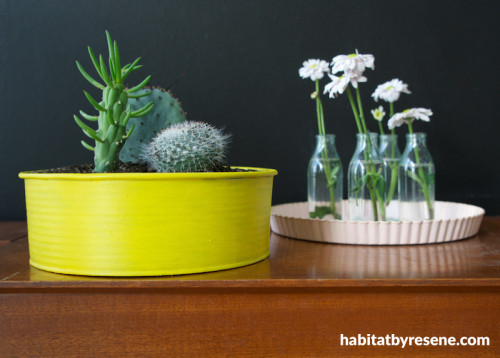 Old cake tins and flan dishes make great succulent and cacti planters. Ensure not to use non-stick bakeware for this project, as it requires sanding. Then, gather a couple of your favourite colours and get painting – we chose Resene Turbo (yellow) and Resene Sakura (pink). We show you the full instuctions on our blog.
pictures
Styling and ideas by Leigh Stockton.
the look
If you're stuck on what
colour to use or need colour
advice, try out the Resene
Ask a Colour Expert service.