►
◄
latest
habitat tv
blog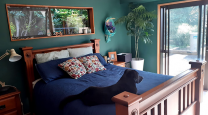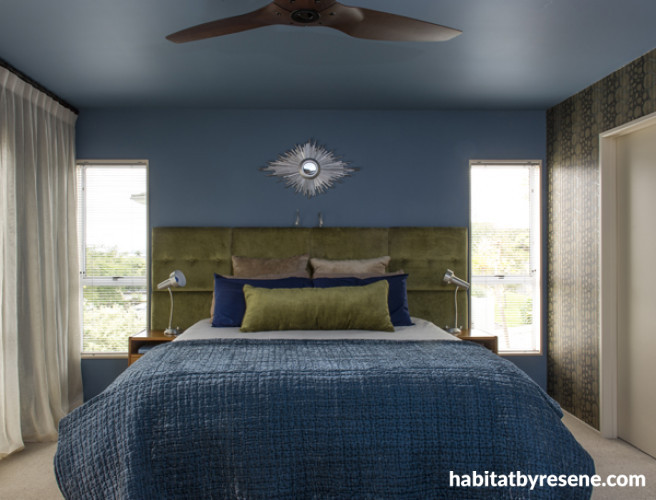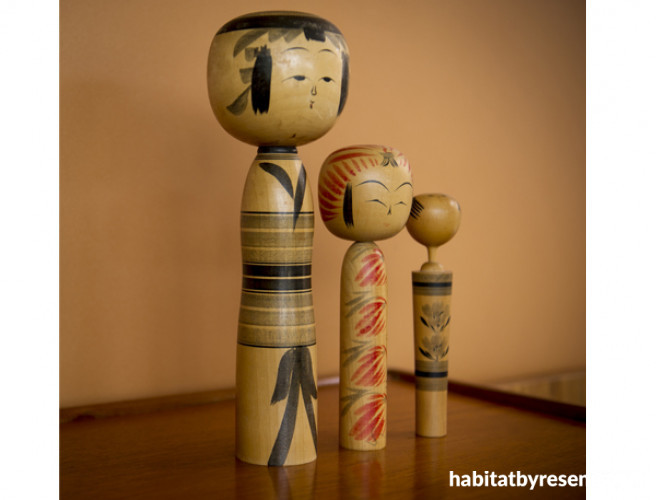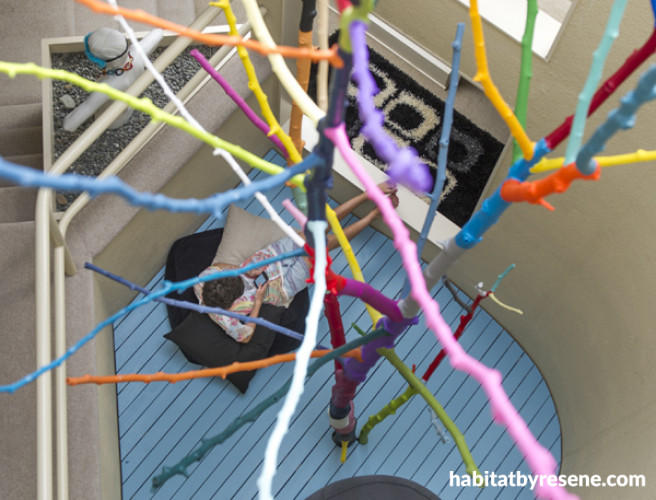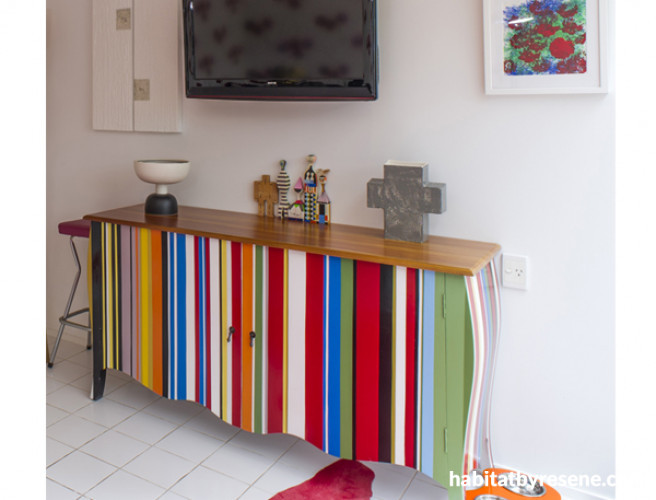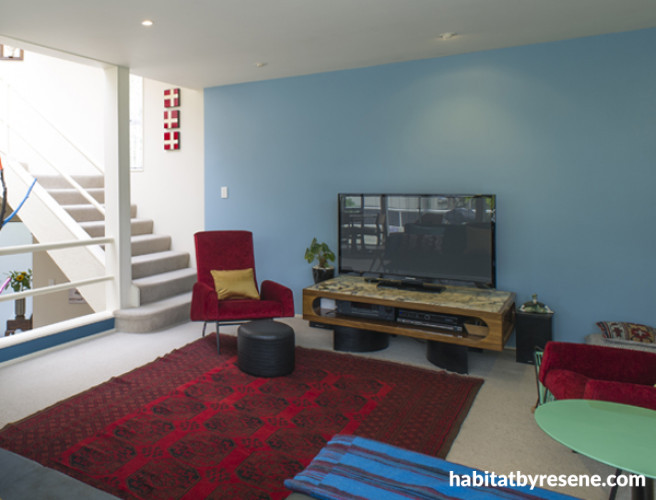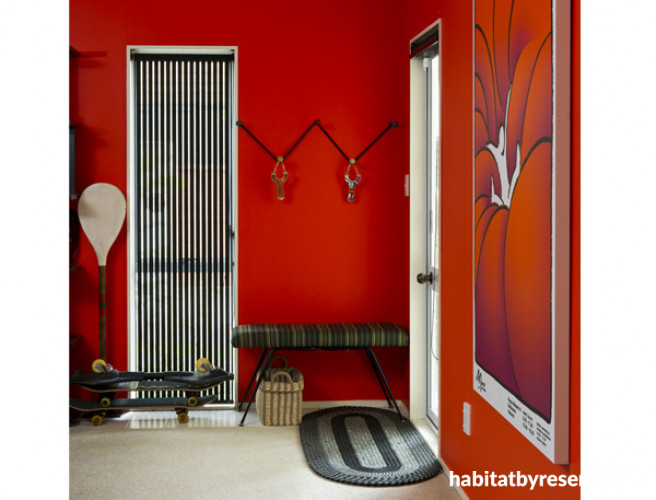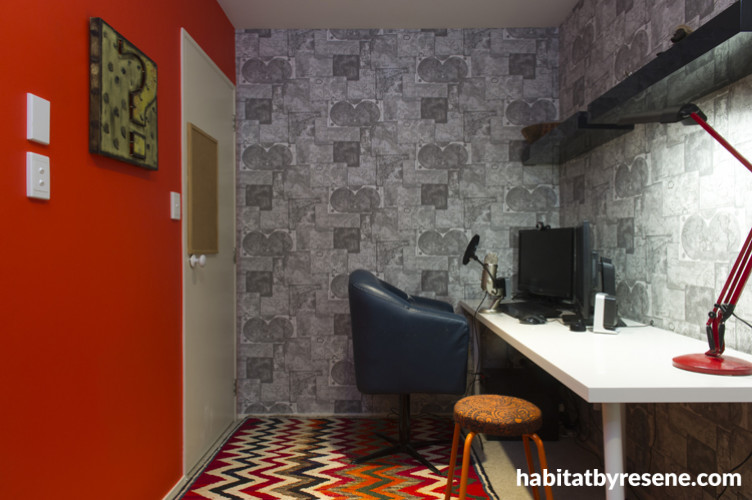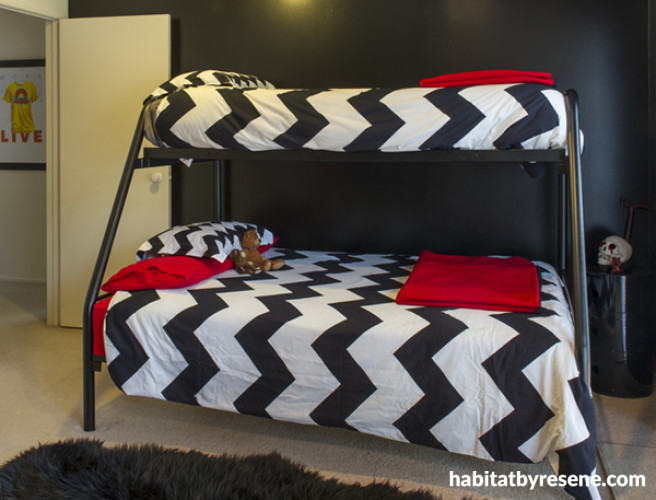 Debra's bold experiment with colour
Walk into the home of Debra Yearsley, and you'll quickly recognise her love of colour. But when the Yearsley family first moved into their 1980s plaster home, it was beige inside and out.
"It was lovely, but I'm not a beige person," says Debra. "This place has a lot of curves and they were just crying out for colour."

There was plenty of wall space to play with in the sloped north-facing home, which is split over four levels, with living spaces in an inviting open plan curved around a full-height central atrium. The master bedroom is upstairs, and her teenage boys' bedrooms, plus a large games room, sit on the lower level.
The end result is a kaleidoscopic burst of colours using paint from Resene. Debra has this advice for creating a big colour scheme from a blank canvas.

Take risks
While initially husband Adam didn't always share Debra's colour vision for certain rooms, he trusted her, gave her free rein and now loves the result.

"I'm quite brave," says Debra. "I'm never really sure how it's going to turn out, to be honest, and sometimes it can be a bit nerve-racking when the painter first starts, but if it doesn't work, you can always paint over it."
That's exactly what happened in the dining room, which was painted four times. Debra finally settled on Resene Roasted Orange from the Karen Walker Paints range, its subtle metallic sheen reflecting sunlight and adding depth to the Scandinavian and retro furniture.

Be open
There was no master plan for the home's makeover; instead Debra takes inspiration from a piece of furniture or a rug she already owns, and at other times by the aspect of the space.

"We'd talked about putting a sculpture in the atrium but the budget didn't allow for that, so I just thought: let's paint a tree," laughs Debra. "I didn't plan it out, it just happened. It took a while, but it was so much fun."

Set into concrete, the sculptural painted tree was originally surrounded by stones, which have been replaced by a wavy deck painted in Resene Awash. With a boxful of Resene testpots, Debra patiently painted the branches a variety of vivid shades.

Mix and match
Debra runs Chair Squad, a company that upcycles chairs and sofas – with a focus on classic pieces from the 1950s to 1970s – and many of these are showcased in her home. They include wing-back armchairs reupholstered in zebra print, an iconic coconut chair, and wooden Scandinavian furniture.

When it comes to furnishing, Debra recommends choosing what you like, whether it's a Formica table with hairpin chrome legs (one of her favourites), or a simple sofa finished in a bold fabric. "I don't get hung up on it all having to match. I mix wooden legs with metal and even different coloured woods. If you really love something, it works and it personalises your home."
This house features in issue 20 of habitat.
Published: 23 Jul 2014
Do you have a home full of wonderful Resene paint and colour? Send us some snaps by emailing [email protected].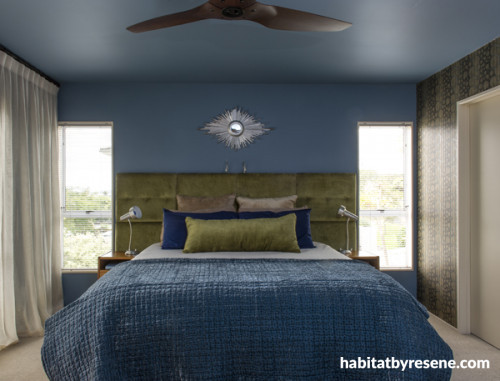 A tranquil combination of blues and greens in the main bedroom are in keeping with other blues used in the house. Ceiling and bedhead wall painted in Resene Seachange.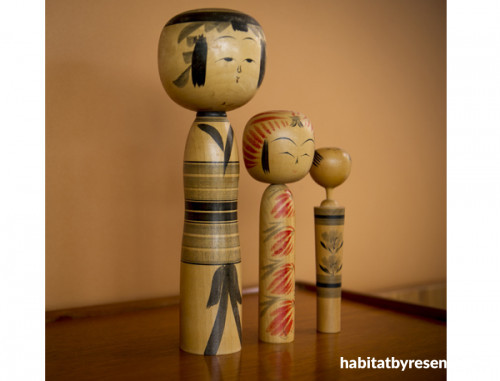 Japanese wooden dolls sit on a Scandinavian sideboard in the dining room, backed by walls in Resene Roasted Orange.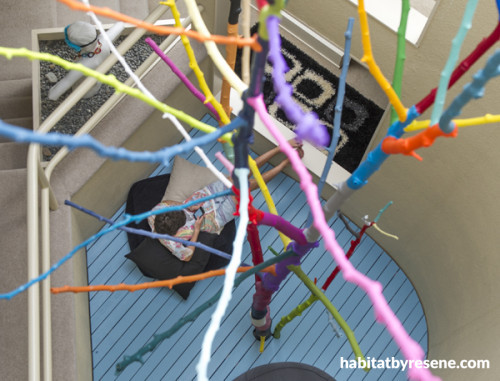 Debra recycled this dead tree, painting the branches with colours from accumulated Resene testpots.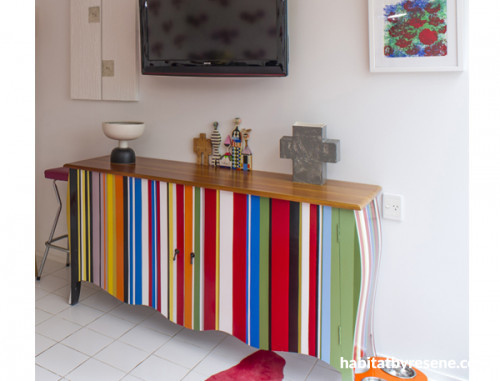 This wonderful striped sideboard was imported from Indonesia. Get the look with Resene testpots in your favourite colours.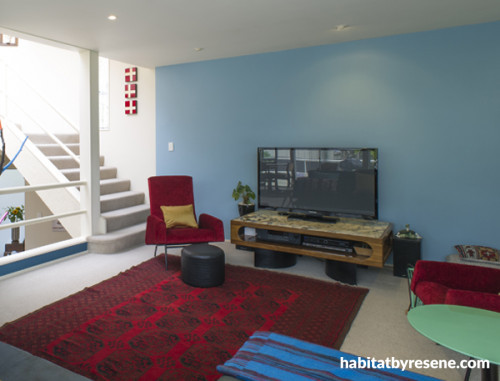 To visually cool the sunny main living room, Debra chose a combination of two blues inspired by a Persian rug – Resene Awash (lighter) and Marathon (darker).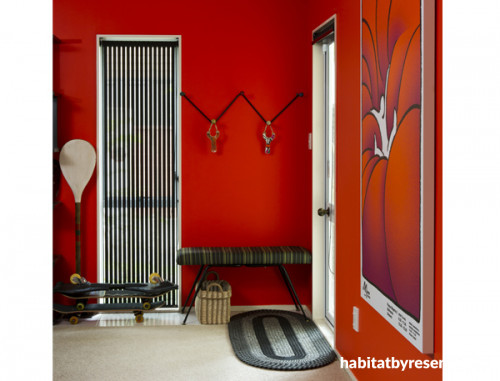 Bright and energetic Resene Daredevil is also used in the boldly themed games room, where the teenage sons have full run.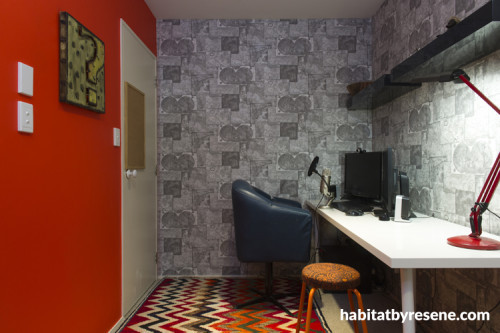 Grey-and-white Norwall wallpaper (no 6643-27) from Resene in the study sits alongside Resene Daredevil.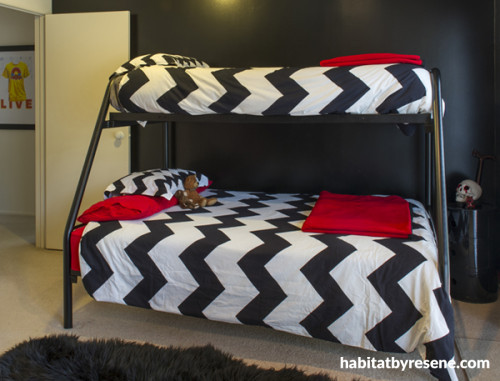 This teenage boy's room has a feature wall in Resene Blackout to complement an overall scheme in red, white and black.
the look
If you're stuck on what
colour to use or need colour
advice, try out the Resene
Ask a Colour Expert service.