►
◄
latest
habitat tv
blog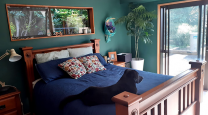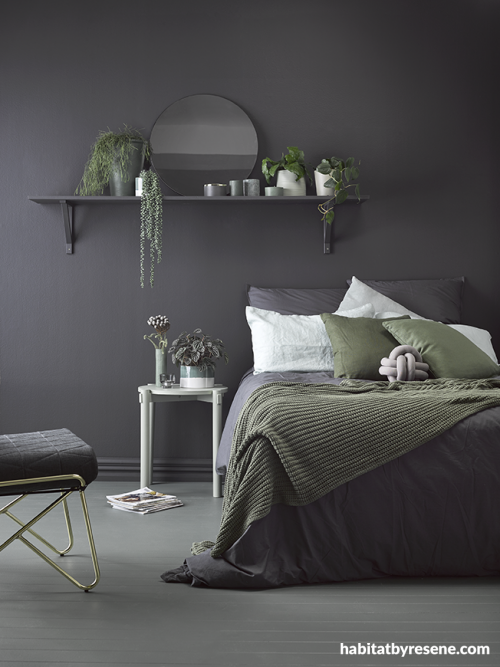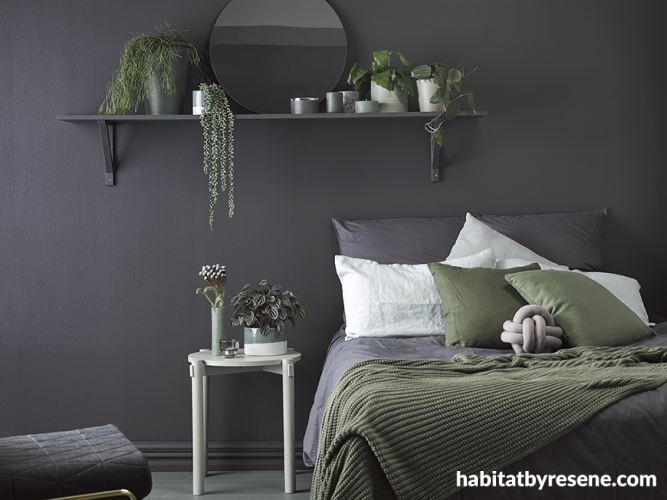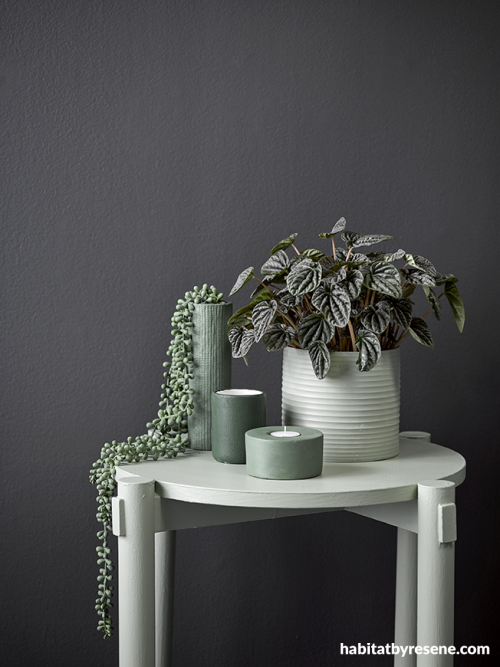 Dare to go dark
Look, we get it. Even the thought of painting the bedroom walls a dark hue feels risky. But when applied correctly, dark walls can make a room look moody and becoming... which is exactly what's happening in this setting by stylist Vanessa Nouwens.
Painted in rich deep grey Resene Nocturnal, and anchored by floors in grey green Resene Viktor, this bedroom is the definition of cosy.
Although greys and greens are traditionally thought to be cooler colours, Vanessa chose these duskier shades, containing just the right depth of colour to bring about a warm, cocooning effect.
The contrast between the walls and floors is a great example of getting dark walls right. Whether you go charcoal, dark green, or deep oxen red, having a contrast on the floors, trims and ceiling helps to delineate the area, preventing it from becoming claustrophobic – instead, it helps to enlarge the space visually.
The green floor is also a clever way to allow for a wider colour scheme that looks natural to the eye, the colours of the house plants and bedware really coming alive against the darker elements.
And of course, any white/light-based colours will pop against the scheme, so Vanessa has added white linen, vases and a table painted in Resene Organic. Warm, inviting and stylish, this bedroom will lull you to sleep in all the right ways.
The truth about dark walls
Most of the time spent in the bedroom is at night – making it the perfect place to go dark and dramatic.
To get a velvety rich effect, use Resene SpaceCote Flat instead of low sheen. It absorbs the light more, making the room look richer.
Dark walls create the opposite of 'empty', being a lovely, cohesive backdrop for art and plants to stand out and look plenty (instead of getting lost in an expanse of white).
Using darker shades brings texture and mood, especially to a featureless space. Dark walls with a different shade on the floor or trims, for example, will create lines of difference and interest in the room that wasn't there before.
If you really are afraid that the room will look too closed in, paint the ceiling white. Include light-coloured furniture, with warm undertones.
Published: 25 May 2017
Do you have a home full of wonderful Resene paint and colour? Send us some snaps by emailing [email protected].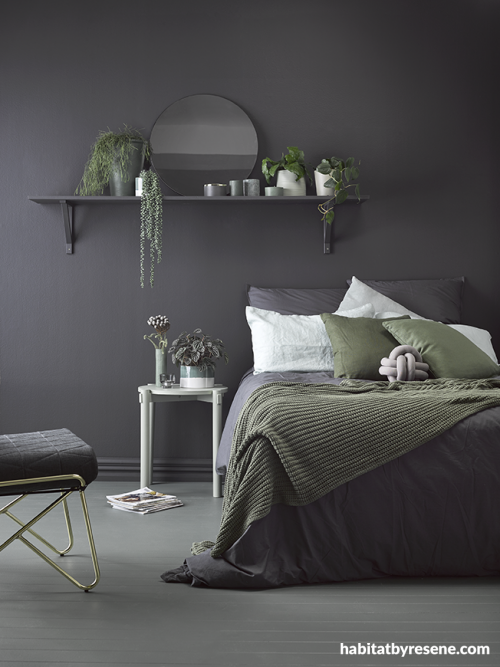 Rich velvety walls in Resene Nocturnal anchored by floors in Resene Viktor instantly turns this bedroom into a cosy haven. The colour scheme is kept to deep greys and dusky greens, creating warmth and texture with different colour depths and fabrics.
pictures
Wendy Fenwick. Styling by Vanessa Nouwens.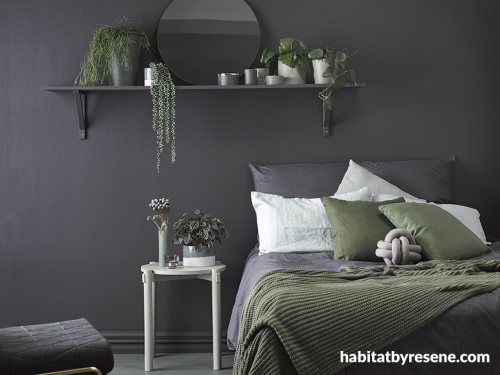 Vanessa gave interest to the shelf by painting the vases in various dusky greens and grey greens. Here she's used Resene Paddock, Resene Seaweed, Resene Passport and Resene Ciderhouse.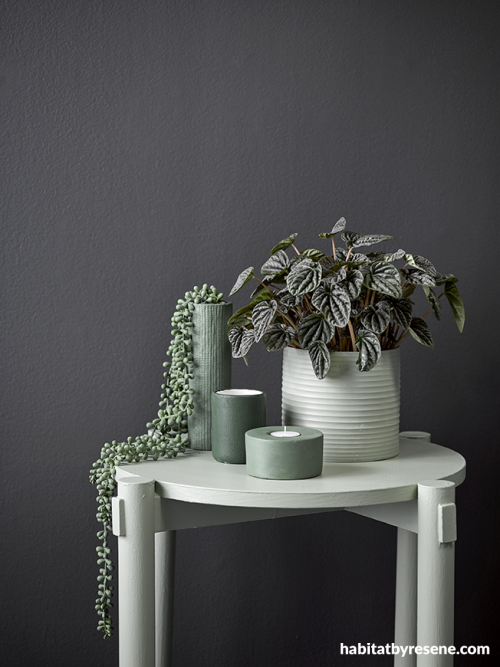 Dark walls create a great backdrop for light-coloured furniture with interesting lines. See how this table, painted in Resene Organic, stands out against the wall in Resene Nocturnal. A single piece of large artwork, as opposed to salon style hanging, also works really well.
the look
If you're stuck on what
colour to use or need colour
advice, try out the Resene
Ask a Colour Expert service.