►
◄
latest
habitat tv
blog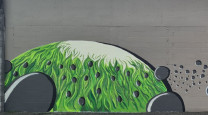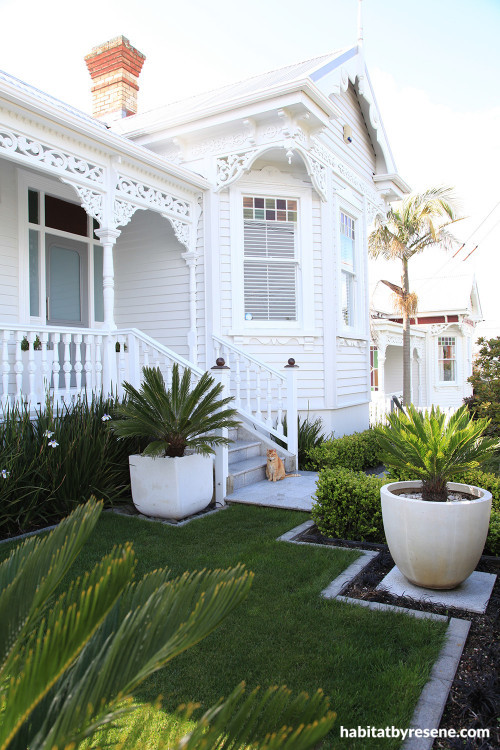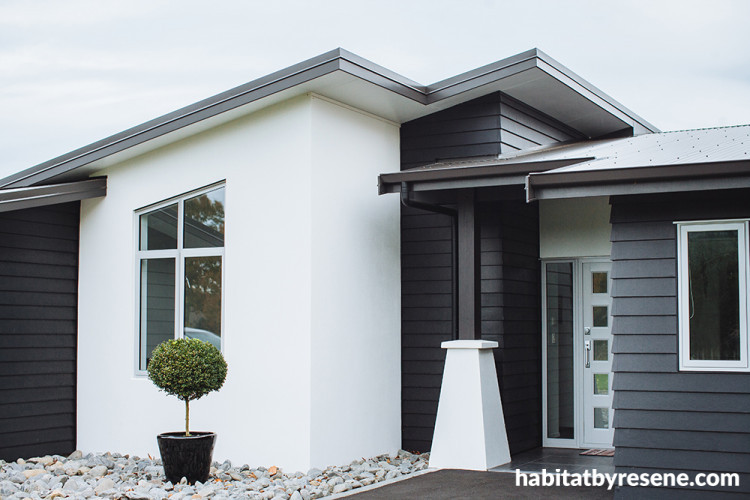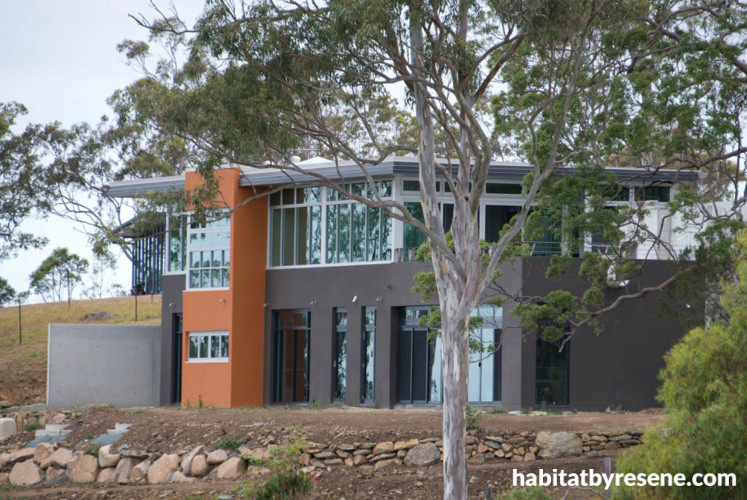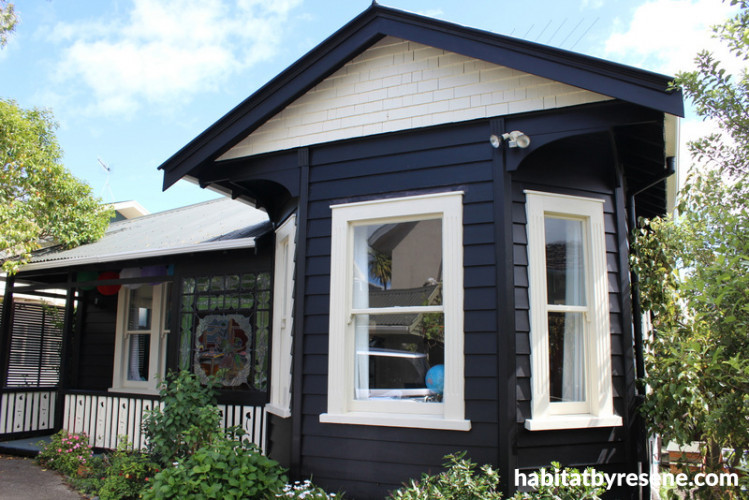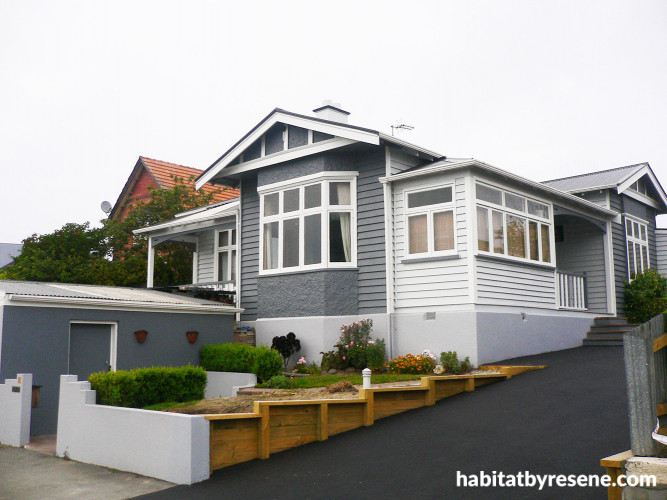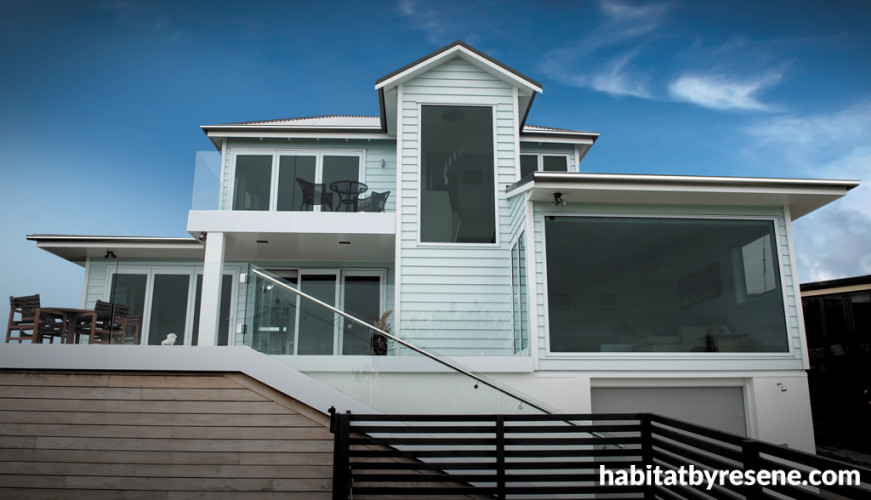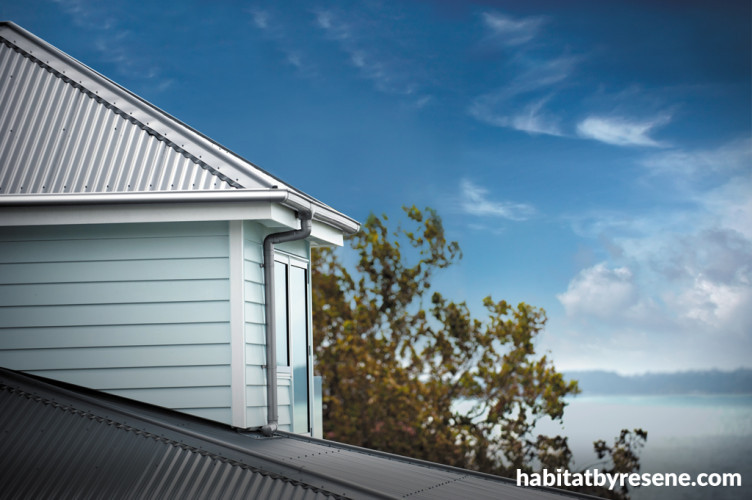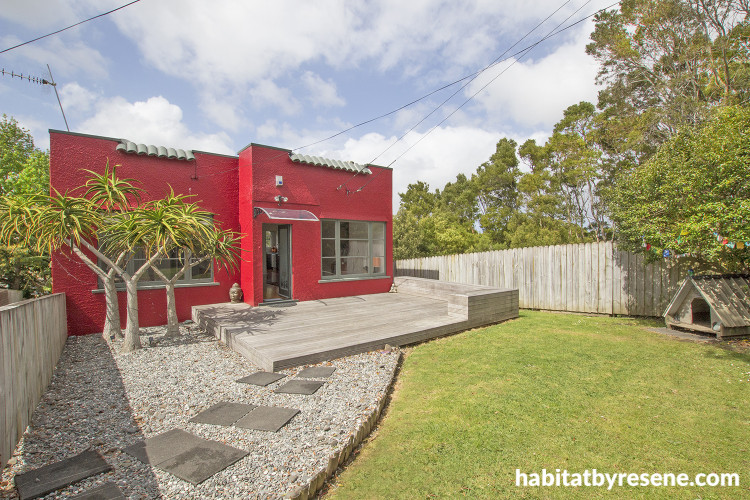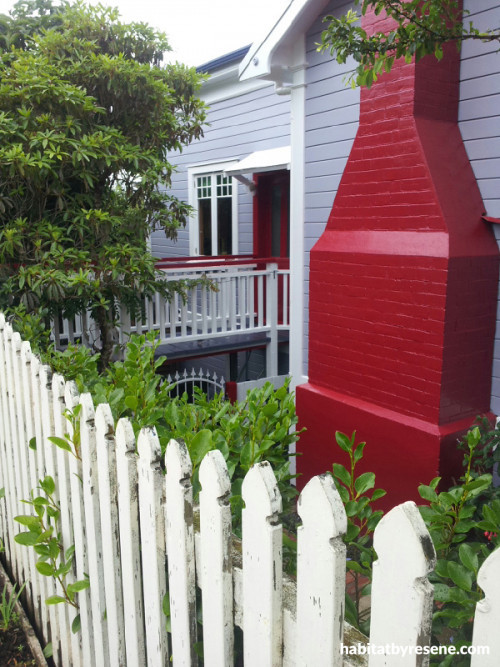 Create an exciting exterior
As with many things, house exteriors are subject to changing tastes and fashions. Unlike the inside of your house, however, repainting the outside of your house is a lot more costly and time-consuming than giving your living room a new lick of paint to suit your changing mood. Which is why most of us play it a bit safer on our exteriors, choosing more timeless schemes.
Despite that, fashion does tend to sway us. A decade ago, rich coffee colours were adorning our exteriors. Now, greys are not only the new darling of our interiors but have also come to the fore outside, along with crisper, fresher tones.
Grey and grey-whites have always looked smart outside – in fact, Resene has a very very pale grey called Resene House White which many painters refer to in reverential tones just because it's so fool-proof and looks so good on weatherboard houses. Teamed with some mid-toned clean greys for accents and a glossy black or bright red front door, and you have a scheme that will surely last the distance.
Remember that white will make your house look larger, just as darker colours will make your house visually recede… but will also give your home a dramatic feel.
Top tip: Always use Resene CoolColour paint when choosing a dark colour. It reflects the sun's heat, minimises heat build-up and so protects both the paint and the substrate it sits on.
Look carefully at all of the different elements that make up your house exterior, from the roof and barge boards, to the cladding, window trims, any ornate timber work, verandas and front steps. Will they all be painted, and in different colours? What elements will remain unpainted but still be a significant part of the overall look and colour scheme: brick, timber, guttering and spouting and downpipes, steps etc. Also remember to extend the scheme into the garden, especially on decorative fences or those that sit in front of the house.
A controllable number of colours to use in an exterior scheme is four: one for the main cladding, one for the trims, one for the roof and spouting, and an accent that you might use on the front door. The more colours you end up with, the more you should consider using colour families or variants of the same colour. If you use too few colours, your house may end up looking bland and lacking personality. A hit of bold colour on the front door could be the remedy.
Top tip: The Resene Whites & Neutrals range is an invaluable tool when choosing a colour family for your exterior. It's rich in neutral variants from pale grey to stone tones and soft green-greys.
Finding inspiration
Your neighbours may be a great source of inspiration. There are likely to be similarly styled houses to yours in the area with lovely looking paint jobs. Don't exactly copy a direct neighbour, however, or you may be struck off the street party list.
Any natural features around you can also lead to an appropriate scheme. Lots of leafy trees and bush may inspire you to stained cedar, or soft green weatherboards. Near a beach? Maybe palest grey-blues and crisp whites are the go. Muted, grey-off colours are more likely to look good outside, and often have a low reflectance value so that your house doesn't force you to wear sunglasses when you look at it.
Let history lead you. We have cities and towns full of older character homes, and there are many tried and true schemes to use on villas, bungalow and Art Deco dwellings. Art Deco homeowners can go a bit wild with colour. Historically, this style of house was painted in a range of gelato pastel tones from sunshine yellow to minty green and ice pink.
While this country has a certain tolerance for freedom of expression, bedecking your home in tangy orange may be okay in a funky inner-city suburb, but not in a more conservative area. In fact, some suburbs (and islands, like Waiheke Island in Auckland) have covenants that restrict what colours and materials you can use on your house exterior. Best find out what those are now, rather than after you've bought buckets of paint.
Remember the bright light will wash out colours using on an exterior, so if in doubt use a darker colour.
A good colour scheme will highlight the best features of our home, whether it's ornate trims, large windows or an appealing roof line. It will improve the street appeal, and somewhere down the light, the resale value. It will also disguise the ugly bits.
Read more: Learn how to paint your house exterior; 1 house, 4 ways: exterior; Create a superior exterior
Published: 23 Apr 2015
Do you have a home full of wonderful Resene paint and colour? Send us some snaps by emailing [email protected].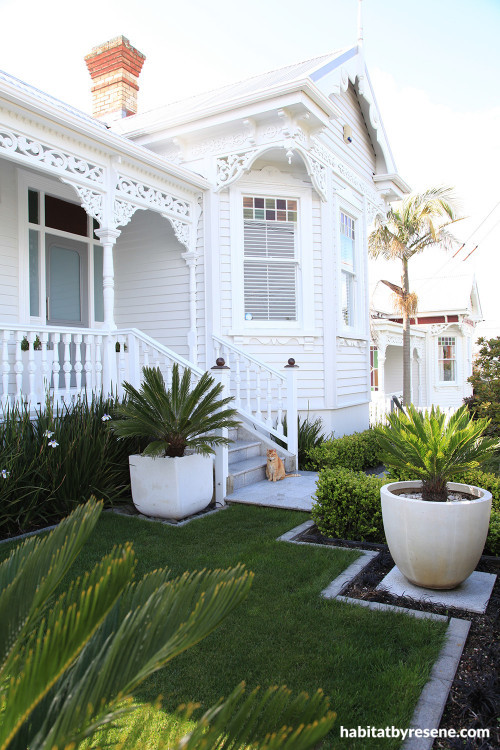 Garry Cullen of Ardmore Architects chose an elegant scheme for his own classic villa, using Resene Sea Fog on the weatherboards and Resene White for the trims.
See more about this house and garden in the latest habitat magazine.
A crisp black and white colour combo enhances the shapes of this contemporary home. Using Resene Nero and Resene Black White, it was designed by Rachel Brandon of Rachel Brandon Designing Interiors.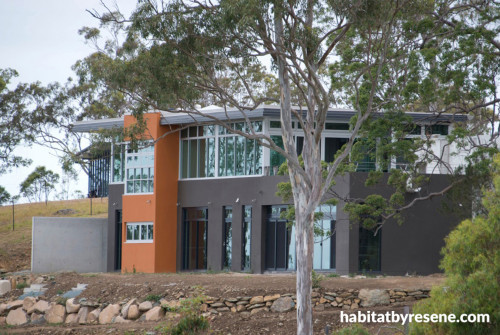 Combining the colours Resene Triple Mondo and Resene Reno Sand on the exterior, this semi rural estate is at one with its Australian bush surroundings. Designed by Martin Chant of SPA (Studio of Progressive Architecture).
pictures
Photographs by Paul Broben, Foxtel.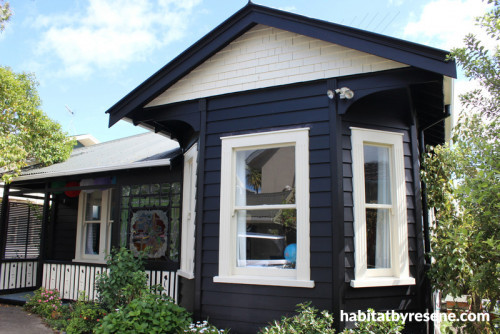 An older villa, she's looking good for her age. Homeowner Pippa Jinks had it professionally painted in Resene Black, while she lovingly painted the window frames in Resene Double Pearl Lusta herself. She calls the colour "creamy and luscious," but gentle enough for an older house.
pictures
Compliments of the Your Home & Garden/Resene Home Colour Awards.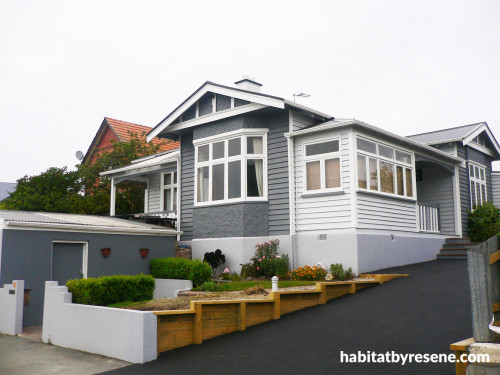 Brent and Diane's smart new scheme is much admired with passersby door-knocking to ask for the colours used. To save you the trouble (and if you don't live in Timaru), they used Resene Iron for the weatherboards, Resene Shuttle Grey for the feature walls, window sills, and hand rails, with a garage in Resene Grey Chateau. The white used around the windows is Resene Alabaster.
pictures
Compliments of the Your Home & Garden/Resene Home Colour Awards.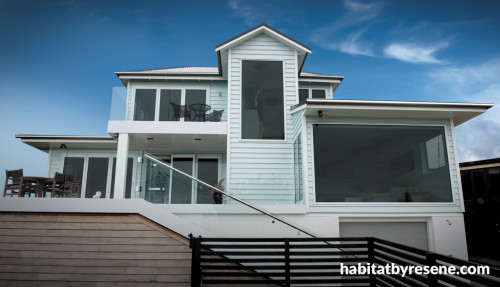 When your home is fronted by such a beautiful view, you want to make sure its exterior is just as striking. Anne Moir chose the sharp, icy blue Resene Cut Glass for her home, located on the beachfront in Maraetai, east of Auckland. She matched it with Marley Stratus Design Series® Titanium coloured, uPVC spouting and downpipes which is ideal for the often-harsh coastal conditions.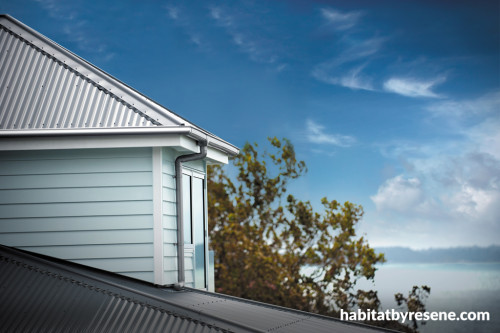 Who wouldn't love this view? Resene Cut Glass looks striking against this ocean backdrop.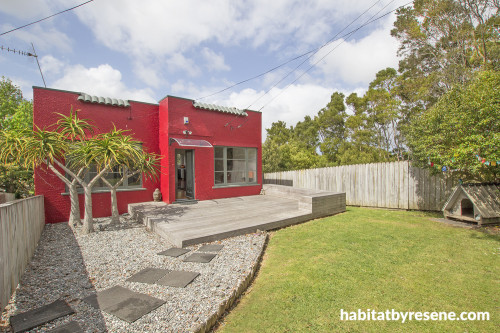 Art Deco homes are often decked out in bright happy colours like pink, yellow and aqua. Homeowner Swami Yogamani Saraswati went one step further inspired by nearby parks and trees with a red exterior, using Resene Pohutukawa. It's teamed with Resene Karaka for the top roof trim and Resene Cliffhanger for the steps and window frames.
pictures
Compliments of the Your Home & Garden/Resene Home Colour Awards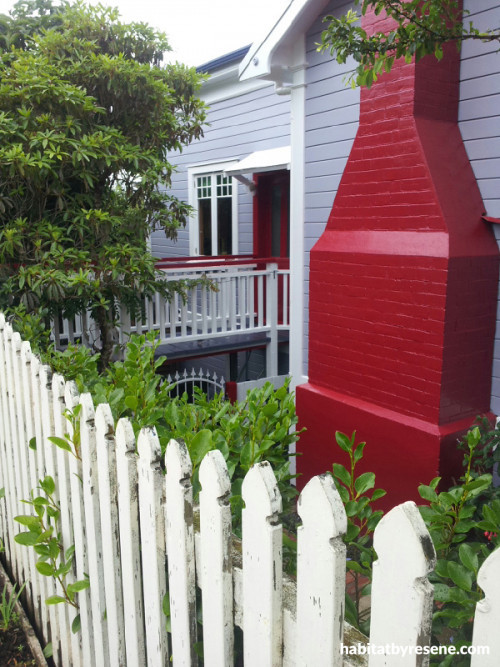 Villas are notorious for hidden problems as Mairi Wharehoka, husband Ieuan and son Waru found out when what started as a minor repair grew into a major renovation. As a result, the exterior needed a new paint job, so is now resplendent in Resene Santas Grey weatherboards, Resene Gun Powder veranda boards, and a striking Resene Pohutukawa chimney.
pictures
Compliments of the Your Home & Garden/Resene Home Colour Awards.