►
◄
latest
habitat tv
blog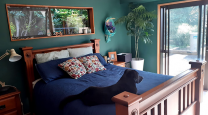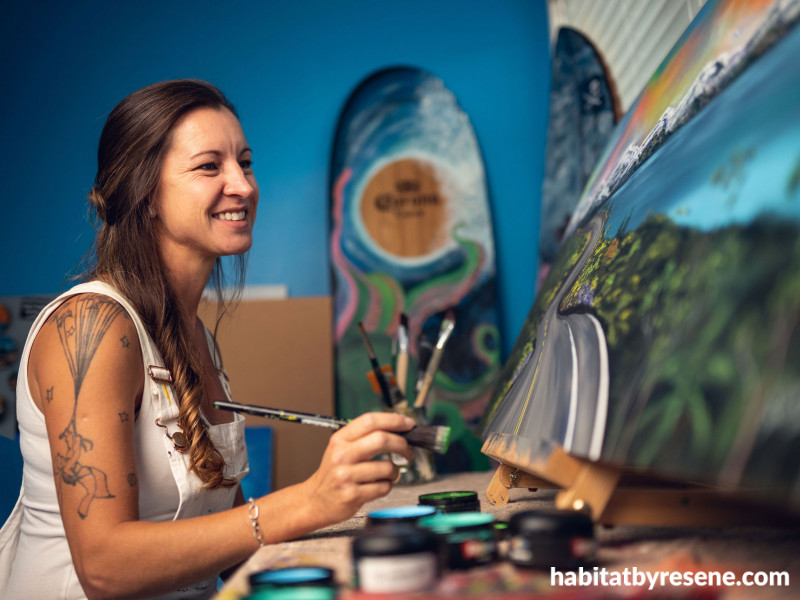 Somewhere beyond the sea: Artist Noila Souza's paintings go with the flow
10 Jun 2021
Artist Noila Souza has crossed oceans to come to New Zealand, and she's a dab hand at painting them too. More than 12,000 kilometres away from her home in Brazil, Noila paints a bright and colourful picture of what it's like to be an artist in New Zealand. Inspired by the ever-changing hues of the ocean, Noila uses Resene paint to create masterpieces on any canvas she can find – including walls, vans and even guitars.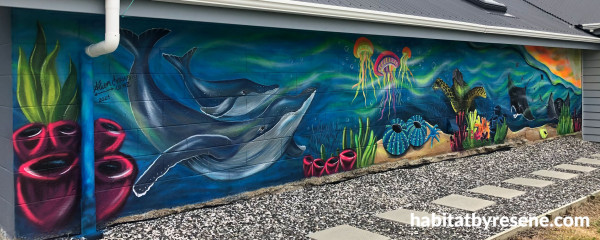 One of Noila's larger projects, this wall mural was inspired by Noila's love of the ocean and uses vibrant colours such as Resene Dizzy Lizzy and Resene Picton Blue with deeper hues including Resene Bondi Blue and Resene Green House.
Noila's painting journey first began when she painted a friend's surfboard. "I've always loved drawing and painting but never in my life thought I could do it as a job," says Noila, who was a businesswoman in Brazil for nine years before moving to New Zealand. "But after painting that first surfboard, more and more projects started to come to me.
"I was very unsure at the beginning, but I have since found my passion and a wonderful life in New Zealand. I love this country and the life I have here."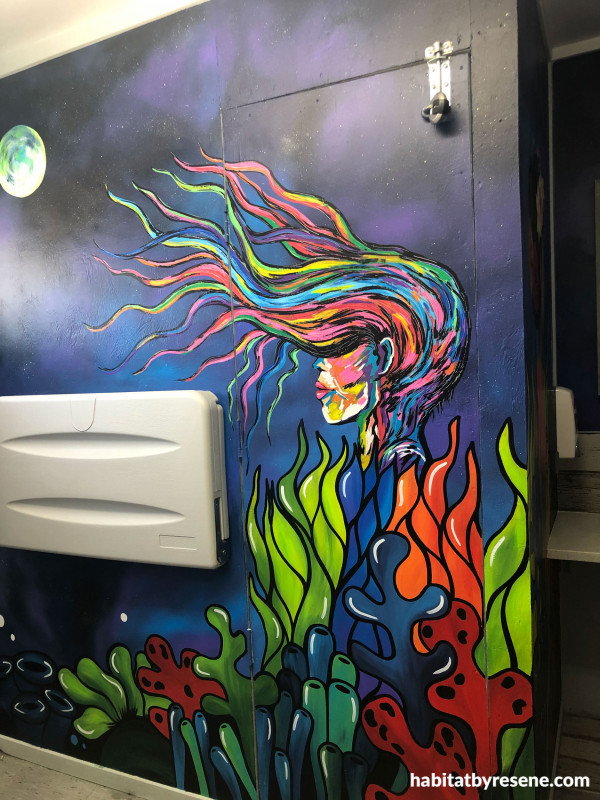 Noila's colourful ocean inspirations are splashed across the walls of the Orewa Surf Club's female toilets. She used a collection of vibrant testpots, including Resene Bondi Beach, Resene Outrageous and Resene Dizzy Lizzy.
Noila's inspiration is right at her fingertips and her colour palette blooms from the view beyond her doorstep. "I live close to the beach, so nearly every day I go to watch the sunrise," says Noila. "The mixture of the colours in the sky and the ocean are my starting point. I can see so many colours in the water and it is just magic.
"I like to imagine another world beneath the ocean and my Resene colour choices are inspired by this."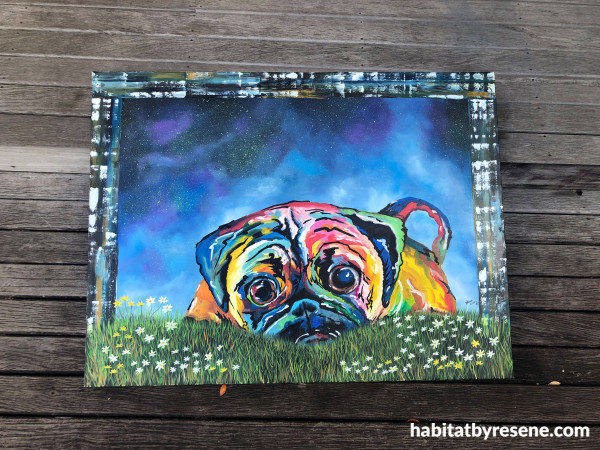 This charming pug uses a wide assortment of Resene colours, including Resene Dizzy Lizzy, Resene Outrageous, Resene Green House, Resene Picton Blue and Resene Bondi Blue. Highlights are created using Resene White with outlines in Resene Black.
Noila uses Resene testpots for her larger mural pieces and canvas work. "It is easy to select my colour palette from the wide variety of Resene colours to choose from – I especially love the fluorescent colours," says Noila, whose favourite colour is Resene FX Fluoro Yellow. "Resene FX Fluoro Yellow on top of other colours makes everything shiny and bright, the way I like it.
"There's such a variety of Resene paints and I like to use as many colours and make my work as colourful as I can."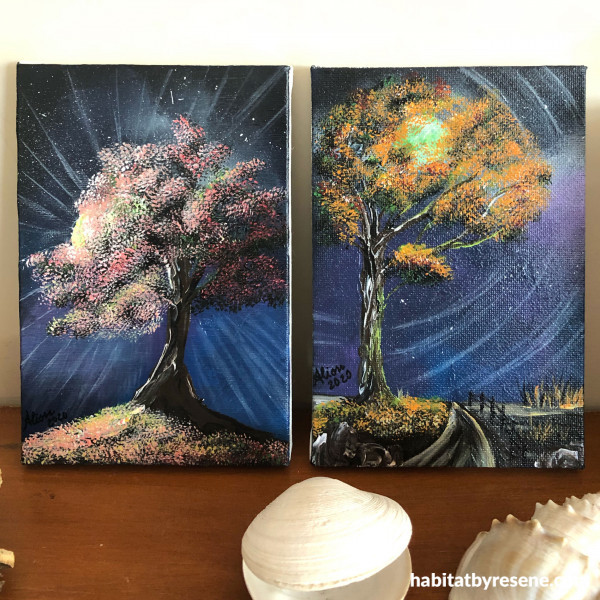 This diptych of the changing seasons uses Resene Outrageous, Resene Glorious, Resene Brown Sugar and Resene FX Fluoro Yellow with highlights in Resene White and outlines in Resene Black to create a surreal and dazzling composition.
Noila's projects can take anywhere from a few hours to several days to create, depending on the scale and detail of the work. Her favourite project to date has been a mural for a Christchurch car company. "This was my first project using Resene testpots and they really made life easy," says Noila. She dreams of one day painting a New Zealand lighthouse in colourful Resene paint. "I learn every day how to mix more colours and how to use different materials, I think the more I practice, the more I discover.
"I came to New Zealand to study, but have fallen in love with the country. I love the nature, the lifestyle and the way the local people really know how to enjoy their life here."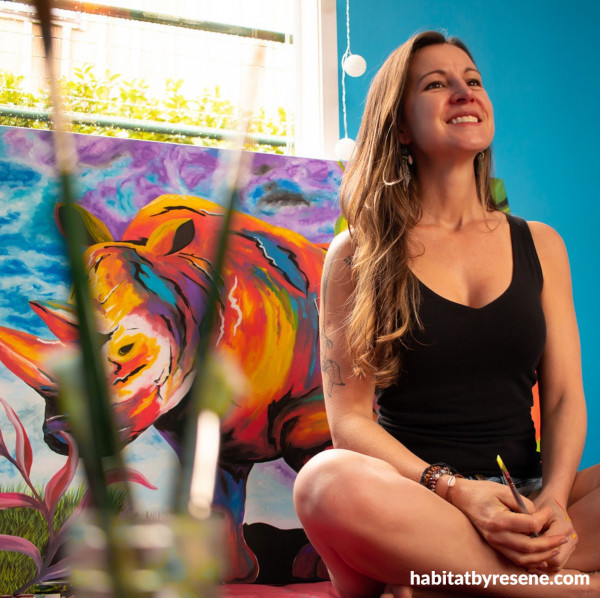 Noila's favourite colour Resene FX Fluoro Yellow adds a vibrancy to her work.
Check out more of Noila's art here or visit her website
Images by @oliver.loj and Victor D'Alcantara
Published: 10 Jun 2021