►
◄
latest
habitat tv
blog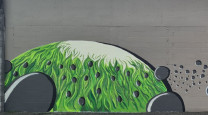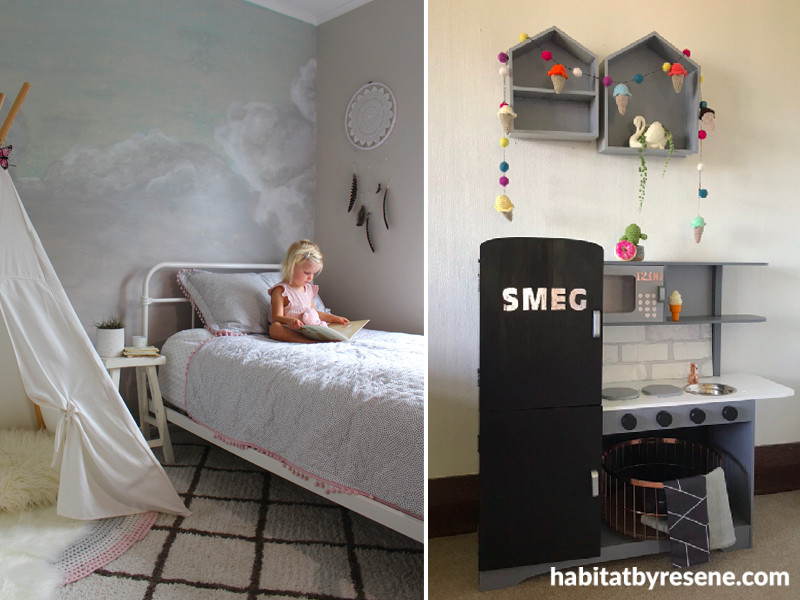 Editor's picks of the month
31 May 2018
Here at Habitat by Resene we see many creative projects using Resene paints and products. Here's a few of our favourites.
In the clouds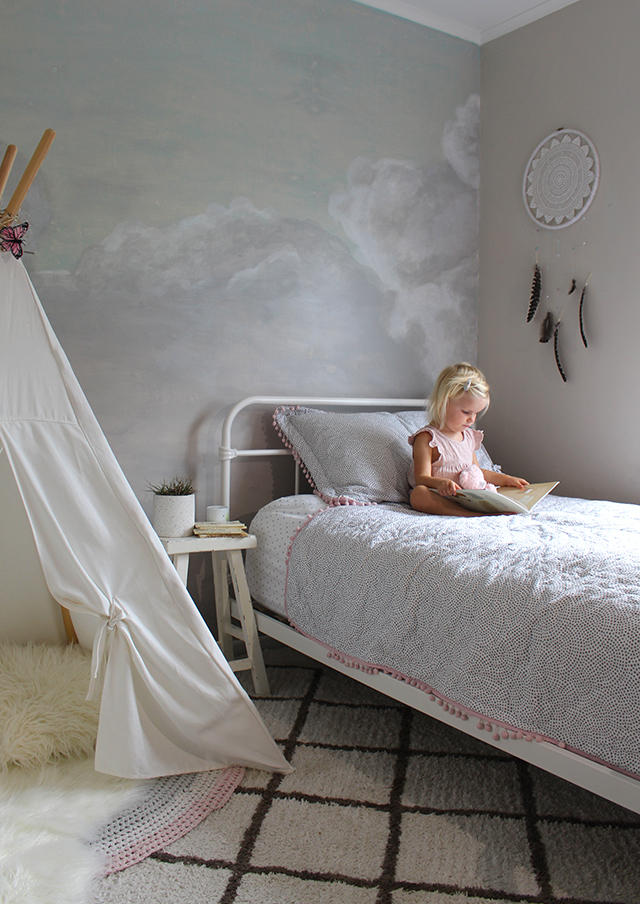 This is one lucky girl, although with a mother who is an artist, perhaps it to be expected that your bedroom would look like this. Kylie Rusk first painted a basecoat of Resene Half Tea, then created the cloud effect using a mix of Resene Soothe, Resene Triple White Pointer, Resene Half Kumutoto, Resene Vanilla Ice, Resene Sea Fog and Resene Ashanti. She used Resene Paint Effects Medium and Resene Hot Weather Additive to help slow down the drying and to be able to merge the colours. When Kylie's not painting walls in her house, she's working on art for her next exhibition. See more about her work at www.kylierusk.co.nz or on Instagram at @kylieruskart.
Moody and romantic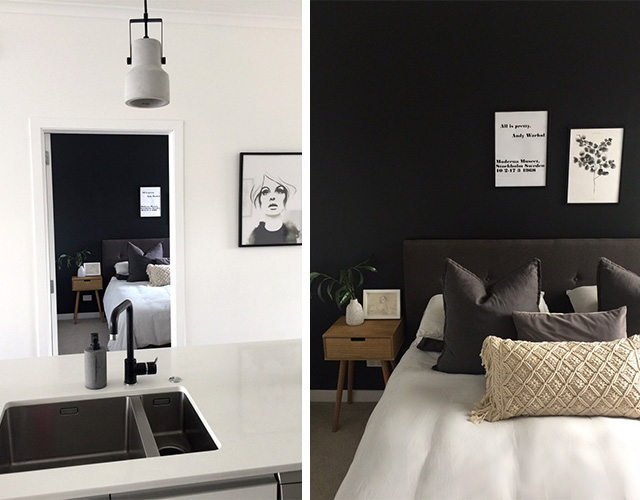 What was once an entire house painted all white by the builders 10 months ago, is slowly being personalised by Seb Tomlinson and her family. The first rooms to benefit from her creativity (she's a make-up artist by day) are the master bedroom and ensuite, repainted in Resene Blackjack.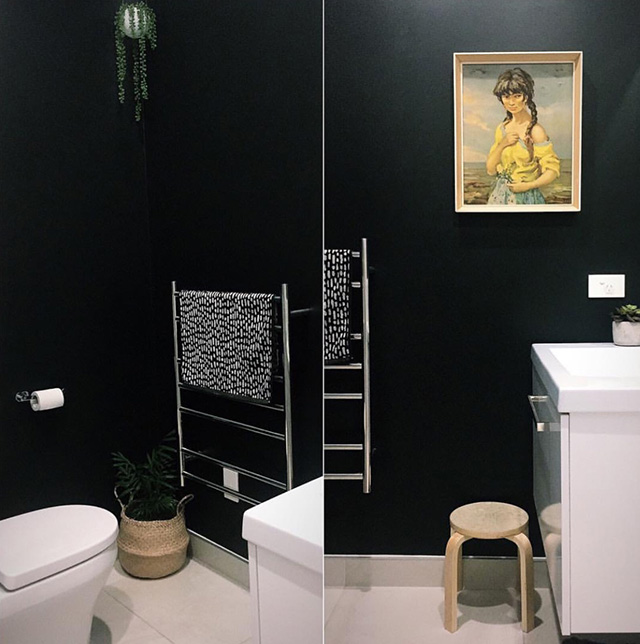 The colour was chosen to give the rooms a moody and romantic feel. Says Seb: "Our house is small and I felt the darker tone would suggest the illusion of space - and Resene Blackjack helped us to achieve exactly that." See more about Seb at www.sebmakeup.com.
The perfect navy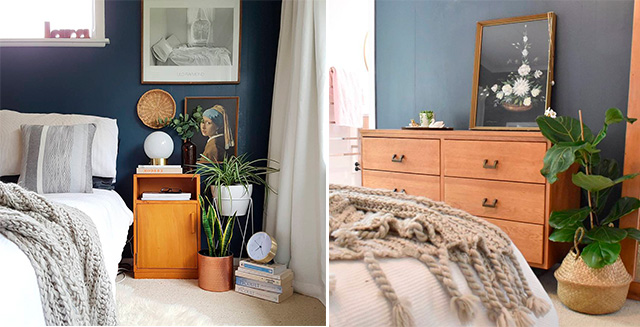 Lara Maher is used to making rooms look great – she works for Wellington-based styling company Showroom. There's certainly a knack to making quite an eclectic collection of bedside objects like this look right… and not just messy. This is Lara's own bedroom, where she chose to paint the walls in Resene Rhino. Says Lara: "It is the perfect grey-based navy colour. We love the depth it adds to the room and how crisp it looks with the white curtains and architraves." See more about Showroom here.
Super-cool kid's kitchen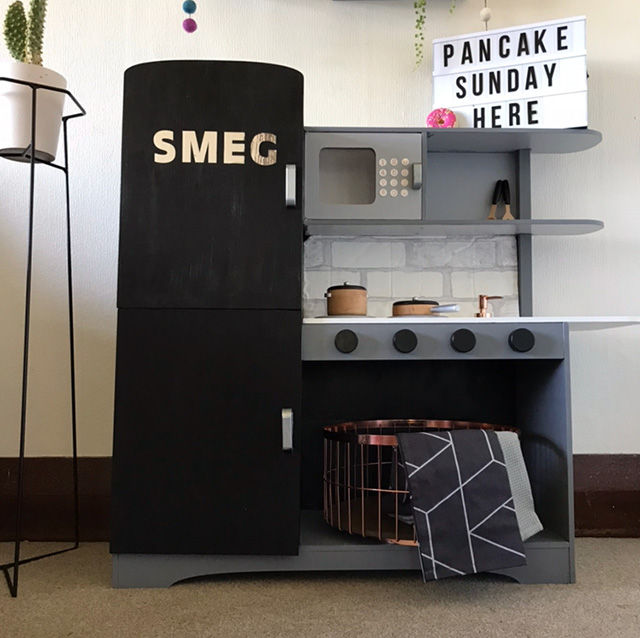 Mum Stacey MacDonald wanted to spruce up an old pink play kitchen for her son Ollie, so went for a super-cool monochromatic scheme using Resene testpots in Resene All Black, Resene Raven, Resene Grey Chateau and Resene Atmosphere. She even managed to find some wallpaper, design BN49782 from the Resene Wallpaper Collection, to use as a splashback. The mini renovation has been a great success with Ollie always 'cooking' in his kitchen.
Perfect in pink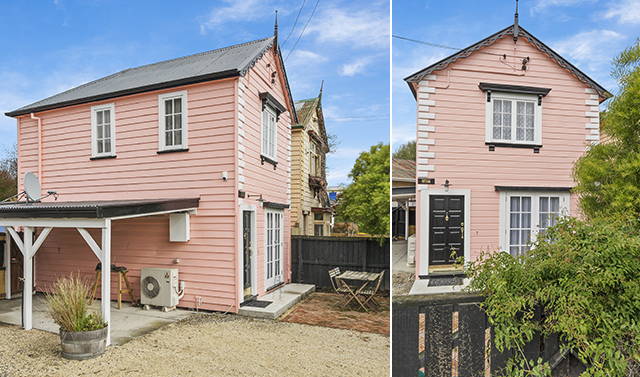 This oh-so-pretty Resene Cornflower cottage in Christchurch is a definite favourite. Tessa Abbott chose the colour way before millennial pink was a thing. She sold the house recently so who knows what colour her next one will be!
Not just any black exterior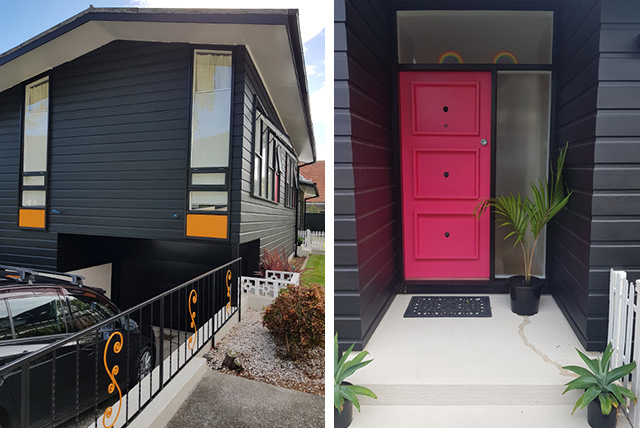 We've got used to seeing smart black house exteriors, but how about adding some unexpected pops of colour. Adventurous homeowner Sarah Scarlett had her house stained in Resene Woodsman Pitch Black, then added cheeky accents of colour beneath the windows, on the carport roof, on the front door and on her fence using Resene Drop Dead Gorgeous (pink) and Resene Energise (orange).
Published: 31 May 2018