►
◄
latest
habitat tv
blog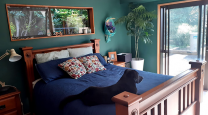 Artist Karenna's abstracts are striking in Resene colours
28 Apr 2022
The devil is in the detail in Auckland artist Karenna's artworks of snakes, suns and crescent moons. Though they might look digitally-created from afar, her striking works are created with Resene paint.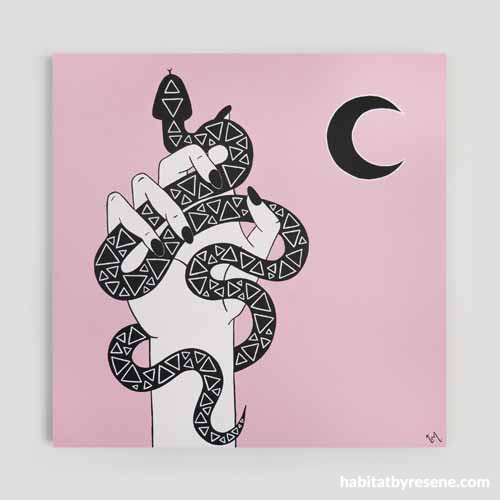 This piece was painted in Resene Ballerina,Resene Nero and Resene White.
"My style has developed over time, I have a strong inclination towards detail and design, which is why I was drawn to painting very geometrical abstracts," Karenna says. "Since then I've broadened into painting more illustrative designs, which I'm loving experimenting with – it's a new challenge for me."
Karenna has been creating and painting from a young age, her father is also an artist. "Growing up I was always encouraged. During my early twenties I decided I wanted to take my passion for painting more seriously and really focus on that."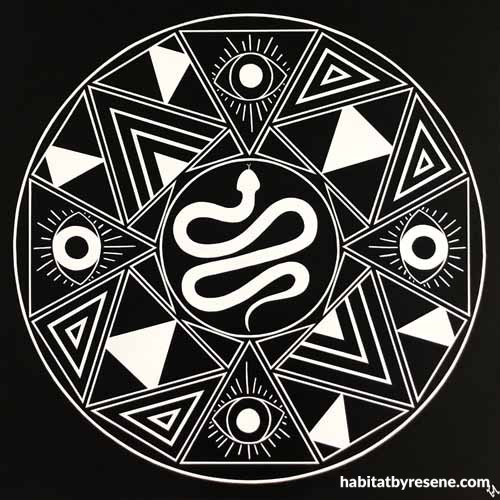 Resene Nero and Resene White were used to make this bold statement piece.
Inspiration arrives from the environment surrounding her, but also heavily from mythology and symbolism. "That has inspired a lot of my art, especially my latest works."
Karenna works on boards to paint, as she needs a smooth surface for the look she is after. She uses Resene paints on all her artworks. "I find Resene paint fantastic to use especially for my work as it's all flat colour. It's never failed me.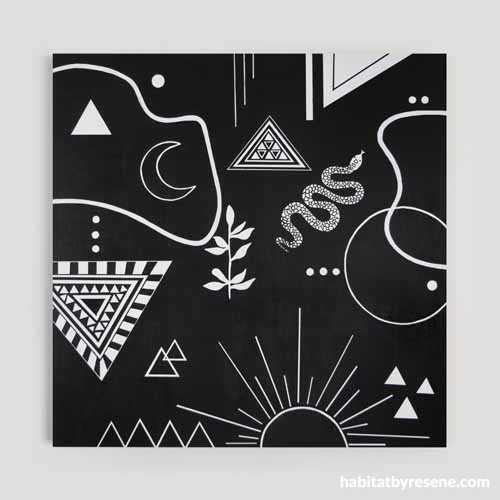 Mythology and symbolism have influenced this piece by Karenna, painted with Resene Nero and Resene White.
"I have a huge collection of testpots so I usually pull them all out and play around. Sometimes I have a vision of what colours I want to use for a piece prior, so I will find the best match."
Resene Nero, Resene White and Resene Ballerina often feature in her striking pieces. "Resene Cornflower is my favourite, I've used this colour over time in quite a few pieces, it's such a pretty pastel and works in either a subtle or bold piece."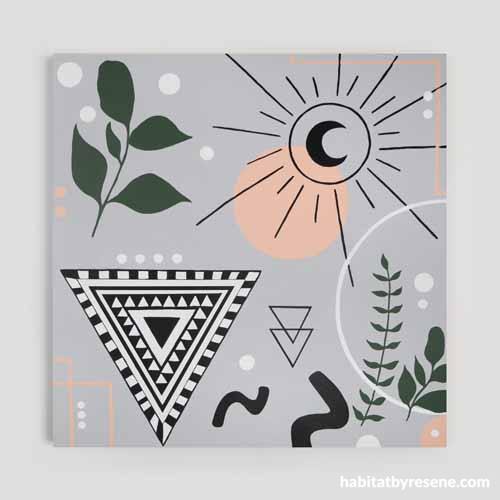 Pastel tones shine in this piece using Resene Half Mischka, Resene Nero, Resene Cornflower and Resene Permanent Green.
Karenna ensures she puts aside some time each evening to focus on painting, working during the day as a product development manager for an e-commerce business within the cosmetics industry.
Her favourite piece to date is a black and white large artwork titled 'Bloom Under the Moon'. "It was quite different to a lot of my work I've produced so far but the detail, time and effort involved in creating and painting it was extremely satisfying. I'd love to do more like this in future."
Find Karenna's work: karennamollardart.co.nz
Published: 28 Apr 2022