►
◄
latest
habitat tv
blog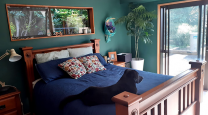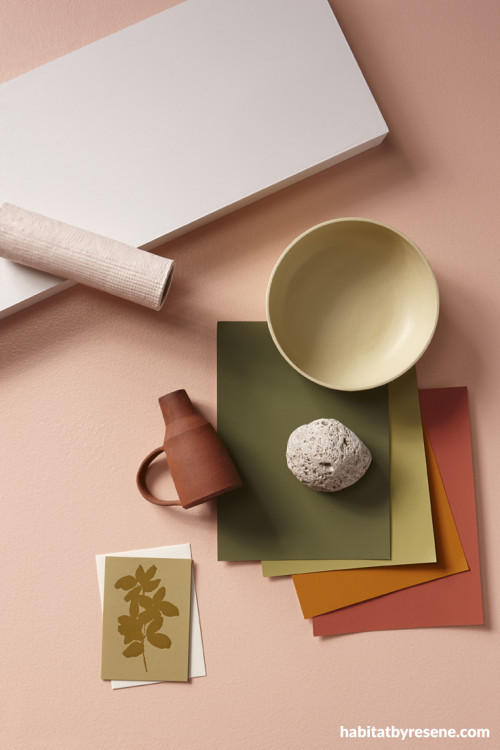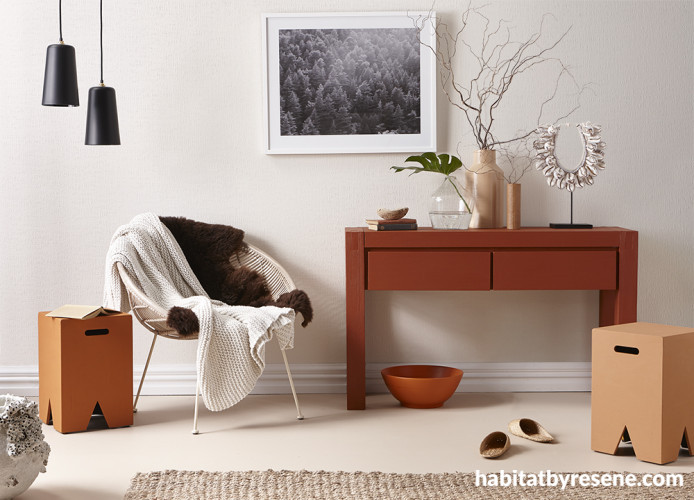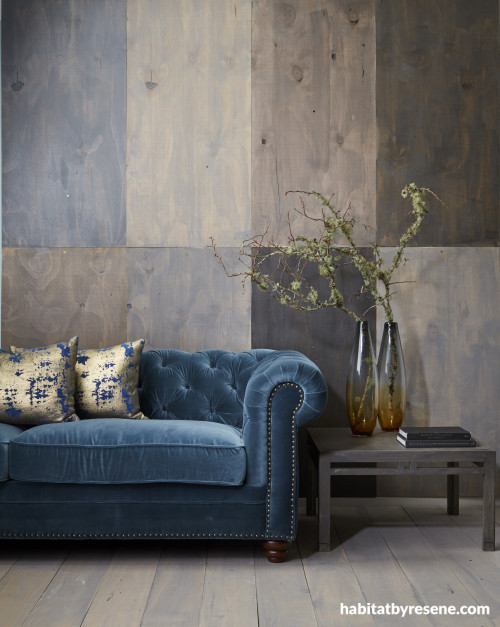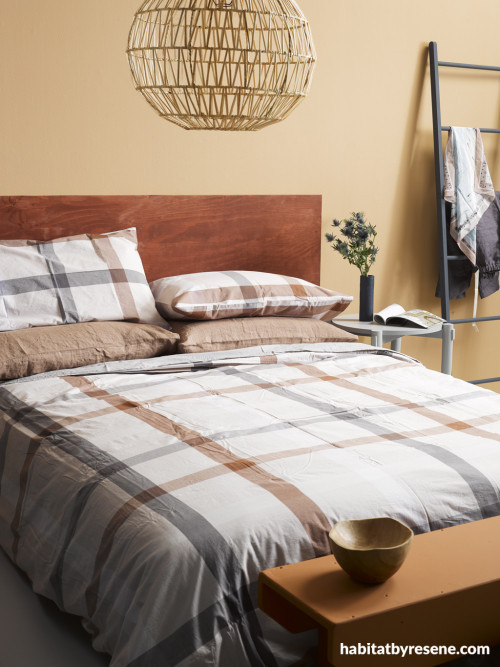 Autumn colour with Resene
Even if you don't live in an area where the trees turn in autumn, flashing vibrant shades of red, russet, gold and orange, the season is associated with warm, glowing colour.
There's something ultimately cosy about preparing ourselves mentally and physically for the cooler weather. Introducing warm colours into your home is a great way to herald the changing seasons and to include some visual snuggliness into your interiors.
Many of those colours are inspired by nature. There's the obvious of course – autumn leaves. But there's also pumpkin, nut, spices, earth, clay, leather, bark and berries.
Happily, those colours are right on-trend, especially the warm and spicy oranges and browns, like terracotta, ochre and cinnamon.
As an organic material, terracotta has varying shades, from deep rich burnt orange (like Resene Ayers Rock) to a softer version (Resene Tuscany) and tinged with pink (Resene Crail).

If using these strong colours all over your walls is too much, try them as a feature wall, or grab some Resene testpots and upcycle some old vases or pieces of furniture. Or cool them down visually by introducing a cool-coloured sofa, or rug, such as dark dusky blue or charcoal.
When you're looking for a good trim or ceiling colour to go with your warm or spicy-coloured walls, go for warm whites like Resene Half Pearl Lusta or Resene Bianca – think fleece, oatmeal or old lace. Cool whites will accentuate the boldness of the wall colour, and don't look as good alongside more muddied tones like ochre or cowboy-boot brown.

Foraged and found objects suit autumn-style interiors. Collect mossy twigs, rocks and dried leaves to display around your home. In fact, organic shapes suit this look generally so the rounder the better with anything from rugs to chairs, to vases and lamps.
Texture is key. Introduce knobbly rugs, knitted or fur throws, weathered timber coffee tables and hand-crafted pottery. To add texture to your walls, check out the range of anaglypta wallpapers in the Resene Wallpaper Collection.
One way to enhance the natural texture in timber is by staining it a warm autumnal colour from the Resene Colorwood stains range (try Resene Oregan or Resene Japanese Maple). Then protect it with Resene Aquaclear urethane.

Anything that adds a warm glow is good, so review your lighting and complement it with pillar candles, seed lights and table lamps.
The recent copper craze sits nicely alongside an autumn look, but go for the burnished versions rather than rose copper, or try antique brass, aged gold or rusted effects. Try one of the colours from the Resene Metallics and Special Effects range, like Resene Copperhead or Resene Spark.

Top tip: Beware of using hot colours like burnt orange, berry red or mustard on the walls of a north or west-facing room that gets lots of sun. You may feel like you're living in a pizza oven. Go for cooler versions of the colours, so a cool dark red like Resene Red Oxide, a bitter orange like Resene Moroccan Spice and a camel yellow like Resene Twine.

Published: 12 Apr 2018
Do you have a home full of wonderful Resene paint and colour? Send us some snaps by emailing [email protected].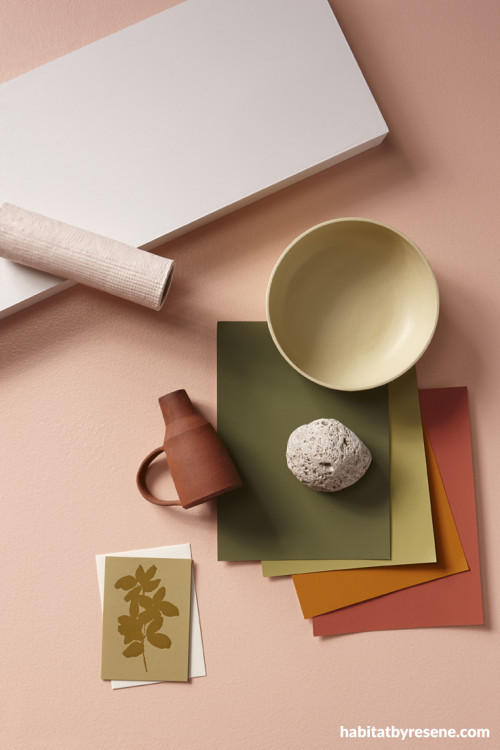 Colours to look out for this autumn – background in Resene Wax Flower, shelf in Resene Quarter Tea, vase on top in Resene Just Right, bowl in Resene Yuma, A4 swatches (top to bottom) in Resene Woodland, Resene Gingko, Resene Mai Tai and Resene Apple Blossom.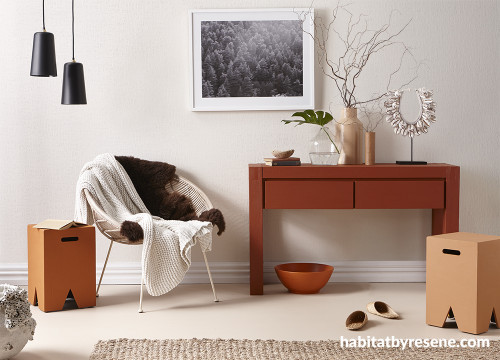 Anaglypta wallpaper (RD3360, from Resene ColorShops) painted in Resene Albescent White, the perfect textural backdrop for a sideboard in Resene Desperado and a peg stool in Resene Entourage. The floor is painted in Resene Double Biscotti, the tall vase is in Resene Calibre and the smaller vase is in Resene On Track.
pictures
Wendy Fenwick, styling by Gem Adams.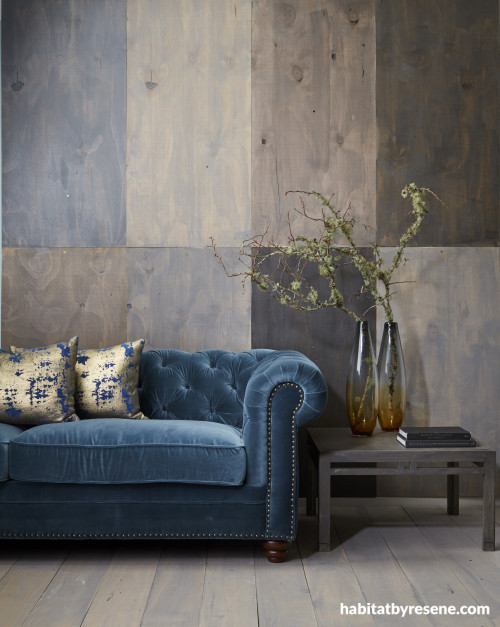 For a funky rustic wall treatment, try plywood panels in Resene Colorwood stains tinted to Resene Tiri, Resene Limed Ash, Resene Greywash, Resene Bleached Riverstone, Resene Smokey Ash. Square coffee table in Resene Colorwood Tiri and floorboards in Resene Colorwood Greywash.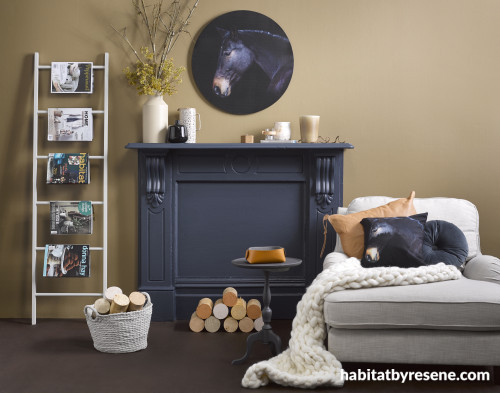 For a cosy space, try walls in paper-bag brown Resene Road Trip and a floor in Resene Colorwood Bark wood stain The fireplace is painted in Resene Dark Side and the magazine ladder, basket and picture frame are in Resene Truffle. Add some magazines to read and a chunky knit throw, and cuddle up inside.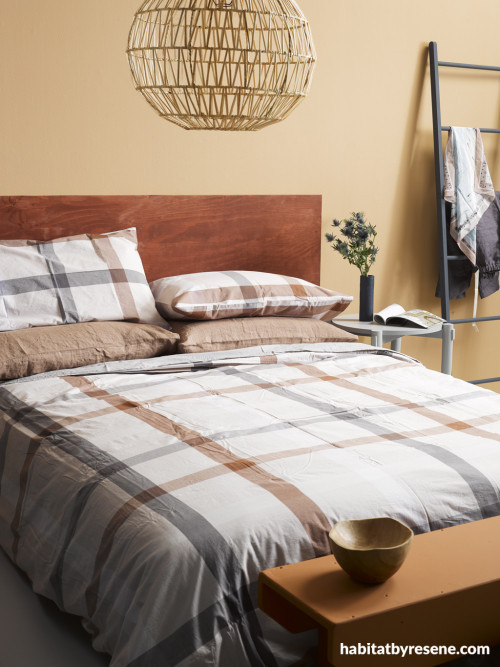 A contemporary take on a rustic bedroom, with walls in Resene Calibre and a bedhead stained in Resene Colorwood Meranti. The bench seat at the end of the bed is painted in Resene Toffee and the sidetable is in Resene Delta.
the look
If you're stuck on what
colour to use or need colour
advice, try out the Resene
Ask a Colour Expert service.