►
◄
latest
habitat tv
blog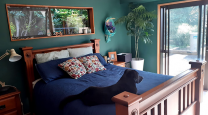 An 80s-build gets a colour injection with Resene Indian Ink and Resene Green Meets Blue in an interior designer's own home
Interior designer Carley Lloyd has a passion for colour – and in ten months she and husband Bryn have transformed a formerly beige 80s-build into a brand new look, with striking Resene colours.
The name of her business is Colourbolt Interior Design, and her tagline is, 'Putting the brakes on beige interiors', so there was no doubt her own home was going to sing with colour.
The couple and their three young children moved to the seaside location of Mapua in the Nelson region last year to be closer to family. They found what Carley calls, 'a classic do-up.'
"Walking into the house for the first time back in April, we were confronted by a multitude of beige and white walls. For colour lovers, it left us feeling totally uninspired and a sense of dread awoke us each morning," says Carley, of the 120 sqm house.
Carley is a former assistant principal who retrained in interior design.
"When thinking through the colours we wanted to use, we felt that it was important to start creating defined areas in the house," she says.
She used three colours as the basis of the design.
"For this house, my colours were green, blue and pink, and everything links into those colours." Her first pick was a long-time favourite - Resene Indian Ink, a deep, rich blackened blue.
Next, a colour she had always been keen to use.
"We have always loved Resene Blanched Pink from the Karen Walker Paints collection but have never found the right place to use it. After putting some swatches up against Resene Indian Ink, it was a no-brainer. It gave us the effect of lightness, without having to use white, and it is such a gorgeous colour," Carley says.
The final choice in the trio was Resene Green Meets Blue, which she says has a depth to it that works well with the other colours.
Carley and Bryn have done all the painting themselves… and with three young children that's been a challenge. Luckily, grandparents were on hand!
"So, we got out the paintbrushes and started working through the house room by room. We incorporated a considered Resene palette of dark blue, dark green and blush pink, and contrasted these with a number of different wallpapers. Besides a bathroom that is going to be renovated next year, there isn't a white wall left in the house!"
The couple converted the carport into their own master bedroom, and Carley chose another green for this room, Resene Green House, and used it as a feature wall. She found it partnered well with the existing timber walls.
After working their way through the interior rooms the couple turned to the exterior. Carley says her heart was set on black – Resene All Black. However, she worried how it would stand up to the high sunshine hours of the Nelson region.
"After speaking with our local Resene ColorShop in Richmond, they advised us that if we went with Resene All Black we could use the Resene CoolColour technology, which helps reflects more of the sun's energy."
There's no doubt colour has transformed this once-ordinary 80s home.
"Although the structural essence of the house has remained intact, the aesthetics have been transformed!" Carley says.
Meanwhile Carley has interior design projects for clients on the go but is looking forward to adding an extension to the house, eventually. It's guaranteed to be colourful!
"Our seaside village home is now a reflection of the people who live in it, us! The house feels alive and ready for us to begin creating new memories in," she says.
Carley's top six tips for using colour in your home
When designing the interior of your home, stick to three main colours for your paint and wallpaper choices. For example, mine are dark blue, pink and green. Any decisions I make for the interior of a home, always come back to those three colours. If you want to break the rules, add in one accent colour, but only in very small doses. A couple of pillows, sheets or a chair maybe?
Look to your wardrobe to identify which colours you enjoy wearing. What we wear usually indicates what we like and feel most comfortable in. If your wardrobe is predominantly black, look at your earrings, handbags, scarves, hats, shoes and nail polish - there'll be clues amongst your accessories for sure!
Spend some time thinking about colour by soaking up your surroundings. What do you love about your local cafe, restaurant, library etc. What colours have they used in their designs? When you walk into a retail shop, observe what your eye is immediately drawn to. This is how you can start isolating your three favourite colours.
If you love something (a family heirloom etc) and can't live without it, find a way to include it in your home. You never know it may be just the right inspiration for the whole colour scheme of your home.
Keep your skirting boards, architraves, doors and cornices white! Colour looks amazing against a crisp, clean white. My go-to has always been Resene Alabaster.
Always, always, use Resene A4 colour swatches/drawdowns for everything you are considering. When deciding on a particular colour I try to limit my choices to three. Any more and you won't start or finish your project! Colour looks totally different when viewing it on a screen, and changes considerably depending on the amount of light within the room. This also allows you to view the colour against furniture and artwork that you already own. Tip: Don't paint your walls with testpots, you'll never hide the marks! Paint onto separate card instead and then you can move it around without having to paint over it later.
Top tip: A Resene CoolColour looks like a normal colour but thanks to special pigment technology it reflects more heat, so it doesn't get as hot as the normal colour would. Resene CoolColours are created by replacing the standard carbon black pigment that absorbs heat and light with a unique pigment that helps reflect more of the infrared portion of the sun's energy to be reflected.
See more of Carley's work, www.colourbolt.co.nz.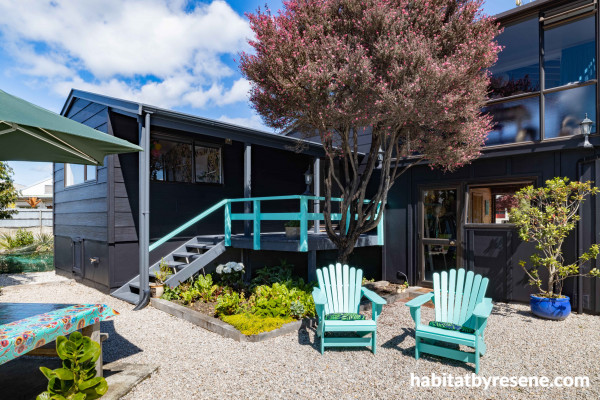 Carley and Bryn had their hearts set on a black exterior but were concerned about the high sunshine hours in Nelson and the impact this would have on the house in summer. After advice from the Resene ColorShop in Richmond, they chose Resene All Black using Resene CoolColour technology. Special pigment technology reflects more heat, so it doesn't get as hot as a normal colour would. "To soften the black exterior we used Resene Grey Friars on the back deck and trims," Carley says. "This colour combination then needed a burst of colour and after getting our Cape Cod chairs sprayed with Resene Keppel, it was an easy decision to carry this through to the decking balustrade."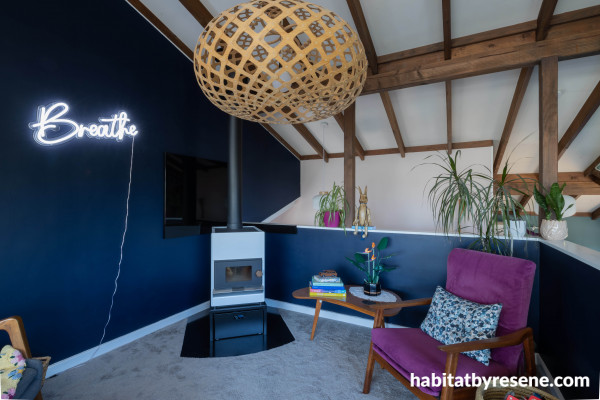 In the lounge, Carley used, Resene Indian Ink, a blackened blue and one of her all-time favourites. A hint of Resene Green Meets Blue can be seen on the right, and Resene Alabaster is painted on the remaining walls and ceiling, while the beams are original.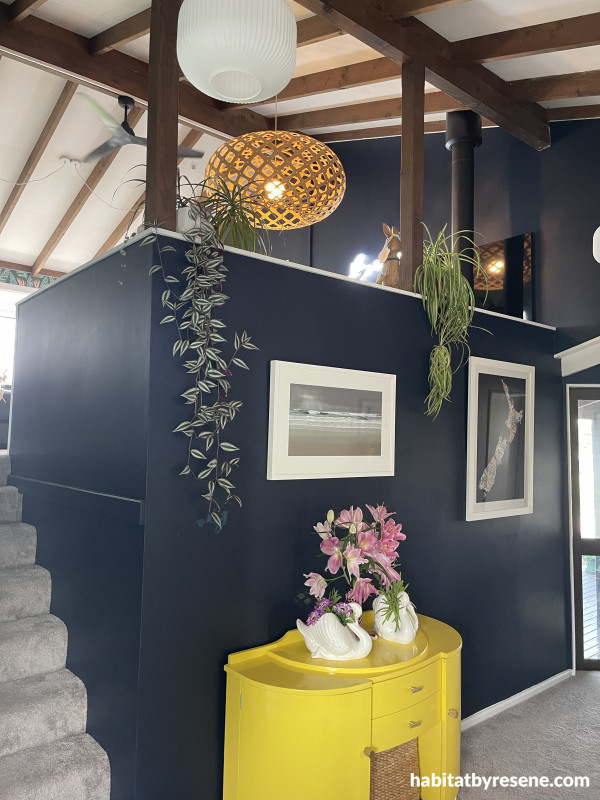 Carley decided to run Resene Indian Ink down the staircase wall and along one side of the hallway, which flows into the bedrooms. "It made an instant impact and sitting against freshly painted skirting boards in Resene Alabaster, the punch of colour grounded the space and gave us a feeling of warmth and comfort to enjoy as a family," Carley says. Add punchy yellow to a favourite furniture piece in your home with Resene Southern Cross.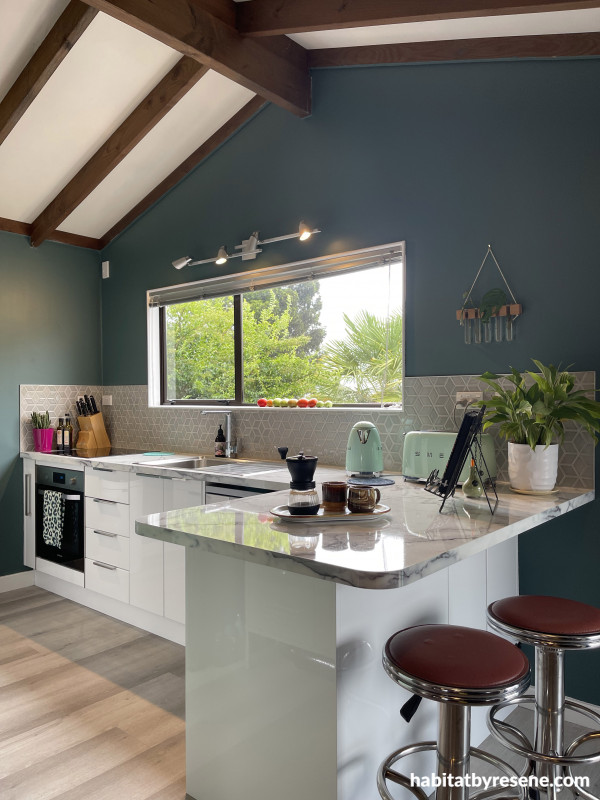 In the kitchen Resene Green Meets Blue brightens and lifts the space, contrasting with the laminate marble benchtop and cabinetry. "Incorporating this colour into the kitchen space that we'd used throughout the open plan space totally transformed and completed the interior of the house," Carley says. Resene Alabaster is painted on the ceiling, which Carley says is a perfect crisp white. Benchtop, cabinetry, tiles and flooring are existing. If repainting, Resene White is ideal for a crisp white joinery look.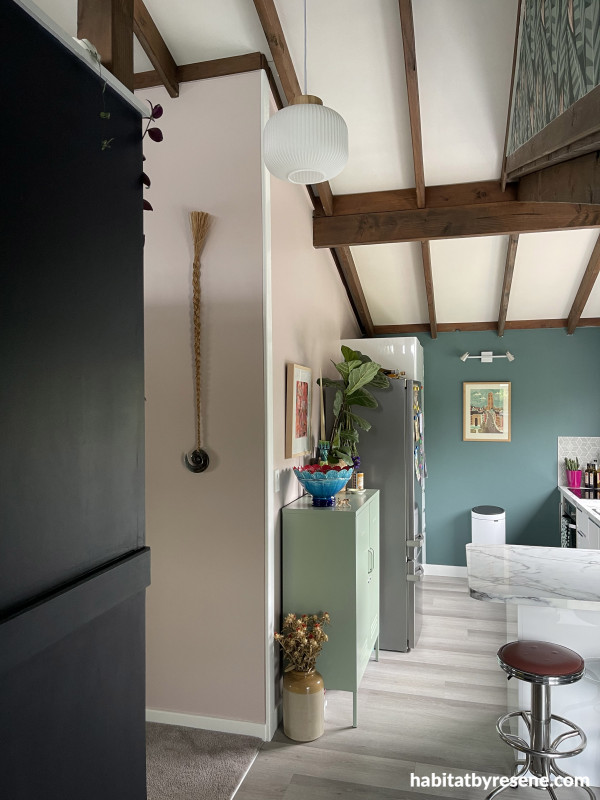 Carley's three- colour palette comes together in the hallway, with Resene Indian Ink on the left-hand wall, and Resene Blanched Pink from the Karen Walker range on the facing wall. In the kitchen Resene Green Meets Blue is a feature, a soft grey-green with a hint of blue. Carley says, "we'd used Resene Green Meets Blue before and the colour is divine."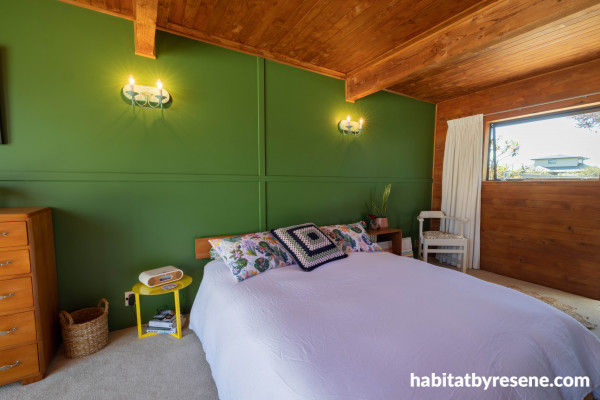 The master bedroom is a converted garage and panelled in pine. Carley says it desperately needed some life injected into it. "Choosing something that would complement all of the wood was really important to us and probably one of the hardest colours to choose. Sticking to our set palette of three colours, we ended up going with vibrant Resene Green House. The colour has transformed the space from a converted garage to a relaxing haven we now call our master bedroom."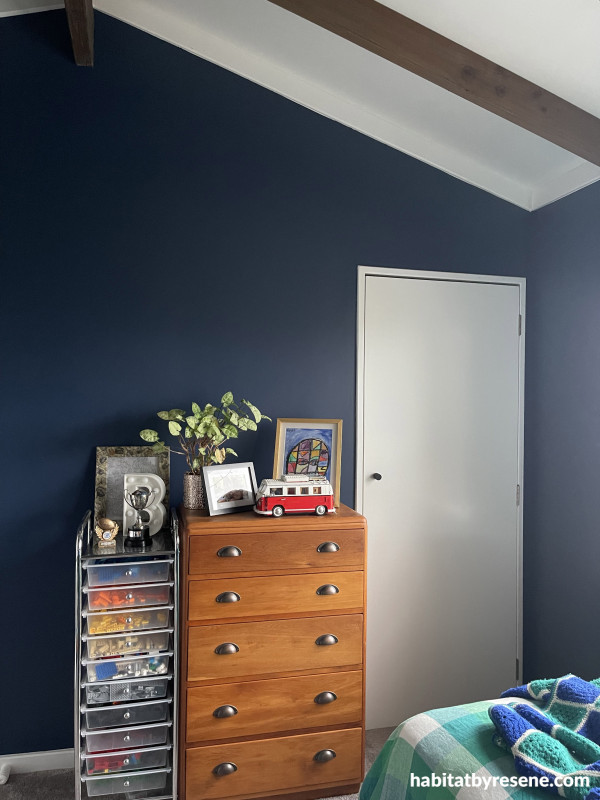 In her son's room, Carley chose a rich dark blue, Resene Licorice. "In keeping with our colour palette, we were set on choosing another blue for this room, and after a few testpots, chose Resene Licorice. The room has gone from being the least desirable room in the house, to one of our favourites," she says. Resene Alabaster is painted on the door, trims and ceiling.
Published: 10 Feb 2022
Do you have a home full of wonderful Resene paint and colour? Send us some snaps by emailing [email protected].
the look
If you're stuck on what
colour to use or need colour
advice, try out the Resene
Ask a Colour Expert service.