►
◄
latest
habitat tv
blog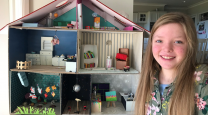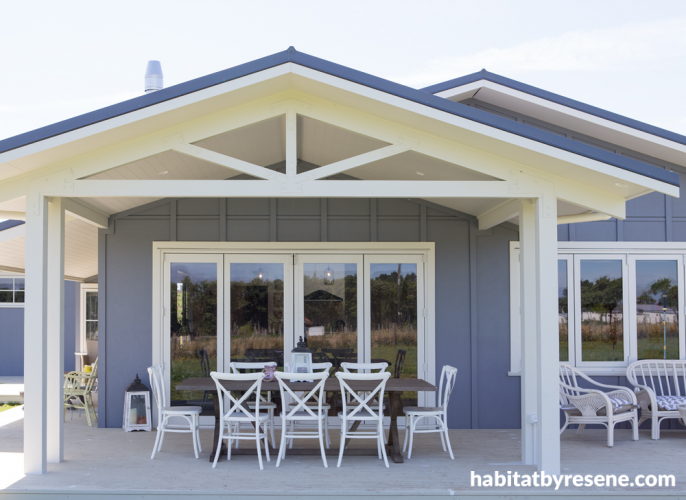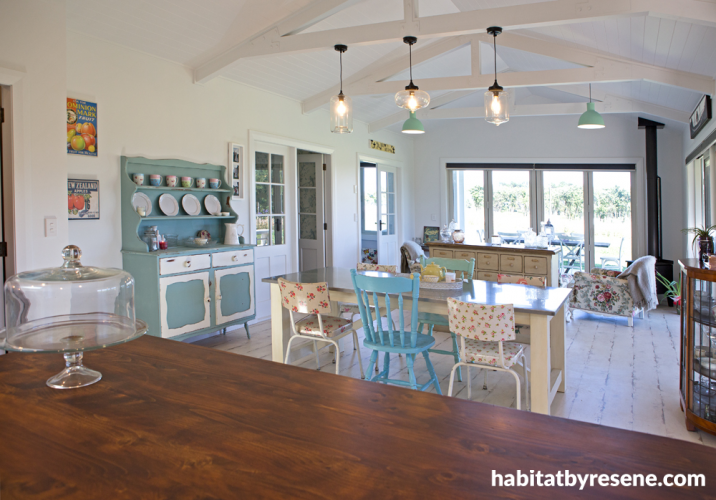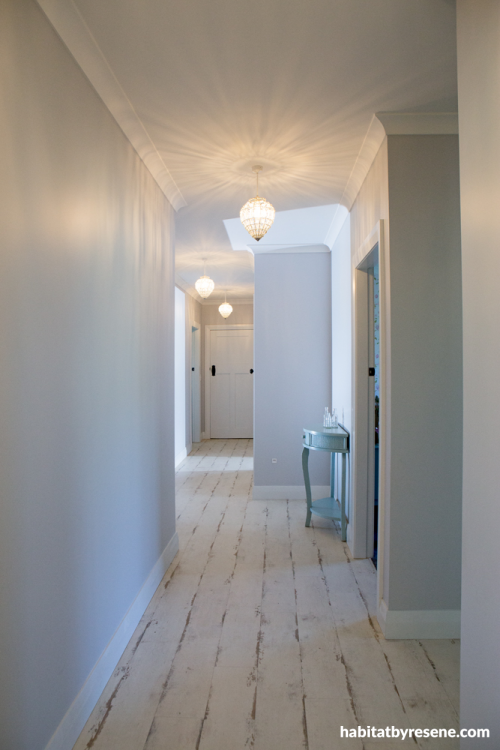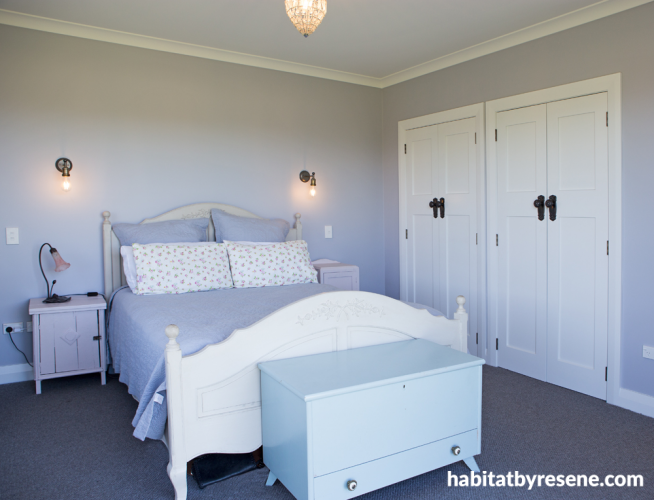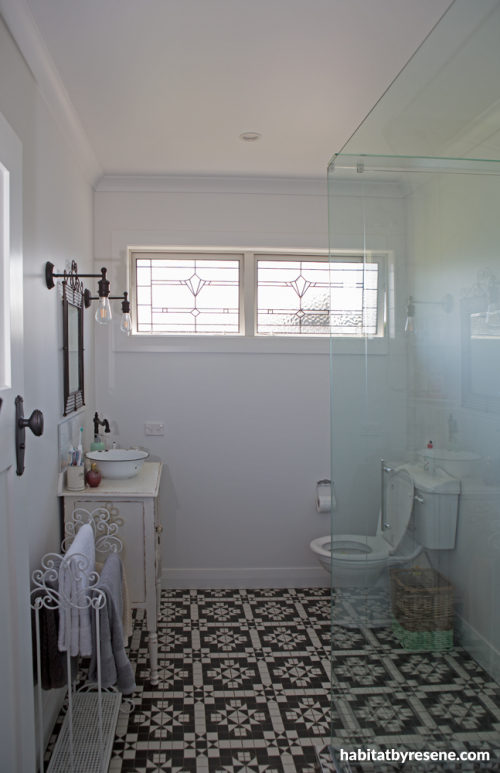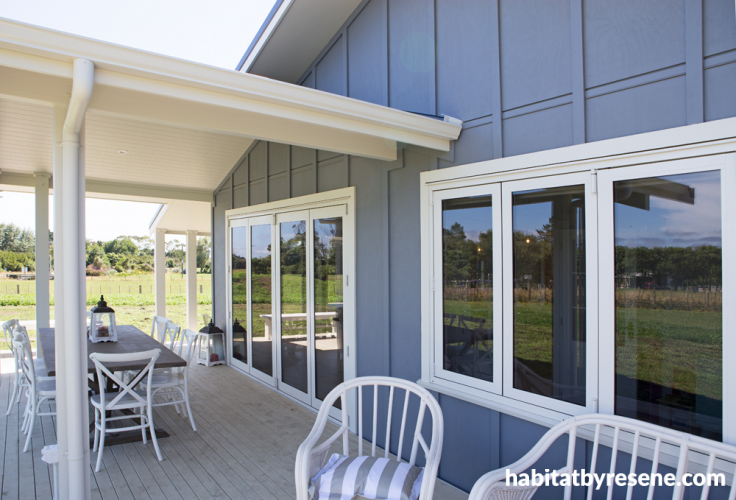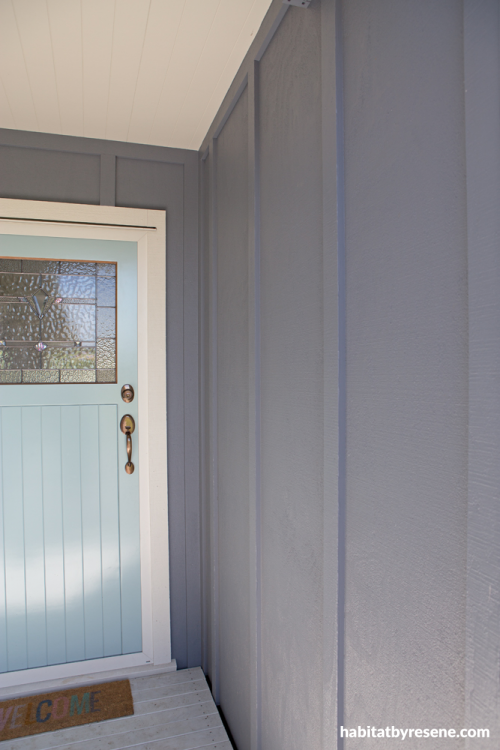 Amy and Brendon's beach town beauty
What happens when a house references Hamptons-style, old English cottages and a 1920s bungalow? This shining jewel of a new build, belonging to New Plymouth couple Amy and Brendon.
The couple embraced the freedom that comes with building a home from scratch, mixing character and contemporary elements in a way that's all theirs, complementing it with a finely tuned Resene paint palette of grown-up greys and crisp white.
Probably most striking is the exterior painted in Resene Quarter Grey Friars, well suited to the home's location in New Plymouth's Oakura – known for its black sand surf beach. Resene Black White on the trims and Cape Cod-style outdoor furniture give it the Hamptons flair, one of Amy's influences for the home's design.
The paint work is just as immaculate inside, and was done by Shaun Churchill and team of Shaun Churchill Painters. For this, the paint company won the national award for new interior under $25k in the Master Painters New Zealand 2016 awards.
Amy tells us more the project:
How did you decide on the overall look of the interiors?
We used to live in a 1920s bungalow so we tried to recreate that certain look with larger sized rooms and character-looking skirtings and architraves. Our unique piece Is the exposed trusses and open tongue and groove ceilings in our living area. It creates a massive feeling of space, also helped by the Resene Black White colour scheme.
I also love to upcycle furniture, so I had a really strong idea on what I wanted to achieve. I used lots of colourful and timeless fabrics within my furnishings to complement the colour scheme we chose.
What part of the house are you most happy with?
Walking through our entranceway and into the open plan kitchen, dining room and living area is our favourite place in the house. The concept came from my love of old English cottages, where low ceiling spaces open up into a large area with exposed trusses.
Our builder James Wakeman and his team and Mike Johns Designs engineered the design and enthusiastically took the job to make my vision come to life. We absolutely love the open plan feel, made cosy with a fire wood burner.
What is your advice for someone trying to achieve a similar look?
Go with your heart and stick with your vision. Start collecting ideas, fabrics, pieces of furniture early and watch it all come together. There are no rules, just have fun.
If even at the time you think it's quite a bold move, just do it and you will be so pleased with the outcome... rather than always regretting that you conformed to someone else's idea.
What was the biggest decorating, renovating or building challenge for this project?
The biggest challenge would have had to be the trusses – the size of timber, the shape of truss and the material we had to use. They were engineered to take a certain load but were also required to visually fit within our vision.
Our building crew enjoyed the challenge of the installation and provided expert advice on the best way to finish them. The trusses just create a certain openness and uniqueness to the house that we just love.
Do you have a favourite coloured room, and if so why is it your favourite?
I love it all, but if I had to choose I would probably go with our bedroom. The mix of Resene French Grey and Resene Black White is very peaceful and cottagey.
Published: 01 Sep 2016
Do you have a home full of wonderful Resene paint and colour? Send us some snaps by emailing [email protected].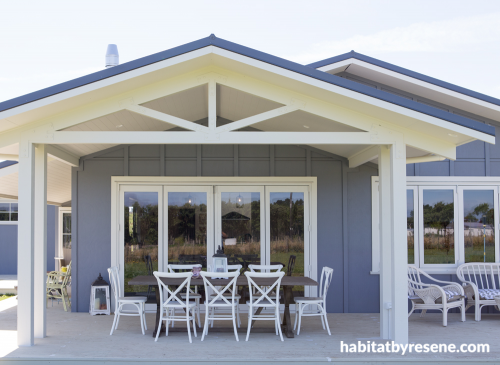 Amy and Brendon's new build home wouldn't be remiss in the Hamptons with its Resene Quarter Grey Friars exterior, crisp Resene Black White trims and Cape Cod-style outdoor furniture.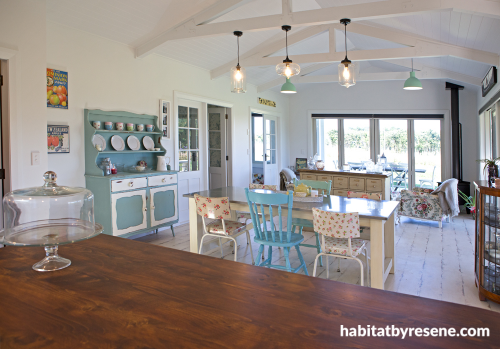 The kitchen, dining area and living room are painted in Resene Black White. The exposed trusses were influenced by Amy's love of old English cottages.
The couple sourced bespoke handmade lead lights for their lighting. This sunny nook is painted in Resene Black White and has furniture upcycled by Amy.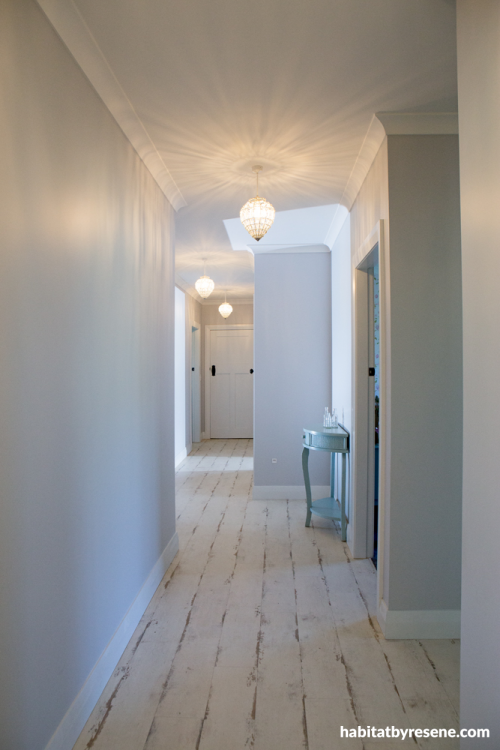 The hallway is painted in Resene Concrete and Resene Black White (trims). It's hard not to admire the beautiful bespoke lighting.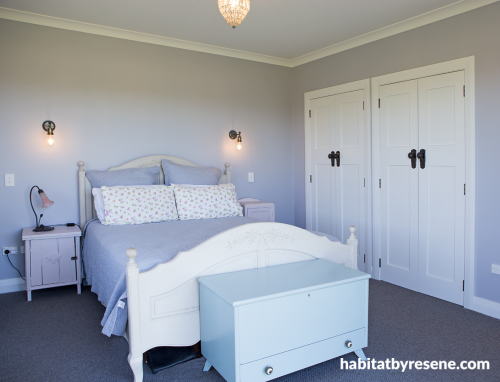 Amy's favourite colour in the home is Resene French Grey, with Resene Black White trims, in the master bedroom.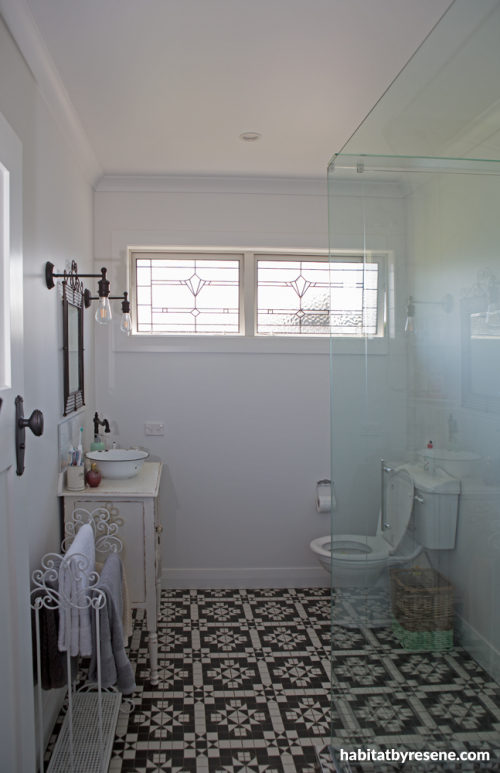 The ensuite is simple and chic, painted in Resene Black White.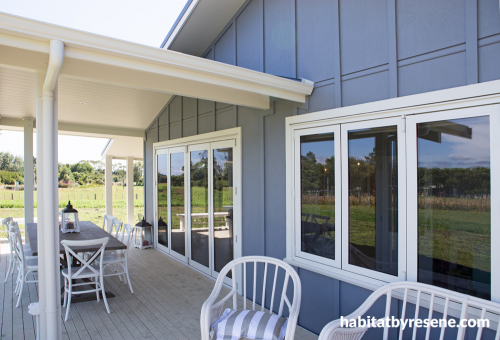 The living area has doors leading to the deck, which in turn looks out to a peaceful, grassy backyard. The exterior is painted in Resene Quarter Grey Friars and Resene Black White (trims).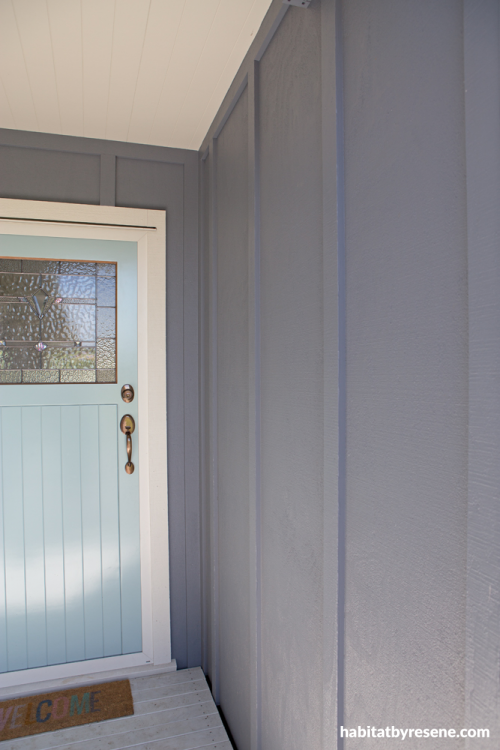 The welcoming front door, painted in Resene Sorrento. The walls are painted in Resene Quarter Grey Friars.
Resene Quarter Grey Friars
the look
If you're stuck on what
colour to use or need colour
advice, try out the Resene
Ask a Colour Expert service.