►
◄
latest
habitat tv
blog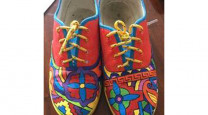 America's Cup fever: Sailing away with nautical inspiration from Resene
04 Mar 2021
The action packed racing of the 36th America's Cup is sure to dominate New Zealanders' hearts and minds as it sets sail. If you're feeling a yearning for the sea and sailing, get creative with Resene paints and deck your home out with nautical charm.
The America's Cup is believed to be the oldest trophy in international sport, dating back to its first contest in 1851 when the passing schooner fleet was saluted by Queen Victoria.
Local yachties and boat builders today are recognised as being among the best in the world, and there's no doubt the nation's love for the sea translates into a natural affinity for nautical décor.
As America's Cup defender Emirates Team New Zealand takes on Prada Cup winners, Luna Rossa Prada Pirelli Team, it's time to get on board the nautical challenge at home using Resene paints, wood stains and finishes.
Show your colours

A duo of inky navy blues in Resene Indian Ink (left wall) and Resene Tangaroa (Shadowclad ply wall in centre) create a cosy, masculine space that's ideal for a media room or reading nook. The floor is Resene Colorwood Mid Greywash, rope table in Resene Blanc, life preserver wreath and lidded basket (in cabinet) in Resene Raging Bull. Striped plant pot is painted in Resene Raging Bull, Resene Half Black White and Resene Indian Ink. Armchair, cabinet, circle cushion and pouf from Nood. Mirror and planter from H&M Home. Other items stylist's own. Project by Laura Lynn Johnston, image by Bryce Carleton.
Dark blue has been associated with sailors since uniform regulations for the Royal Navy were first issued in 1748. Since then, navy blue along with naval white has been adopted by other navies around the world and the colour has associations with stability, authority and masculinity. Boaties and sea lovers can nod to sailing history by using navy blue Resene shades on walls to create a first-rate reading nook or media room perfect for tuning in for America's Cup race-watching. Shadowclad ply on the walls in Resene Tangaroa emulates a ship's deck and the left wall in Resene Indian Ink creates a cocooning feeling and a warm, cosy space. The dark colour also helps accentuate other decorative features such as the mustard-coloured velvet armchair and life preserver. Balance the look with timber flooring finished in Resene Colorwood Mid Greywash and a rope side table in Resene Blanc, a rich Parisian white which creates a crisp contrast just like the freshly ironed uniform collar of a naval officer.
Change tack outdoors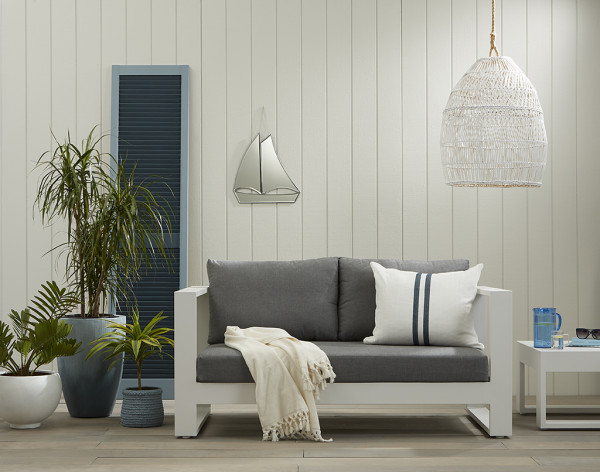 Layer your conservatory or deck in different blue, grey and white tones to create an inviting outdoor living space. Wall in Resene Triple Merino , floor in Resene Woodsman Tiri and panelled screen in Resene Big Stone framed in Resene Bounty. Large plant pot painted in an ombre effect using Resene Half Gull Grey and Resene Balderdash, medium plant pot and pendant lampshade in Resene Alabaster and braided plant pot in Resene Bluff. Sofa and table from Outside Space , cushion and throw from Collect Living. Other accessories and furniture stylist's own. Project by Kate Alexander, image by Bryce Carleton.
There's no need to splash out big cash to transform a deck or conservatory into a seafarer's sanctuary. A simple transformation with Resene Woodsman woodstain and Resene paint will have your listless outdoor spaces looking shipshape and Bristol fashion. Decks stained in Resene Woodsman Tiri have the look of timber bleached by sun and salt water and when they are paired with vertical tongue and groove walls in Resene Triple Merino, they create a bright, uplifting area. The nautical space shows its true colours when paired with a screen painted in the blues and greys of Resene Bounty and Resene Big Stone. Anchor the look with plant pots painted in deep greys and blues such as Resene Half Gull Grey, Resene Balderdash and Resene Bluff.
Top tip:Resene Woodsman Tiri is available using Resene CoolColour pigment technology which prolongs colour durability by reflecting heat. It also ensures feet stay cool and the only thing hotting up in your household is the anticipation of a Cup win (fingers' crossed).
Awash with style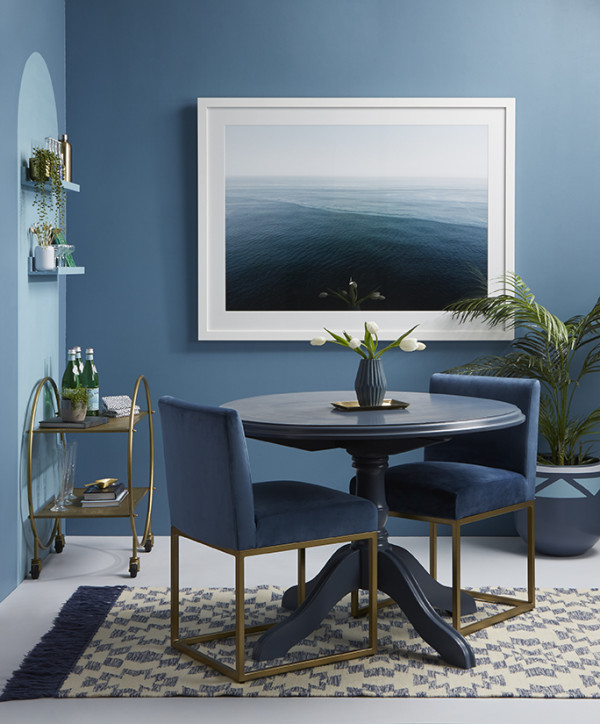 The hero of the room is the table painted in Resene Rhino set against a backdrop of walls in Resene Seachange and an arch in Resene Awash, offset with the floor in Resene Breathless. The pot plant holder receives a touch of Art Deco inspired nautical treatment using Resene Rhino with stripe in Resene Breathless and triangle motif in Resene Awash. Lip shelves in Resene Awash with small vase on lower shelf in Resene Breathless. Brass and velvet chairs from Freedom Furniture, brass bar cart from Wooden Horse, brass scoop from Good Thing and brass plant pot on shelf from H&M Home. Rug from Grounded Homeware, coastal artwork from Rachel Mataira. All other props are stylist's own. Project by Melle Van Sambeek, image by Bryce Carleton.
Create a room with the depth of the ocean by mixing blue hues and taking on the popular tonal trend. When used in a small space, tonal layering creates a sense of intimacy while keeping the look luxurious and elegant. Upcycling a table using the stormy grey blue Resene Rhino may seem like a bold move, but when set against the softer backdrop of walls in Scandinavian-inspired Resene Seachange it has a calming effect. An archway in Resene Awash creates dimension to an otherwise flat and ordinary corner.
Complete the contemporary take on nautical dining using brass notes and a warm-toned rug to pull the space together. Consider adding Art Deco pieces such as the brass bar cart, which mimics the curves of the wall arch design and brings glamour to the dining experience. Art Deco and nautical themes often go hand-in-hand as the style is associated with seaside cities such as Napier and Miami. Bring in geometric Art Deco touches by painting a plant pot in Resene Rhino with a stripe in Resene Breathless and triangle pattern in Resene Awash.
Make waves in kids' rooms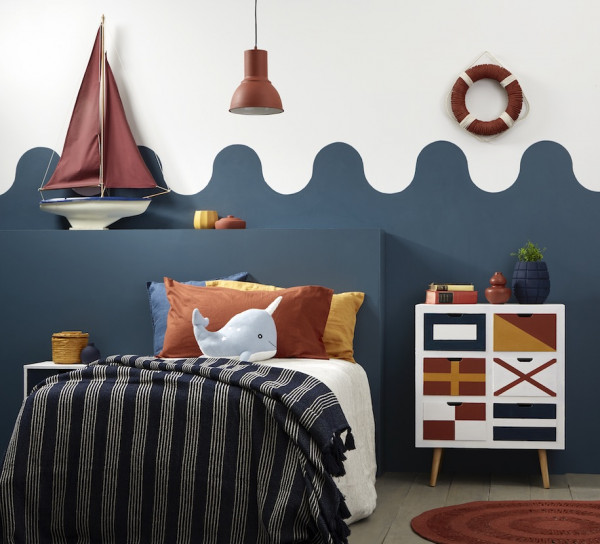 Upper wall in Resene Sea Fog, lower 'wave' wall in Resene Explorer, timber floor in Resene Colorwood Mid Greywash, pendant lamp and DIY life preserver in Resene Raging Bull, dresser in Resene Tangaroa, Resene Raging Bull, Resene Pirate Gold, Resene Half Black White, bedside table on left in Resene Half Black White and Resene Tangaroa, large plant pot in Resene Tangaroa, lidded basket and small pot in Resene Pirate Gold and lidded dish and vase in Resene Raging Bull. Pillowcases and duvet cover from Città, throw and blue cushion cover from H&M Home.
If your kids have also got into the sailing spirit, create an ocean-inspired room fit for little sea captains featuring a stylised wave wall painted in the aptly named Resene Explorer. To create the wall, apply two coats of Resene Sea Fog, once dry, measure two thirds of the way up your wall and draw a line across using a pencil and a level. Then using an overturned dinner plate draw circles along the line. Use an eraser to remove the bottom half of every other circle and the top half of each one in between so that you end up with a wavy line. To get a clean edge, use a wide high-quality painter's brush – one with plenty of bristles – to fill in your curves with Resene Explorer. Feathering the bottom edges of your brushstrokes downward will help keep your painted finish smooth. Then, fill in the remainder of your wall with a roller. Once your first coat has dried, apply your second topcoat.
To create the flag bedside table, start with two basecoats of Resene Lustacryl tinted to Resene Half Black White. Use high-quality painter's masking tape, a testpot brush and Resene testpots in Resene Tangaroa, Resene Pirate Gold and Resene Raging Bull to create the look of nautical flags on the dresser drawers. We decided to paint a random assortment of flags that we liked the look of, but since each flag represents a letter of the alphabet, you could even spell out your child's name or a secret message! Work on one colour at a time and apply two coats before removing the tape. Allow the paint to dry fully before moving on to your next colour.
Buoy, we need to chalk!

This upcycled coffee table is painted in Resene Ecru White and finished with Karen Walker Chalk Colour paint in vintage and clear wax. The wall in Resene Half Duck Egg Blue works beautifully with Resene Half Dusted Blue on the floor. The large pot is painted in warm Resene Quarter Sorrell Brown and the centrepiece plant pots are in Resene Sandspit Brown (back) and Resene Albescent White (front). Rubber plant, Angelina succulent and books from Flux Boutique, sofa and floor rug from Freedom Furniture, Warranbrooke Distant Waters artwork from Father Rabbit, macrame tray, shell cluster, brass and black and charcoal cushions from Indie Home Collective. Tumblers are stylist's own. Project by Leigh Stockton, image by Bryce Carleton.
Chalk up a win on the water and in your lounge by getting crafty creating a sun-bleached timber effect with inspired Resene finishes. This timeless treatment is achieved using Karen Walker Chalk Colour paint from Resene ColorShops resulting in a clean matte finish that enhances old furniture without heavy handed prep. The Karen Walker Chalk Colour range includes Karen Walker Wax in Vintage and Clear, which when used together creates sea shanty shabby chic. Upcycle a show-stopping centrepiece like an oversized coffee table. To create the desired finish, follow these five simple steps:
Lightly sand the furniture for a smooth finish then wipe down with a clean, dry cloth.
Paint the furniture in Karen Walker Chalk Colour paint in Resene Ecru White and leave to dry.
Using a cloth, apply Karen Walker Chalk Wax in Vintage to all the crevices and along any decorative accents on the furniture. Be generous with the wax application.
Using a different dry, clean cloth, apply Karen Walker Chalk Wax in Clear to the flat surfaces like the table-top and the front of the drawers to lightly buff out the Karen Walker Chalk Wax in Vintage.
Continue to apply more wax to areas that need deeper colour using Karen Walker Chalk Wax in Vintage, or for areas that need to be lightened up, use Karen Walker Chalk Wax in Clear, until you've achieved the desired weathered timber effect.
Mimic the sea-weathered tones in soft furnishings and accessories with sandy beiges adding accent colours in darker blue and natural hues. To complete the seaside charm, paint walls and flooring in soft sky blues, such as Resene Half Duck Egg Blue on the wall gorgeously paired with Resene Half Dusted Blue on the floor.
Deep blue sleep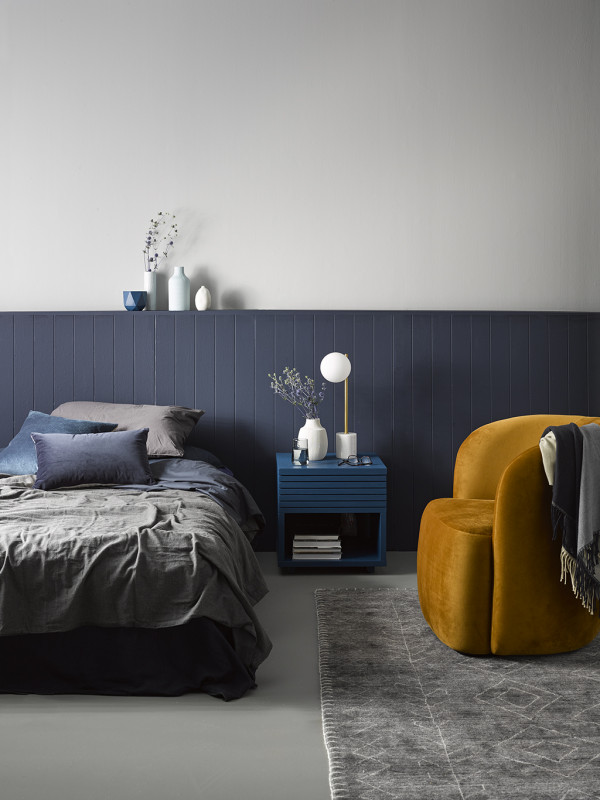 The statement panelling in Resene Indian Ink is set against a backdrop of walls in Resene Quarter Emerge and a deep grey floor in Resene Half Chicago. The bedside table in Resene Wishing Well and white painted vases in Resene Poured Milk gives the room layers of depth. The short, angular vase is Resene Wishing Well and provides an eye-pleasing contrast beside the tall blue vase in Resene Meditation, the skinny vase in Resene Remember Me, rounded hexagon bowl in Resene Bluetooth and taller wider vase in Resene Mystery. Quilt cover set, cushions in sapphire, cotton pillow in magnet, side table and floor rug from Freedom Furniture, majestic velvet/linen cushion and acrylic throw from Furtex, armchair from Contempa, other items stylist's own. Project by Claudia Kozub, image by Melanie Jenkins.
If you love the nautical look but are worried about going overboard, try adding a touch of navy with a tongue-and-groove wood panelled pop-out wall in black/blue Resene Indian Ink. The panelled wall/shelf resembles a built-in bedhead while adding classic oceanic style. Frame the Resene Indian Ink panels by painting the top wall in moody grey, Resene Quarter Emerge and by using darker toned grey Resene Half Chicago on the floor. For a dynamic finish, paint a nightstand in Resene Wishing Well to create chic tonal contrast. An occasional chair in contrasting gold elevates the room's stately sophistication, while grey bed linen adds coastal charm. This is one room you'll want to dive into!
Do you have a home full of wonderful Resene paint and colour? Send us some snaps by emailing [email protected].