►
◄
latest
habitat tv
blog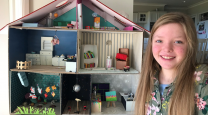 A photograph from space inspired the colours in this 1920s bungalow
Palmerston North homeowners Bridget and William haven't shied away from bold use of colour in their 1920s character bungalow – bright Resene turquoises, yellows and deep blues feature throughout. "We've lived here since 2006 and decided to renovate in 2020, noticing we had spaces we didn't use after our adult son moved out," Bridget says. While the couple were very down to earth about the practicalities of their renovation, it was an out-of-this-world snapshot from NASA of the earth from space that set the tone for the home's new colour palette.
Bridget wanted a colour palette reminiscent of the South Island's Golden Bay (where she was born), with its turquoise waters and sun-drenched beaches. She found a 'sea from space' photo online depicting stretches of coast and ocean, and used this as a guide to match the shades to Resene colours.
"We decided to renovate in a way that fitted more with our lifestyle – this included me working from home more regularly, having two dogs, and a 12-year-old – Isabella – with a passion for art (and horses)." Design-wise, the family wanted to combine a vintage look with colours packed with soul and vibrancy. "It's a 1920s house, so we wanted interiors that enhanced the vintage of the house, complemented the leadlight windows and gave the home a welcoming feel."
The kitchen was painted in energetic Resene Surfie Green. "The kitchen is a favourite room of ours, which we completely redid, pushing out a wall. It's open plan and has provided a space for us all to be together. Often one of us will be sitting on the black or purple antique chairs at the end of the bench chatting or in the breakout room – with another cooking on the Belling oven." Resene Surfie Green on the walls provides an element of warmth and fun – and contrasts the oak of the kitchen, Bridget says.
Just as bright and bold, in the hallway is Resene Fuel Yellow. It draws the eye to their honeycomb-patterned stained glass door, and complements its dark blue glass.
Deep navy Resene Madison stuns in the family's living room on the walls and window seat. Vintage velvet curtains frame the room, and a mustard sofa provides great contrast. "The lounge is another of our favourite rooms. Our blue velvet foot stool matches our Resene Madison walls. On a winter night Isabella and I often snuggle up on the couch with our feet up on the foot stool to watch an episode of Stranger Things and share narratives about our day."
Two of the bungalow's bedrooms have been made-over in Resene Retreat, a blue-green blend perfect for Bridget's coastal-inspired palette. Bathrooms are bold in Resene Home Run, an iridescent peacock green.
Isabella chose Resene Decadence for her bedroom and art room, a rich shade of ocean blue. "I am so happy for her that she has a space of her own. The contrast to her white plaster horse head on the wall and her bespoken painted repurposed dresser is completely her. The colour is vibrant, brave, and full of life – just like her."
Architecture and colour tell a story, Bridget says, so she recommends finding a narrative that feeds your soul and fits with the story of your family's life when re-decorating. "Be unapologetically yourselves within that narrative and create a space where you can create memories and gives refuge, peace, and comfort. Create spaces that will be live able and as stress free as possible, so you can enjoy the home you have created.
"Collect beautiful things that you use every day and if it doesn't get used, then it's probably not worth having and just provides clutter and stress."
Top tip: Blue is a colour that inspires a feeling of trustworthiness, sincerity and peacefulness. Blue often gets a bad rap as a cold colour but depending on the shade, blue can be very welcoming and soothing. It's a great colour in sunny rooms, and in pale versions, it will 'open up' a room, making it appear more spacious.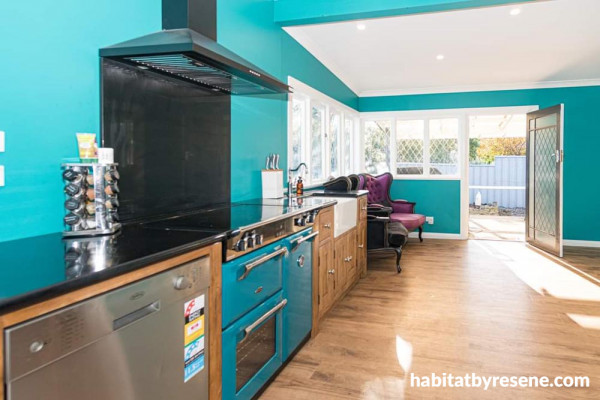 The bold and fun Resene Surfie Green was chosen for the kitchen, with skirting, trims and right ceiling in Resene Black White.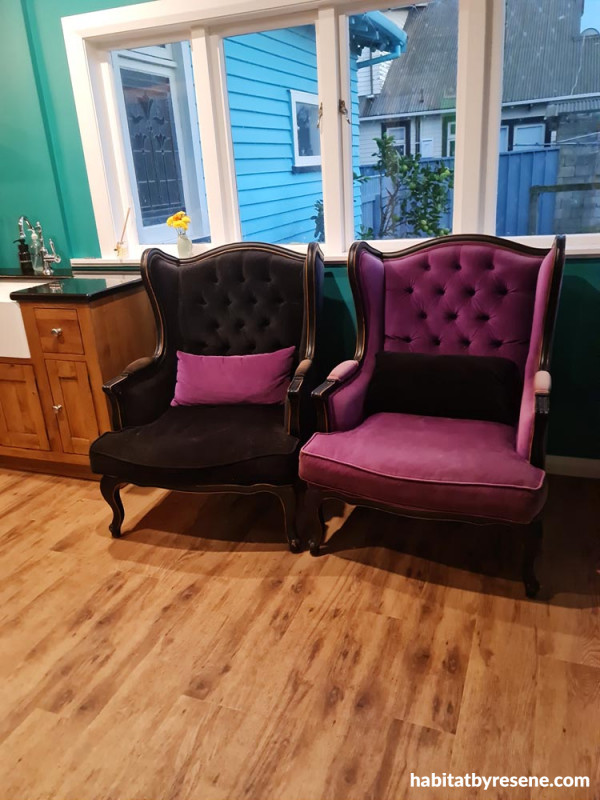 Antique chairs at the end of the open kitchen are inviting, and often a family member will perch there and chat while someone cooks. The purple velvet looks fantastic set against Resene Surfie Green. Trims are in Resene Black White.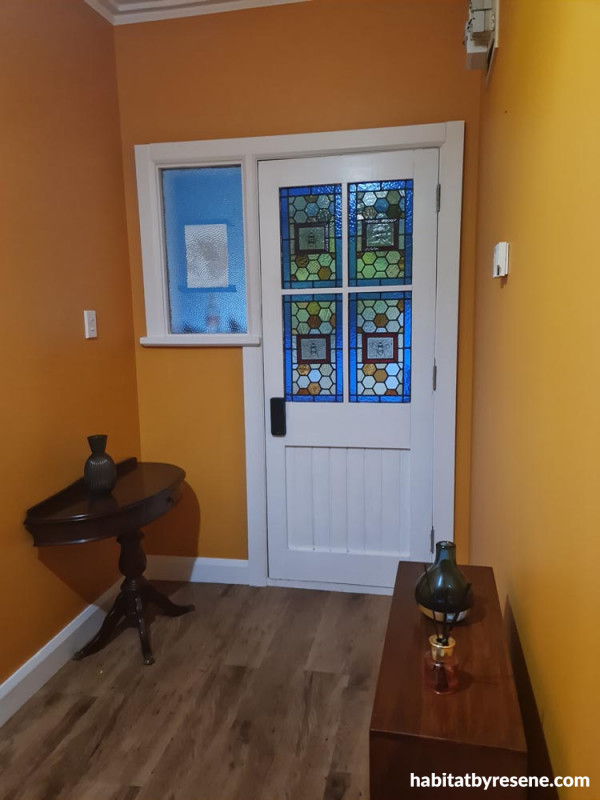 "Resene Fuel Yellow in the hallway picks up different light variations throughout the day and captures the yellows in our leadlight in the front door. Phoenix Leadlights in Shannon created it for us, with hand-painted bees." Resene Black White is painted on the door, ceiling and trims.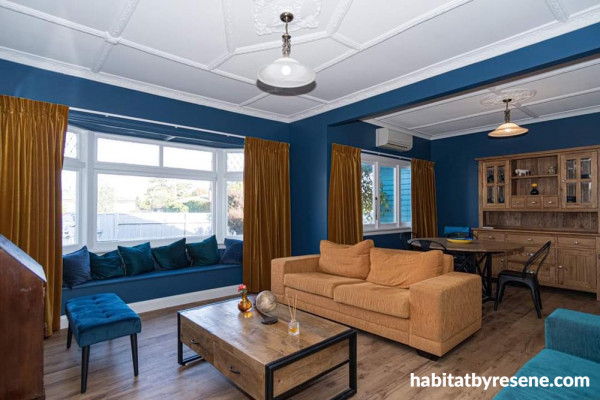 "The lounge is one of our favourite rooms. Resene Madison is contrasted with our oak finishes and the teal and mustard couches. The two lead lights in the lounge also have yellow hues and change colour throughout the day." Resene Black White on the skirting, ceiling, architraves and trims.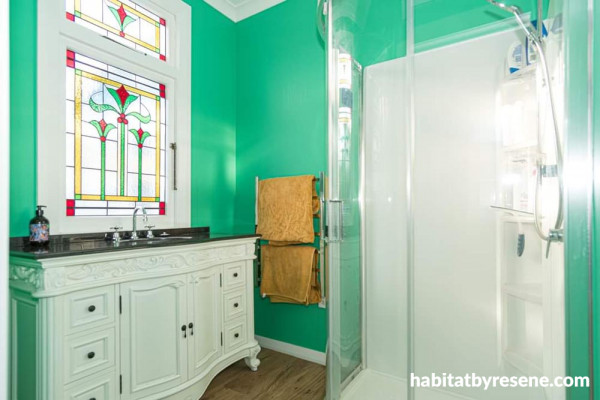 Resene Home Run is bright and coastal in the bathroom and pulls in the same tone from their stained-glass window above the vanity. Window trim in Resene Black White.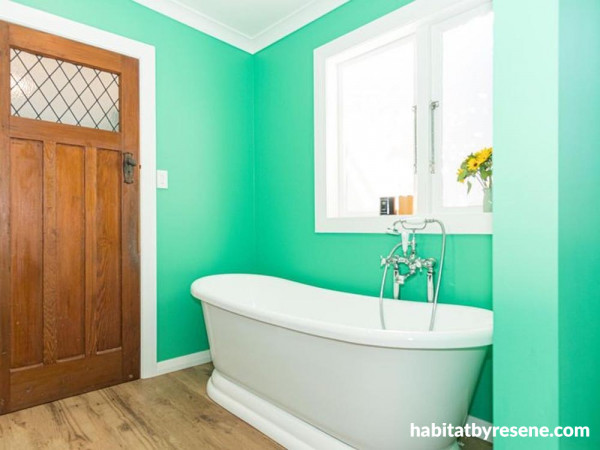 "While renovating, Miss 12 [Isabella] and I went away for school camp for a week and came back to no kitchen or bathroom, which was the first time I thought – what have we done. Nonetheless, we rolled with it and thanks to builder Fraser from Effort Construction, it all worked out beautifully. The insight on how to think through the dilemmas that come up with 1920s renovations made the project so much easier. That was another learning – find a builder you trust and can support your vision, particularly if it's a character home renovation." Walls in Resene Home Run, trims and ceiling in Resene Black White.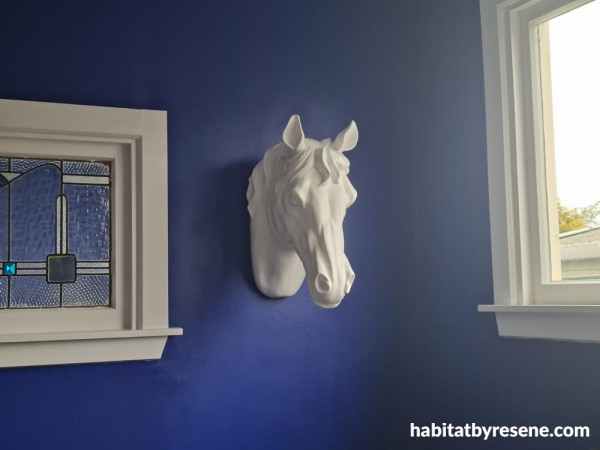 Isabella chose Resene Decadence for her bedroom, a bright shade of ocean blue. Trims in Resene Black White.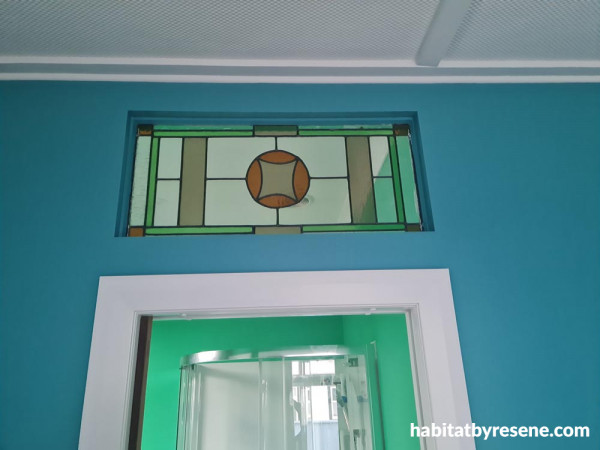 Two of the bungalow's bedrooms have been made-over in Resene Retreat, again tying in colours from the home' stained glass features. Trims in Resene Black White.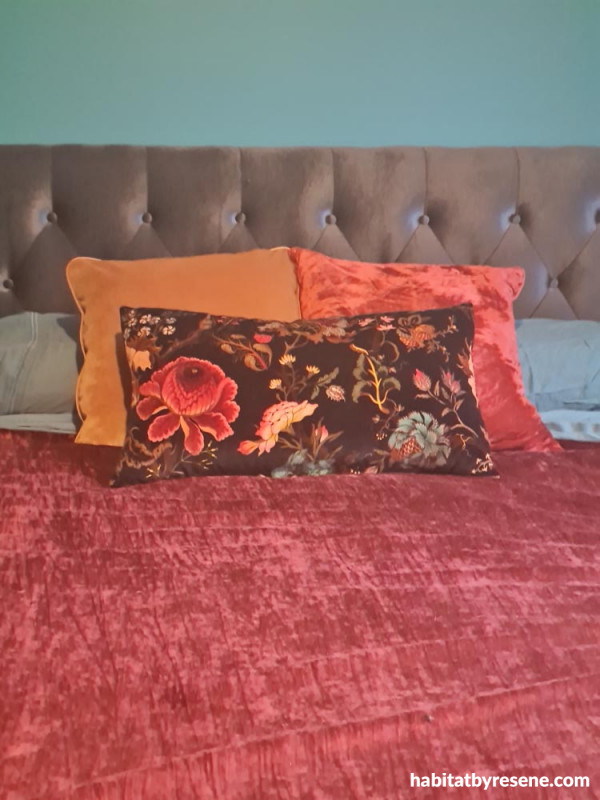 Resene Retreat is both energising and soothing in the master bedroom.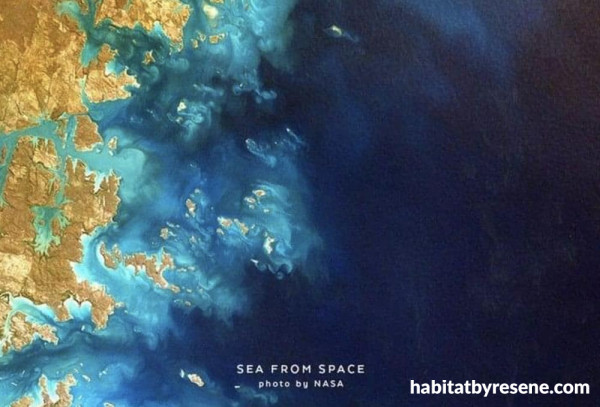 The NASA image that inspired Bridget's colour palette, which included Resene Turbo, Resene Surfie Green, Resene Retreat and Resene Decadence.
Published: 23 Jun 2022
Do you have a home full of wonderful Resene paint and colour? Send us some snaps by emailing [email protected].
the look
If you're stuck on what
colour to use or need colour
advice, try out the Resene
Ask a Colour Expert service.
the look
If you're stuck on what
colour to use or need colour
advice, try out the Resene
Ask a Colour Expert service.