►
◄
latest
habitat tv
blog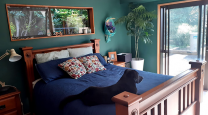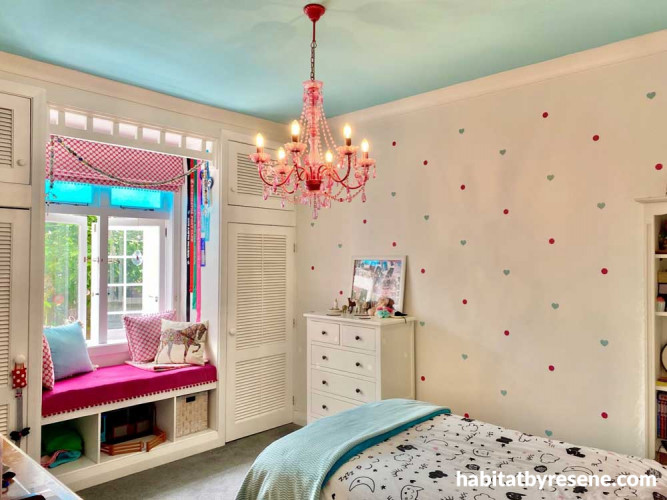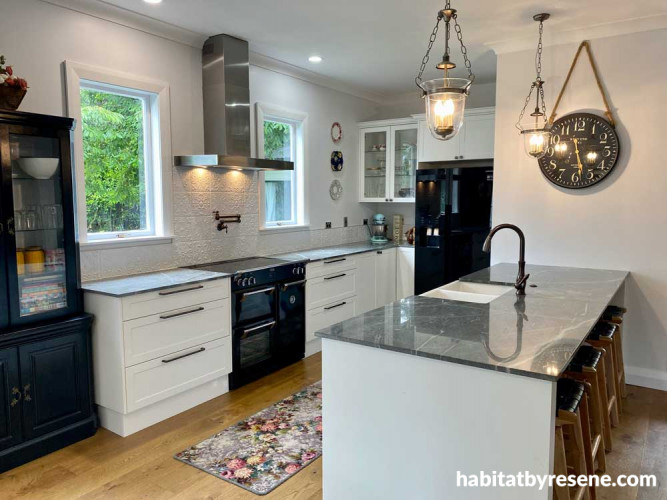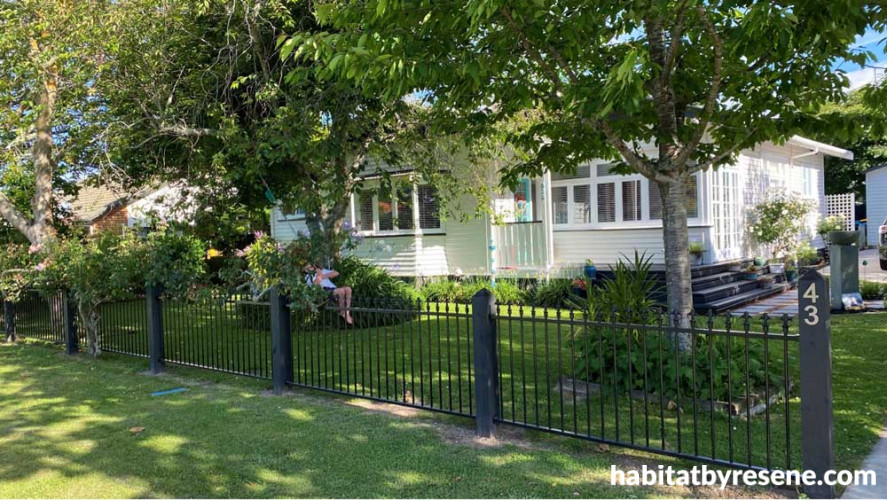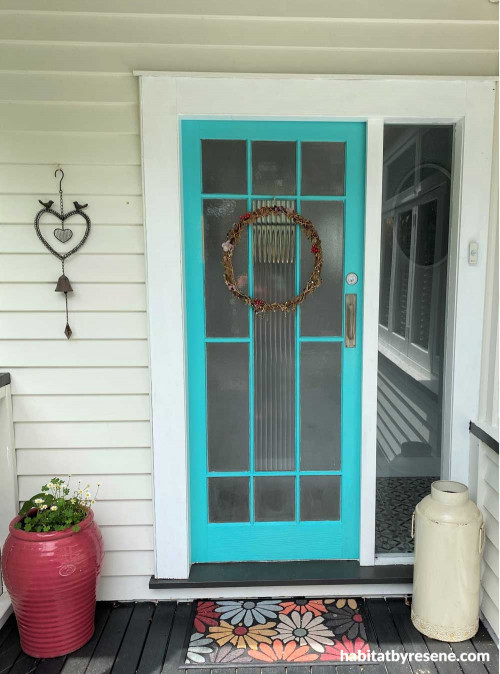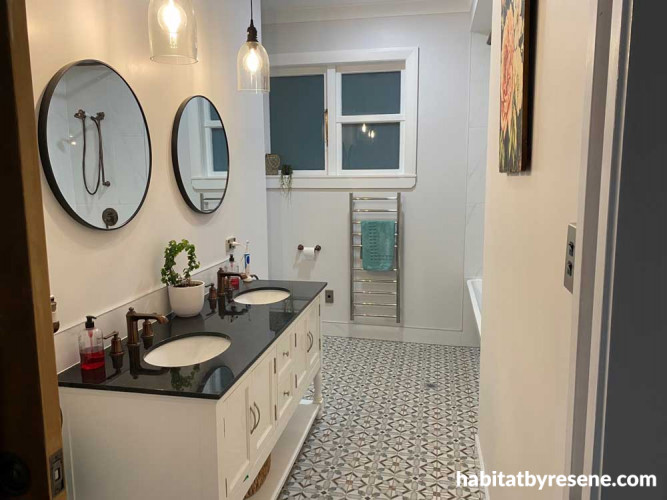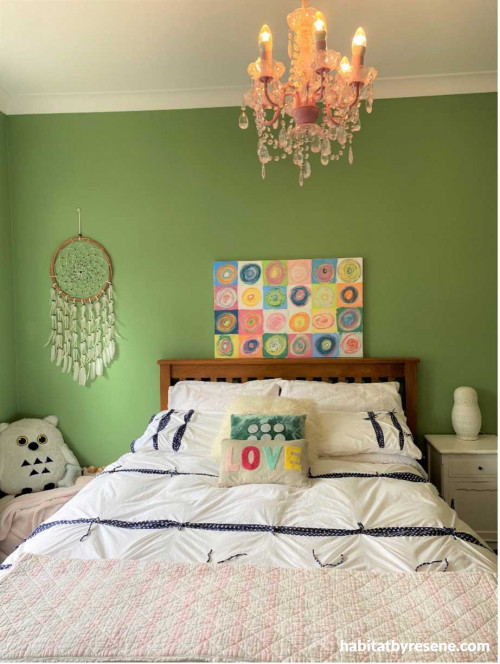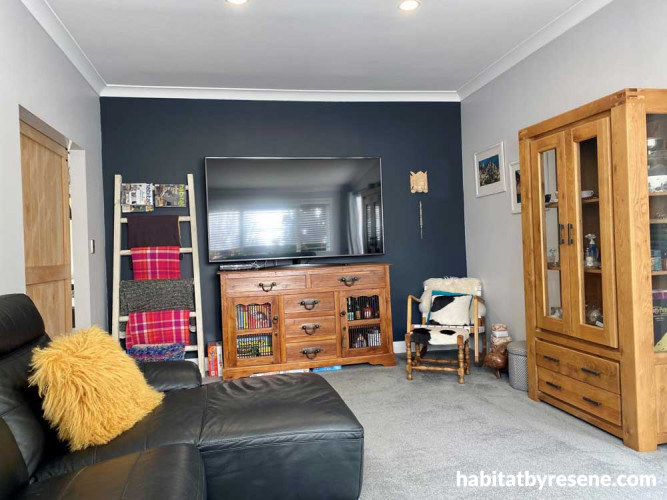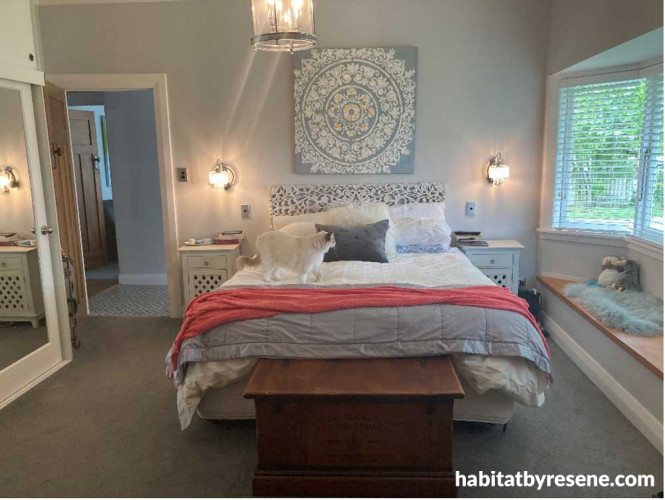 A country bungalow gets a second life with gorgeous greys and youthful blues and greens
When Chrissie and Tony Kavanagh moved to Cambridge with their two daughters, they loved the heritage feel of the Waikato town. They found their dream house in a hundred-year-old bungalow – that just needed a few buckets of Resene paint to transform it.
"We fell in love with the street and once we looked at this 100-year-old home, we knew straight away that she needed a lot of work but had great bones. She looked tired and sad, but we knew we could make this old girl happy and proud once again," Chrissie says.
Chrissie's goal was to honour the history of the home while making it fresh and fit for modern living. Her first choice for a colour that would be the hero for the living areas was Resene Concrete.
"I have fallen in love with Resene Concrete. It is a grey that adds to an airy, light feeling rather than sucking light in," she says.
"I used it in the master bedroom, laundry and hallway. I wanted bright and light but not white and no hint of brown in the colour."
Chrissie runs a charity, but is also a trained interior designer, skills she put into practice when choosing the colour palette.
"Having that background allowed me to feel confident in using some pretty bold colours like Resene Fountain Blue, Resene Amulet and Resene Foundry. Where I have used those colours are actually the areas I feel most pleased with in terms of colour combinations," Chrissie says.
"I used colours to evoke moods - for example Resene Fountain Blue invokes a sense of playfulness, Resene Amulet a sense of calm and Resene Half Concrete for a light and airy feeling in the kitchen/lounge and dining. I used full strength Resene Concrete in the master bedroom for a more restful feeling."
To be fair, there was more than just paint needed here. When they bought it, the house was very run down, infested with cockroaches, mice and there was a wasp nest in an exterior wall, Chrissie recalls.
"However when we bought the house, we saw that it had great bones, character and although she hadn't been touched since the 80s, we thought this home just needs a lot of loving," says Chrissie.
The girls, Issie and Caitlyn, got to choose their own colours for their bedrooms. Their choices were bold and they've worked out a treat, though not without some trepidation from Chrissie. "Caitlyn wanted a vibrant green colour. I must have chosen 10 testpots to try different colours as we couldn't match what she wanted to what I could bear on the walls! We got extra green A4 drawdown paint swatches and my eye instantly went to Resene Amulet. I didn't even need a testpot - I had found the colour that would keep us both happy!"
Next was youngest daughter Issie's room. "She loves turquoise, but she also likes things a little more subtle. She also wanted a more blue than green tint to the turquoise." Back to the Resene ColorShop they went, where they found Resene Blue Fountain, and in a bold move, it was painted on the ceiling. "It came up super!" says Chrissie.
It was a challenging renovation as the family lived in the house while it was being renovated and extended – at one point with no roof or back walls. "I wouldn't do that again!" Chrissie says. Chrissie's advice when doing up an old home is to reuse as much as you can.
"Our mantelpiece is made from old rimu piles. The kauri barn door is made from kauri panelling we found in the walls. There are always treasures to be found."
And when it comes to colours, it's a matter of the heart.
"For me, when I choose colours, I firstly look at how they make me feel - then I look at them together for cohesion - and scrap the colours that don't give me the feeling I'm looking for in that room."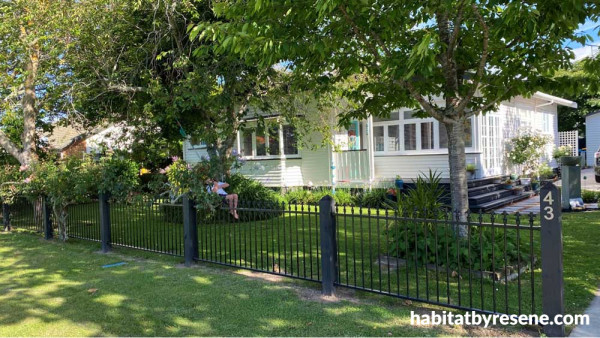 The Kavanagh's hundred-year-old bungalow has a new lease of life with Resene Lumbersider in Resene Half Tea on the weatherboards, Resene Eighth Tea around windows and doors and Resene Ironsand as the accent colour. Fence and decks in Resene Woodsman Decking Oil Stain in Resene Shadow Match.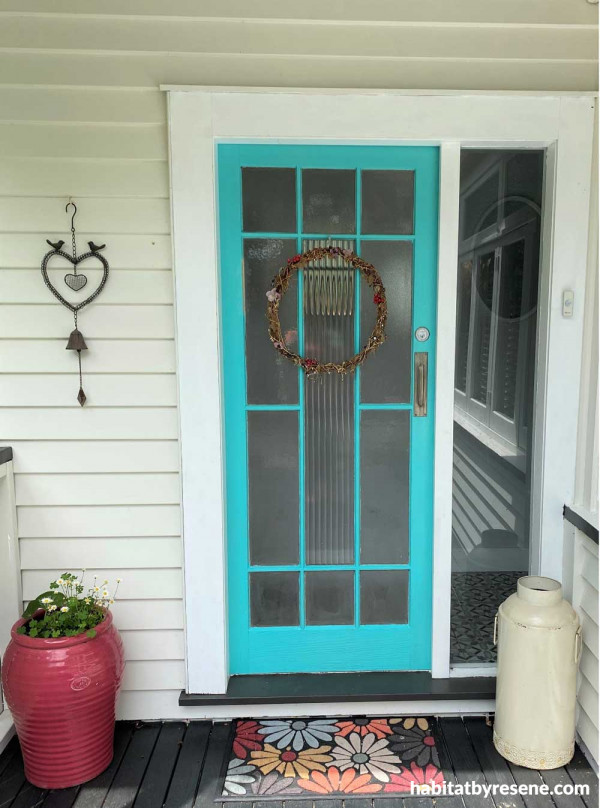 "I had a favourite colour (Tiffany Blue) that Resene matched for me, to paint the front and back door – which I love!" Chrissie says this is a colour that brings a feeling of love and luxury and she wanted something similar. For a similar colour from the Resene Multifinish range, try
Resene Half Kumutoto. The door is painted with Resene Enamacryl gloss, a durable and easy-to-clean waterborne gloss enamel paint. The gloss finish helps the front door colour stand out. Weatherboards in Resene Half Tea,Resene Eighth Tea around door and Resene Ironsand on doorstep. The deck is stained in Resene Woodsman Decking Oil Stain in Resene Shadow Match.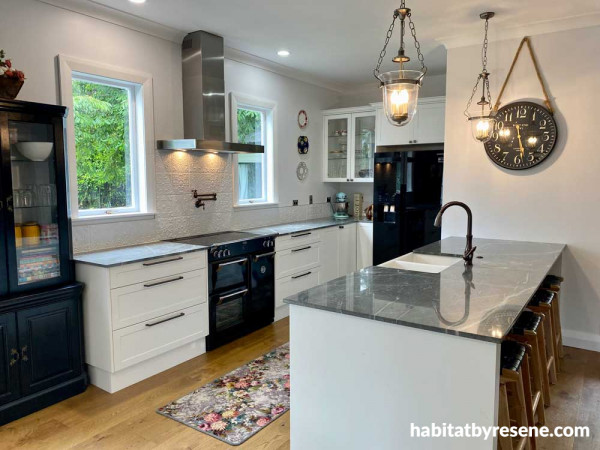 In the kitchen and living area walls, Chrissie used Resene SpaceCote Low Sheen tinted to Resene Half Concrete, her favourite neutral. The architraves and skirtings are Resene Lusta-Glo White semi-gloss enamel which pops against the French oak flooring.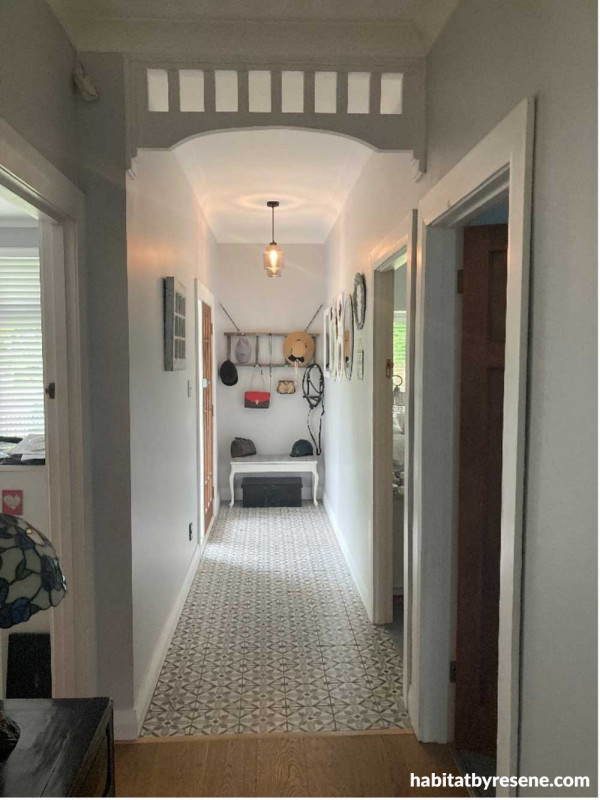 The hallway and laundry are painted in Resene Concrete with the ceiling in Resene White.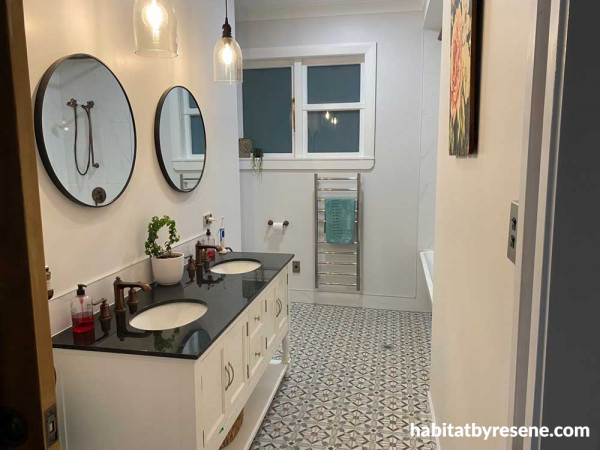 Resene Lustacryl Kitchen & Bathroom Semi-Gloss tinted to Resene Half Concrete is used in the bathrooms, laundry and kitchen for extra protection. All trims in Resene White.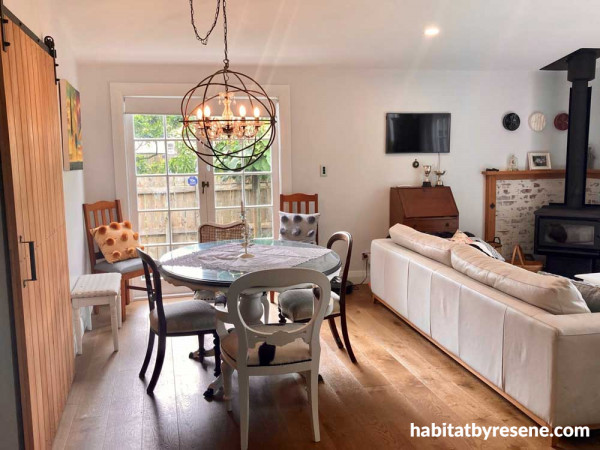 Chrissie inherited her parents' dining room table and updated that by painting Resene Foundry on the top and Resene White on the base. Walls in Resene Half Concrete and the ceiling is Resene White.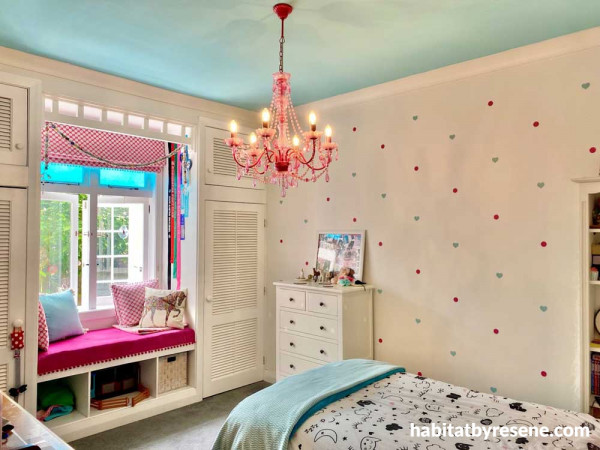 Issie wanted a vibrant blue for her bedroom – but instead of painting the walls, they got creative. "We found the perfect colour - Resene Fountain Blue - and we decided to put it on the ceiling." Resene Fountain Blue is a shimmering water blue and in an inspired move, on the ceiling, it lifts the whole room into the magical. The walls are painted in Resene Black White with hearts and dots of colour. Trims in Resene White.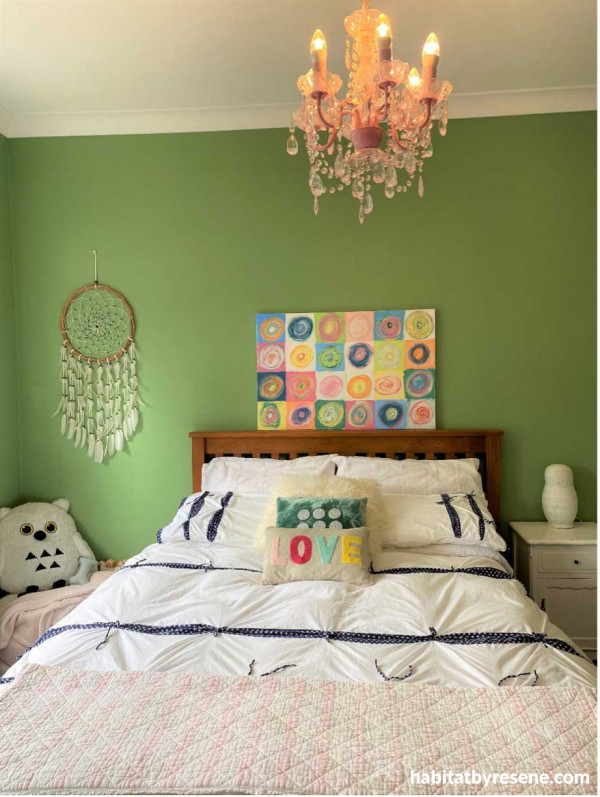 "I was pretty scared of using green but it actually turned out well," Chrissie says of Caitlin's room colour choice, Resene Amulet, a light-hued, lucky green. The ceiling is Resene White.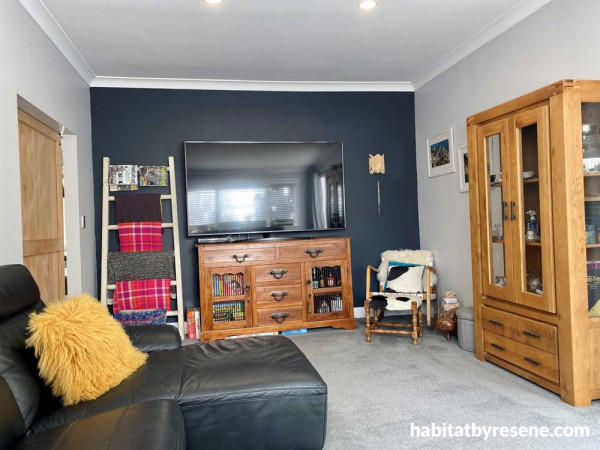 The media room is in Resene Double Concrete with a Resene Foundry accent wall. "Tony wanted a media room. The TV I bought him turned up and was much bigger than I thought (much to my horror and his delight)! To disguise the size, we painted the wall of the media room Resene Foundry – which I love, and the TV does blend in a wee bit. Resene Foundry is a gorgeous colour (one of my favourites)," Chrissie says. Ceiling and trims in Resene White.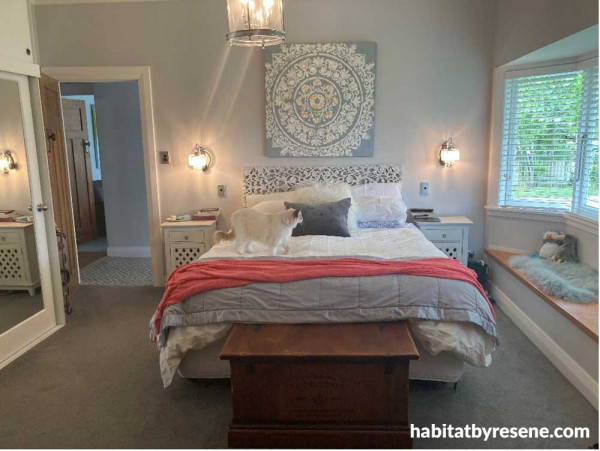 The master bedroom is painted in Resene Concrete. The architraves and skirtings are in Resene Lusta-Glo White semi-gloss enamel. Subtle tones in the bedlinen blend nicely with the cat!
Published: 15 Dec 2021
Do you have a home full of wonderful Resene paint and colour? Send us some snaps by emailing [email protected].
the look
If you're stuck on what
colour to use or need colour
advice, try out the Resene
Ask a Colour Expert service.