►
◄
latest
habitat tv
blog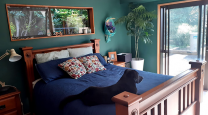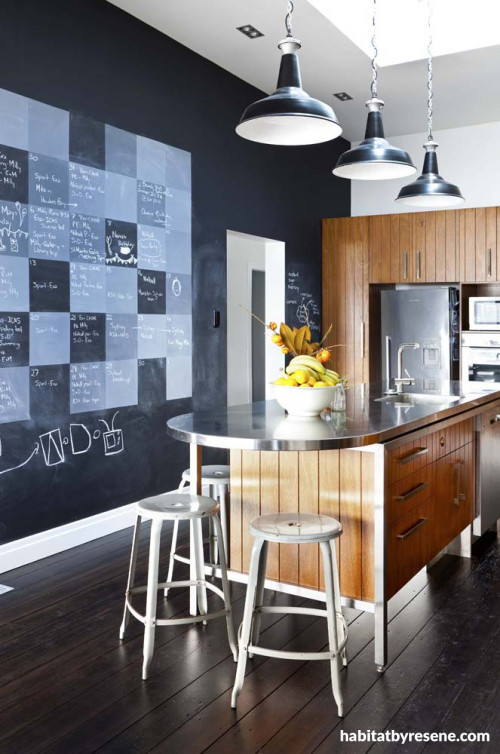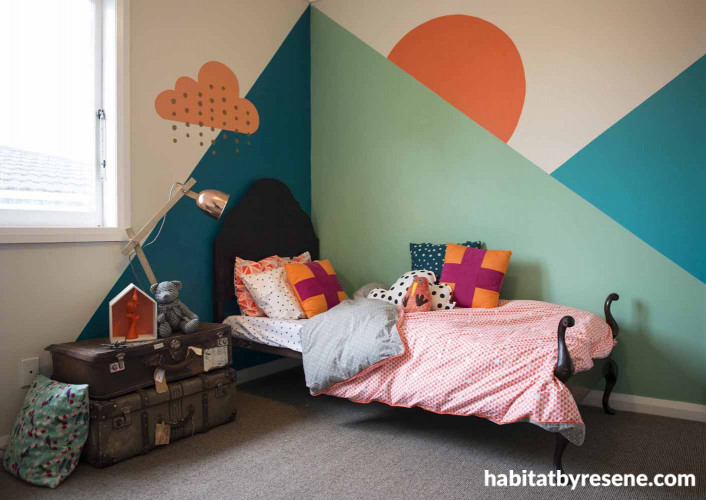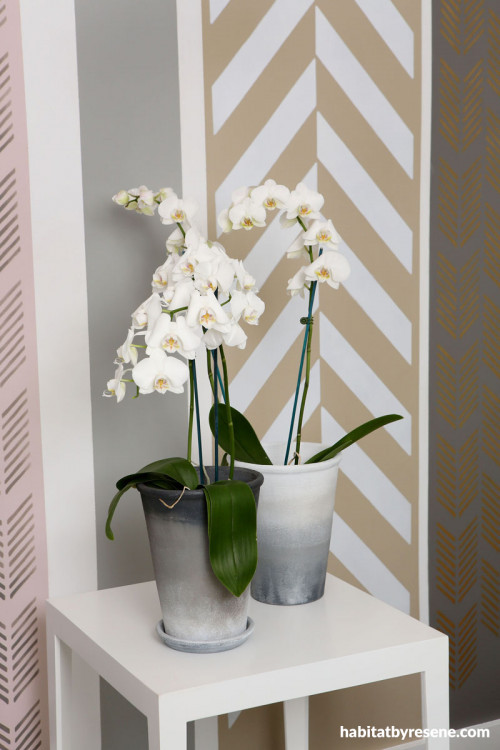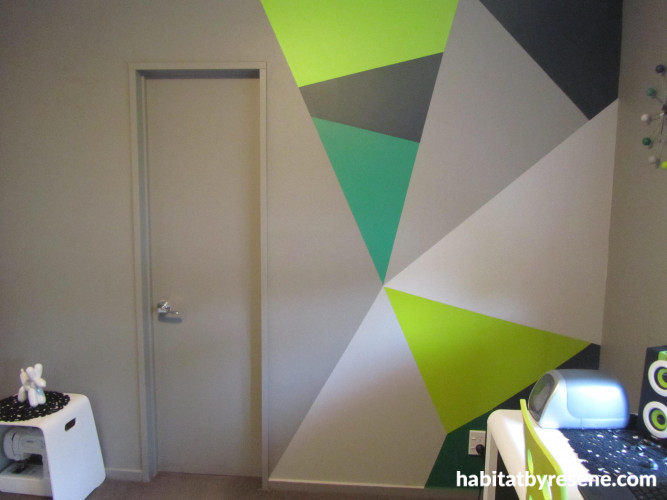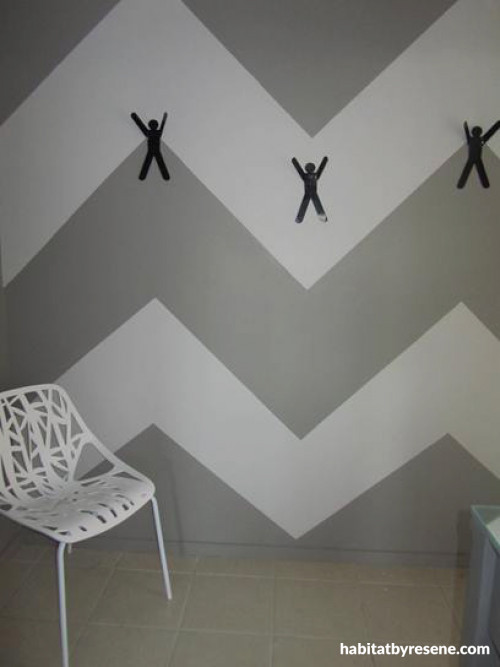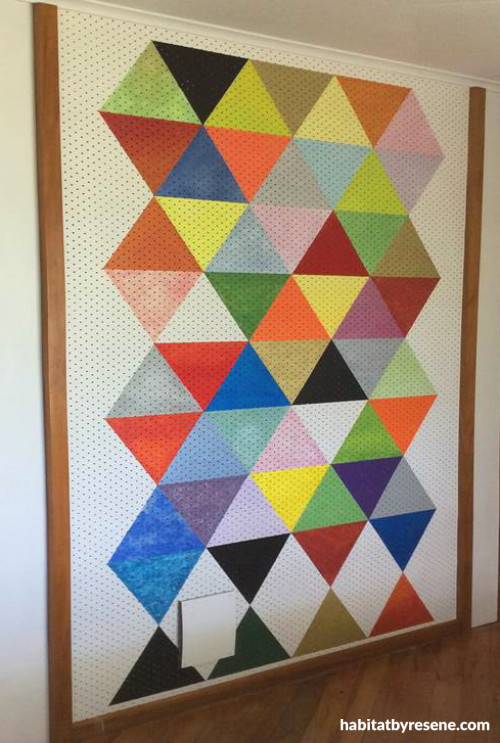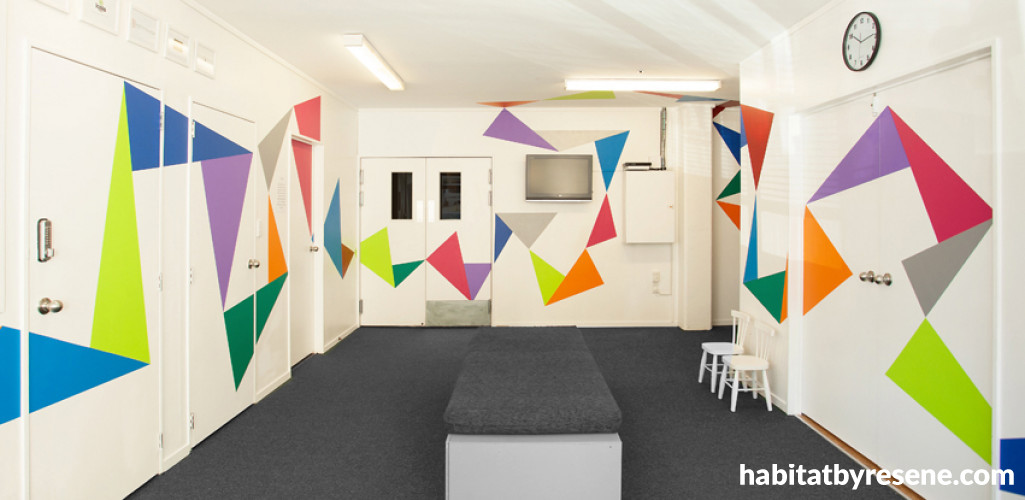 7 super creative painted walls
Stencils, over-sized geometric patterns, simple murals, colour blocking… we're keen to give our homes the edge and add a bit of individuality. Happily, there are many ways of doing that and often, they will involve just a few Resene testpots and some creativity.
Check our gallery of images to see what our readers have been up to. Here are a few extra tips and ideas:
1) Chalkboards are big. You can use one of the colours from the Resene Blackboard Paint range, or use Resene SpaceCote Low Sheen in any colour to create a chalkboard finish.
2) If you are creating a large geometric pattern, do a scale drawing first.
3) With any design, keep the colour range simple – say, up to five colours – or it may end up looking messy. For a more restrained look, use a tonal scheme, eg five different shades of aqua or neutrals. For a bolder look, use stronger colours that contrast with each other, or one stand-out colour.
4) Use low-tack masking tape to reduce the risk of the tape lifting paint you've already applied. Press it down firmly though, so that the new paint doesn't bleed underneath.
5) If you are stencilling, use a small roller fitted with a sponge sleeve, and roll off excess paint onto a paper towel to avoid paint bleeding under the stencil. See how paint effects guru Greer Clayton does it at habitat tv. Also, Resene has a range of fun kid's stencils to brighten up your littlies bedroom or a play room.
And if you love the idea of a customised wall but are anxious about being able to achieve it, try the recently launched WallPrint service where you can create your own wallpaper. Or check out the huge range of Resene wallpapers [http://www.resene.co.nz/wallpaper/] you can use to create a feature wall.
Read more: Alternative Solution feature for one designer's colour blocked scheme; learn how to colour block
Published: 26 Mar 2015
Do you have a home full of wonderful Resene paint and colour? Send us some snaps by emailing [email protected].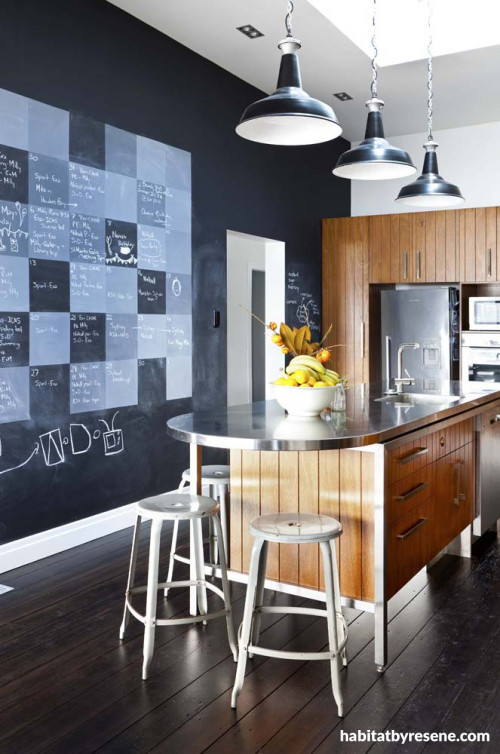 Here's a different take on a blackboard wall. Using Resene Blackboard Paint and a variety of grey Resene testpots, this calendar wall in the kitchen will keep the family organised. Styled by LeeAnn Yare; photograph by Larnie Nicolson.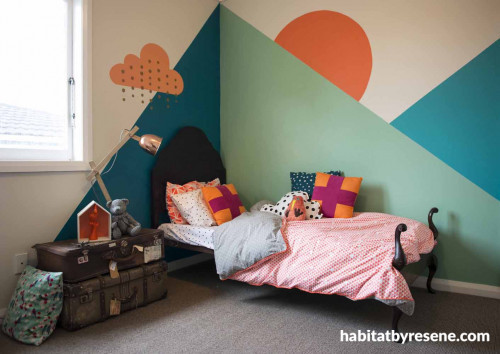 Young Charlie was given a treat from mum Ana Dermer for his new room – a cool artwork wall using Resene Blue Lagoon (teal), Resene Java (turquoise), Resene Padua (green), Resene Crusta (orange on left) and Resene Flamingo (orange on right).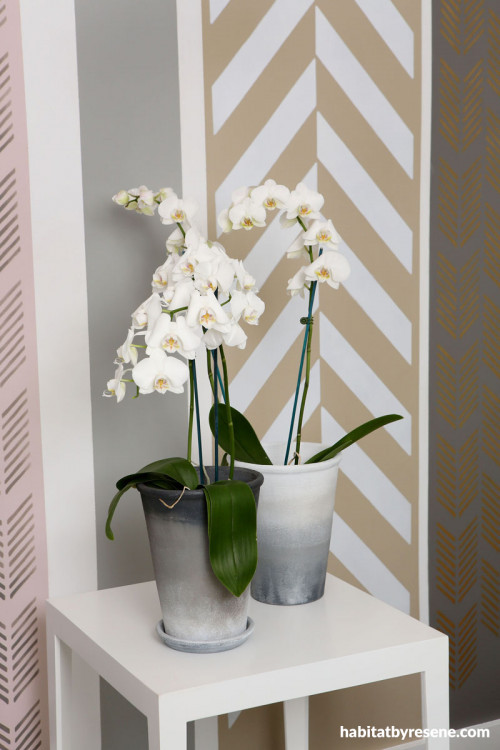 Using a cushion as inspiration, stencil artist Greer Clayton created this stunning herringbone wall for her sister's home. Colours used include Resene Alabaster, Resene Sakura (pink), Resene Half Taupe Grey (pale grey), Resene Double Pavlova (ochre), Resene Masala (deeper grey), and metallic golds Resene Gold Dust and Resene Deep Space. For more about Greer and her work, see the latest issue of habitat magazine. Greer also used Resene Resitex and Resene Sandtex to customise some terracotta pots, then gave them a washed ombre effect with paint.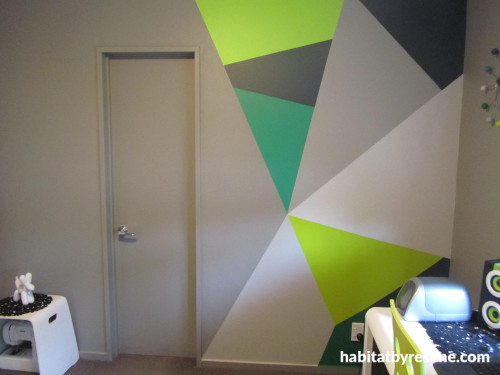 Sarah Clarkson has included a couple of very creative spaces in her Hokitika home renovation. In her office, a geometric pattern is created with four fresh greens, from the top Resene Wellywood, Resene Salem, Resene Citrus and Resene Crusoe. The charcoal is Resene Mineshaft, the pale grey is Resene Eighth Stonehenge and the main wall colour is Resene Stonehenge. Stunning!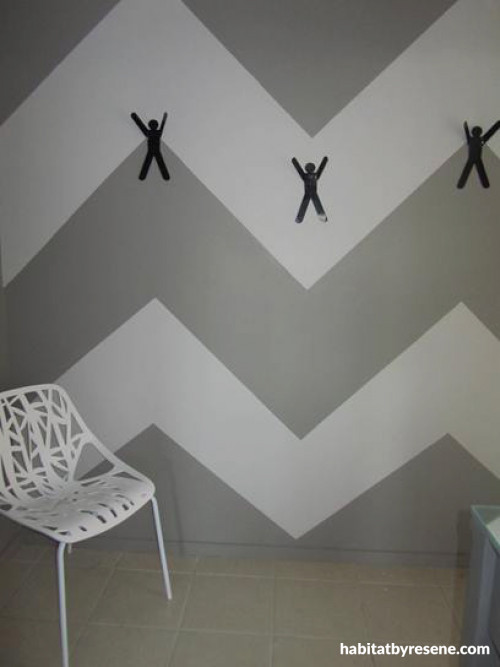 Sarah Clarkson's hall now sports a striking chevron pattern in Resene Stonehenge and Resene Eighth Stonehenge.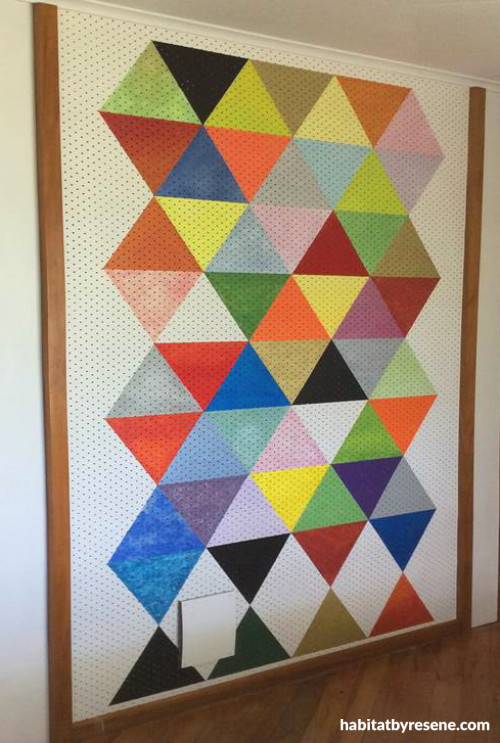 Vanessa Lisowski came to Resene with an unusual request – could we recommend colour matches to classic Lego blocks to use on a peg-board wall in her son's room? Here's what we came up with: for the blues Resene Wet N Wild, Resene Venice Blue; for the reds and oranges Resene Bright Red, Resene Hairy Heath and Resene Hyperactive; for the greens Resene Citrus, Resene Camarone, Resene Kermit and Resene Kaitoke Green, for the beiges Resene Putty and Resene Eighth Akaroa; for the greys Resene Mako and Resene Delta, then Resene Black and Resene Turbo (yellow). The background is Resene Bianca. Vanessa sponged the colours onto the board.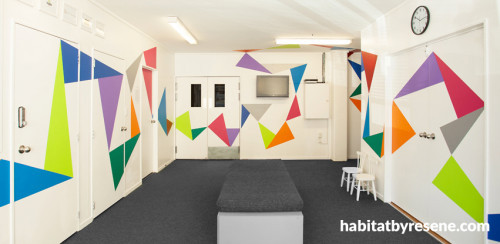 This may not be for a home, but the bright, graphic pattern would look good anywhere. It's done by Rachel Tabb of Bubble Interiors for the entrance of Tauranga-based Studio 162, using colours inspired by the resident dance schools but also by the four hip hop crews which compete internationally. She used Resene Resolution Blue, Resene Red Berry, Resene Hyperactive (orange), Resene Wellywood (green), Resene Irresistible(pink), Resene Meridian (grey), Resene Studio (purple), Resene Endeavour (mid blue) and Resene Bingo (green).